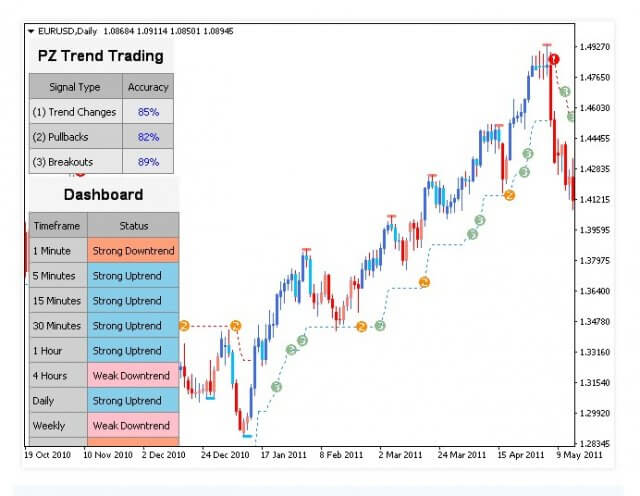 PZ Trend Trading is currently found within the indicators section of the MQL5 marketplace. It was created by Arturo Lopez Perez and was first uploaded to the marketplace on the 6th of December 2013, it was most recently updated on the 18th of February 2019 and is currently at version 5.0.
Overview
PZ Trend Trading is an indicator for the MetaTrader 4 trading platform, it was created to profit from trends taking place within the markets. It will time pullbacks and breakouts by analyzing what the price is doing during already established trends.
The main features of the indicator:
Profit from established trends without getting whipsawed
Recognize profitable pullbacks, breakouts and early reversals
The indicator analyzes its own quality and performance
It implements a multi-timeframe dashboard
The indicator is non-repainting
It implements email/sound/visual alerts
There are a number of parameters available these include things like the indicator period, to display the sub-trend, pullbacks, breakouts, corrections, the maximum number of bars to use, to display statistics, drawing settings, alerts, and more.
Service Cost
The indicator can currently be purchased for $299, this is a one-off payment and will allow you to activate the indicator up to 100 times. There is also the option to rent it on a monthly basis which will cost you $49 per month. There is a free demo version that is usable with the strategy tester within the MetaTrader 4 trading platform.
Conclusion
There are only three reviews available but they are all positive giving the indicator an overall rating of 4.5 out of 5.
"Very good indicator. I trade it with an EA. Very strong and profitable. Thank you, Arturo" – A 5-star review.
"A very simple and easy to use." – A 5-star review.
"I use this indicator in an EA I wrote, and for this purpose, it is very helpful. I just use a couple of basic signal confirmations and proper money management. However, for manual trading, I don't think this indicator is necessary. The signals it provides are noticeable to the eye of most successful traders. For automated trading, I give this indicator 5 stars. For manual trading, I give it 3." – A 4-star review.
So the reviews are very positive which is good to see, there are also over 100 comments, the developer was originally replying to most of them, but the most recent one in 2019 has not had a reply, in fact, the last reply was back in 2017. Due to this, we would suggest sending your queries to the developer to see if they reply, if they do then it is a good sign that the indicator is still being actively supported.
This Forex Indicator is currently available in the MQL5 marketplace: https://www.mql5.com/en/market/product/1422