Laguerre VIX Trend Extrema is currently found on the MQL5 marketplace under the indicators category. We have provided a link to it below. The indicator was uploaded by Synapse Investment Research Group on the 13th of February 2017, this was the first version uploaded and is currently at version 1.4.
Overview
Laguerre VIX Trend Extrema is an indicator for the MetaTrader 4 trading platform, it was designed to detect market tops and bottoms, it is a percentage price oscillator that will help to detect the market ranges.
The indicator is also able to send out alerts in the form of messages, sounds, or emails.
There are three different variations to the algorithms:
-Regular: Laguerre price oscillator for maxima and minima detection.
-VIX: Regular LVTE for maxima detection, but modified VIX fix for minima detection.
-Instantaneous: A variant on the "regular" Laguerre price oscillator to maximize forward detection using a lag-less calculation, while also minimizing false positives. However, this is at the expense of smoothing.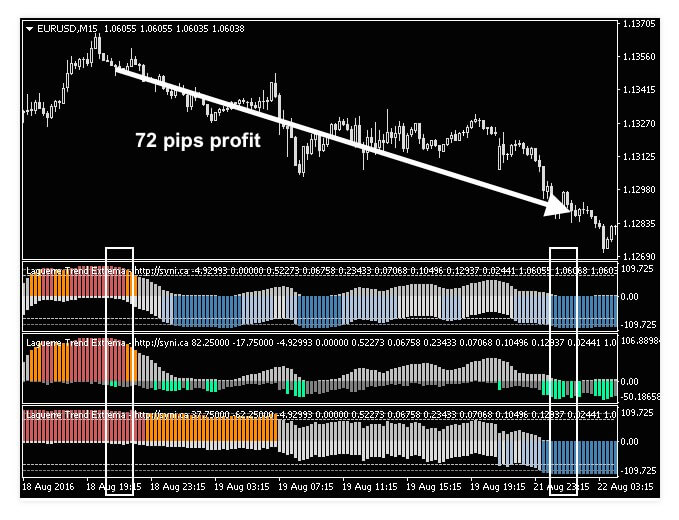 The indicator also comes with a number of different parameters, some of them include the calculation variant type, the color schemes, maxima offset dots, percentile thresholds, Bollinger band length, and deviations, to turn alerts on or off, to change the alert type, the Laguerre calculation periods, and more.
Service Cost
The Laguerre VIX Trend Extrema indicator can currently be purchased for $99, this will get you unlimited access with no restrictions. If you do not wish to purchase it outright you are also able to rent it on a monthly period, this will cost you $33 per month, or you can rent it for 3 months which will cost you $66.
The site indicates that there is a free demo version which will have some limitations, the limitations are not actually mentioned on the site so we are not entirely sure what they will be, it is always a good idea to test out the free versions though.
Conclusion
There are two reviews available for the Laguerre VIX trend Extrema indicator, they are both giving it 5 out of 5 ratings.
"I trade harmonics and using all 3 variants simultaneously provides solid reversal confirmations." 5-Star Review
"Professional indicator to help find market tops and bottoms. This was exactly the indicator I was looking for to help me find reversal opportunities."
So both the reviews are giving it very positive reviews, there are also 2 comments, the developer of the indicator has replied to one of them with a very comprehensive answer, the second one he did not reply to. This can often be a sign as to what sort of support you will receive. Due to there not being many reviews, we would strongly suggest that you download the free version to try out, also be sure to send any queries to the developer so you can be sure that the indicator is right for you before you make a purchase or rent the software.
This Forex Indicator is currently available in the MQL5 marketplace: https://www.mql5.com/en/market/product/19540