Probability Yield EA can be found within the Experts section of the MQL5 marketplace, it was created by Mikhail Kornilov and was first uploaded to the marketplace on the 30th of March 2020, it received an update on the 4th of April 2020 which brought the EA up to version 1.2.
Overview
Probability Yield EA is an expert advisor for the MetaTrader 4 trading platform, it was designed to work as a trend EA that is based on working out the most probable direction of the moving prices. The EA will use an equal value for the take profits and stop loss level, trailing stops are also used to help improve efficiency.
Some advantages of the EA:
It is designed for middle-term trading
It has fixed levels of stop loss and take profit01
It will work with all currency pairs
It has fast optimization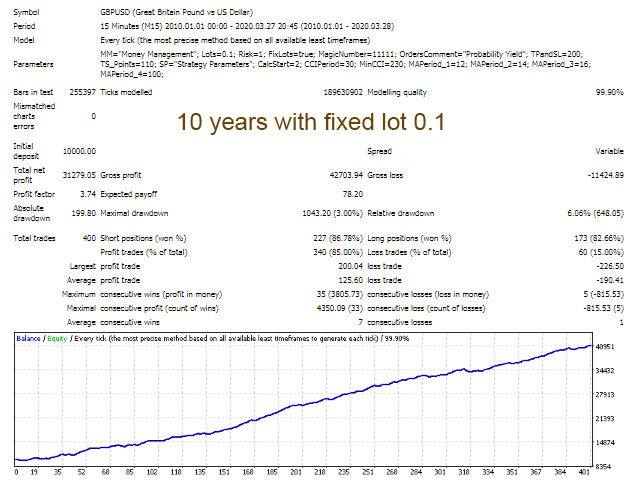 It is recommended to use a deposit of at least $100 and to use the EA on the M15 timeframe, there are no limitations to the type of account you can use or which currency pairs to use the EA on.
In terms of parameters, there are a few available, these include the lot sizes, risk to use, whether to use fixed lots, magic numbers, TP and SL sizes, MA periods, and more.
Service Cost
The EA will cost you $160 to purchase it outright with a one-time payment, this will get you 5 activations of the EA with no other limitations. There is also the option to rent it for a three month period which will cost you $70 for those free months, A free demo version is available, this is only usable with the strategy tester within the MetaTrader 4 trading platform and cannot be used on a live account.
Conclusion
There are currently no user reviews or ratings so we do not know whether people are finding the EA profitable or whether it is doing what it is intended to do, there is one comment available which if from the developer themself offering a new setting sheet for the EA, due to this we would suggest contacting them, just to make sure they will be there should you decide to get the EA and then need some support.
This Forex service is currently available in the MQL5 marketplace: https://www.mql5.com/en/market/product/47812