Friday Boost is located within the Experts section of the MQL5 marketplace, it was uploaded on the 5th of April by its creator Jonas Maurer, it was uploaded as version 1.0 and has not received any updates since sits initial upload.
Overview
Friday Boost is an expert advisor that can be sued with the MetaTrader 4 trading platform, it was designed to be an easy to use EA that offers a clear system and strategy. It has been designed to work with the XAUUSD asset and can work on any timeframe.
The EA works by trading on Fridays where the volume of metals being traded are normally higher, this can often result in higher prices on a Friday, this is best seen on the XAUUSD asset. The EA will take advantage of this and will open up a buy trade on Thursday evening and will close it the next trading day, it will set a take profit and stop loss in order to secure the position from unexpected market movements and to protect the account from larger losses.
It is recommended to have a balance of at least $200 with minimum leverage of 1:20, lower spread accounts are also recommended by not required.
Some features when setting up the EA:
Time Offset: The EA is designed to run in GMT + 2 in winter and GMT+ 3 in summer (US-Daylight-Saving-Style). If your broker uses a different server time, you can modify the offset. For example: for New York (GMT -5/-4) you need to set the offset to -7.
Money Management: The EA will use the fixed lot size unless it is set to 0.
Stop-Loss and Take-Profit: The EA will set SL and TP unless it is set to 0. Input 1.0 = 1% above/below Open-Price.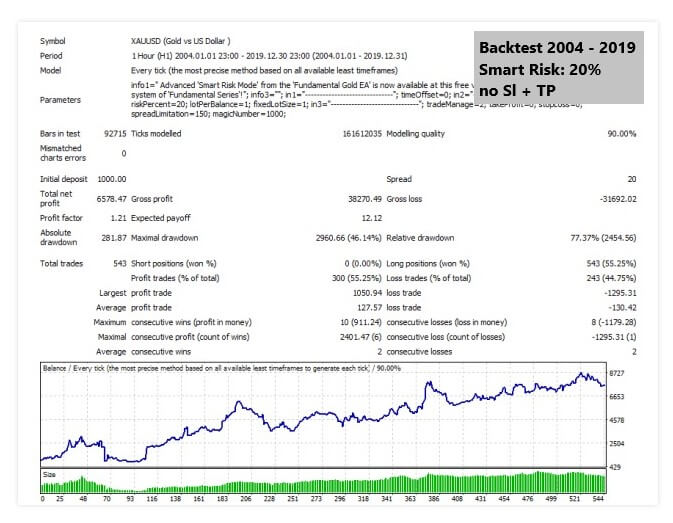 Service Cost
The EA is currently completely free to download so it will not cost you a thing, this will give you unlimited access without any added limitations. As it is free, there is also no need for a demo version of the EA.
Conclusion
As the EA was only recently uploaded to the marketplace, there are currently no reviews or ratings about the EA, this makes it hard for us to know whether people are finding it profitable and whether it does what it is intended to do. There are also no comments so we would suggest contacting the developer with any questions that you may have, this way you can be sure that the EA will function how you need it to and that the developer will be around to offer support should you need it.
This Forex Indicator is currently available in the MQL5 marketplace: https://www.mql5.com/en/market/product/48047