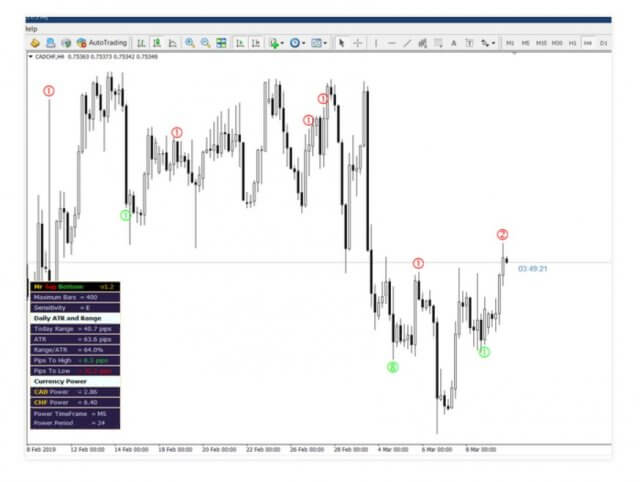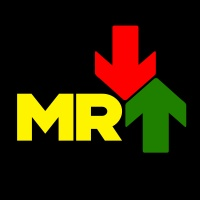 Mr Top Bottom is an indicator that was created in March 2019 by developer Mostafa Fouladi. Mr Top Bottom is a powerful no-paint indicator that draws arrows on Tops and Bottoms. It has too complicated calculations but is very simple to use. Each arrow has a specific impact value of 1 to 10. If the impact is greater it means that the signal is probably more reliable, because it is calculated on the basis of a larger oscillation.
Overview
Main features of Mr Top Bottom:
He doesn't paint again.
Identify the best tops and bottoms.
Useful for Trend Trading and Swing Trading.
Works well in Up Trend Market, Down Trend and Non Trend Market.
It works on any symbol and in any time frame.
Gives tickets with the lowest risk.
Very simple and easy to use.
Send alerts, emails and Push notifications.
The indicator has a sensitivity parameter that helps the operator to make it compatible with its own type of trading. It also provides access to an ATR and power panel of currency.
Parameters of Mr Top Bottom:
-Maximum bars: Maximum candles for drawing arrows. This parameter will not change the results of the calculations. Simply reduce the calculation time.
Sensitivity: You can set the Sensitivity from A to F. A means the lowest Sensitivity and F means the highest. The best sensitivity will be represented by E.
-Signal type: If you put it in "Current bar", it shows you the current signs of the candle and if you put it in "Confirmed bar" it shows the arrows after the candle closes.
Information panel and configuration:
-Show candle time: If true, the candle clock countdown timer will be displayed.
-Candle Time Color: To set the candle time text color.
-Display panel: If true, the panel will be displayed. Including the ATR panel and Currency Power.
-Display panel in Tester: If you want to test the indicator in Strategy Tester, set this parameter to false to increase the test speed.
-Moving panel on X-axis: Moving panel on X-axis of graph.
-Move the panel on the y-axis: Move the panel on the y-axis of the chart.
-Unique identification for drawing objects: If you want to attach the indicator more than once in a chart, you must change this parameter to a new character symbol such as $, $!, %, etc.
Service Cost
This robot cannot be bought, it is only available for rent on the MQL market, at a price of 40 USD for a month, or 160 USD for a year. The free demo version is also available, so you can test it and check if this tool can be useful in your trading.
Conclusion
In short, we are talking about a robot that tries to take advantage of trends, locating tops and bottoms. Apparently the EA gets good results, since there are several users who have highly valued this robot, there are no negative criticisms. Mr Top Bottom is a robot suitable for all types of traders, its operation is very simple and its fundamentals are easy to understand.
This Forex service can be found at the following web address: https://www.mql5.com/en/market/product/36398