Created by Yasser Sabbaghi and uploaded it on the 12th of MAy 2016 to the MQL5 marketplace under the indicators heading, the Exponential Momentum indicator is certainly one of interest. It has received a number of updates, the most recent update was on the 26th of September 2017 and is currently at version 1.3.
Overview
Exponential Momentum is an indicator that was created for the MetaTrader 4 trading platform. It was created to act as a momentum indicator that will fade out the fake moves of the markets.
Some of the key features of the indicator:
Smoothed to filter uncomfortable noises.
Non-Lagging Exponential averaging.
Line or Histogram drawing.
Momentum on both bullish and bearish move.
You can also use it like a CCI indicator.
It can be used in three different ways. As trend-following, GREEN for Bullish and PINK for Bearish. Take Buy position when the indicator makes a bottom and reverse upward or take Sell position when the indicator peaks and reverse down.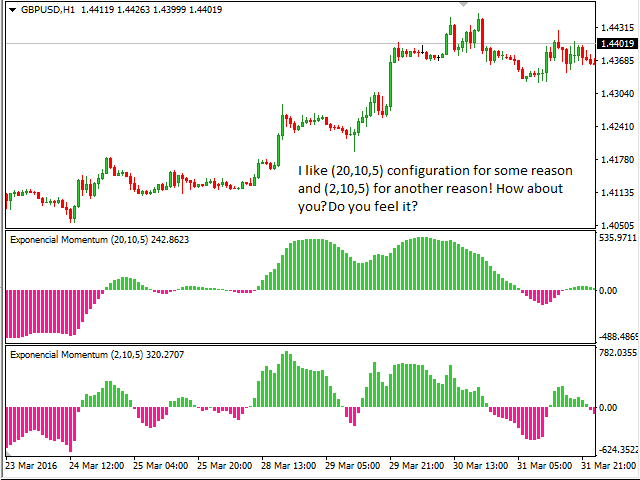 Momentum Strength, a higher value means higher strength. In case that this indicator reached extremely high or low values (relative to its historical values), you should assume a continuation of the current trend. For example, if the Momentum indicator reaches extremely high values and then turns down, you should assume prices will probably go still higher. In either case, only trade after prices confirms the signal generated by the indicator (for example, if prices peak and turn down, wait for prices to begin to fall before selling).
Divergence:
-A bullish divergence occurs when the price is making new lows while the indicator fails to make a new low.
-A bearish divergence occurs when the price is making new highs while the indicator fails to make new highs.
There are also a number of parameters available, these include the indicator type, first momentum average, safe mode, alerts on market changes, mobile phone notifications, and more.
Service Cost
The Exponential Momentum indicator can currently be purchase with a one-off payment fo $36 which will get you up to 5 activations of the indicator. There is also the option to rent it on a monthly basis, this will cost you $10 per month to rent it.
A free demo version is available but the details of the free version are not detailed on the site so it is not known what the limitations are, it may still be worth downloading to try out before making a purchase.
Conclusion
There's just the one review is available giving the indicator an overall rating of 5 out of 5.
"Excellent! One of the best indicators I have ever seen!" – A 5-star review.
The review is positive, there are also two comments, the developer has not replied to either of them which isn't a great sign for the customer support that you will receive. Due to the few ratings available, we would suggest trying out the free version and sending any queries to the developer as you want to be sure that they are still actively supporting the indicator and its customers before you make a purchase or a rental.
This Forex service is currently available in the MQL5 marketplace: https://www.mql5.com/en/market/product/16086