The Divergence Dashboard can be found on the MQL5 marketplace under the indicators category, we have provided a link to ti below just in case there are any other indicators with similar names. The indicator was first uploaded on the 13th of March 2019, by Jan Flodin, it received an update later in the year on the 23rd of December 2019 and is currently at version 1.6.
Overview
The Divergence Dashboard is an indicator for the MetaTrader 4 trading platform, the indicator works by sending alerts when one or two different divergences have been identified on a number of different timeframes. The indicator can be used on all timeframes from M5 up to MN and it possible to also use moving averages and RSI trend filters to filter out on the strongest signals. You can attach the indicator to a single chart and it will give you alerts for any symbols that you desire.
The main features of the indicator:
-Can detect divergences for following oscillators/indicators: MACD (signal line or mainline (histogram)), Stochastics, OsMA, RSI, CCI, Awesome, OBV, ADX, ATR, MFI, and Momentum.
-It is possible to select the time frames to be visible on the dashboard.
-Continuously performs a divergence rank sorting within the dashboard. It is possible to disable this sorting through to make it easier to find a specific symbol. The symbols will then be visible in the same order as they have been entered in the Symbols parameter or in the order they are visible in the Market Watch window.
-By clicking inside a rectangle a new chart will be opened with the symbol and time frame in question.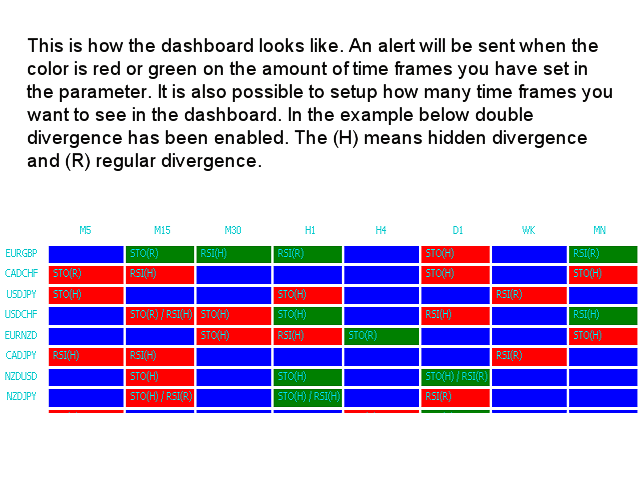 There are also a number of parameters available to change, these include things like the divergence settings, the MACD settings, symbols, and timeframes, moving averages settings, alerts, colors and text, trend filters, and many more options are available too.
Service Cost
The indicator can be purchased outright for $39, this version comes without any limitations, there is also the option to rent it on a monthly period, this will cost you $123 per month. The website shows that a free demo version is available to use and try out, the free version has some limitations, it can only be used on the EURSUD, GBPUSD, and USDJPY pairs and does not have support for mail or push alerts, even with these limitations we would suggest downloading and trying out the free version.
Conclusion
There are currently three different reviews for the Divergence Dashboard.
"Amazing indicator. It saves you a lot of time and helps you spot divergences very quickly (both = hidden and regular). It gives you a quick overview of the market in a blink of an eye. + Jan's support is very helpful. I would highly recommend it." – No rating is given.
"Jan has surpassed his own ingenuity again! What a masterpiece for all Divergence Lovers." – A 5-star review.
So the reviews are pretty positive which is a great sign, the developer has also been replying to comments in a prompt manner which shows that he is actively supporting the indicator and is giving a good quality customer support. We would recommend that you download eh free version and also get in touch with the developer with any queries, this was you can make sure that the indicator will do what you need it to do prior to making a purchase or rental.
This Forex service is currently available in the MQL5 marketplace: https://www.mql5.com/en/market/product/36737