MASR Bands is located on the MQL5 marketplace and is found under the indicators section. Muhammad Elbermawi is the creator and the first uploaded the indicator on the 4th of November 2019, it has been updated a number of times with the latest update being on the 17th of March 2020, the indicator is currently at version 2.0.
Overview
MASR Bands is an indicator that can be used with the MT4 trading platform, it was created for help you look for moving averages surrounded with two bands that will help to show the support and resistance levels.
Some of the main features of the indicator:
MASR Bands do not repaint or recalculate its results.
Well-designed parameters to help the user easily navigate between them.
Sound, Mobile notification, and email alerts depending on user choice.
MASR Bands code is revised to make sure that it will not consume the user's PC memory.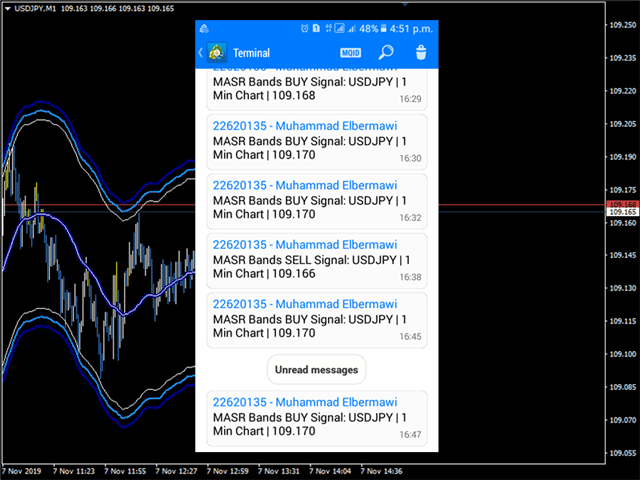 There are also some parameters available these include the MASR candles, MASR moving averages, whether to show the arrows and verticle lines, sound alerts, whether to send emails or push notifications, the chart color, and a few more.
Service Cost
The MASR Bands indicator can be purchased with a one-off payment of $60, the developer has given you up to 1000 activations for each purchase. There are also two rental options the first will cost you $10 per month, the second is for a three month period which will cost you $30.
A free demo version is also available, the demo version can only be used with the EURUSD pair and only on the 1H chart.
Conclusion
Unfortunately, there aren't any user reviews for the MASR Bands indicator so we cannot tell how users are finding it or if it is doing what it is meant to be doing, there are four comments, but they are all from the developer themselves giving some analysis or signals. The last comment was from 2020 so it appears that the creator is still being active and supporting the indicator which is good to see. As there are no reviews, we would suggest contacting them with any questions just to make sure that it will do what you need it to do before you make a purchase or a rental.
This Forex service is currently available in the MQL5 marketplace: https://www.mql5.com/en/market/product/43431