PZ Reversal Fractals MT4 is a piece of software that can be found within the indicator section of the MQL5 marketplace, there may be others with similar names, we have added a link to help avoid any potential confusion. The indicator was uploaded by its creator Arturo Lopez Perez on the 16th of August 2019, it was first added to the MQL5 marketplace as version 5.0 of the indicator and there have been no further updates since it was added.
Overview
The PZ Reversal Fractals MT4 is an indicator designed for the MetaTrader 4 trading platform. The indicator works by looking at the price structures of fractals to determine the possible reversal points within the markets, it will provide timing for positional trades that already have a fundamental and technical model.
The indicator is a lagging or reactive signal, the indicator will draw when all bars ina fractal close, it works well for those with an existing directional bias.
A few key features of the indicator:
Reversal fractals can start long trends
The indicator is non-repainting
It implements alerts of all kinds
Customizable colors and size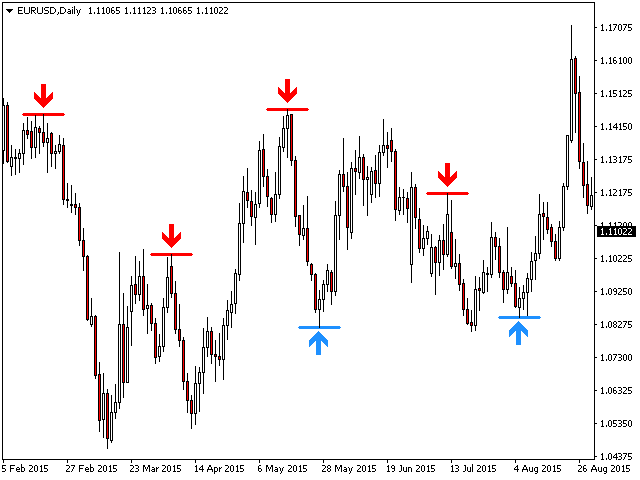 There are also a number of settings available to alter that can help adjust the indicator to suit what you need:
-Bars in Fractal: Amount of bars in each fractal. Must be an odd number such as 3, 5, 7, 9, 11, 13…
-Max History Bars: Amount of past bars to evaluate when the indicator loads
-Colors: customize arrows and lines colors and sizes
-Alerts: Enable or disable alerts of all kinds
Service Cost
The PZ Reversal Fractals MT4 is actually free to download, so there is no cost, you are able to download the full version completely free, no payments and no rental required. As the full version is free, there is no demo version available or needed.
Conclusion
At the time of writing, there are currently 16 reviews giving the indicator an overall rating of 4.5 out of 5.
"Awesome indicator, not 100% but no indicator is but damn it comes close!! and also it does not repaint big props" – A 4-star review.
"Love the indicator. Waiting for EA based on that from Arthur." – A 5-star review.
"I really like this one and use it in most of my chart setups"
The majority of reviews ar every positive which shows that for the majority it is working as intended, there are a few reviews asking for help, there are also a lot of comments but no replies from the creator, so it is not clear if it is still being supported. The good news is that it is completely free, so it is easy to download and try it out without having to make a purchase of any kind.
This Forex service is currently available in the MQL5 marketplace: https://www.mql5.com/en/market/product/41310