Range Bars is an indicator that can be located in the MQL5 marketplace. There may be other indicators with similar names, so to avoid any confusion we have provided a link to the correct one below. The indicator was created by Artur Zas and was first uploaded on the 22nd of August 2017, it was last updated on the 4th of June 2019 and is currently at version 1.7.
Overview
Range Bars is an indicator that can be sued with the MetaTrader 4 trading platform. The indicator allows you to create custom range bar charts within the trading platform, it is recommended that you use the indicator on the 1-minute chart, but others also work.
There are a number of different settings available including:
Display settings:
Display on an offline chart (M2, M3, M4, M6, M7, M8, M9 or M10)
Apply a template to offline chart (name template to apply to the range bars chart)
Automatically open offline chart (true/false)
Build history for a number of days
Reset Open on each trading day
And more…
ATR based bar size calculation:
Enabled (true/false)
Daily ATR period
Percentage of ATR to calculate candle size (high to low)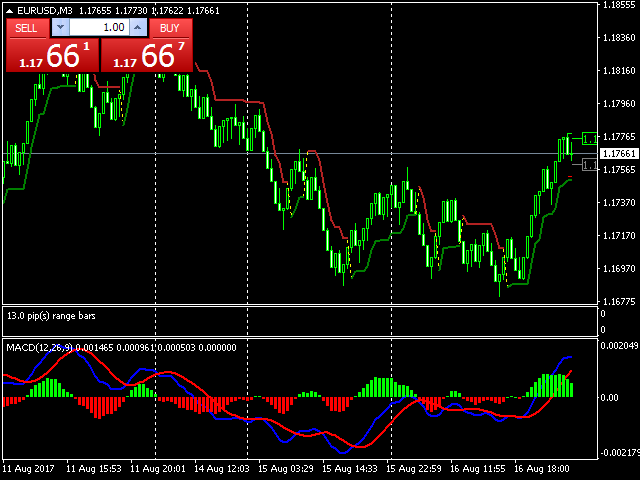 Alerts and Info:
A sound signal on new bar (true/false)
Only signal reversal bars (true/false)
Use Alert Window to display signal (true/false)
Sound file to play on the bullish bar
Sound file to play on the bearish bar
Color of High threshold indicator
And more…
Service Cost
The Range Bars indicator can be purchased for $45, this is an outright purchase and will mean that you are able to use the indicator as much as you want, you are also able to rent the indicator on a monthly basis, this will cost you $10 per month. There is also a free version that you can download and try, this will have some limitations attached to it, but we are not sure what they will be.
Conclusion
There are two reviews available for the Range Bars indicator, they are both giving it 5 out of 5 stars which is a very positive start.
"Very good indicator, recommend!!"
"The Range Bars are awesome! fits perfectly into my strategy and much nicer and easier to trade than renko IMO."
So both the reviews are very positive, as there aren't many of them, we would recommend trying out the free version of the indicator, this will allow you to try it out and to make sure that you are able to get it set up and that it is in fact what you are looking for prior to making an actual purchase.
This Forex service is currently available in the MQL5 marketplace: https://www.mql5.com/en/market/product/24912