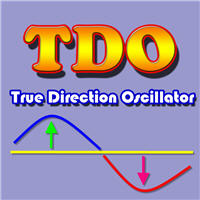 True Direction Oscillator or TDO is a trend gauging oscillator type indicator using a simple but effective formula. The developer is very open and transparent on how the indicator works and the Overview page has professionally made content. TDO has been initially published on the MQL5 market on 23rd November 2015 and since has received many updates. The latest version is v9.1, freshly updated in February this year. The author of this very interesting and popular indicator is Muhammad Al Bermaui from Egypt, showing great dedication to support his work.
Overview
The latest updates include optimization of the code and buffers, making the indicator require fewer computer resources and some additional ease of use and visual enhancements. The number of reviews and comments is great, making this indicator one of the most popular on the MQL5 market. It belongs to the paid category although the price is not high, especially for a quality indicator.
TDO is an enhanced momentum indicator based on the Price Rate of Change (ROC) except the formula is improved to work equally on bullish and bearish momentum. Therefore, the formula is disclosed as:
Center = (A + B) / 2
TDO = 100 x (A – B) / Center, where A and B are price levels
For trend traders, TDO is a great addition. Based on the presentation, the indicator is universal, using the formula on every trading instrument is valid. The timeframe is also universal, thus it can also be used in certain scalping strategies and has a good way of having an exit signal, not just rend confirmation. TDO will draw an arrow on the chart once the trend is confirmed, and does this based on 5 different TDO periods alignment in the same direction, bullish or bearish. This is done to prevent false zero-cross signals as per developer words. Additionally, TDO is confirmed to be non-repainting.
To facilitate with Take Profit and Stop Loss management, TDO features a panel with buttons to turn on the Linear Regression channel or Standard Deviation channel, giving the traders precise levels for this purpose using one of the best mathematical methods for measuring volatility highs and downs. Also, you can add Grid levels (rounded up price) and the automatic Support and Resistance plotting on the chart. A well rounded up solution for those using the Price Action strategies.
The developer has a very neat "table of contents" providing the readers a link to the TDO demo, User Manual, FAQ, Video library, and an EA development guide on the TDO indicator. All of the guides are clear and well written. TDO is simple to trade, an arrow will point and confirm the trend, the arrow in another direction could also mean the exit and the appearance of a new trend. Scaling in, or adding a position to already open trade in the same direction, is suggested once the TDO panel lights are aligned.
Of course, you can set alerts when this happens and also on additional parameters so traders will not miss the opportunity. The video provided shows that the indicator has a histogram that draws only once all of the TDO signals are aligned, showing the "True" trend. Using this histogram can also be a good exit or continuation strategy.
Four color palettes are offered in the settings listing and you can also have a quick symbol changer on the chart, allowing traders to have easy switching for all major 28 currency pairs on a single chart window. If 28 currency symbols are not enough, you can add more in the settings using the ";" separator. If you have too many symbols, you can arrange them in custom formation like 3 rows with 10 symbol buttons or similar. Timeframes switching is also designed similarly, right below the symbol buttons with the option to show up to 9 timeframes.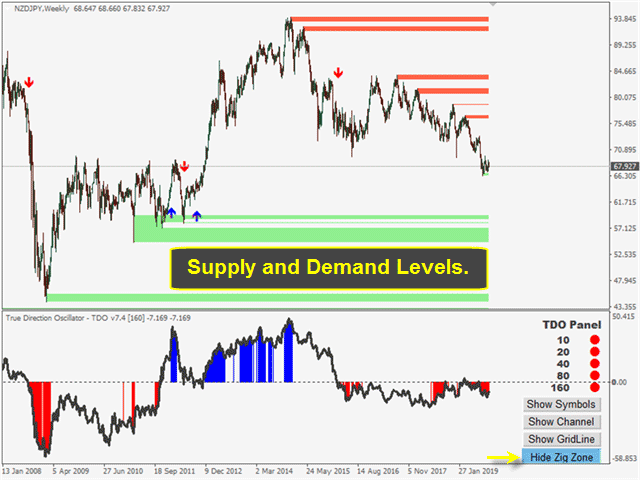 The mentioned channels are also customizable in the settings where you can change values for the calculation period, and also to set the channel as a ray, extending well beyond the last price level for prediction purposes. Grid settings are optional and the same is for the Support and Resistance automatic plotting.
Service Cost
TDO is priced $50 to buy with 1000 activations. Therefore, traders purchasing this indicator will never run out of licenses. Renting is possible for 1 month for $10 and 3 months for $30. A demo is provided but works only on the EUR/SUD pair with full functionalities, a separate link for it is provided. The price for a great trend indicator is never an issue, especially when we see support form the author and extremely good rating.
Conclusion
TDO has a rating of 4.9 out of 388 reviews and has 552 comments to this date. This is hard to achieve, we had to search a while to find bad reviews, we have found one that signals that TDO might be lagging for some:
"These signals are mostly wrong. Not sure what everyone is talking about. The panel constantly changes and the arrows are mostly wrong."
Out of the good reviews, to the point is the one from bubienok:
"True Direction Oscillator and Bermaui Deviation Percent are perfect for intraday and also trend trading. Excellent work Muhammad."
TDO is probably one to go for trend or swing traders, it goes very well with other indicators from this developer, but it can also be a great addition to any system.
This Forex service can be found at the following web address: https://www.mql5.com/en/market/product/12914