Moving Average Proximity Alert Multiple Pairs can be found within the MQL5 marketplace under the indicators heading. We have added a link to the indicator below. The indicator was first uploaded by its creator Krisztian Kunzer on the 16th of July 2018, there have not been any further updates to the indicator is still at version 1.0.
Overview
The Moving Average Proximity Alert Multiple Pairs indication has been created for the MetaTrader 4 trading platform, it was designed to work with 16 currency pairs over multiple timeframes in order t ogive alerts when the price reaches a moving averages alert zone.
Main features of the indicator:
-Can monitor 16 currency pair's moving average (EURUSD, GBPUSD, USDJPY, USDCHF, AUDUSD, NZDUSD, USDCAD, EURJPY, GBPJPY, EURGBP,EURCHF, GBPCHF, EURAUD,GBPAUD,EURNZD,GBPNZD).
-Get alerts on screen, email, push notifications (mobile).
-Adjustable sensitivity.
-Displays the price (Bid) distance to moving average in points.
-Displays which alert is On.
There are also plenty of parameters available, some of them include the alert sounds, the type of alert to use, the MA range, MA timeframes, font colors, font sizes, and more.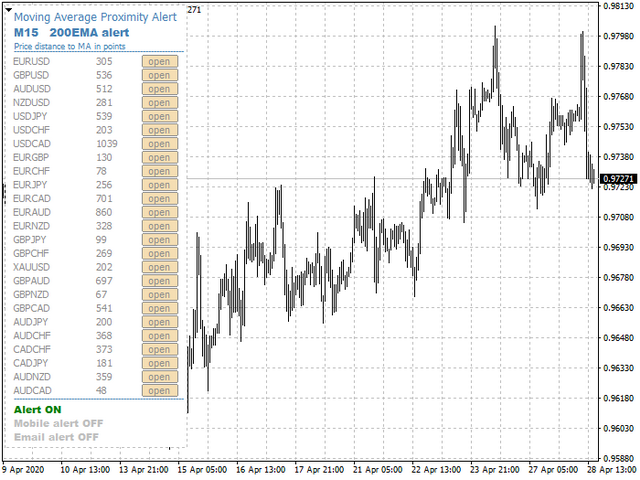 Service Cost
You can purchase the indicator for $30 which is a one-off payment, you are also able to rent the indicator, you can do this for a three month period which will cost you $12, or you can rent it for one year which will cost you $25.
Conclusion
At the time of writing, there were three user reviews, however, two of them did not leave a rating, the one rating available has given the indicator and overall rating of 5 out of 5.
"It's overall a very good indicator. Exactly what I needed. I can mention only one thing: I trade intraday charts, approx 5-6 what I am watching. Can you add a feature with which I can turn off/on some currency pairs. I would really appreciate it :)" – A 5-star review.
Along with the one review, there is only one comment, the developer has not responded to it. Due to the lack of activity, we would strongly suggest that you download and try out the free version, you should also send any queries that you have to the developer to ensure that they are still active and supporting the indictor.
This Forex service is currently available in the MQL5 marketplace: https://www.mql5.com/en/market/product/30426