Kirik Markets is an international forex exchange broker that is governed by the status and laws of St. Vincent & the Grenadines. The company specializes in FX and CFD options, with a few cryptocurrency pairs available, while largely focusing on Social Trading. The broker explains that they provide platforms that can help traders achieve short-term investment success and that their client's happiness is one of their main concerns. Kirik Markets has managed to attract more than 30,000 clients from 45 countries during their 4+ years of operation. If you're thinking of joining the thousands that have chosen to invest through this broker, you'll want to keep reading to find out more about their live account types, trading conditions, and more.
Account Types
Kirik Markets features three separate live account types; AED Gold, and Prime/Pro Royal accounts. Account-holders are given the option to choose between MetaTrader 5 and Kirik Markets WebTrader trading platforms, both of which support FX and CFD trading. Those opening an AED Gold account would need to deposit 500 AED, while the Royal accounts offer USD-based deposits of $100 for the Prime account and $1,000 for the Pro account. Despite initial advertisements on the account pages, the broker supposedly bases leverage levels on account equity, with a maximum 1:1000 cap available on any account that holds a balance of less than $500 USD. Another plus to trading through the broker would zero commission fees on all accounts, alongside fairly tight spreads, especially on the Pro Royal account. Account details have been provided below.
AED Gold Account
Minimum Deposit: 500 AED
Leverage: 1:1000 (based on equity)
Commission: Zero
Spread: From 1.8 pips
Royal Prime Account
Minimum Deposit: $100 USD
Leverage: Up to 1:1000 (based on equity)
Commission: Zero
Spread: From 1.8 pips
Royal Pro Account
Minimum Deposit: $1,000 USD
Leverage: Up to 1:1000 (based on equity)
Commission: Zero
Spread: From 1 pip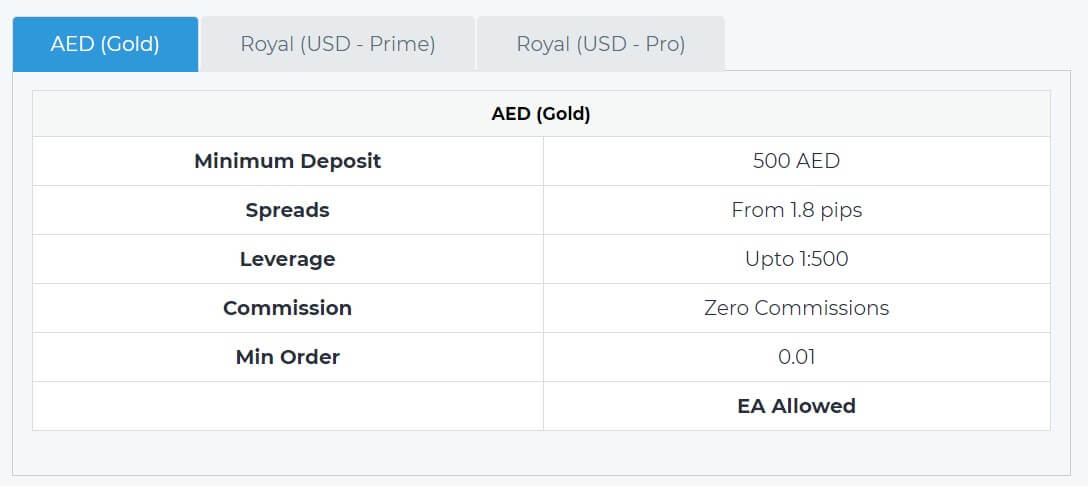 Platform
Kirik Markets features the MetaTrader 5 platform as their sole trading platform option. More often than not, brokers tend to offer MT5's predecessor, MetaTrader 4, which is the most commonly available platform on the market. We don't get to see MT5 offered as often, so it's nice to see the newer version, which does come with some updates. On the downside, some traders may be used to MT4 and prefer that option, so it is a little disappointing that the broker doesn't offer a choice between the two. Still, MT5 is a sufficient option that should come with enough features to be sufficient enough for any trader. We've provided some of the platform's highlights below.
Available on web-browser, PC, or download on mobile devices and tablets
Available in 30+ languages, demo accounts, navigable user-friendly interface
Customization options plus multiple charting tools
Pre-programmed analytical tools
Real-time summary for clients and daily statements, economic calendar
More pending order types, timeframes, technical indicators, and languages

Leverage
Leverage options are advertised as being from 1:100 to 1:400 on the Royal accounts and up to 1:500 on the Gold account, however, the broker lists conflicting information on other sections of the website. Under their terms & conditions, Kirik Markets claims that a cap of 1:200 is applicable on all accounts. According to their trading conditions, the default leverage for each account is generally set based on the account's equity, with 1:1000 being the highest cap. Obviously, there is a big difference between the three advertised options. We've listed the equity-based leverage caps below in case these options are the actual offers, which seems to be the most fact-based offer.

Traders should note that the above maximum leverage caps are very competitive, especially compared to strict regulator guidelines through ESMA or others, where traders are restricted to caps of around 1:30. On the downside, one should be very aware of the fact that the broker adjusts leverages based on the account's funds, and that a higher leverage may be applied on accounts that have been opened by beginners. Trading with high leverage can be extremely risky and the setup may cause some clients to lose funds without much warning.
Trade Sizes
The minimum allowed trade size is one micro lot (0.01). Hedging is supported and Expert Advisors (EAs) are allowed on all accounts. The website does mention that execution speed may be slowed down when the underlying market is very active, which could cause it to take longer for order confirmations to be received. Based on other information regarding execution speed, it seems as though the company may have a more delayed execution time, which is a potential downside considering that this can result in orders being filled pips away from the intended amount.
Trading Costs
Kirik Markets profits from spreads and overnight interest charges. The fact that the broker offers zero commissions on all three of their live accounts makes it easier for traders to keep up with the overall charges of placing a trade. Spreads start from fairly tight options on the broker's cheaper accounts and are especially competitive on the Pro account, even before one takes the lack of commission fees into consideration. Rollover refers to the interest that is either charged or applied to the trader's account on positions that are held past the 5 pm ET market closing time. Swap rates are tripled on Wednesdays to account for the upcoming weekend. There do not appear to be any inactivity fees, maintenance charges, or other extra fees.
Assets
The broker offers 28 currency pairs, which consist of majors and minors. Exotic options are not available, resulting in more limited options for this category. Traders will also have access to spot metals Gold, Silver, and Copper, along with oil options UK Oil and US Oil, plus 13 indexes. In addition, traders will find the cryptocurrency pairs BTCUSD, ETHUSD, and BCHUSD, which aren't as readily available elsewhere. Commodity options like Coffee, Cocoa, Corn, Cotton, Soybean, Sugar, and Wheat are also featured products. On the downside, the lack of exotic options, stocks, and other options do take away from the overall diversity of the broker's investment portfolio.
Spreads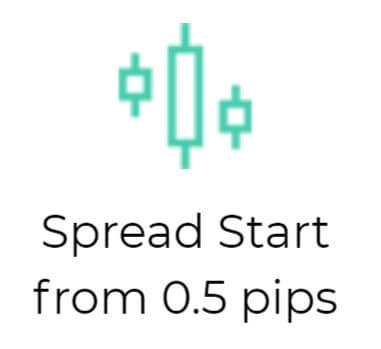 According to the account types page, spreads start from 1 pip on the Pro Royal account and from 1.8 pips on the AED Gold and Prime Royal accounts. The higher spreads are more reasonable due to the lack of commission fees that are charged by the broker. Bear in mind that certain conditions may affect the spreads that one would see. For example, during the first few hours that the market is open, thinner liquidity may result in wider spreads than those advertised. Rollover can also widen spreads, or generally any time of high market volatility. The website does provide us with a list of typical spreads based on each instrument, but the list is a little confusing, considering that the chart only lists one option per instrument when there are three account types and two different spread. The listed options seem to fall into the lower category that would apply to Pro Royal accounts. We've provided a few examples below.
AUDJPY: 1.1 pips
AUDUSD: 0.7 pips
EURUSD: 0.6 pips
XAUUSD (Gold): 1.2 pips
Brent Crude Oil: 2 pips
Minimum Deposit
The AED Gold account lists a deposit requirement of 100 AED, which roughly translates to $27 USD. Of the two Royal account types, the Prime version is the cheaper option with a $100 USD deposit. The amount is fairly average, and traders would have to deposit $100 regardless based on each payment method's minimum deposit requirements. The Pro Royal account asks for the most expensive $1,000 USD deposit. This account type may not be affordable for some traders, but Kirik Markets does manage to keep its accounts at more affordable levels than many of its competitors.
Deposit Methods & Costs
Accepted deposit methods consist of the card-based options Visa/MasterCard, Neteller, Maestro, American Express, Diner's Club, and JCB, along with bank wire, Skrill, Neteller, and Kirik Pay. There is a $100 minimum deposit requirement per deposit made through any method and zero fees are applied to deposits. Aside from bank wire, which has a 3-5 business day processing time, deposits are credited to the trading account instantly.

Withdrawal Methods & Costs
Withdrawals are processed back to the original bank account or payment method that was used to make the deposit. Any earned profits that exceed the amount of the original deposit must be withdrawn to bank wire. Note that the website provides conflicting information for Visa/MasterCard deposits, where the fee is listed as being 3% in one section of the withdrawal chart and $5 in another section. One of these fees would certainly apply. The payment methods Neteller, Maestro, and Skrill will be charged the 3% fee, while American Express, Diner's Club, and JCB are charged $5 per transaction. Bank wire withdrawals are charged a 0.2% fee, with a minimum payment amount of $30 USD/GBP/EUR.
Withdrawal Processing & Wait Time
Once the withdrawal request has been received and any required information has been provided, it takes the company up to 48 hours to process most withdrawals. In the case of bank wire withdrawals, it can take 5 business days for funds to be released. The process is rather slow compared to the typical 24 hours timeframes offered by most brokers. This could also cause a lengthy delay when it comes to receiving profits sent through bank wire, considering that the bank's processing times must be factored into the overall wait time.
Bonuses & Promotions
One might consider the broker's free training program (more info on that later) to be a special opportunity, especially considering that a free trainer is provided to traders that complete the program; a service that many other brokers would charge for. However, Kirik Markets doesn't offer any direct offers like bonuses, contests, rebate or loyalty programs, or really anything we would consider to be a promotional offer. On their website, the broker explains that bonuses used to be offered but proved to be less than fruitful, so their attention was turned elsewhere.
Educational & Trading Tools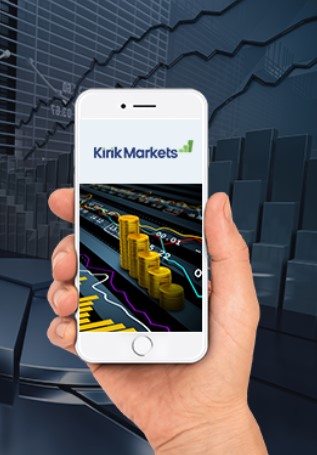 The highlight of Kirik Market's educational material comes as a free training course, which aims to provide traders with insight into the market, a detailed overview of the MT5 platform, steps to building a professional trading system, and how to understand risk management while avoiding mistakes. Upon completion of the free course, traders are provided direct support with a trainer and Skype consultant that help to tailor one's strategy. Yet another plus is the ability to participate in this program online, at an office location, or even in person in your own home. The personal approach to the program is unlike many other offers we've seen before, so beginners should certainly consider taking advantage of the offer. We've also provided an overview of various other resources below.
Trading Psychology (Parts 1-4)
Trader's Glossary
Trading Central
How to Trade Chart Patterns
Forex Versus Stock Market
Daily News & Forecast
How to Build a Trading System
More
Demo Account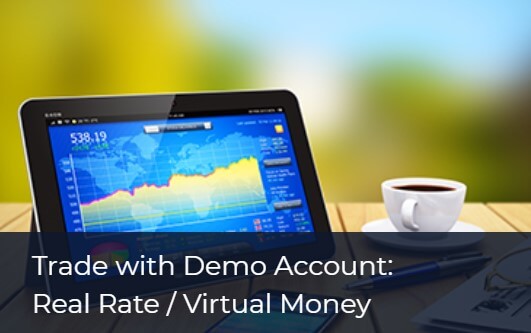 Along with the majority of other forex brokers, Kirik Markers recognizes the benefits that demo accounts can offer their clients and have therefore made these accounts available to any trader free of charge. The non-expiring demo accounts can be opened by clicking on the "+" sign at the top right corner of the website and filling in the short form. The form allows traders to choose leverage from 1:100 up to 1:500 and an amount of virtual funds from $1,000 to $1,000,000 can also be chosen. The customization options are a bit more detailed than some of the demo accounts we've seen before, where leverages are pre-set and funds are often set at unrealistic amounts. Fortunately, the broker does make it possible for the account to be more personalized.
Customer Service
Traders can reach out to support through LiveChat, phone, email, or by filling out a contact form on the website. Business hours aren't listed exactly, but the broker does provide a 24-hour timeframe for email responses. This timeframe would likely apply to business days (Monday – Friday), with a slightly longer wait time for inquiries received on weekends. Fortunately, agents do seem to be very active on chat and we were even greeted through the chat window once we loaded the website's page, so it seems as though contacting support is fairly quick and convenient. Contact details have been listed below.
Phone: +501 223 2144
Email: support@kirikfx.com

Countries Accepted
Due to their more lenient location in St. Vincent in the Grenadines, it's possible for Kirik Markets to get by with providing service to clients located in more seriously regulated countries, like the USA, Canada Japan, and etc. However, we did notice a few missing options, including North & South Korea. US residents will also need to select the US Virgin Islands on the registration list.
Conclusion
Kirik Markets is a St. Vincent based forex exchange broker that offers 28 currency pairs, metals, oil, indexes, commodities, and the cryptocurrency pairs BTCUSD, BCHUSD, and ETHUSD on the MT5 platform. The broker offers a competitive maximum leverage cap of up to 1:1000, however, conflicting information on the website suggests that leverage options could be significantly lower. Commission fees do not apply on any of the three live account types and spreads start from a 1-1.8 pip range, which is fairly tight. A variety of funding methods are accepted with fee-free deposits. Varying fees are charged on withdrawals, including a $30 minimum charge on outgoing wire transfers. Withdrawal processing times take up to 48 working hours or 5 business days in the case of wire.
Support is available on weekdays and can be contacted instantly through LiveChat, or via phone and email. In lieu of promotional offers, the broker places a large emphasis on education and even offers a free training program, plus direct support with a trainer and a Skype consultant once the program has been completed, along with educational articles that cover the psychology of trading and various other important topics. The educational offers and competitive trading conditions make the broker worthy of consideration, but traders should keep some of the negatives, like slower execution speeds and withdrawal fees in mind.