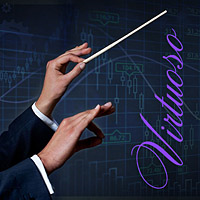 This EA is based on several trading algorithms and designed for major currency pairs. It is not known how it works or what is the strategy behind it. What is certain is the absurd price and the extremely low rating raising the question if this is a serious offer after all. The latest version is 2.4 updated in October 2019 with the additions of controlling module that adapts to trading conditions. Also, some new settings are added for better risk management. The initial version is published on 11th June 2019 by the developer Aleksandr Shurgin from Russia.
Overview
Virtuoso overview page on the MQL5 website does not tell much about this EA. It is designed for the MetaTrader 4 platform. I t has the protection form flash crashed and some trailing stop management features. VPS is recommended and some automatic optimization for broker commission and volatility is included in the code. It seems that the generation of the signal is based on the channel strategy although we could not extract more details from the settings.
According to the performance charts and the video, this EA seems to be working on trending major currency pairs on the M5 timeframe. The results and the growth chart is extreme without any dips and extremely low drawdown. They are perfect in a sense it raises suspicion. The backtesting modeling is not the most precise, only 90% is used, and this is not serious for any investor. Drawdown is only 0.75% on the EUR/USD pair for more than 16 months. The winning rate is 92.06% and 68 average consecutive wins. Only 2 consecutive loses on average are made for this period. Similar results are for USD/JPY, GBP/USD, USD/CAD, and AUD/USD on the Tickmill broker servers.
Virtuoso settings parameters are extensive. Users can control the Start and End trading time, control the signal period for several modules, manage volatility filter sensitivity, some additional validators and confirmation indicators usage, lot management, Stop Loss management including trailing Stop Loss, Slippage/Spread filtering and so on. Obviously, the developer does not want to disclose what indicators are used and therefore the settings could prove very difficult to understand, at least the ones related to the "signals".
Service Cost
The price for Virtuoso is no less the $30,000 to but and $3600 to rent for one year. The first option is probably never intended to be serious. No one should buy an EA that has rating this low and obscured way of function. A demo account is offered and definitely a must given this price.
Conclusion
User reviews are terrible, Visrtuoso has 1 star based on 5 reviews. Unfortunately, this EA will probably never rise to normal levels, it is not even considered for a demo. It is needless to say it is not popular, all of the reviews are bad. The latest one from Joby K:
"Every Day is a LOSS, this Virtuoso is making loss everyday, In backseat, drawdown in a month is 10%, but in real 40% loss per day, this Virtuoso people are making us fool, how to get a refund from Virtuoso, I am not going to trade anymore, I need my subscription cost at-least".
The deeper has other products with much better ratings but this one is probably abandonware.
This Forex service can be found at the following web address: https://www.mql5.com/en/market/product/35189