The TwilightTrade SEES is an expert advisor that is designed to work with MetaTrader 4 and can be found within the MQL5 marketplace, we have linked it below so you can understand exactly which expert advisor we are looking at. At the time of writing this review, the most recent version is version 17.88 which was updated on the 15th or December 2019.
Overview
This expert advisor is designed to be used with the MetaTrader 4 trading platform. It is based on a level trading strategy, price action, and also uses some MetaTrader 4 indicators. It allows you to control risk management as well as profit and loss levels. The expert advisor does not sue grids, martingale, hedges, or scalping, it is fully automated.
This expert advisor should only be used on the GBPUSD pair and on the M15 timeframe.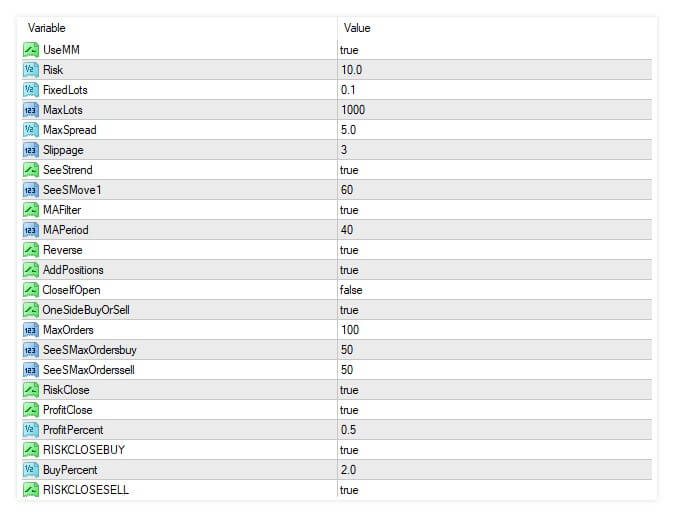 There are also a few additional settings and parameters that you are able to change to suit your own style:
SeeSSetFile — money management
Use MM — money management
Risk — capital management risk
MaxLots — a maximum lot
MaxSpread — max spread
Slippage — slippage. 1-3 suggested – no more and no less
Service Cost
The expert advisor costs a massive $5,000 to buy which is very expensive for an expert advisor, you are also able to rent the software on a monthly basis which will cost you $500 per month to do this. There is also a free demo version available to use, and we suggest that you do, as it is a lot of money to spend on something you have not tested before.
Conclusion
There are five different reviews available for this expert advisor, they are all 5-star reviews.
"Thanks for your Very good support, and thanks for your great Expert Advisor TWILIGHTTRADE-SEES I manage many good signals and Forex account with your smart system, really thanks for you" – User Comment
"Good Expert Advisor in fact its include 20 best Expert Advisor in one system I did use the first 5 setting and all setting make good profit with me, thanks for your great work"
Normally we would suggest being quite weary when there are only 5-star reviews available, however as there is a free demo version available, we would suggest using that to make sure that the expert advisor works for you and that you are able to set it up prior to making a purchase.
This Forex service is currently available in the MQL5 marketplace: https://www.mql5.com/en/market/product/28293