Pruton Capital is an Indonesian based foreign exchange broker that is registered with the Commodity Futures Trading Regulatory Agency and is a member of the Indonesian Derivatives Clearing House. Pruton Capital aims to design, produce and support cutting-edge infrastructure for greater financial market accessibility and pricing transparency, while also meeting the needs of each customer by offering a transparent, efficient and professional service. Throughout this Pruton Capital review, we will be looking into each section of its website to see if they manage to achieve these or if they fall short.
Account Types
There are two account types available, the Standard account and the VIP account, there isn't any specific information about wither and we only know that they are available due to going to the signup page. As we cannot give much information here, as we go through the review, any clear differences between the accounts will be noted in each individual section.
Platforms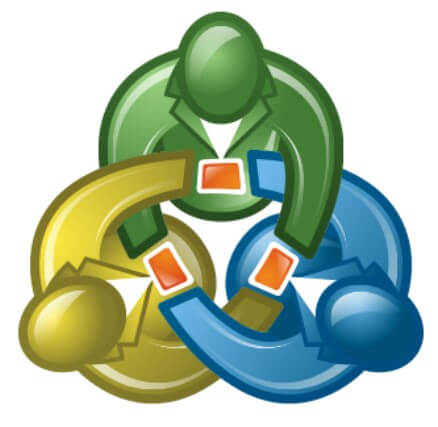 The only platform on offer from Pruton Capital is MetaTrader 4 from the MetaQuotes company. Some of the main features of MetaTrader 4 are that you can trade easily and professionally, trade from Mini or Standard Account, use one-click trading, have flexible leverage, mobile trading application available, access to rice alerts, signals and market news, you can trade FX, Metals, Energy, Indices, Stocks, and Binaries all in one platform, advanced charting package & technical analysis and, full use of Expert Advisors (EAs) and Indicators. It is also highly accessing as a mobile app, web trader or desktop download.
Leverage
It is not fully clear to use what the maximum leverage, the only leverage mentioned is on the product specification page which indicates leverage of 1:100, it is not known if this is the maximum or if it can go higher than this, but we do know that at least 1:100 is available.
Trade Sizes
Trade sizes start from 0.01 lots, they go up in increments of 0.01 lots so the next trade would be 0.02 lots and then 0.03 lots. The maximum trade size is 20 lots which is at an appropriate level as trades can still be executed quickly and without any slippage. We do not currently know what the maximum number of open trades you can have at any one time is though.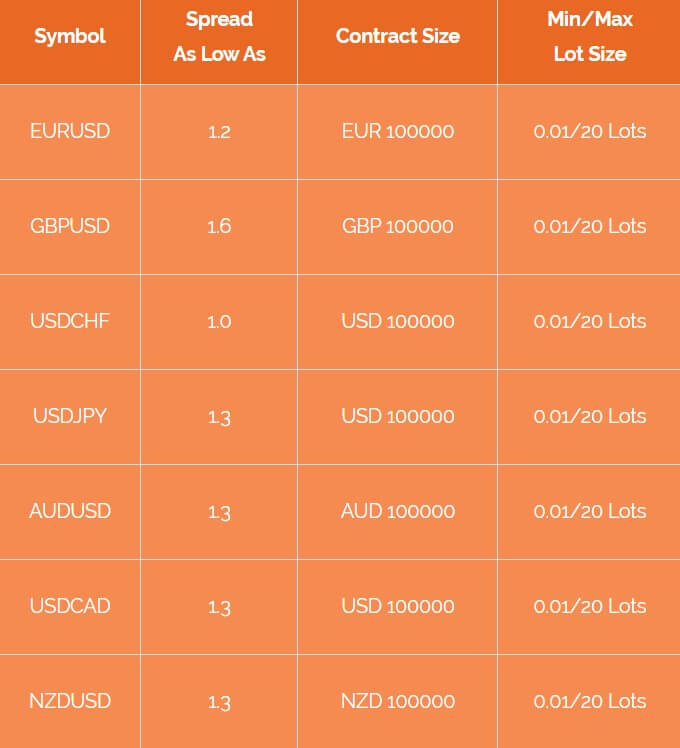 Trading Costs
It is unknown if there are any commissions, there has not been any mention don the site so if there are any they are being kept secret. It is important for brokers to show their costs, as a lot of potential traders use it to help decide which broker to use, so not knowing could cause some clients to look at another broker instead. It is also not clear if swap charges are present on the accounts.
Assets
The assets on Pruton Capital have been broken down into a number of different sections, we will outline the instruments available in each one below.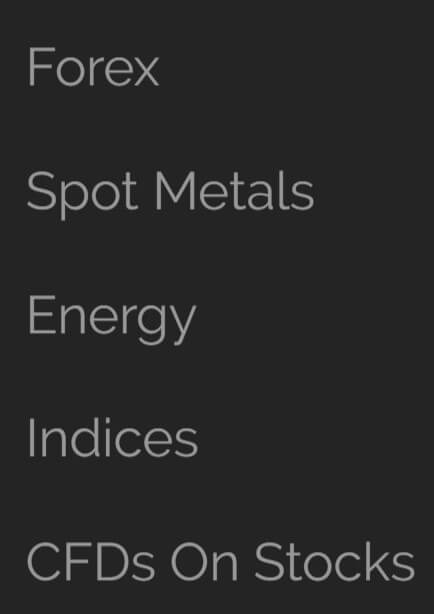 Major Currency Pairs: EURUSD, GBPUSD, USDCHF, USDJPY, AUDUSD, USDCAD, NZDUSD
Major Currency Cross Pairs: EURCHF, EURGBP, EURJPY, GBPJPY, GBPCAD, CHFJPY, NZDCAD, CADJPY, AUDJPY, EURCAD, EURAUD, EURNZD, GBPCHF, GBPAUD, GBPNZD, NZDCHF, NZDJPY, AUDCAD, AUDCHF, AUDNZD
Minor Currency Cross Pairs: USDCNH
Spot Metals: XAUUSD (Gold) and, XAGUSD (Silver)
Energy: US Crude Oil (WTI)
Hang Seng Index: HSI/HKK
Stocks: Plenty of worldwide stocks are available, we won't list them all but some of them include the likes of Google, Apple, Boeing, Facebook, Yahoo, Netflix, MacDonald's and, Goldman Sachs.
US Stocks: Some US specific stocks including Cisco, Amazon, Hewlett-Packard, Microsoft and, Twitter.
Spreads
Spreads seem to start from 1.0 pips, however, the spreads are variable so they will always be moving, so while they may start as low as 1 pip, they will most likely always be seen slightly higher and when there is extra volatility they will be seen even higher. The different instruments also have different starting spreads so while USDCHF may start at 1 pip, other instruments like GBPJPY will start higher, in this case, 2.2 pips.
Minimum Deposit
The minimum deposit amount is unknown to us, so we do not know what the minimum required amount is to open up an account or what the subsequent top-up minimums are.
Deposit Methods & Costs
It seems like Bank Wire Transfer is the only method available to deposit with (even though other methods are mentioned at the top of the deposit page and images at the bottom of the home page), you can deposit in EUR, USD or IDR and it will take between 2 -3 days for your deposit to be usable in your account.
In terms of any fees, there doesn't seem to be a fixed amount instead the site simply states that transfer fees will be charged on the sender and will be deducted from the account balance. You should also check with your own bank to see if they will add any fees of their own.
Withdrawal Methods & Costs
The page that would normally display information on withdrawals is unfortunately not working, the link does not go anywhere, we would assume that the same method of Bank Wire Transfer would be available to withdraw with also. We cannot comment on fees but we expect the transfer fees to be charged to the client, as always check with your own bank/processor to see if they add any of their own transfer fees.
Withdrawal Processing & Wait Time
Unfortunately, the information regarding withdrawals times is not available, however as we know they use Bank Wire Transfer for their deposits, as long as it is processed within 48 hours it should take between 1 to 5 business days for you to receive your funds depending on your own banks' processing times.
Bonuses & Promotions
There don't seem to be any active promotions or bonuses at the time of writing this review. So if you are interested in getting one you will need to contact the customer care team to see if there are any upcoming promotions or bonuses that you can take part in.
Educational & Trading Tools
The only type of tool that is on offer from Pruton Capital is a copy trade system, unfortunately, Pruton Capital had recently had an attack on their servers so the copy trade section was brought down and put under maintenance, due to this we cannot comment on the quality or features of it. There doesn't seem to be any other educational content to help you trade or learn.
Customer Service
There are a number of ways to get in contact with Pruton Capital, the first being through an online submission form, fill in your query and you should get a reply via email. There is also a physical address available and 6 different email addresses for different departments within the broker,
Address: Level 32, Menara Standard Chartered, Jalan Professor Doktor Satrio, 164 Setiabudi, DKI Jakarta, 12930
New Clients: [email protected]
Customer Support: [email protected]
Dispute Issues: [email protected]
Managed Accounts: [email protected]
Partnership: [email protected]
General Inquiry: [email protected]

Demo Account
Demo account sare available, they need to be opened from within the MetaTrader 4 trading platform so the conditions may not be particularly accurate when comparing them to the live accounts, we do not know the trading conditions or any potential expiration of the demo accounts. Demo accounts allow you to test the servers, trading conditions and new strategies without risking any of your won capital.

Countries Accepted
There is a statement of eligibility on the site and it is as follows: "Pruton Capital services are not intended for distribution to, or use by, any person in any country or jurisdiction where such distribution or use would be contrary to local law or regulation. It is the responsibility of the clients to ascertain the terms and comply with any local law or regulation to which they are subject." If you are still not sure of your eligibility, you can check with the customer service team to find out.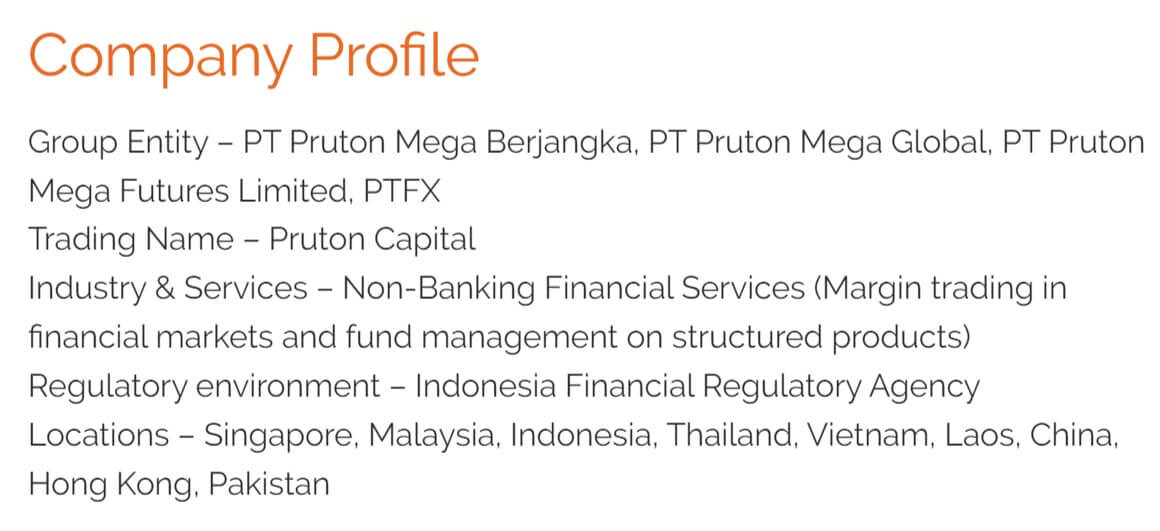 Conclusion
Pruton Capital made a big fuss of transparency on their company overview, however, there doesn't seem to be much with so much information being missing. We do not fully understand the difference between the two account types, we also have no idea what the full trading costs of the account sare due to not knowing about commissions or what leverage is available for the accounts. There also isn't much to trade, a very small list of available instruments could leave you struggling to find an appropriate trade, this coupled with the lack of available funding methods, limiting you to just Bank Wire Transfer could push away a lot of potential clients.