Pacific Financial Derivatives Limited is an online New Zealand based FX and CFD broker. The company has been in business since 1999 and was previously regulated by the Securities Commission, before changing to the regulatory oversight of the Financial Market Authority in 2005. Owned by a serious Japanese investor who has experience running similar derivatives-based businesses in Japan, PFDL is aimed towards that are looking for a broker that provides a personal approach to providing high-end service. We found some clear benefits to opening an account through this company, so stay with us to find out everything our research revealed.
Account Types
PFDL offers three separate account types; Trader, Pro, and Pro Plus. Islamic accounts are also available with a maximum leverage cap of 1:300 under conditions that seem to mimic the Trader account type. Both the Trader and Pro account can be opened with a deposit as small as $1, while it costs $1,000 to open a Pro Plus account. The leverage cap is the most flexible on the Trader account, while the cap drops to 1:100 for those that open another account type, or for any trader that has account equity above $5K. Spreads on the Trader account are typically higher than those on the Pro account types, although the broker offers competitive spreads on all accounts. There are no commission charges on the Trader account, while the other account types share a commission fee of $1 per side. We've provided a quick overview below.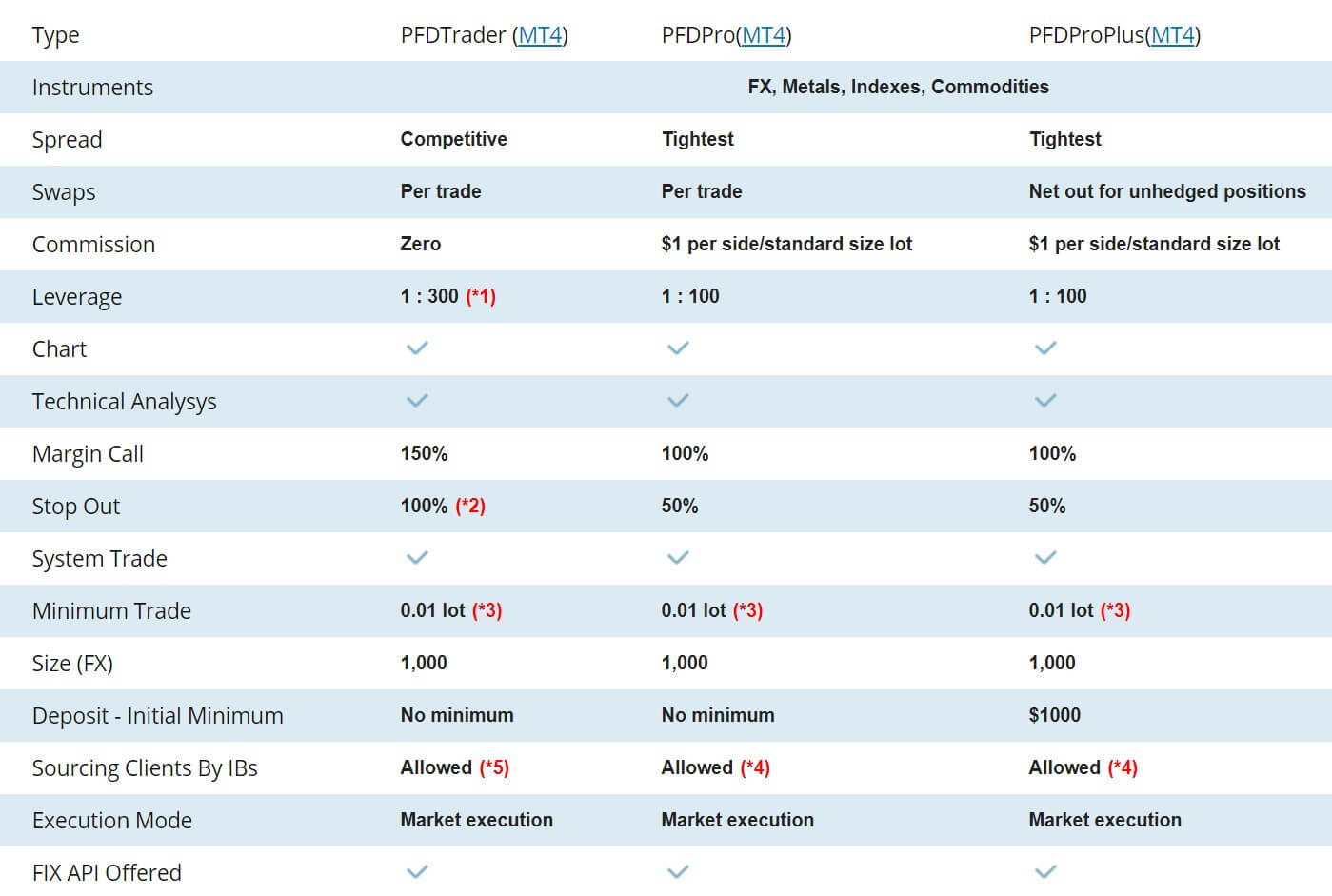 Trader Account
Minimum Deposit: None
Leverage: Up to 1:300
Spread: From 0.6 pips
Commission: Zero
Pro Account
Minimum Deposit: None
Leverage: Up to 1:100
Spread: From 0.3 pips
Commission: $1 per side
Pro Plus Account
Minimum Deposit: $1,000
Leverage: Up to 1:100
Spread: From 0.3 pips
Commission: $1 per side
Platform
All accounts offer the advantage of trading from the world-famous MetaTrader 4 platform, which is accessible through the MultiTerminal and WebTrader, or via download on PC, iOS, and Android devices. While we could spend a significant amount of time praising MT4, we'll simply mention some of the highlights instead. The interface is user-friendly and customizable, and many traders have mentioned how easy it is to learn how to navigate. MT4 provides access to three different chart types, multiple pending order types, timeframes, analysis objects, technical indicators, etc. The program supports a wide range of assets while allowing traders ultimate control by allowing Expert Advisors, support for the trading of micro-lots, and more. All of these features contribute to the platform's popularity and are the reason why about 85% to 90% of brokers promote MetaTrader 4 exclusively.

Leverage
The Trader account type offers the highest leverage cap of 1:300. Conditions state that this cap is available on accounts with an equity of up to $5K USD. Accounts with a balance above the cutoff limit will be restricted to a leverage size of up to 1:100. The 1:100 cap is also the maximum option offered on the Pro and Pro Plus accounts, which may feel restrictive to some traders. Elsewhere, it is possible to find brokers offering this broker's maximum cap on accounts that have larger equity, but some regulators do restrict options to about 1:30 or so. A large number of PFDL's clients should be satisfied with the caps, as trading with high leverage can be a risky process that leads to large losses.
Trade Sizes
Accounts share a minimum trade size of one micro lot, although some CFDs do require a trade size of 0.1 or 1 lot. Maximum trade sizes are not detailed on the website. On the Trader account, the margin call level is set at 150%, and the stop out level is set at 100%, with a condition that stop out occurs at 50% on accounts with more than $5K in equity. The Pro and Pro Plus accounts share a margin call level of 100% and a stop out level of 50%.
Trading Costs
Costs can be broken down into spreads, commission charges, swaps, and dormant account fees. Spreads tend to be low, starting from 0.3 to 0.6 pips, depending on the chosen account type. There are zero commissions on the Trader account, while the Pro and Pro Plus accounts both share commission fees of $1 per side per lot. Swaps are applicable to applicable positions that are left open past market closing time, with the exception of Islamic accounts. Those account holders would pay administrative charges on positions that are held overnight for 3 days, in place of traditional swap fees. An account would be considered dormant after six months with no trading activity, after which a $25 monthly fee would be charged, or the full balance of the account if there is less than the fee amount remaining. Once the account reaches $0, it would automatically be closed.
Assets
PFDL offers investment opportunities in 49 currency pairs, commodities, and CFDs. Available commodities include the most popular spot metals, Gold and Silver, in addition to WTI Crude Oil and Brent Crude Oil. CFD options are made up of 9 cash indices and a few spot commodities, including Copper and Natural Gas. While traders do get a variety of currency pairs to choose from, options do seem to be somewhat limited overall, with no option to trade cryptocurrencies or options from other instrument categories.

Spreads
Traders can view the live spreads for all of the account types on the "Spreads Comparison" section of the website. While we don't see all of the available assets listed, it is possible to view the current live spreads on major currency pairs, Gold, and Silver. The lowest spread that we observed on the Trader account was about 0.6 pips, although the rate was constantly fluctuating. The Pro and Pro Plus accounts shared the same spreads, which seemed to start from about 0.3 pips. The average spreads on the Trader account came out to around 1 pip, which is definitely competitive, especially considering that there are no commission charges on this specific account type. On the Pro and Plus accounts, the average spreads seemed to be about 0.6 pips. Average spreads on all three account types come out well below the industry's average 1.5 pips, creating an advantage for investors.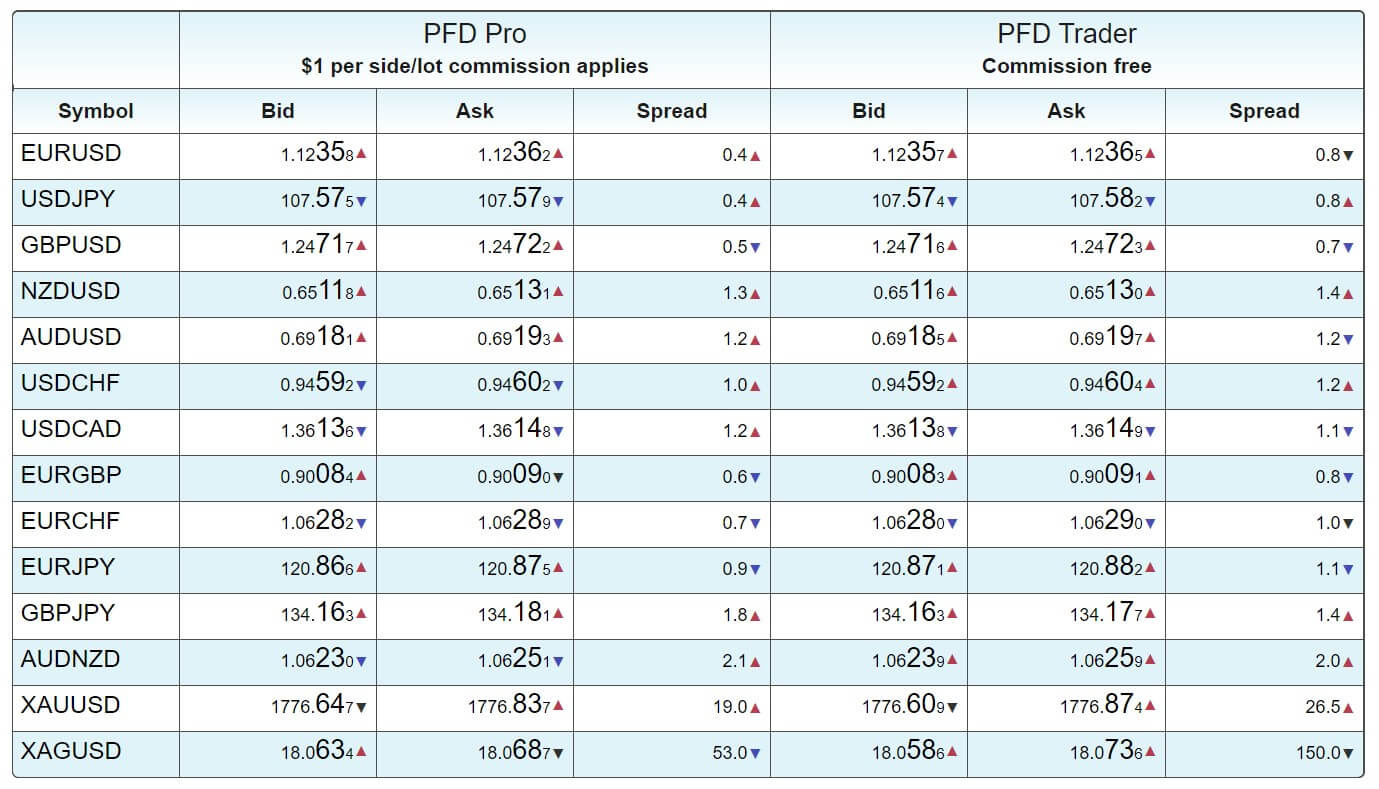 Minimum Deposit
Those that decide to choose a Trader or Pro account will benefit from the lack of deposit requirement that is offered on those accounts. Traders won't commonly find similar offers through other brokers, especially for more than one account type, which creatives an incentive for those that don't have a lot of capital to invest right off the bat. Meanwhile, the Pro Plus account does require a minimum deposit of $1,000. This is still a relatively low amount compared to the deposit requirements in the thousands, or even hundreds of thousands, that many others ask for on their more expensive account types.
Deposit Methods & Costs
Accounts can be funded through cards (Visa/MasterCard), bank wire transfer, Poli, RapidTransfer, Sofort, Skrill, iDeal, giropay, Przelewy24, Visa (through Skrill and Neteller), and Neteller. Fees are charged on deposits by each payment provider and can vary, from 1% to 2.9% of the total deposited amount, with charges for bank wire deposits varying based on the client's particular bank. Exact fees for each payment method have been listed below. Also, note that there is a $5 minimum deposit requirement when funding through any Skrill based deposit method.
Cards: 2.5%
RapidTransfer: 1.5%
Local Options: 2.9%
Visa (through Skrill): 2.9%
e-Wallet: 1.9%
Poli: 1% (Capped at $3)
Bank Wire: Bank fees

Withdrawal Methods & Costs
Traders will be able to withdraw funds through any of the methods that can be used for withdrawals. Withdrawals on cards are charged a flat fee of 2.5%, while withdrawals to Skrill-based wallets (Rapid transfer, Visa through Skrill, Skrill, Sofort, iDeal, giropay, Przelewey24) are only charged a 1% fee. Neteller is the only fee-free way to withdraw funds. Fees would also be placed on bank wire withdrawals, with the exact amount differing based on the client's bank. If you're unsure of your bank's policies, be sure to reach out to check that these fees are reasonable.
Withdrawal Processing & Wait Time
The broker doesn't advertise exact processing times on their website. Judging by the availability of online support and the 24 hours customer service, we would assume that the company has a fairly sufficient support team that would likely manage to process those requests within a reasonable timeframe, of around one to three business days. Keep in mind that this is an educated guess and exact wait times may vary. There would also be an additional wait time for banks to credit those funds once sent. E-wallets are often credited back to the client's account much more quickly than cards or bank wire transfers.
Bonuses & Promotions
At this time, the broker doesn't seem to be offering any extra opportunities as far as bonuses or promotions are concerned. The inclusion of such offers isn't something we could consider absolutely necessary to warrant a broker's consideration, although having access to welcome bonuses, no-deposit bonuses, and other promotions certainly provide an advantage to those that decide to sign up for an account. As a broker that has been in service for more than 20 years, we would hope that PFDL will make the decision to offer something in this category in the future.
Educational & Trading Tools
Educational options are fairly limited, with a forex glossary and forex introduction section being the only educational resources available on the website. The Forex Introduction does go into a bit of detail when it comes to explaining currency pairs, pips, spreads, and strategies, but the information is rather limited overall. As far as educational tools go, the only option is limited to an educational calendar. We'd love to see the addition of e-books, articles, webinars, and other mediums on the website, alongside helpful tools like calculators and other calendars.
Demo Account
A demo account can be opened by navigating to the website's homepage and selecting "Try Demo First". Note that this option isn't available in the top bar of the website and it is necessary to scroll down to see the option. By default, demo accounts are loaded with $10,000 worth of virtual currency, with the option to select a larger amount of credit. These simulated accounts provide traders with an opportunity to trade from the MT4 terminal under the broker's real conditions, so we absolutely recommend signing up if you could use the experience. One downside to opening a demo through this broker would be the 15-day expiration time, which is likely set in place to encourage traders to move on to a live account. An unlimited number of demo accounts can be opened, so traders could essentially continue to open demo accounts if those accounts expired before they were finished.
Customer Service
Customer support can be reached 24 hours a day, starting from 10:00 Monday through 10:00 am Saturday (New Zealand time). PFDL offers two instant contact options; Skype and LiveChat. In addition, traders can contact support by phone or email. The broker lists separate phone numbers and email addresses for their Technical Support and Account Opening departments, while traders will use the same Skype ID to contact either department. If you'd like to follow the broker on social media, links to their Facebook and Twitter accounts can be found in the top right section of the website. All contact information has been listed below.
Skype ID: pacific.f.d
Technical Support: +64 9 6320121/142/100
Email: admin@pfd-nz.com
Account Opening: +64 9 632 0129
Email: compliance@pfd-nz.com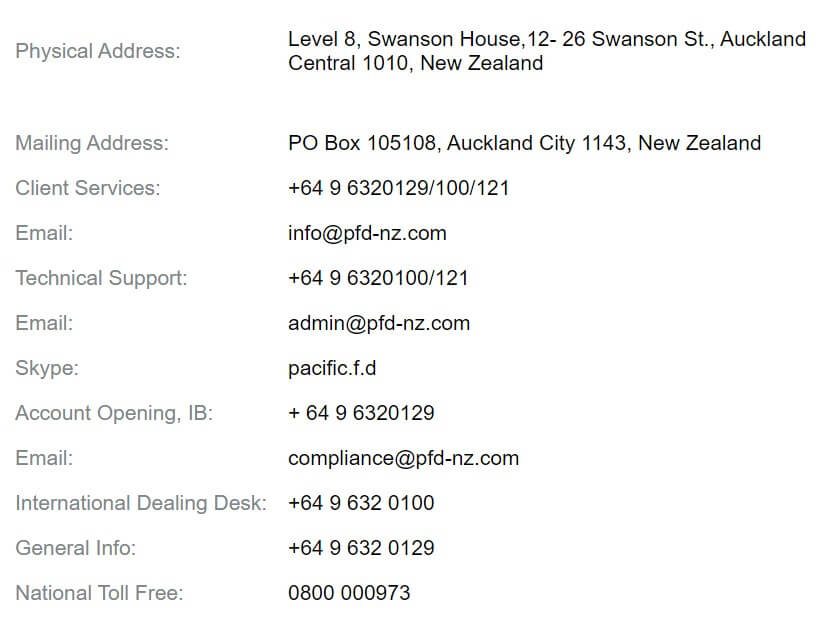 Countries Accepted
Under their terms and conditions, the broker does mention that service is not available for clients that are located in countries where it would be illegal for an account to be opened. On the registration page, we also see a note stating that service is offered to clients from all locations, excluding the United States and UN and OFAC sanctioned countries. However, there is no requirement to input a country on the registration page, essentially making it possible for those in the aforementioned locations to open an account. It is unclear whether the broker would protest this once the client begins the account verification process.
Conclusion
Pacific Financial Derivatives Limited is a regulated broker with an investment portfolio that is made up of 49 currency pairs, commodities, and a few CFDs. The broker's maximum leverage cap of 1:300 is only available to Trader account holders with an equity of less than 5K. Opening an account through this broker comes with several benefits; there are no minimum deposit requirements on two of their account types, spreads are well below the industry average on all accounts, there are zero or low commissions on each account, and customer support can be reached instantly through LiveChat or Skype. Accounts can be funded through a variety of methods, but one downside would be that fees are charged on all deposits and on withdrawals through almost every payment method.
The broker also fails to mention how long it can take for withdrawals to be processed. Another downside would be the somewhat limited variety of tradable instruments, the lack of promotional opportunities, and the fact that educational resources are practically nonexistent on the website, aside from expiration-based demo accounts. Overall, there do seem to be more advantages than disadvantages, and those that don't have a lot of capital to invest will be able to benefit from the reduced trading costs, even if it is necessary to look elsewhere for educational material.