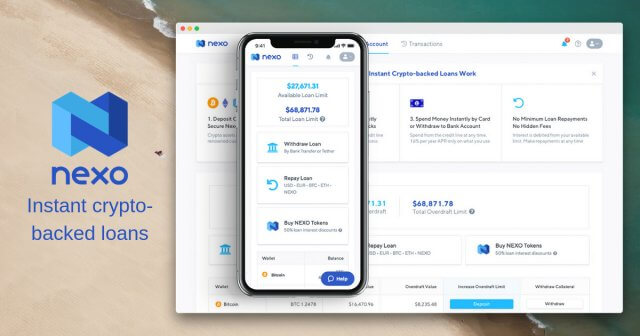 Apart from HODLing and spending, many crypto users have no idea what to do with their crypto assets. Nexo, a leading financial institution for digital assets, provides crypto users with the opportunity to earn interest on their idle crypto assets. Overall, the concept is simple – you entrust your assets with Nexo, they invest them primarily through lending, and you share the returns. It works almost like a traditional investment bank; only that crypto is the main asset here.
Naturally, many questions will emerge regarding the profitability of Nexo's offerings, its security, usability, and much more – investors are an inquisitive lot. This article will answer some of the most pertinent ones if only that will give you the confidence to join the league of passive investors. 
What Is Nexo?
Before we rush into how to invest with Nexo, let us first understand what it is. Simply put, Nexo is (arguably) the world's leader in the provision of digital banking services. The company has strived to bring traditional banking to the world of crypto by merging fintech with blockchain. Nexo specializes in providing lending facilities in the DeFi space. According to the company, $5 billion worth of digital loans have been processed on the platform since its establishment in 2018. The company enjoys a user base of over 1 million and is available in nearly every corner of the planet. 
How Do You Earn?
Nexo offers a variety of crypto financial services, with lending at the top of the list. To earn, you need to deposit supported digital assets (both fiat and crypto) to your Nexo account. The following steps should help with the process:
Register for an account on platform.nexo.io 

Enable 2-factor authentication (this is mandatory)

Scroll down until you find a list of supported crypto assets and select 'Top Up' on the one you wish to invest in. Besides the token, you will see how much interest you can earn from each one and what options there are for maximizing your interest.

Nexo will generate a deposit address and a QR code. You can either copy the address or scan the code. It is extremely important to double-check this address before depositing since Nexo puts a disclaimer for funds sent to the wrong address. You can also top up your Nexo account directly from an exchange. If you are depositing BTC, your transaction will appear after 6 nodes have confirmed the transfer. For ETH and other ERC-20 tokens, 50 is the required number of confirmations. 

You can follow the progress of your deposits on the transactions page/ tab.

Interest is earned when you withdraw from your available credit line. The withdraw button is conveniently placed next to the deposit button. 
The steps may look numerous, but really, the entire process can be summarized as 'top up supported assets and start earning automatically.' In other words, once you deposit, no other effort is required from you – that's the true spirit of passive earning. 
Which Digital Assets Can You Invest?
Nexo supports the following digital assets:
Bitcoin

Ether

Litecoin

Bitcoin Cash

Nexo Token

XRP (Ripple)

Tether

USD Coin

Dai

Euro

GBP
Is Nexo a Good Investment?
As an investor, you have the choice to bid your assets in a portfolio of your choice. So, what would make you choose Nexo first? The following factors might:
You can earn up to 12% interest on stablecoins. Interest earned depends on the asset you have deposited and the method you choose for payout. Earning in Nexo for selected stablecoins attracts the full 12% interest.

While interest is calculated on an annual percentage rate (APR), payouts are made daily. So you don't have to wait for end-year dividends like most investments.

You can deposit or withdraw funds at any time of your liking.

Your deposited assets are backed by a $100 million insurance secured with BitGo.

There are no minimum contribution thresholds and no fees charged for funding or withdrawing from your wallet.
Are There Any Risks?
Any keen investor would be worried about the safety of their investment, especially if their assets will be used to extend credit to others. With Nexo, this is not a matter of great concern as your assets and those of others are backed by a $100 million insurance at BitGo. Deposits are also stored in multisig cold storage wallets so you can rest easy as your money works for you. 
Additionally, borrowers have a limit based on their deposited crypto assets. Nexo uses a complex formula to dynamically calculate credit limits based on the dynamic value of digital assets. So, Nexo is unlikely to run out of cash due to overborrowing. 
Lastly, while this is not a risk per se, it is worth noting that first time users may find the platform a little cumbersome to use. The website has only scanty information about what you need to do to get started, and you are likely to fumble around looking for where to click next. Clearly, the platform has not been customised for the crypto investor who's just starting out. 
Reputation and Regulation 
Nexo boasts of a good reputation among users of crypto financial services. On TrustPilot, a leading consumer review website, 90% of users have ranked it 'excellent,' with a score of 4.8/5. The company is also licenced and regulated by the European Central Bank, besides being certified as ISO/IEC 27001:2013 compliant. With such credentials, you can be assured that you will be dealing with a legitimate and tried, and trusted platform. 
But What's The Catch?
For those who are still not convinced about the viability of Nexo's business model, questions on where's the catch will linger. The way this financial institution operates is quite similar to traditional banks – users deposit their assets (usually dollars, euro, etc.), which gives the banks the capital to finance credit and other investments. The only difference is that Nexo cannot rely on traditional loan recovery techniques in case a borrower defaults. Therefore, the company depends on a user's deposited assets as collateral. You can deposit multiple assets to maintain a positive loan-to-value ratio. This ratio is an indicator of your ability to settle the debt. If you default, Nexo will automatically initiate a sale of your deposited assets until the desired balance is achieved. 
Final Thoughts
'Earn passively from your idle crypto assets' sounds just as cool as it is, especially when using Nexo. The platform allows you to deposit a variety of crypto assets and earn up to 12% interest. Interestingly, all you need to do is deposit funds to your Nexo wallet, just as you would do with a crypto exchange. Nexo's investment terms are quite friendly. For instance, there are no minimum deposits, you can deposit or withdraw at any time, payouts are done daily, and so on. Additionally, the platform ensures the security of your funds is guaranteed by implementing 2-factor authentication for deposits and withdrawals, insuring depositors' funds, and storing them in multisig cold storage wallets. The only downside with Nexo is the limited information on the website, which might leave new investors struggling to get started.