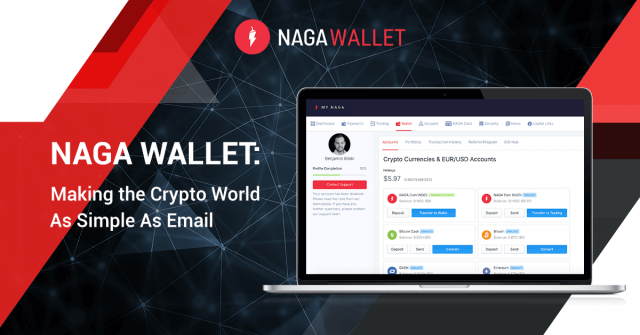 Naga Wallet is described as the ultimate simple and secure storage for your fiat and cryptocurrency assets on the Naga.com website. It is a hybrid custodial vault for digital assets that integrates a wide range of highly advanced and innovative features. For instance, it is one of the few digital wallets that allows users to send crypto via email and provides users with a social investing platform for crypto, stock, forex, and commodity traders. Naga wallet also provides users with real-time access to the markets and equips you with the necessary investing and portfolio monitoring tools.
NAGA wallet started as an online forex and commodity trading platform, created and launched by NAGA Markets LTD in 2015. For the past few years, the online broker has reported explosive growth that saw it incorporate such new features as social investing tools and a crypto wallet to the platform.
But how safe is this multi-asset investing and storage platform? How do you activate and use NAGA wallet, what are its pros and cons, and how much does it cost? We answer all these and tell you everything else you need to know about NAGA Wallet in this review.
NAGA Wallet key features:
Cross-platform: Naga Wallet is a cross-platform storage vault currently available as a web wallet and a mobile app. It is also available on the MT4 and MT5 desktop and web terminals.
Multi-currency wallet: Naga is a hybrid and multi-asset wallet that stores both Fiat and cryptocurrencies. These are mainly major international fiat currency, popular cryptos, and tokens.
Send crypto via email: You don't have to memorize an acquaintance's wallet address when you can send cryptocurrencies and tokens via the email address used to create a Naga investor account.
Buy crypto with card: Naga wallet integrates a payment gateway that allows the residents of over 100 countries to purchase cryptos instantly with a credit/debit card. The payment gateway also facilitates the purchasing of crypto via bank transfers and e-Wallets as Neteller and Skrill.
Instant crypto transactions: The custodial nature of the Naga Wallet ensures that cryptocurrency transfers from one Naga account to another are free and instantaneous.
Social investing: Social investing is an interactive trading tool that allows you to engage other Naga Wallet users. It makes it possible for pro crypto traders to share insights with the rest of the community. You can even copy the trades or portfolios of these traders and replicate their success in your account.
Free curated investment portfolios: In addition to copying highly successful trades and portfolios of the pro traders, Naga wallet also presents you with expertly curated crypto portfolios that you can invest in while incurring zero administration fees.
Inbuilt exchange: Naga wallet also features a built-in exchange where you can buy, sell, and exchange cryptocurrencies and tokens with other platform users.
Integrates NAGA Card: Naga Markets LTD recently launched the contactless NAGA prepaid card. They have since integrated it with the Naga wallet, allowing you to load it with cryptocurrencies before using it to pay for goods and services at thousands of crypto-friendly stores across the world.
NAGA Wallet security features:
Password: Naga Wallet is secured with a strong multi-character password that not only seeks to deter unauthorized access to the wallet but also encrypts user data.
Identity verification: Naga Wallet requires that all users verify their identity and pass the KYC and AML verification protocols before they start using the platform.
Two-factor authentication: The wallet allows you to tweak its settings and create a two-step login guide that requires a user password and an authentication code received via SMS or Google Authenticator.
Decentralized data storage: Unlike most other custodial crypto wallets that store your cryptocurrencies in centralized company servers, Naga Wallet embraces the decentralized data storage system. This means that it stores its client funds and private keys in highly decentralized servers.
Backup 2-step key: Naga wallet makes it possible for you to create a backup for your wallet's login verification code. It comes in handy if you ever change or lose your phone or can't access the google authenticator.
Highly regulated: Naga wallet is the product of a highly regulated online trading/investment company, NAGA Markets LTD, which is registered in Cyprus and St. Vincente and Grenadines. The company is also authorized and regulated by the Cyprus Securities and Exchange Commission (CSEC).
How to activate/setup the NAGA Wallet
Step 1: Open the Naga wallet website and click on the "Sign up" icon on the top left corner of the web page
Step 2: Complete the user profile by keying in your personal details (name, email, country of residence, and phone number) on the account registration page.
Step 3: Answer the query about your trading experience and start the platform tour.
Step 4: Complete the detailed investor profile that asks for more detailed personal information and personal finance information like income and tax details in U.S residents.
Step 5: Verify your identity and country of residence by uploading a Driver's license
Step 6: Allow them time to verify your identity and activate the account while you practice trading and familiarize yourself with the web wallet using the free Demo account
Step 7: You will receive a confirmation email notifying you that your account is now active and ready for use
Step 8: You will have 14 days to make your first deposit
How to add/ receive Crypto into NAGA Wallet:
Step 1: Log in to your Naga wallet and click on the "Add Funds" tab on the user dashboard's top left corner.
Step 2: Choose your preferred deposit method from the list provided. You could choose to deposit funds using a credit/debit card, wire transfer, or transferring cryptocurrencies.
Step 3: If you choose crypto, select the coin that you would like to add to your New Naga wallet and hit the "Receive" button
Step 4: Copy the wallet address or QR code and forward it to the person sending you crypto and wait for the funds to reflect.
How to send crypto from NAGA Wallet:
Step 1: Log in to your NAGA wallet and click on the "Send To" icon.
Step 2: Select the destination of the funds. It could be an exchange or another wallet via wallet address or email.
Step 3: If you choose the send by email option, enter the receiving email address and the amount you want to send
Step 4: Select the mode of payment for the network fee and the message accompanying the transfer (optional)
Step 5: Confirm that these transfer details are correct and hit send.
NAGA Wallet ease of use:
Naga wallet embraces a simplistic design that is characterized by a clean and decongested user interface. When you create a user account, you will be given a free demo trading account that you can use to practice crypto investing and to familiarize yourself with the wallet's most popular features.
NAGA Wallet supported currencies:
Currently, Naga wallet supports 15 popular cryptocurrencies and all ERC-20 tokens and is available in over 200 countries.
NAGA Wallet cost and fees:
Naga wallet is free to download. You also won't be charged for opening an account here, depositing, and storing your cryptocurrencies therein. You will only be charged network fees when you send crypto from your wallet to another wallet or exchange. Plus, you stand to benefit from a 10% reduction in transaction fees when you choose to pay for the transfer using NAGA coins.
NAGA Wallet customer support:
Naga wallet maintains a highly responsive customer support team that is available online 24/7. You can contact them via email or the live chat tool on the company website, web app, and the wallet app.
What are the pros and cons of using the NAGA Wallet?
Pros:
It is highly innovative and allows traders to send crypto to email addresses.
It a multi-asset wallet that hosts numerous forex pairs, popular cryptocurrencies, and ERC 20 tokens.
The wallet embraces highly effective safety features, including decentralizing data storage.
Naga Markets LTD is authorized and regulated.
You get to interact with such revolutionary trading tools as social investing.
Cons:
It doesn't support anonymous crypto trading.
It supports a limited number of cryptocurrencies.
Comparing NAGA Wallet with other Multi-Asset wallets
NAGA Wallet vs. eToro wallet
Naga and eToro multi-asset wallets were both started by online brokerage service providers. Other similarities include the fact they both support a limited number of cryptocurrencies, encourage social investing, store the private keys on behalf of their clients, and allow wallet users to purchase crypto with a card, bank wire, or eWallets. Both are also maintained by highly regulated online trading platforms.
Naga, however, goes a step further when they introduce and integrate the NAGA contactless card into the wallet. It also facilitates free crypto transfers within the network while discounting outbound transfers paid by Naga Coin. Plus, unlike eToro, it provides users with a backup for the 2FA key/code.
Verdict: Is NAGA Wallet safe?
Well, Naga Markets LTD has put in place several highly effective security and privacy measures around the Naga Wallet. And it all starts with the online brokerage-cum-crypto wallet demanding that all prospective wallet users verify their identity and complete the KYC and AML protocols. It then extends to storing private keys in decentralized data centers on behalf of their clients and activating two-factor verification for wallet logins. The only downside to using Naga Wallet is that it deprives you of control over your private keys.