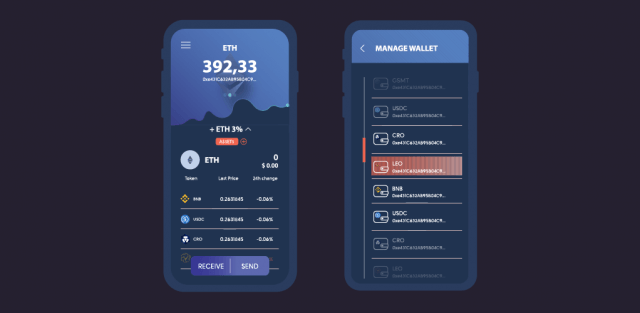 MyStar Wallet is a mobile phone-based crypto vault designed and developed by Stargram Global, a Korean IT company specializing in Blockchain and entertainment products. On the MyStarWallet website, the crypto vault app is described as a "Multipurpose asset management (and) one-stop platform" for all your cryptocurrency needs. The site further refers to the wallet as a digital asset management tool focused on helping you store, send/receive, and secure your cryptocurrencies.
Though MyStarWallet is still relatively new to the crypto world, it stacks a host of operational and security features that set it apart from the competition. For instance, it is built on the Ethereum Network, which means that it provides users with access to the decentralized network and such amenities as the Dapp browser and the app builder tools.
In this MyStarWallet review, we will be vetting these features by looking at its commitment to safety, outlining the setup by step guide on using the wallet app, and telling you its pros and cons.
MyStar Wallet Key features:
Mobile app: MyStarWallet is a mobile-based app vault. It can be downloaded from either the Google Play Store or Apple App Store.
Multi-asset: My Start Wallet is also a multi-asset app vault. It hosts a significant number of cryptocurrencies and tokens, and that there is no limit to the number of private keys that you can store within the wallet.
Inbuilt exchange: MyStarwallet features an inbuilt crypto exchange where users can buy, sell, or exchange cryptocurrencies and tokens. The exchange is relatively secure, and transaction processing reliably fast.
Blockchain explorer: MyStarwallet also features the blockchain explorer that lets you keep tabs on the Ethereum network. It helps you monitor network events, news, important announcements like upcoming ICOs, and political and economic events or changes that may impact the crypto world.
Portfolio Tracker: Within the MyStarwallet app's dashboard is the balance and transaction history tabs that help monitor your crypto activity. For instance, the history tab outlines your crypto inflows and outflows, and these go a long way in helping you create a crypto budget.
Address book: MyStarwallet also features an address book that integrates your phone's contact list that simplifies how you send and receive Crypto. This effectively means that you can simply send Crypto to a contact address on your phone regardless of whether they have Mystarwallet installed or not.
Send Crypto via messenger: MyStar wallet also features a proprietary messaging platform, the Startalk Messenger platform that you can use to "Instantly send money while you talk." This features messaging and video chatting and the remittance functionality that allows you to transfer cryptocurrencies and tokens via StarTalk.
Dapp browser: MyStarWallet integrates a Dapp browser, a decentralized browser that allows you to surf the web anonymously.
Create Tokens: In addition to the Dapp browser, MyStarWallet users now have access to the app builder tools that make it possible for them to create and successfully launch both decentralized token and ERC-20 tokens.
Mystarwallet security features
Password: Like most other mobile phone-based crypto wallet apps, MyStarWallet is password secured. The password deters unauthorized access to your private keys and serves as the crypto app encryption tool.
Recovery seed: When creating a user account on your MyStarWallet app, you will be presented with a 12-word backup seed. You will need this seed to recover lost private keys or restore the MyStarWallet on another device.
Two-factor authentication: Outbound transfers from the MyStarWallet app must be subjected to two-factor authentication. You have the option of adding your phone number when creating a user account for MyStarWallet that you can use to authorize outbound transfers or use the Authenticator apps.
How to set and activate the MyStar wallet
Step 1: Start by downloading the MystartWallet crypto app for your Android or iOS smartphone.
Step 2: Install and upon launching the app, click on the 'Create a new wallet" icon
Step 3: Create a password for the wallet
Step 4: You will now receive the 12-word backup/recovery seed for the crypto wallet. Write it down on a piece of paper and keep it safe offline.
Step 5: Your wallet is now active and ready for use
How to add/receive Crypto into your MyStar wallet 
Step 1: Log in to your MyStarWallet app, and on the user dashboard, click on the 'Receive' tab.
Step 2: On the deposit window that pops up, copy your wallet address or the QR Code and forward it to the party sending you cryptos
Step 3: Wait for the deposit to reflect in your wallet.
How to send Crypto from your MyStar wallet
Step 1: Start by logging into the MyStarWallet app and clicking the "Send" icon on the user dashboard.
Step 2: If you have more than one types of cryptos stored in here, select the crypto coin you wish to send
Step 3: On the transfer window, key in the recipient's wallet address and the number of coins/tokens you want to transfer
Step 4: Confirm the accuracy of the transaction details and authorize the transfer.
MyStar wallet ease of use
MyStarWallet is highly intuitive and very beginner-friendly. The processes of creating a user account are simple and quite straightforward. The user interface is very clean, with just a few carefully placed tabs that ensure you don't need any expert help to teach you how to interact with the app. The processes of sending and receiving cryptos/tokens in and out of the wallet are also quite easy and straightforward.
MyStar wallet supported currencies and countries
MyStarWalet is eth-based and will only support Ethereum and such eth-network based tokens as the ERC-20 tokens.
MyStar wallet cost and fees
Downloading MyStar wallet, installing it on your phone, and storing cryptos and tokens therein is free. However, you will have to part with variable transaction processing fees (GAS) every time you wish to send cryptocurrencies and tokens from one wallet to another.
MyStar wallet customer support
You can always consult the MyStarWallet Blog or Wallet Guide sections of the wallet's website to learn how to interact with the wallet app. This website also features an extensive range of video tutorials that outline everything related to MyStar, including the different troubleshooting techniques.
You may also want to reach out to the MyStarWallet customer support team by raising a support ticket, emailing them, or direct messaging them on social media platforms such as Facebook, Instagram, and Twitter.
What are the pros and cons of using MyStarWallet?
Pros:
It supports a wide range of eth-based cryptos and tokens

It is highly intuitive ad beginner-friendly

MyStarwallet is feature-rich and even integrates an inbuilt exchange

It makes it possible for users to send cryptos to a phone number or via Startalk messenger

It features a Dapp browser and Dapp builder that lets you create and launch ERC-20 tokens
Cons:
It only hosts basic security features

It will only support Eth-cryptos and tokens

It is not a regulated wallet
Comparing MyStar wallet with other multipurpose crypto wallets
MyStarWallet vs. eToro wallet 
Mystar and eToro are both multipurpose and multi-feature wallets that host a wide range of operational tools. And some of the common features hosted on both MyStar and eToro wallets include an inbuilt exchange and portfolio tracker. Both wallets are also beginner-friendly and feature highly intuitive user interfaces.
However, while eToro is a multi-blockchain wallet hosting cryptocurrencies built using different blockchains, MyStarWallet will only host eth-based altcoins. Further, eToro has a friendlier and highly responsive customer support team compared MyStarWallet. MyStarWallet nevertheless carries the day with the number of supported altcoins that include all ERC-20 tokens against eToro that will only support less than 20 popular cryptos. Moreover, they have made it possible for you to send Crypto to phone numbers and through messenger.
Verdict: Is MyStar wallet safe?
Well, the mobile crypto app has embraced several effective security and privacy measures around the vault aimed at keeping your private keys private and highly secure. These include securing the app with a password and enabling two-factor authentication, as well as providing you with a backup and recovery seed. However, we must mention that the online nature of the wallet plus the fact that it stores your keys in your phone, not cold storage, exposes it to such threats as hacking and malicious viruses.