Markets Online is an online forex and CFD broker which was founded in 2017 and is located in Seychelles. They claim to offer the same old trading concept that other brokers do, just better. They are offering more opportunities to trade, a dedicated customer support team and a state of the art trading platform. In this review, we will be looking into what is on offer to see if they really do offer these and so you can decide if they are the right broker for you.
Account Types
There are three different account types on offer from Markets Online, each having its own entry requirement and trading conditions, so let's look at a brief overview of them.
Essential Account:
The essential account needs a deposit between 250 to 999 EUR, USD or GBP, it comes with a maximum leverage of 1:100 and has no added commissions apart from on stocks. It comes with standard training as well as access to over 200 assets. Finally, it has access to courses, webinars, articles, and news, swap charges are also charged for holding trades overnight.
Professional Account:
The professional account increases the deposit requirement to between 1,000 and 4,999 USD, GBP or EUR. It has maximum leverage up to 1:150 and has no added commission apart from on stocks. Swap charges are present for holding trades overnight and it has access to advanced training, over 200 assets to trade, access to courses, webinars, articles and news and it also has negative balance protection so you cant lose more than you deposited.
Premium Account:
This is the top-level account and requires a deposit between 5,000 and 50,000 GBP, USD or EUR. It does not have any added commissions apart from on stocks and it has access to expert training, access to 200+ tradable assets, access to courses, webinars, articles, and news. It also has negative balance protection, 1-month commission-free trading and it gets a priority service.
Platforms
Markets Online offers the well-known MetaTrader 4 platform, making it available for several operating systems. The power of MT4 goes without saying at this point, so there is certainly no problem to report in this area.
Leverage
The leverage you receive is based on a number of different factors, with the chosen account type and asset type being the primary determining factor. Please see the accounts breakdown for the maximum leverage level for each.

The numbers are relatively low when comparing to other brokers, as many brokers are now looking to get leverage up to 1:500. Of course, some are regulated and cannot, but the numbers above seem low in comparison to what they could be.
Trade Sizes
Trade sizes start from 0.01 lots and go up in increments of 0.01 lots so the next trade would be 0.02 lots and then 0.03 lots. We could not locate the maximum trade size. However, whatever it is, we would recommend not trading in sizes larger than 50 lots, as the bigger a trade becomes the harder it is for the markets or liquidity provider to execute the trade quickly and without any slippage. We could also not locate information regarding the maximum number of open trades allowed at any one time.

Trading Costs
There are no added commissions on any of the accounts apart from when trading stocks, where the commissions are 0.10% on the Essential account, 0.09% on the Professional account and 0.07% on the Premium account. Swap charges are present though, these are interest charges that are incurred for holding trades overnight. They can be both negative or positive and can usually be viewed from within the trading platform of choice.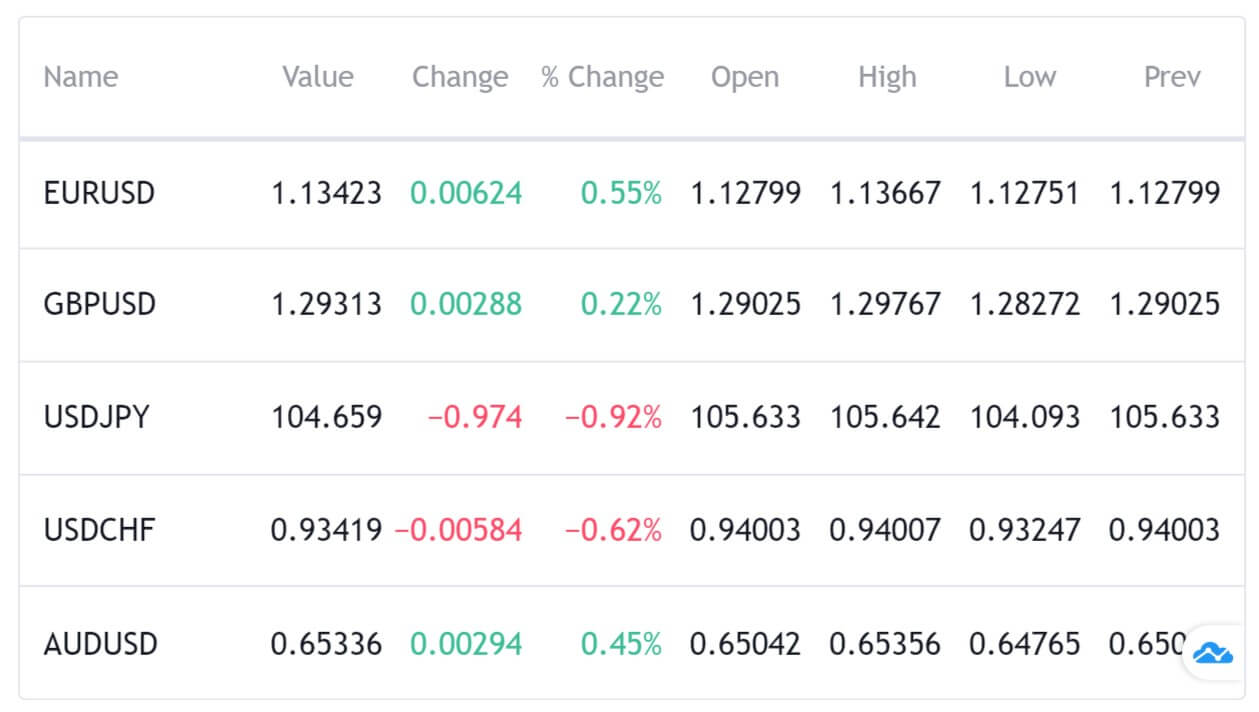 Assets
Markets Online state that there are over 200 available assets to trade. There is, unfortunately, no full breakdown of the entire asset index. Instead, they have broken them down into 4 different asset classes and given a few examples of each.
Forex:
EURUSD, GBPUSD, USDJPY, USDCHF, AUDUSD.
Stocks:
APPL, FB, JPM, KO, MSFT.
Commodities:
Gold, Silver, Platinum, US Oil, UK Oil.
Cryptocurrencies:
ETHUSD, ETHEUR, LTCUSD, LTCEUR, XRPUSD.

Spreads
Due to there being no added commissions on the accounts, they use a spread based system to generate their earnings. Unfortunately, information about spreads is not readily available and we could not locate it. This is strange as a lot of potential clients will come looking for the costs of trading and will be forced to contact the support team for this information. Markets Online need to add this information to the website, at least examples if not a full breakdown.
Minimum Deposit
The minimum deposit amount is 250 EUR, GBP or USD. This is required to open an Essential account and is also the minimum amount for any subsequent top-up deposits.
Deposit Methods & Costs
It seems that there are just two methods available to deposit with, these are Bank Wire Transfer and Credit/Debit Card. Bank Wire Transfer can only be used to deposit in EUR or USD and the minimum deposit for this method is 1,000 EUR or USD. Markets Online do not add any commissions to bank deposits, however, check with your bank to see if there are any transfer fees of their own. Credit/Debit Card can be used to deposit in EUR, USD or GBP, and has a minimum deposit amount of $250. There are no added fees for this method.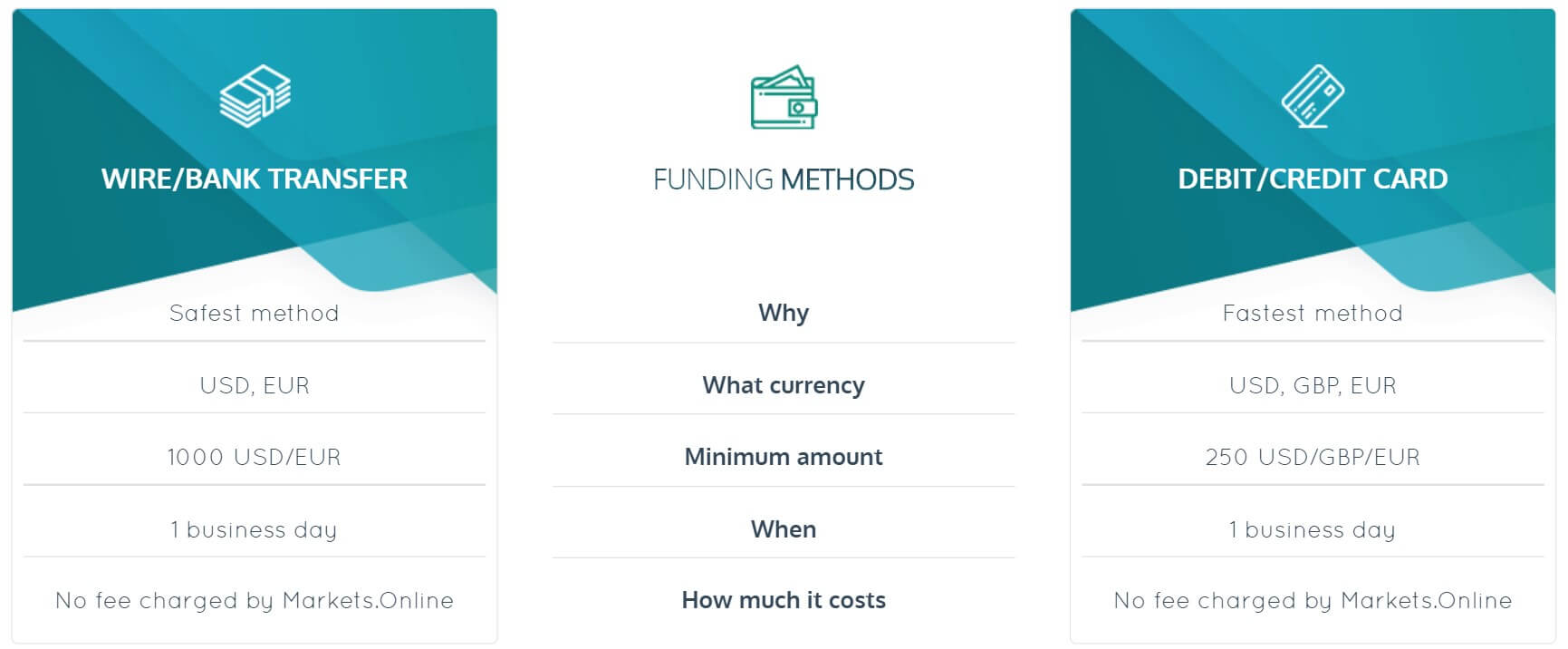 Withdrawal Methods & Costs
The same two methods are available for withdrawing, for clarification these are Bank Wire Transfer and Credit/Debit Card. Bank Wire Transfers must be done in the same currency that was deposited. Withdrawals with this method have an added charge of 50 USD, EUR or GBP. Along with the fee added by Markets Online, make sure to check with your own bank to see if they add any fees of their own. Credit/Debit Card withdrawals must be in the same currency as was deposited. There is an added fee of 25 USD, EUR or GBP for each withdrawal. Be sure to check with your card issuer to make sure they do not add any of their own also.

Withdrawal Processing & Wait Time
Bank Wire Transfers will take between 5 to 7 business days to complete. Credit/Debit Card withdrawals will take between 3 to 5 business days to complete. These times include processing from Markets Online and potential processing time from your bank or card issuer.
Bonuses & Promotions
We could not locate any information on the website in regards to bonuses or promotions so it does not appear that there are any active ones at the time of writing this review. If you are interested in bonuses then be sure to check back regularly or get in contact with the customer service team to see if there are any upcoming bonuses or promotions.
Educational & Trading Tools
There doesn't appear to be anything in regards to education or trading tools. This is a shame as a lot of brokers these days are looking to help their clients improve and become more profitable with educational courses or tools to help them trade or analyze. It would be nice to see Markets Online do something similar for their clients.
Customer Service
If you have any questions or queries you can get in contact with the customer service team over at Markets Online in a few different ways. You can use the online submissions form to fill in your query and you should then get a reply via email. There is also a phone number available and also an email address if you wished to message them directly or talk to someone in person. The customer service team is available 24 hours a day from Monday to Friday.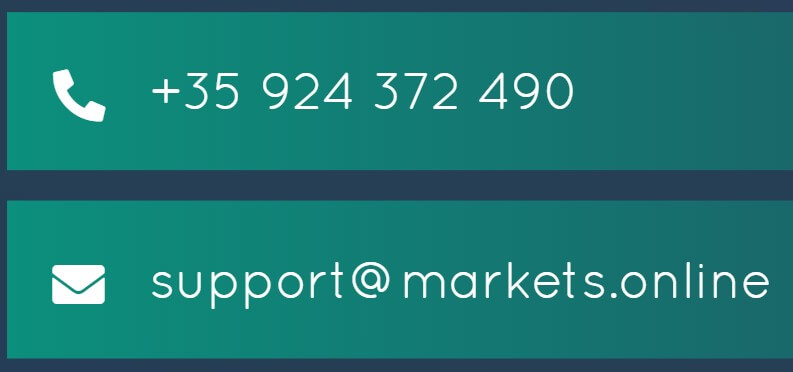 Demo Account
There doesn't seem to be a demo account on offer, or at least we could not find any information about one. This is a shame as demo accounts allow potential new clients to test out the trading conditions and servers while it allows current clients to test out new strategies without risking any of their capital. This is an area that should be invested in and demo accounts should be made available.
Countries Accepted
A statement on the website states that they do no allow certain jurisdictions including the United States and Canada. If you are unsure of your eligibility we would recommend getting in contact with the customer support team to find out.
Conclusion
The Markets Online accounts seem accessible with a minimum deposit of 250. There isn't too much information present about the trading conditions though, with things like spreads being completely unknown. There are no commissions on the accounts (apart from stocks) which is great. In terms of depositing and withdrawing, there are very limited processors with just bank and cards. Deposits are good with no added fees, but when withdrawing you are hit with some pretty hefty fees. The provision of an MT4 platform is excellent, but seemingly there is a lack of demo accounts. More information is needed on the site for us to be able to recommend them as a broker to use.