Latin Plus Trader is incorporated in the Republic of Ireland. Traders in Europe, Australia, and Asia can open an account with the broker, but those in the United States can't. The competitiveness of Latin Plus Trader is mixed. The main positive aspects include a large selection of financial instruments, access to the reliable MT4 platform, high leverage, and nonexistent commissions. Having said that, there are certain features that can make Latin Plus Trader less than ideal. For example, you can't open an account online, there are no economic calendars or news analysis, and customer service can be difficult to reach. In this article, we will report on the important aspects that you need to know about before getting started with this broker.
Account Types
Latin Plus Trader only offers one standard account. To get started, traders fill out a contact form on the website and a representative contacts them afterward. You can't open an account online. Their website has a form that enables you to do so, but the page doesn't function properly and the account application never appears.
Minimum deposit: 100 USD, GBP, AUD, or EUR
Spreads: From 2.4 pips
Traders can keep their positions open overnight, but Bitcoin and Litecoin trades have an expiration date. Keep in mind that Latin Plus Trader will charge you an overnight swap fee because of interest. You have the option to open an Islamic account. However, if you choose to do so, there are different regulations on how long you can hold on to a trade for. It is best to look into the rules regarding Islamic accounts when you read Latin Plus Trader's terms and conditions while getting registered.
Platforms
MetaTrader 4 (MT4) is the main platform that Latin Plus Trader utilizes. While it is not as advanced as the newest version (MetaTrader 5), MT4 is still accessible on all devices (Windows, Mac, Android, and iOS). Additionally, you can install trading tools and signals from MQL5 and Expert Advisor directly to your MT4 account.

This trading platform is especially useful for technical analysts because it enables users to create custom graphics and dashboard features. You also have access to historical datasets and over 30 technical signals. Another positive aspect is that traders can choose between fixed and floating spreads.
Leverage
Latin Plus Trader has a 1:400 leverage for ForEx trades, which is relatively high in comparison to other brokers. Cryptocurrencies have a 1:20 leverage, mainly because of their volatile nature. Leverage is 1:200 for gold and metals CFDs and 1:100 for petroleum and other energy commodities. ETFs have a maximum leverage of 1:20.
Bear in mind that this is different from one currency to another. While most FX pairs have a 1:200 leverage, more volatile ones have a lower ratio. For example, the leverage for USD.RUB (Russian Ruble) and EUR.RUB is 20:1 while its 50:1 for the USD.CNY (Chinese Yuan) pair. Similarly, amongst cryptos, only BTC.USD has the 20:1 maximum leverage. Ethereum's is 10:1 while Dash and Ripple only have a 5:1 leverage. Commodities, indices, bonds, and ETFs have .standardized leverage that applies to all instruments.
Trade Sizes
This broker offers a minimum ForEx trade size of 1,000, which is 0.01 lots (or a micro-lot). This applies to all traditional currency pairs and Ripple. Other cryptos have a minimum lot size of 1 (Ethereum and Dash) and 0.1 (BTC/USD). There is no maximum trade size as long as you stay within your margin constant.
Trading Costs
If you hold positions overnight, Latin Plus Trader will charge you interest. For major currency pairs, the fees are in the third digit of a percent. For example, the interest for long AUD/USD trades is 0.0019% per day. Exotics have a higher fee, such as the Turkish Lira/Japanese Yen pair, which has a 0.0349% overnight interest on short trades. Each FX symbol has its own fees, which vary across long and short positions. All the cryptocurrencies that are available on Latin Plus Trader have a 0.0694% overnight interest charge, which applies to both long and short trades.
Assets
Latin Plus Trader allows you to trade almost 60 ForEx currency pairs, 5 cryptos, as well as indices, commodities, ETFs, and equity CFDs. FX pairs include all the major currencies and exotics, such as the Turkish lira (TRY), South African rand (ZAR), Poland zloty (PLN), and the Hungarian forint (HUF).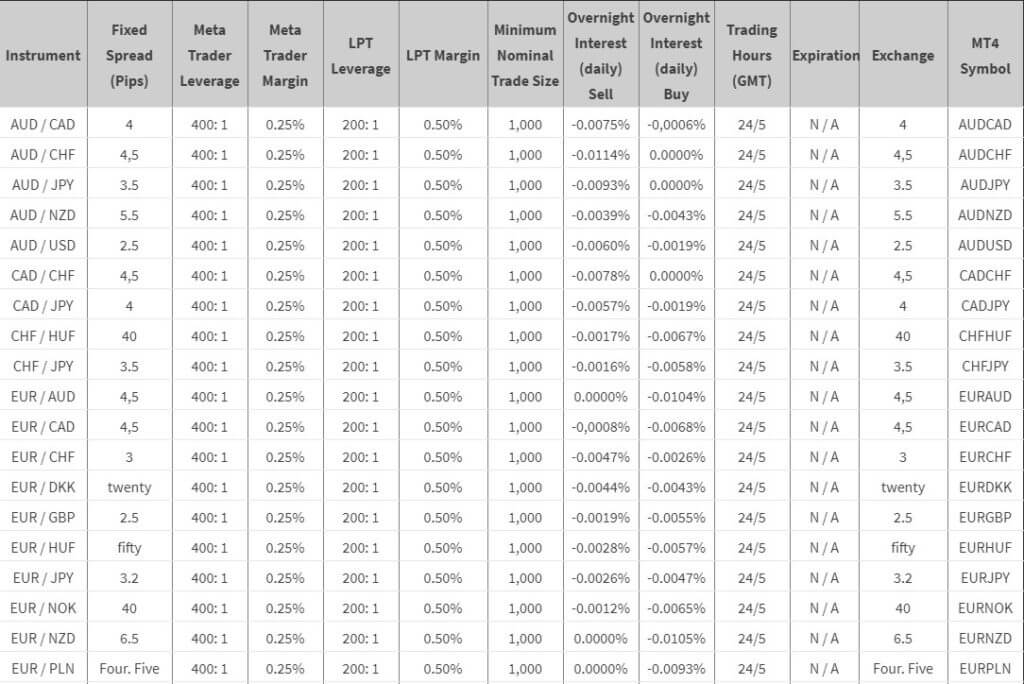 Traders also have access to indices in the American, European, and Asian markets. These include the 3 major US indexes (the Dow, S&P 500, and Nasdaq), alongside the Russell 2000 and US dollar index. There are also 9 and 6 European and Asian indices, respectively. You can trade the FTSE 100 (UK), DAX 30 (Germany), Nikkei 225 (Japan), as well as the indexes of less prominent markets (Spain's IBEX 35, Sweden's OMX 30, India's NIFTY 50, and others).
Additionally, traders can buy or sell energy, metal, and farming commodities. ETFs that track markets from all over the world are also available to Latin Plus Trader account holders. You can also purchase US, European, and Japanese bonds.
Spreads
Major FX pairs have a fixed spread of 2.5 pips, but it can be as high as 7.5 (which is the case for GBP/NZD). Exotics have much higher spreads due to their volatile nature and low valuation in comparison to major currencies. For example, the spread is 120 pips for USD/ZAR (South African Rand) and 200 pips for EUR.ZAR. Spreads of cryptocurrencies also vary, ranging from $0.005 (Ripple) and all the way up to $25 (Bitcoin).
Traders have the option of either choosing the fixed spreads or floating ones. The former gives you more room to operate during volatile markets with wide spreads. Meanwhile, you can opt for the floating spread during normal circumstances if it is more desirable than the fixed rate.
The minimum variable/floating spread is different from one FX pair to another. On certain occasions, it is tighter than the fixed rate. The minimum variable spread for AUD.USD is 1.6 pips and traders who prefer the floating rate typically work with 2.2 pips. Both of which are tighter and more desirable than AUD.USD's fixed spread of 2.5 pips.
You can view a list of the spreads for the different ForEx currencies, cryptos, commodities, ETFs, and all other instruments that Latin Plus Trader offers on their website. It shows you the fixed spreads as well as the floating minimums and averages for each currency pair.
Minimum Deposit
The minimum deposit varies by payment method and currency. If your initial deposit is via credit or debit card, it is 100 of the base currency (USD, GBP, AUD, or EUR). Wire transfers have a minimum of 500. For example, if your account's base currency is the British pound, you have to deposit 100 GBP via card. You can only deposit $100 if your account is in USD (even though $100 is less than 100 GBP in value).
Choosing the default currency like the British pound and Australian dollar is only available to traders in the UK and Australia, respectively. Just as importantly, once you pick a currency, you cannot change it in the future and would have to open a new account to do so. However, it is very easy to transfer funds between your different Latin Plus Trader account.
Deposit Methods & Costs
The minimum to both open an account and transfer in a single transaction is 100 of your currency if done via debit or credit card. Bank transfers must bee 500 or more. Having said that, you can deposit funds via PayPal, Webmoney, Skrill, and Neteller (unless you are in the US or Australia).
To make a debit or credit card deposit, you must send Latin Plus Trader's team a copy of your ID (with your picture on it) and a bill or statement showing that your address matches the bank's information. The website makes no mention of any deposit fees. Typically, most brokers don't charge traders for transferring money into their account from an outside source.
Withdrawal Methods & Costs
You can withdraw funds through your bank account or credit card. After verifying your bank information, you fill out an online withdrawal request form through your trader account.
Withdrawal Processing & Wait Time
The standard withdrawal processing time is 1 to 2 days, but certain banks might take longer to receive the funds. This applies to all withdrawal methods.
Bonuses & Promotions
This broker doesn't have any bonuses or promotions. However, if this part is important to you, you might be able to find information about future offerings on their Spanish website (provided that you speak or understand the language).
Educational & Trading Tools
Latin Plus Trader offers plenty of informative content and advice on trading, which can be easily accessed on their website. You can find the definitions of different technical indicators (namely the RSI, MACD, and Momentum) and the importance of each one in analyzing prices. Moreover, Latin Plus Trader provides plenty of advice on different financial instruments, risk management, and other concepts that will help you become successful.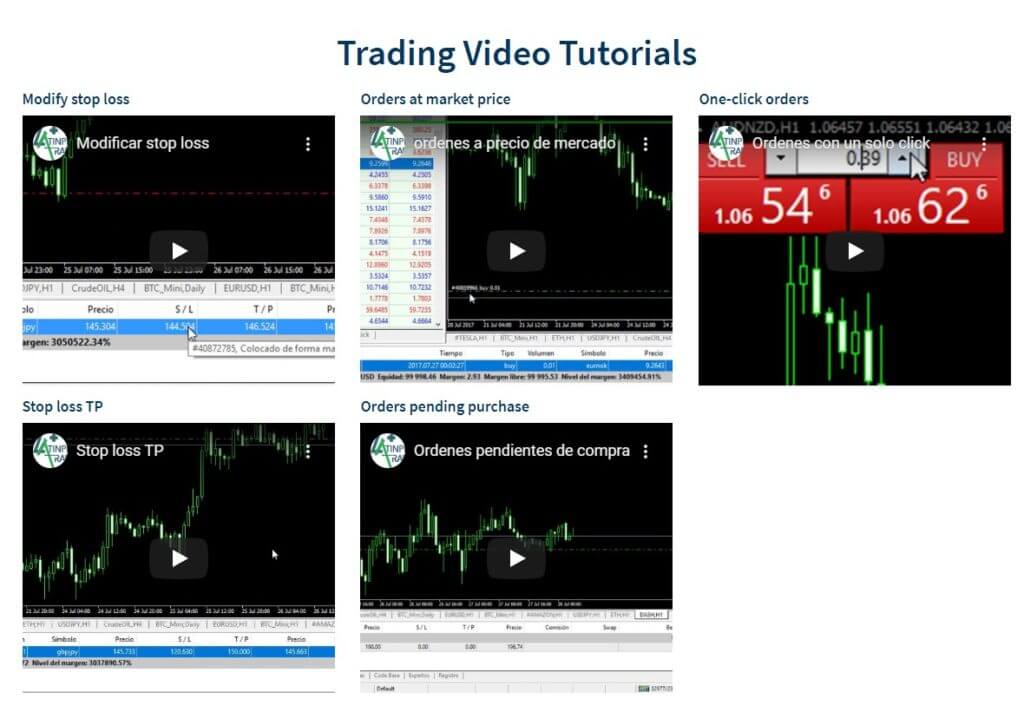 Under the 'Tutorial' page, there are five videos that educate account holders on how trades are executed and the different types of orders (trailing stop losses, pending transactions, market orders, etc.).
It is important to note that most of the educational content on Latin Plus Trader's website is designed for beginners. One of the negative aspects of this broker is that experienced traders will not find any economic calendars, professional analysis articles, or other educational content that is useful for seasoned investors.
Customer Service
You can contact Latin Plus Trader via email or by filling out a form on their website. Traders can also reach customer service by giving them a call, but the phone number is not listed on the website. You only get it after opening an account. Their email is support@latinplustrader.com.
Demo Account
You can open a demo account with Latin Plus Trader that operates almost exactly as an actual one does. The demo account includes the same trading tools, order types, and financial instruments that you would work with when you trade actual money.
This is helpful for those who want to learn about the markets before risking their capital. Moreover, traders that have not used MT4 can familiarize themselves with the platform and its functionalities. Demo accounts are valid for up to 21 days. However, you can keep using it after that period has passed by contacting Latin Plus Trader's customer service team.
Countries Accepted
Latin Plus Trader, being incorporated in the Republic of Ireland, offers its services to traders across Europe. In addition, their platform is available in Australia and the British Virgin Island. However, the broker is not registered in the United States and American investors cannot open an account with Latin Plus Trader.
Conclusion
Crypto traders, beginner investors, and those who rely on leverage will appreciate what this broker has to offer. Yet, there are many reasons that make us skeptical about Latin Plus Trader. First, their website is only available in Spanish. You can access it in English (or another language) by utilizing Google's translation services. However, this method can lead to many errors and relying on translation software is not a good way to trade. Additionally, their customer service contact information is hard to find, so is a lot of other information on the website. From an outside glance, this can give you an idea of what to expect if you do open an account with Latin Plus Trader.

The picture isn't all gloomy. As mentioned earlier, the tutorials and a large number of instruments that you can trade are more than desirable. Their 1:400 leverage also puts them ahead of many competitors. There are no commissions and transfer fees, but the broker charges interest on overnight positions. All in all, opening an account with Latin Plus Trader depends on your personal strategy. If you trade on leverage and want to access plenty of currencies, then opening an account might fulfill your needs. However, those who care about customer service and regularly hold on to trades overnight are likely to find better options.