Through using eTrader, you will access many major and exotic currencies, alongside other financial instruments. The broker, headquartered in Cyprus, allows retail traders and those in charge of company funds to open an account. In addition, you will trade on the advanced MT5 platform and access incredibly valuable educational content that eTrader offers. However, this broker has a very constrained leverage and their spreads aren't as tight as their competitors'. Here, we will highlight all of the top features that Eerader has while underlining potential downsides that you should know about.
Account Types
Alongside the demo, traders can open one of two account types with eTrader: A personal account and a company account. Personal accounts are for users who want to trade their own individual funds. If you want to trade on behalf of your business, you would have to open a company account.
Minimum Deposit: $100 (or the equivalent in other currencies)
Spreads: From 3 pips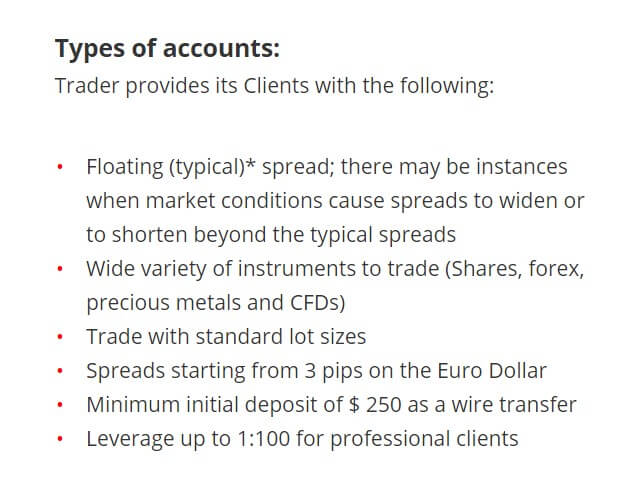 The minimal deposit to open an eTrader account and start trading is $100 or its equivalent value in the trader's default currency. The same deposit requirements and spreads apply to both personal and company accounts. To get started, you need to provide certain documents. For personal accounts, traders must provide a copy of their valid, non-expired ID (with their full name and date of birth) and documents that verify their address (such as invoices or bank statements). Business accounts require the same information, alongside information about your company.
Platforms
MetaTrader 5 (MT5) is a highly advanced and thoroughly secure platform. You can customize your dashboard, access detailed trading reports, and integrate different plugins with your MT5 account. This platform is incredibly user-friendly and can be accessed via desktop browsers, tablets (such as iPads), and smartphones (both iOS and Android).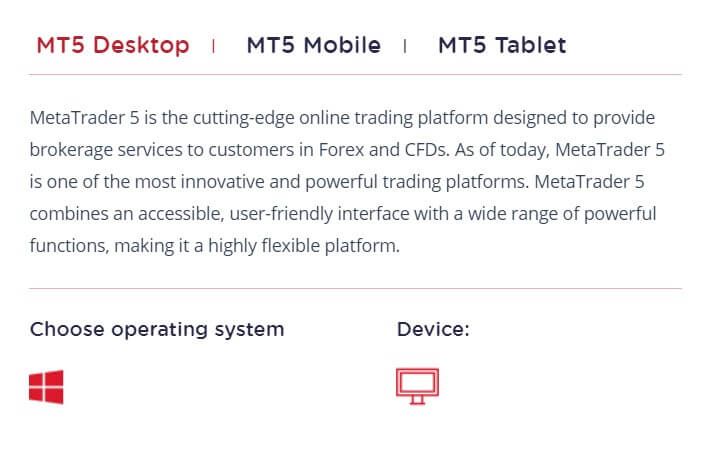 Even though the mobile and tablet apps don't retain all of the desktop features, you can still execute trades, access live data and manage your account. MT5 is available in a wide range of languages including English, Spanish, Japanese, German, French, Turkish, Croatian, Chinese, Russian, Indonesian, and more.
Leverage
You can get up to 1:30 in leverage, which is considered relatively low. Some currency pairs only have a leverage of 1:20. Initially, when you are in the process of opening an account, you can set your own leverage (but it can't exceed 1:30). Having said that, eTrader also assesses traders on an individual basis. Those who are more experienced and have a track record of profitability can get up to 1:100 in leverage.
To do this, you need to contact the broker's customer support team and they will evaluate your request. You can also change the leverage through logging into your account and adjusting it. In order to do so, you can't have any open positions.
Whether you request more leverage or stay within the 1:30 maximum range, eTrader reserves the right to change the amount. This is especially true when users lose significant amounts of money or engage in risky behavior while using their leverage to trade.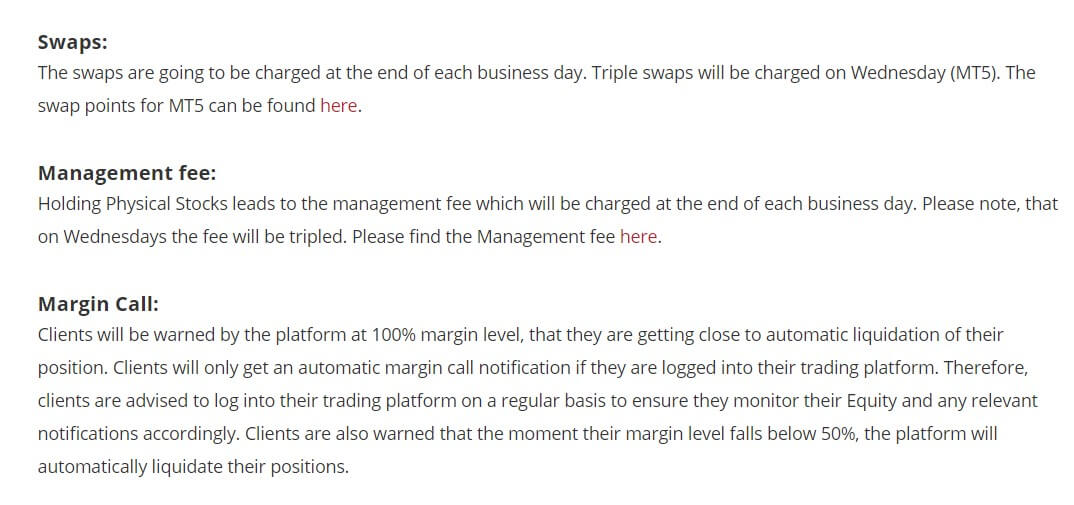 Trade Sizes
For all ForEx pairs, the standard lot size is 100,000 units of the base currency. The minimum trade size must be 0.01 lots. ETrader offers relatively limited leverage and the maximum position size is constrained by that. Otherwise, the broker makes no mention of what the maximum size is on their website.
Margin Call: 100%
Stop-Out: 50%
ETrader doesn't contact you by phone or email if there is a margin call on your account. The only way for you to know is through logging into your account, which makes it important to regularly go online and monitor your positions. At 100% the margin level, you receive a warning that your trades are about to be liquidated. If your account reaches 50% of the required margin, eTrader will automatically close all of your open positions.
Trading Costs
ETrader's fees and charges are a negative aspect when it comes to using this broker. First, they charge a daily management fee that equals 2% of the price change. However, this only applies to stock holdings and not ForEx. Second, at the end of each business day, traders incur swap charges that range (for currency pairs) from 0.1 pips per lot and up to 102 pips.
The swap amount is largely dependent on the interest rate associated with each currency. To minimize those fees, you can focus on trading ForEx pairs that have a desirable interest rate. Short and long positions have their own swap charges for each currency. For some, it is less to costly to enter long trades while others levy a lower fee on short positions.
This broker only charges commissions on stock trades. ForEx positions don't come with any commissions, but you still have to pay the swap fee. CFD shares have a 0.2% (out of the total position size) commission while actual stocks are charged at 1% of your trade's volume. The minimum commission for both is $20, 20 Euros, 500 Czech korunas, 6,000 Hungarian forints, or 800 Polish zloties (depending on your account's default currency).
You will be charged the swap fees only for overnight positions. It is very important for you to remember that spread charges are triple the normal fees on Wednesdays.
Assets
Apart from currencies, you can also trade stocks, commodities, and indices on eTrader. You can access over 60 FX pairs that include both major and exotic currencies. Examples of the latter are the Hungarian forint (HUF), Czech koruna (CZK), Brazilian real (BRL), and others. ETrader also allows account holders to trade stock CFDs of companies in the US, UK, Germany, Hong Kong, Japan, and several other countries.
You may also trade actual shares, but the options are limited to equities in the US, EU, and Hong Kong markets. Moreover, eTrader offers access to major market indices from around the world and different types of commodities (metals, energy, and agricultural ones).
Spreads
Etrader's spreads are floating, starting from 3 pips. The AUD.GBP, AUD.USD, EUR.JPY, EUR.USD, GBP.USD, NZD.USD, and USD.CAD pairs have some of the lowest spreads. Meanwhile, exotics have spreads that are in the hundreds of pips and some pairs with the Russian Ruble are in the thousands.
Minimum Deposit
If you want to transfer funds via Visa or MasterCard, the minimum amount is $100, which is also the required amount to open an account with eTrader. Bank wire transfers and DotPay have a minimum deposit of $250 or it's equivalent in your account's default currency.
Deposit Methods & Costs
You can deposit money into your eTrader account via Visa/MasterCard, wire transfers, or DotPay. It is important to note that the broker doesn't accept cash deposits. ETrader doesn't charge any transfer fees for deposits. However, their website does inform traders that banks or institutions might charge separate fees. The maximum amount for bank wires and DotPay deposits is unlimited.
You can transfer no more than $10,000 (or its equivalent) via Visa or MasterCard. Deposits are processed within 24 hours. However, wire transfers from your bank might take up to 3 days. This will depend on the policies of your financial institution.
Withdrawal Methods & Costs
While eTrader provides different deposit methods, you can only withdraw funds via wire transfer to your bank account. Similarly, just as with deposits, eTrader doesn't charge any fees when you withdraw money, but your bank might. The minimum that you can transfer out of your eTrader account is $250 while no maximum is specified.
Withdrawal Processing & Wait Time
Both deposits and withdrawals are easy to make. All you need to do is initiate the transaction through a user-friendly and straight-forward tool that is available when you log in to your account.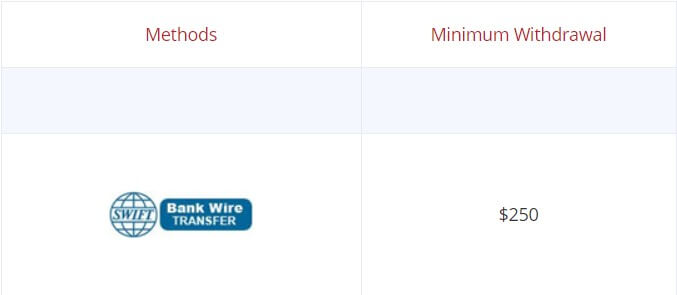 ETrader's website doesn't tell you the time it takes for the withdrawals to be processed. However, since bank transfers are the only option, it is best to account for 3 days before the funds become available. After all, this is how long it takes to process deposits via bank wires.
Bonuses & Promotions
The Tied Agent program is for those who are interested in working for eTrader and opening a local office in their area. This potential partnership is offered to traders in the EU who are not registered with another brokerage firm in their country. A Tied Agent's role is to bring in new clients and assist account holders in picking the right instruments and services that eTrader offers. Tied Agents also get access to analytical reports and a 24-hour support team.
Educational & Trading Tools
One of the best things about eTrader is its educational content, which includes video tutorials, live webinars, articles, and a downloadable 15 page FAQ document. The website and its pages are available in 9 different languages that are spoken across Europe. German, Italian, and French are not on the list. However, English, Spanish, Russian, Greek, and Hungarian are amongst the available languages.
The FAQ document is free and you can download it from the 'FAQ' page on eTraders website. While going over topics like leverage, margin, and commissions, the Standard FAQ outlines eTrader's policy and explains them in an educational way. When going over swap rates, the document provides examples and discusses why brokers (both in general and eTrader in itself) charge these fees.
It also educates traders on how swaps occur and what to expect over the weekend (when the market is closed). The Standard FAQ explains general market terms while going over the details behind each of the fundamental and technical approaches. Moreover, the broker provides daily economic calendars, news analysis articles, and live ForEx quotes.
Customer Service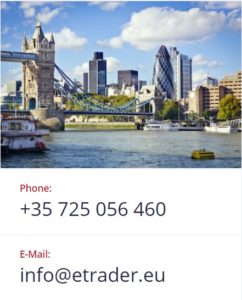 Etrader can be contacted via phone, email, fax, and in person. You can also place trade orders and make payments by phone.
Phone: +35 725 056 460
Email: info@etrader.eu
Fax: +357 2403 0076
Support is offered in 10 languages: English, German, Italian, Polish, Greek, Spanish, Czech, Hungarian, Slovenian, and Slovakian. The contact information is the same for all languages.
Demo Account
Opening a demo account is easy. All you need to do is to fill out a form (asking for your name, address, and phone number) and confirm your email. Afterward, you can install MT5 and start trading from your desktop, phone, or tablet.
Countries Accepted
ETrader has offices in 10 different European states, including the UK, Germany, Italy, and Greece. Local partners (Tied Agents) offer support over the phone and in-person. The broker is incorporated in Cyprus and is available in 28 countries. It can be used in all EU states (except for France and Belgium), as well as the UK, Iceland, Liechtenstein, and Norway.
Conclusion
We found many pros and, at the same time, the cons of using eTrader. Their low leverage is far below what other brokers on the market offer. However, this will not be a problem for beginners and traders who want to manage a business account. Both of whom have a low risk tolerance and the 1:30 leverage is an unlikely dealbreaker. In fact, those with little to no experience in the financial markets will appreciate the wide variety of educational content that they can access.

Similarly, business managers are offered an account that suits their company's needs and investment goals. Even experienced traders can increase their leverage to 1:100, but this is still less than what they can find on many other platforms. If you don't live in one of the 28 countries where eTrader is available, this is not an option for you.