In operation since 2011, FXGlory is a well-established Forex broker offering a variety of assets within the MT4 platform. Among the major perks of trading with this broker is the fact that they offer commission-free trading, while also extending a generous leverage ratio to their clients. They also draw in new clients by accepting minimum deposits of only $1 or more. The FXGlory review that follows will provide you with additional details regarding their services, helping you to decide whether or not to become the next trader to open an account with them.

Account Types
FXGlory does offer three different account types, including: Standard, Premium and VIP accounts. The differences between these three are quite clear. For that reason, it is highly advised that you understand what each account tier offers before making a selection.
STANDARD ACCOUNT:
Minimum Deposit Amount: $1
Minimum Trade Size: 0.01 Lot
Maximum Trade Size: 1.00 Lot
Maximum Position Size: 20
Step Lot Increment Size: 0.01
Maximum Leverage: 1:3000
Deposit Bonus: 50% of total deposit
Maximum Bonus Amount: $500
Margin Call/Stop Out: 60% / 30%
Spread: Starting at 2 Pips
Commission Charge: None
Hedge Margin Percentage: 50%
Premium VPS: No
PREMIUM ACCOUNT:
Minimum Deposit Amount: $1,000
Minimum Trade Size: 0.10 Lot
Maximum Trade Size: 10.00 Lot
Maximum Position Size: 100
Step Lot Increment Size: 0.10
Maximum Leverage: 1:2000
Deposit Bonus: 50% of total deposit
Maximum Bonus Amount: $1000
Margin Call/Stop Out: 50% / 30%
Spread: Starting at 2 Pips
Commission Charge: None
Hedge Margin Percentage: 50%
Premium VPS: No
VIP ACCOUNT:
Minimum Deposit Amount: $5,000
Minimum Trade Size: 0.10 Lot
Maximum Trade Size: 1000 Lot
Maximum Position Size: 1000
Step Lot Increment Size: 0.10
Maximum Leverage: 1:300
Deposit Bonus: 40% of total deposit
Maximum Bonus Amount: $2000
Margin Call/Stop Out: 30% / 10%
Spread: Starting at 0.7 Pips
Commission Charge: None
Hedge Margin Percentage: 25%
Premium VPS: Yes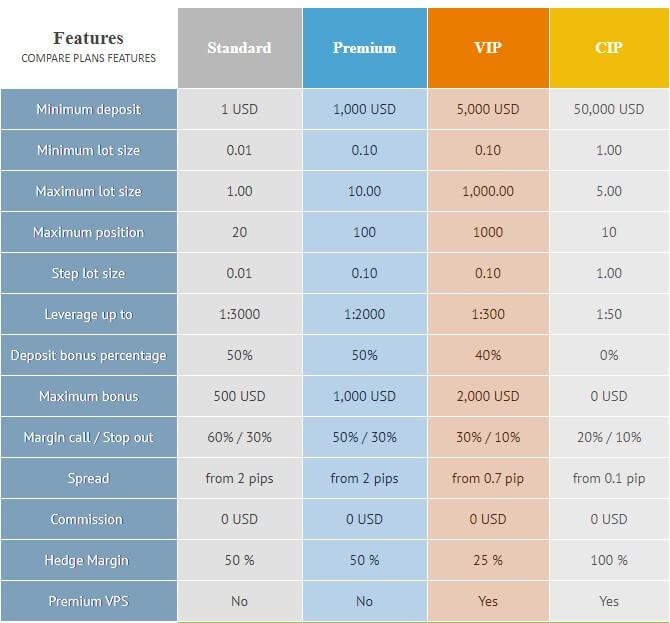 Instant and Market order executions are associated with all account types. All account types are commission-free and swap-free, which means that this broker will profit from their fixed spreads. Even so, the spreads that we noted while completing this FXGlory review were reasonable overall. The good news is that with fixed spreads, traders can decide straight away whether or not they feel comfortable with the costs associated with trading with this brokerage.
Platforms
FXGlory offers the always popular MetaTrader 4 platform to their clients. Their version of the platform is offered as a download for Windows, but can also be put to use by loading up WebTrader, which is an in-browser version. There are also iOS and Android apps for mobile devices such as smartphones and tablets. There are no problems to report here, as MT4 is the most widely used trading platform in the world.
Leverage
The maximum leverage does vary by account type. The absolute maximum leverage for all account types is 1:3000, which is well above the industry average. Obviously, one would want to exercise caution when trading with a leverage ratio that is this high. The Premium account carries a maximum leverage of 1:2000, while the VIP account carries a maximum of 1:300.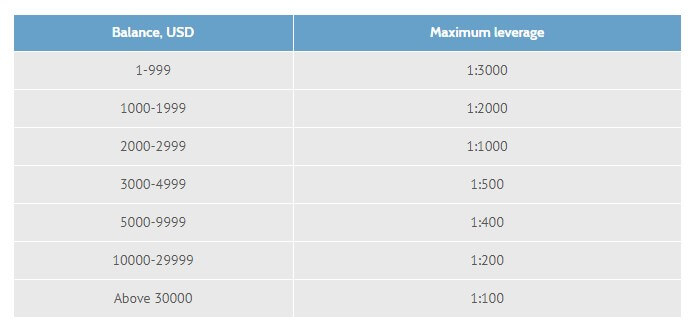 NOTICE: The leverage ratio within the FXGlory trading platform automatically adjusts along with ones account balance. When your account balance grows, the leverage setting will be reduced. The list below provides the specific leverage ratio for a variety of account balances ranging from $1 up to $30,000.
Account Balance $1-999 = 1:3000
Account Balance $1000-1999 = 1:2000
Account Balance $2000-2999 = 1:1000
Account Balance of $3000-4999 = 1:500
Account Balance of $5000-9999 = 1:400
Account Balance of $10,000-29,999 = 1:200
Account Balance Above $30,000 = 1:100
Traders will most definitely want to keep the potential for a change to their leverage setting in mind while trading with this FX broker.
Trade Sizes
The allowed trade sizes also vary with account type. Using a Standard account, trades as small as 0.01 are permitted. The largest allowed trade size on the Standard account is 1 lot. Using the Premium account, the smallest allowed trade size increases to 0.10, with the maximum size being 10 lots. Lastly is the VIP account, which requires a minimum trade size of 0.10 lots, with the maximum being 1,000 lots. Once again, should you decide to trade with FXGlory, you'll want to select your account type very carefully.
Trading Costs
As mentioned in the opening paragraph, there are no commission charges or swap fees to be paid, but one should not automatically assume that there is no cost to trade with FXGlory. Each broker is in business to earn a profit and each gets to decide how they will earn their money. With this brokerage, the profits come from their spreads. Even so, the ability to avoid rollover and per-trade commission charges is a nice one to have. Just be certain that you understand that their spreads are likely to be somewhat higher than a brokerage that does charge these types of fees.
Assets
The FXGlory trading platform contains 45 total assets for clients to trade on. The asset list is comprised of only currency pairs – no stocks, cryptocurrencies, commodities, or other asset types. Clearly, this fact will send some traders looking for a different broker, or at least a secondary brokerage which does offer other types of assets. If you're strictly a currency pair trader, then there's no problem here. Otherwise, you may very well see their asset index as a serious drawback.
Spreads
The firms spreads are always fixed, regardless of account type, and will vary by asset. At the time that this FXGlory review was being composed, the lowest spread was 0.4 pips. We did notice some spreads that were most definitely on the higher side, so you may want to compare the spreads of your preferred assets with those offered by other brokers. Do remember when making comparisons that this broker does not charge commissions or swaps, as this will help you to make a fair assessment.
Minimum Deposit
With the Standard account type, clients can make a deposit of $1 or more. With the Premium account, the minimum is set to $1,000, and with the VIP account, a $5,000 deposit is required. There are few (if any) Forex trades that can be executed with only $1 in your account, so it seems silly to bother with such a small deposit. However, you may want to make a first-time deposit that is on the smaller side if you wish to test out the deposit and withdrawal processes. Just be sure to properly fund your account when it comes time to actively start trading.
Deposit Methods & Costs
An area in which FXGlory stands out above the rest is banking. Not only do they not charge any deposit fees, they also accept a wide variety of payment methods. In addition to the standard methods such as bank wire and credit/debit cards, they also accept online payment processors such as PayPal, NETELLER, Perfect Money, Skrill, and more. Several cryptocurrencies are also accepted, including Bitcoin, Ripple, Litecoin, and Etherum.

The $1 minimum applies to specific payment methods, such as digital coins and several of the online payment processors. With PayPal and credit/debit cards, the minimum deposit climbs to $50. With wire transfers, the smallest allowed transaction is $500. It's quite refreshing to see a brokerage still accepting PayPal, so this is a plus. The acceptance of cryptocurrencies is also a plus, as this payment method allows one to safeguard their payment details.
Withdrawal Methods & Costs
Withdrawals up to the initial deposit amount can be requested back to the payment method that was used to fund the account. Profits which exceed that amount may be withdrawn using a different method. FXGlory does charge withdrawal fees on most payment methods, but does provide ways in which these costs can be avoid. In most cases, withdrawals over $50 are free, but this depends on the chosen payment method. Card withdrawals, which tend to be the most popular choice, are free on amounts over $300. Visit the brokers withdrawal web page to see a complete list of minimums and costs.
Withdrawal Processing & Wait Time
The FXGlory payments team is operational and processing payment requests Monday to Friday. Cryptocurrency and online payment processor payments typically arrive within one hour to one business day. Card payment really vary by card company. This is due to the fact that card withdrawals are processed as refunds and each financial institution has their own processes for processing refunds. Wire transfers tend to take the longest time to arrive, typically between 2 and 10 business days. Even so, they remain one of the best options for securely transmitting larger amounts of money. Each of these wait times are standard. The only true difference between FX brokers in this area will be the length of time that it takes to review and process your withdrawal.
Bonuses & Promotions
FXGlory is among a small group of brokers that do still offer deposit bonuses. When making a first-time deposit, you may qualify for a deposit of up to 50%. The largest bonus amount is $1000. Each $1.50 of the bonus amount will be released to your account when you trade 1 standard lot. There are additional requirements as well, so do be sure to read the terms and conditions prior to accepting a bonus. If you decide that you do not want a bonus added to your account, contact the support team in advance of making your first deposit.

Educational & Trading Tools
This brokerage does offer a few educational tools that should prove helpful to new clients and beginner level traders. A Knowledge base and trading terms glossary are accessible on the site, as is an economic calendar, margin calculator, and market news. As for trading tools, you'll find the standard lineup of analytical tools within the MT4 platform.
Customer Service
FXGlory provides quite the list of contact options, which is excellent. In addition to live chat, this broker provides several country-specific telephone number and department-specific email addresses. A new live chat session can be opened directly on the website, while information pertaining to the other contact methods can be accessed on the 'Contact Us' page of their website. Below, you'll find a list of the available telephone numbers and email addresses.
United States : +(1) 647 243 7184
United Kingdom : +(44) 744 190 6300
Malaysia : +(60) 392 126 712
Canada : +(1) 845 709 8570
Switzerland : +(41) 315 280 631
Cyprus : +(357) 2512 3232
Toll Free:
United Kingdom : +(44) 800 086 9296
United States : +(1) 888 345 6995
Technical: Technical@fxglory.com
Accounting: Accounting@fxglory.com
Support: Support@fxglory.com
Affiliates: IB@fxglory.com
General Inquiries: Info@fxglory.com
Demo Accounts
Both new and prospective clients are allowed to open a new demo account with FXGlory. Practice accounts offer trading conditions that closely mimic those of the live platform. Note that the asset rates provided within the demo account do not come directly from a financial institution and therefore will differ from those within a live platform. Do note that all practice accounts will automatically be deleted if they are not logged into at least once during each two-month period.
Countries Accepted
FXGlory is headquartered within St. Vincent and the Grenadines and as such, are allowed to accept traders from around the globe. As of now, this does include clients residing within the United States. Those who reside in the following locations are not currently allowed to create accounts and trade with this Forex broker: Georgia (Europe), Bangladesh, North Korea, Syria, Sudan, Iran, Nigeria and other countries which are under UN sanctions.
Conclusion
The benefits and drawbacks of trading with FXGlory are quite clear. Traders will benefit from not having to pay any commissions and rollover fees, while also benefiting from low minimum deposit requirements and the omission of deposit fees. The drawbacks include the fact that the asset index contains only currency pairs, along with withdrawal fees on some payment methods. FXGlory has been in operation for quite some time, so they clearly must be doing something right. For now, we see no reason as to why this broker should be avoided by those who are searching for a new platform.