Welcome to our Berry Markets broker review, Berry Markets is a Forex broker that is based in Seychelles and claim to offer over 300 different assets to trade. Berry Markets are what is known as an offshore broker, meaning they are not regulated, however this does not mean that they can not be trusted, that is a question that we are going to answer today in this review. So if you want the answer, read along with us.
Account Types
Berry Markets offer two different account types, their ECN accounts and swap free accounts. Let's take a closer look at the two accounts:
ECN Account:
An ECN account is one of the more popular account types within the forex retail industry, it stands for Electronic Communication Network and is a direct link between the broker and various banks and liquidity providers. The reason people like ECN accounts is that it often gives much quicker trade confirmations and better prices due to reduced spreads.
Berry Markets suggest that their ECN accounts have spreads as low as 0.8 pips, when looking at other ECN accounts, this could actually be considered as quite high, even with it appearing quite high, spreads for EUR/USD have been seen at around 1.6, double what Berry Markets are suggesting. The minimum deposit for this account is $500 which is a little high but not unreasonable and the maximum leverage available is 1:300. You can choose to have an account with either MetaTrader 4 (MT4) or MetaTrader 5 (MT5).
Swap Free Account:
Berry Markets offer a swap free account for those with Islamic beliefs, this means that swap fees are not charged to this account, however Berry Markets have been a little confusing and it appears that only some assets are swap free and can only be traded during the day. We are unsure of the logistics behind this and so due to this confusion would not recommend this account. All other aspects of the account are the same as the ECN account such as a minimum deposit of $100 and maximum leverage of 1:300.
Platforms
Berry Markets offers you a choice of two trading platforms, MetaTrader 4 (MT4) and MetaTrader 5 (MT5).
MetaTrader 4 (MT4):
MetaTrader 4 (MT4) is the world's most popular trading platform, it offers a user friendly interface, a professional online trading experience and it's fast, secure and reliable. It is also able to host thousands of indicators and expert advisors. This is a standard trading platform that 99% of all brokers will offer.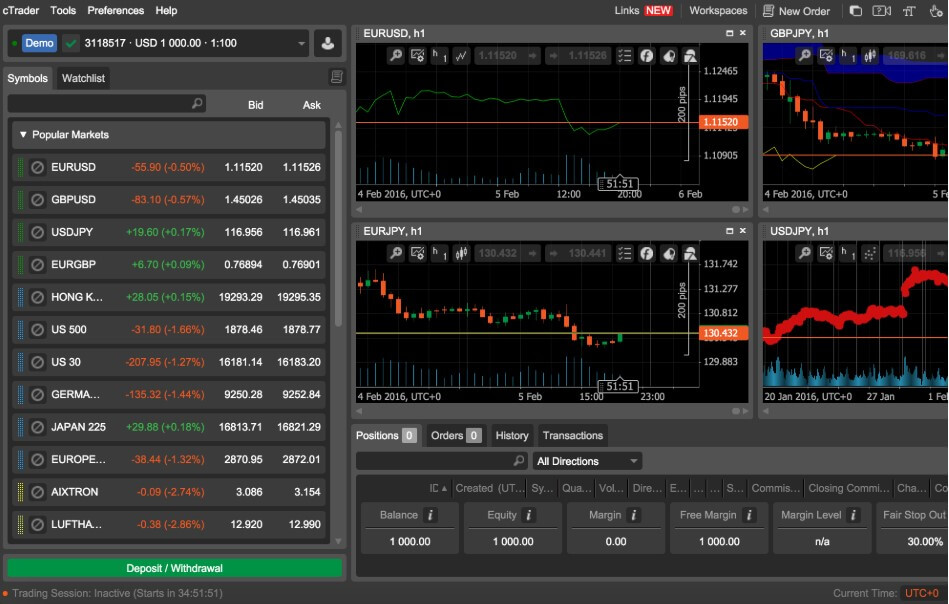 MetaTrader 5 (MT5):
MetaTrader 5 (MT5) is the latest software from MetaQuotes Software however it didn't manage to take off due to the extreme popularity of it's younger brother.MT5 is offered by far fewer brokers, it still has the same characteristics as MT4, however does not yet support quite as many indicators and expert advisors which is why the majority of traders prefer to use the older version.
Many brokers these days are beginning to create their own bespoke software or have access to a WebTrader, Berry Markets does netiehr of these and so you are quite limited in your choice of software, having said that, many traders will tell you that MetaTrader 4 is the only software you need.
Leverage
Berry Markets offers a number of different leverages for your accounts, all accounts can take advantage of the same leverage levels. The current maximum leverage is set at 1:300, which is an acceptable standard and is what a lot of new traders are recommended to start at (along with 1:200). Leverage can also be lowered to multiple different amounts including 1:50 and 1:100.

When opening an account, the starting leverage will be 1:100 and it is up to the trader to change this. Some instruments are able to be traded at 1:500, however this is limited and we would recommend sticking to 1:300 to avoid any confusion or mistakes.
Trade Sizes
We could not find any information regarding the minimum or maximum lot sizes, however we are confident that Berry Markets will provide the minimum lot size of 0.01 lots (micro lot), however we can not comment on what their maximum lot size would be.
Trading Costs
As mentioned before, there is very little information about Berry Markets on their website or over the internet, in fact no where on their site does it state what their trading costs are, and without that information available we are not willing to trade to test it out. This information we unfortunately cannot give you. The only information that we do have is that Berry Markets aims for a 0.6 pip spread however it has often been seen as high as 1.6 pips.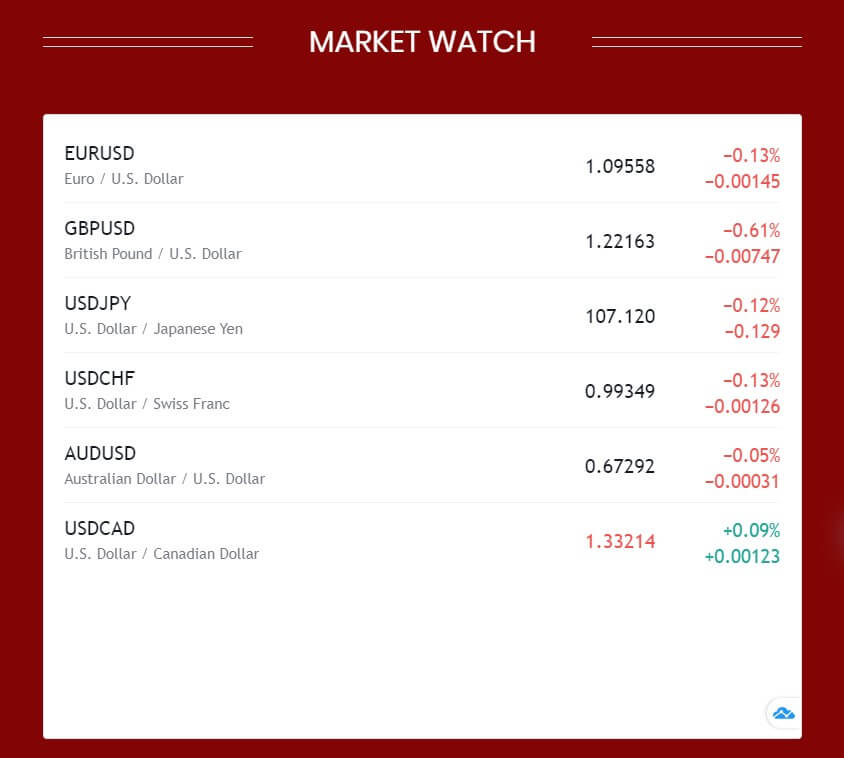 Assets
There is no information on Berry Markets's website indicating how many or which assets are available to trade. The only notice is a small box on their site stating "300 Plus Trading Instruments". As there is no list of tradable assets, we can not currently verify this information and must take their word on it.
Spreads
Berry Markets claim to have spreads at around 0.6 pips which is on the high side for an ECN broker, however spreads have been seen as high as 1.6 pips on the EUR/USD pair which shows that the spreads are not as stable as Berry Markets makes out.
Minimum Deposit
The minimum deposit for Berry Markets is $100, please bear in mind that the minimum withdrawal is actually $200, so you may end up depositing into your account and not being able to withdraw it. This is a sneaky move by the broker to ensure you need to trade and potentially lose your money.
Deposit Methods & Costs
Depositing with Berry Markets is fee free and they do not charge any fees for using any of their deposit methods. Currently there are only two methods of depositing, Debit or Credit cards and wire transfer. It is a shame that Berry Markets limits you to these two methods as there are far easier methods when it comes to depositing and it seems that Berry Markets have not joined the cryptocurrency trend yet as they do not accept coins such as Bitcoin as a deposit method. As with most forex brokers, Berry Markets does not accept third party deposits, which means deposits from someone else's bank account that is not your own.

Withdrawal Methods & Costs
As with depositing, Berry Markets do not charge any fees when you wish to withdraw. There is however a minimum withdrawal amount which is currently set at $200, so if you have less than this in your account you will not be able to withdraw. There is currently only one method of withdrawing and that is via bank transfer as Berry Markets do not allow for withdrawal using debit or credit cards.
It is very strange for there to only be a singular withdrawal method, most brokers are looking for inclusion, using multiple methods to make it easier for new traders and new clients to jump on board their platform, however Berry Markets seem to be taking another approach and not wanting to develop or innovate with the ever changing financial markets and requirements. It would be nice to see some e-wallets added to the lineup as well as the ever growing cryptocurrency world.
Withdrawal Processing & Wait Time
Berry Markets states that they process withdrawal requests within 15 minutes by deducting it from your account, they do not however indicate how long it takes to process after this time and there is no information on the internet about it. As the only method of withdrawal is bank transfer, we would expect a minimum of 3 working days before any money arrived due to bank processing times, this could be much longer if it is not processed quickly or during weekends or bank holidays. There needs to be more information regarding this on Berry Markets website in order to give their customers confidence in their service.
Bonuses & Promotions
We could not see and information regarding bonuses on the website leading us to believe that there are not any at the moment. This is not to say that there wont be in the future, so if you are thinking of trading with Berry Markets, make sure to regularly check back to see if there are any promotions or bonuses available.
Educational & Trading Tools
Berry Markets do not offer any kind of education or training, which is a big disappointment as many forex brokers these days do what they can to help their clients become successful traders. The only information on their site is an economic calendar which shows very little information. In terms of the trading tools, please refer to the trading platform section of this review where we look at the two platforms being offers, MetaTrader 4 (MT4) and MetaTrader 5 (MT5).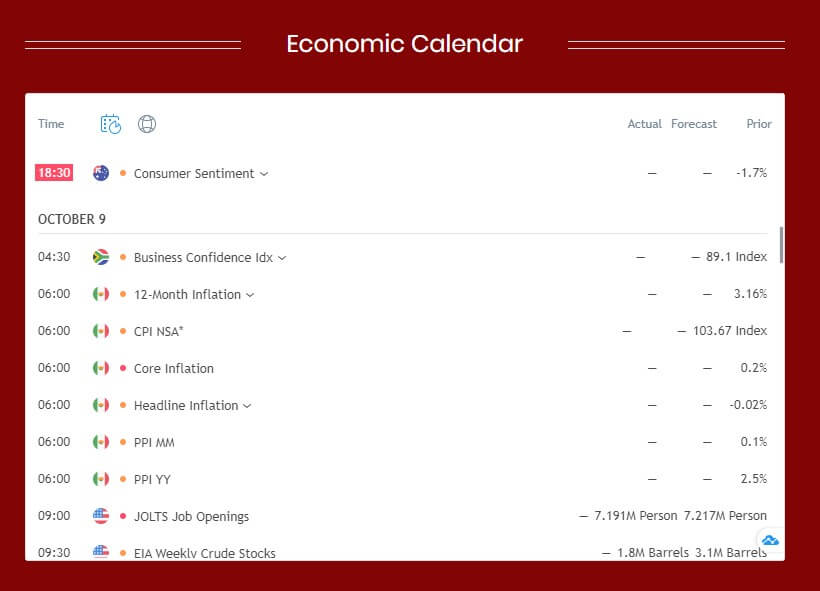 Customer Service
The number of contact details available for Berry Markets is quite alarming, there is no email, no phone number and their physical address is only accessible at the very bottom of the site and not in the contact us section.
The only method of contact is to fill in an online form, we did this, but after 48 hours we are yet to have a response, so either they are slow or there may be a staffing issue. There is in fact an email address at the top of the screen, however we believe that this goes to the same email address as the form on the site, so the response was not any better.
In this day and age, communication is everything, if there are limited ways to communicate with your forex broker then it can be disheartening and does not breed much confidence in the system that you are using. Berry MArkets need to improve on the ways that you can communicate with them if they wish to be taken seriously and to succeed.
Demo Account
Berry MArkets allows you to open demo accounts, you can open and account on either MEtaTrader 4 (MT4) or MetaTrader 5 (MT5). It is as simple as clicking the "Open Demo Account" link and selecting the platform, then inputting your details and you are done.
Countries Accepted
As far as we can tell, Berry MArkets are open to any customer and do not currently restrict customers from certain countries, we came to this conclusion while looking through the site and also their Terms & Conditions.
Conclusion
There is very little information available about Berry Markets, due to this it is very hard to form a full opinion of the service that they are providing. They only offer one account type which is an ECN, but the spreads are generally higher than most ECN accounts, along with the fact that the support team still haven't gotten back to us, means that at this point in time we are not able to endorse the use of Berry Markets. We will of course update this review should any of the above information change.

Be sure to check out some of our other broker reviews so you can be sure you choose the right Forex broker for you.