GKFX is a forex broker situated and regulated in Malta by the Malta Financial Services Authority (MFSA), they are also the official trading partner of Arsenal FC. The website claims that they offer innovative technology, a wide range of products and free education. In this review, we will be looking into the services that are being offered by GKFX so you can decide if they are the right broker for you.
Account Types
You have a choice of three different account types when trading with GKFX, we will outline a few of their requirements and features down below.
Standard Account: The standard account requires an initial deposit of €100, this account comes with a variable spread starting from 0.6 pips. The minimum trade size is 0.1 lots and the maximum is 100 lots. The account can have leveraged up to a maximum of 1:30 and can be in either EUR or USD. Stop out level is set at 50% and there is no commission on this account.
Premium Account: The premium account increases the minimum deposit to €20,000 which could price out a lot of retail traders. Its leverage remains at 30:1 but the account now uses raw spreads which can be as low as 0 pips but there is an added commission of €6 per lot traded. The minimum trade size has also increased to 0.1 lots while the maximum trade size remains the same at 100 lots.
Corporate Account: While we will be mentioning this account here,m the rest of the review will not take this account into consideration as we are looking at this broker from a retail client's point of view. The account requires a minimum deposit of €25,000 and the minimum trade size increases up to 1 lot and spreads can be either fixed or variable and start at around 0.6 pips.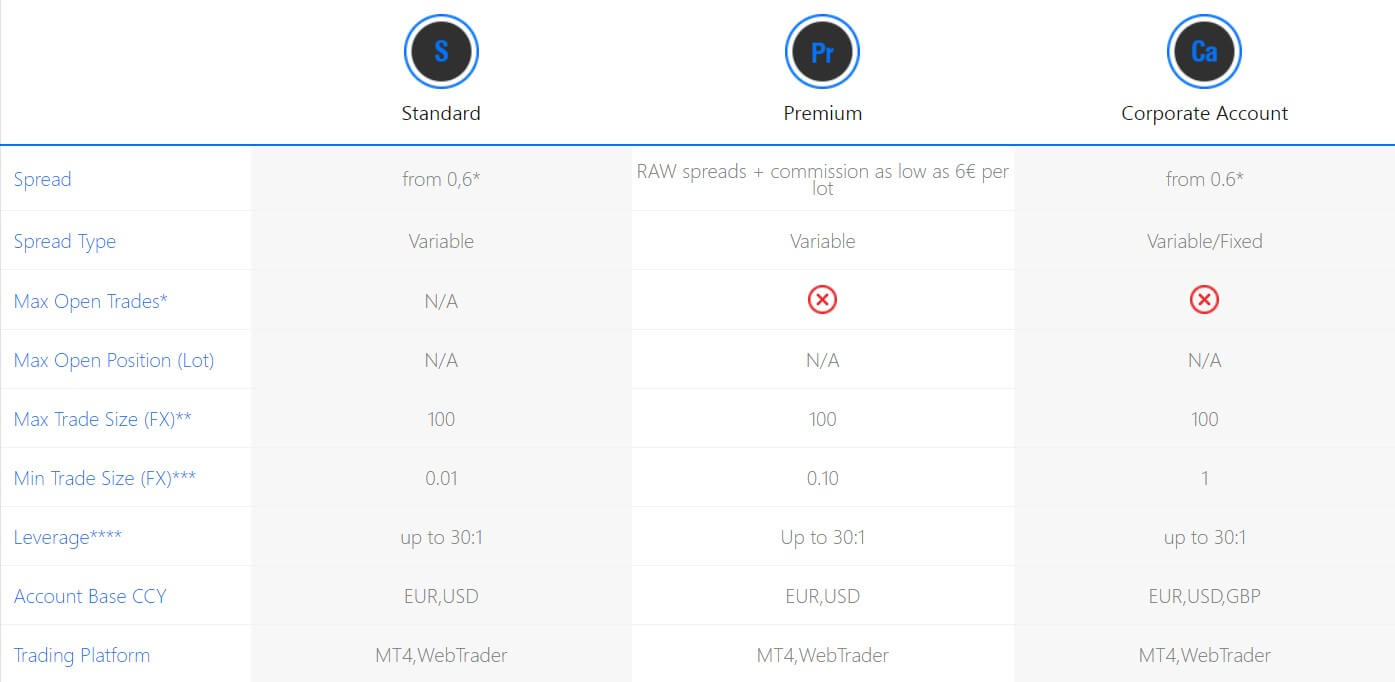 Platforms
GKFX is only offering a single trading platform, MetaTrader 4 is the platform of choice to let's take a brief look at what is offered.
MetaTrader 4 (MT4) is one of the world's most popular trading platforms and for good reason. Released in 2005 by MetaQuotes Software, it has been around a while, it is stable customizable and full of features to help with your trading and analysis. MT4 is compatible with hundreds and thousands of different indicators, expert advisors, signal providers and more. Millions of people use MT4 for its interactive charts, multiple timeframes, one-click trading, trade copying and more. In terms of accessibility, MT4 is second to none, available as a desktop download, an app for Android and iOS devices and as a WebTrader where you can trade from within your internet browser. MetaTrader 4 is a great trading solution to have.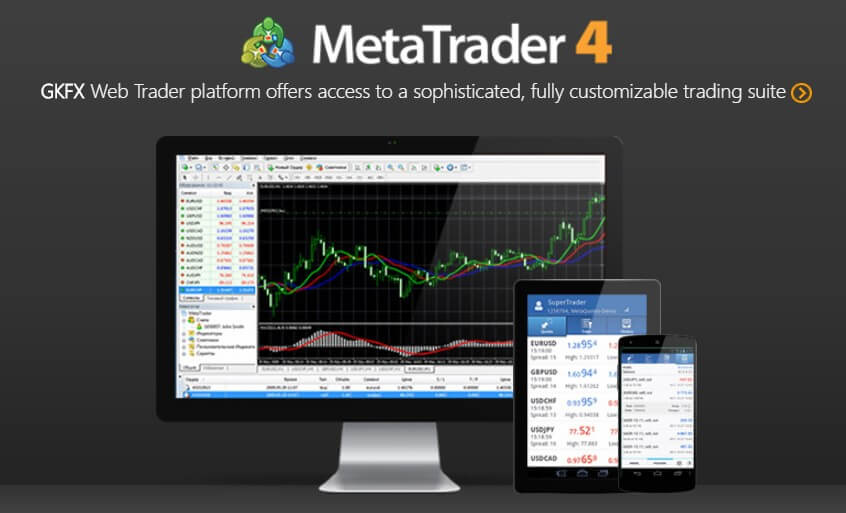 Leverage
The maximum leverage from GKFX s currently set at 1:30, this is due to the regulation but the Malta Financial Services Authority (MFSA). Leverage can be selected when opening ana count and should you wish to change it once an account is open, ensure there are no open trades and then get in contact with the support team over at GKFX.
Trade Sizes
Trade sized depend on the account that you have, if you have the standard account, the minimum trade size for you is 0.01 lots which are also known as a micro lot. If you have the premium account then you will have a minimum trade size of 0.1 lots which is known as a mini lot, finally, with the corporate account, you will have a minimum trade size of 1 lot. All accounts come with a maximum trade size of 100 lots, we would not recommend trading over 50 lots though as it can become increasingly hard for liquidity providers and the markets to execute trades quickly and without slippage the larger they get.
Trading Costs
The standard account has a spread based system that we will look at later in this review. The premium account comes with a commission of €6 per lot traded which is in line with a lot of other brokers. There are also swap charges which are either paid or received for holding trades overnight, these can be viewed directly within the MetaTrader 4 trading platform.
Assets
GKFX has divided its assets up into 5 different categories, these are forex, equities, indices, commodities, and cryptocurrencies. Unfortunately, there isn't a full breakdown of what pairs and instruments are available except for a few different notes, there are over 50 forex pairs, the number of equities is unknown. In terms of indices, there will be more available but the only one names on the indices page are the Dax. The commodities section offers a little more information talking about oils and metal (Gold, Siler, and Copper), however, there is still not enough information and this is something that GKFX should really work on to make them seem more transparent and welcoming.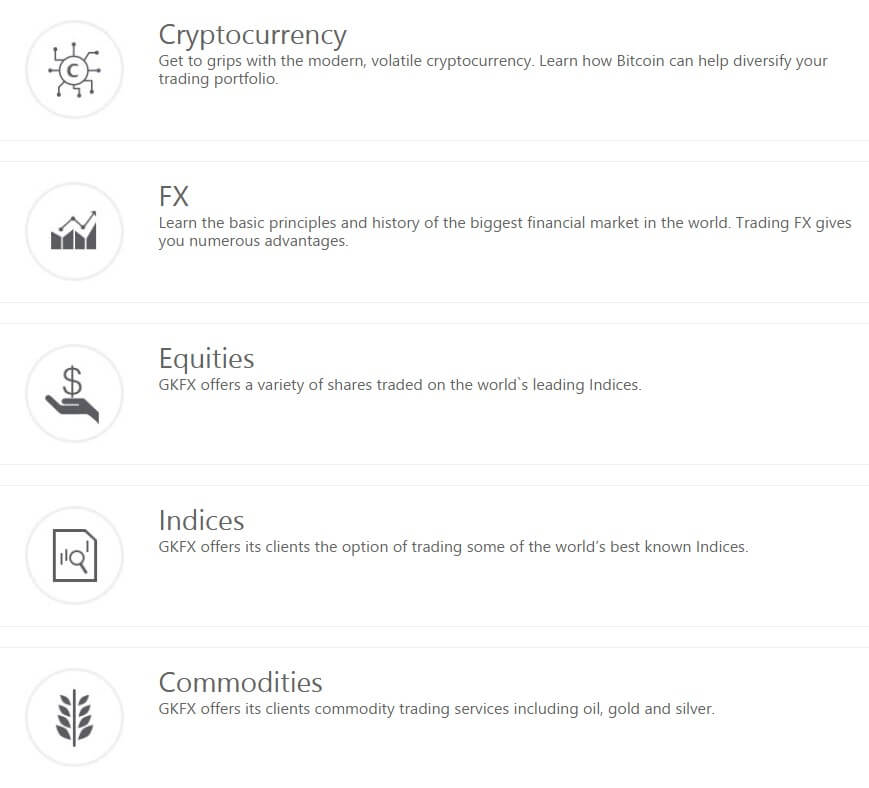 Spreads
Similarly to the assets, there is not a full breakdown of the spreads, only a mention of the minimums. The standard account has spreads starting from 0.6 pips while the premium account can have spread as low as 0 pips as it is using raw spreads.
The spreads are variable (also known as floating) which means that they move with the markets and during times of high volatility, the spreads will often be seen much higher. It is also important to note that not all spreads are equal, while EUR/USD may have 0.6 pips, other pairs may have much higher starting spreads at around 2 pips or 3 pips.
Minimum Deposit
The minimum amount required in order to open up an account with GKFX is €100 which will allow you to open up a standard account, if you want a premium account then you will need a minimum deposit of €20,000.
Deposit Methods & Costs
Quite a disappointing aspect of GKFX is the fact that there is no information in regards to deposits, no mention of any methods, any costs or any specific minimums which is something that a lot of potential clients would be looking form.

Withdrawal Methods & Costs
Just like the deposits, there is actually no information on the site or the FAQs in regards to withdrawals so we are unsure of what methods are available and if there are any added fees with them.
Withdrawal Processing & Wait Time
You can probably guess that we have no information about this section and you will be right. It is just so strange to us that they have so much information about other aspects but absolutely nothing about such a vital part of a broker's services.
Bonuses & Promotions
We could not locate any information regarding any bonuses or promotions so as far as we can tell there are currently none available. This does not mean that there won't be any bonuses from GKFX in the future so be sure to check back regularly if that is something you are after.
Educational & Trading Tools
There is a section for research and tools however there are only very basic things there like an economic calendar that indicates any upcoming news events and which pairs they may affect. There is also a section called trading central which is an award-winning technical analyst, offering different ways to analyze the markets.

Autochartist is present and available from GKFX, Autochartist constantly examines financial markets such as Forex, Indices, Commodities, Stocks, CFD's and Futures. You will get three reports every day with an overview of popular markets, hot opportunities and expected reactions to upcoming economic events. Market Report saves your time and effort, perfect for busy traders.
There is also a VPS you can get but it is charged monthly so not something we would recommend as you can get them free from plenty of places.
Customer Service
Should you wish to get in contact with GKFX you can do so in a number of different ways, you can use the online submission form to send your query and you will then get a reply back via email. You can also call their central support phone number or use the central support email address. There is also the opportunity to contact a few different departments directly including Support, Payments, Accounts and Press Enquiries.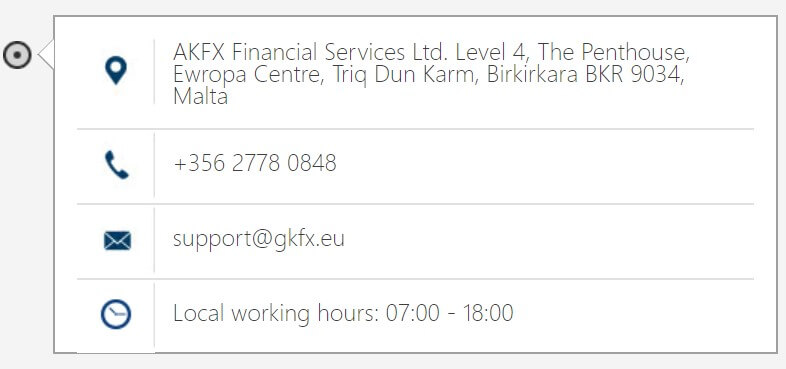 Demo Account
Demo account sare available from GKFX, however, there isn't much information in regards to the trading conditions of them or which account they are mimicking, it would be nice to know thing such as how long they last and what settings they are set at, but it is good that they are available at all.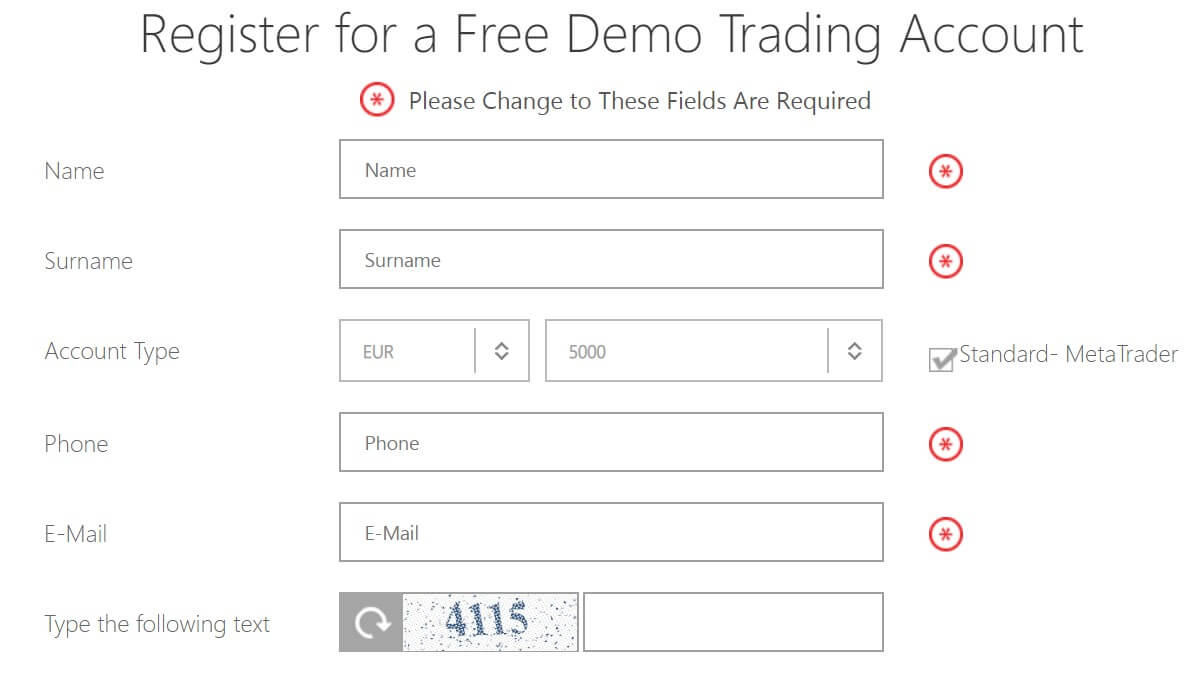 Countries Accepted
The information regarding which countries are accepted is not available on the site so we would recommend getting in contact with the support team if you are unsure if you are eligible or not.
Conclusion
The trading conditions offered by GKFX are reasonable and would be a good environment to trade on, unfortunately, everything is let down by a complete lack of information on the deposit and withdrawal methods, this is vital information that is needed by all potential clients, and the simple lack of this information makes it very hard for us to recommend GKFX, even though the rest of the information and service looks good.
We hope you like this GKFX review. Be sure to check out some of the other reviews here at Forex Academy to help you find the broker that is right for you.