GIC Markets, known as Global Integrated Captech Markets (GICM for short) is an online STP broker with more than two decades worth of experience. Based in St. Vincent & the Grenadines, the company is regulated under the Financial Services Authority (FSA). A few of the broker's advertised advantages include low deposit requirements, a leverage cap of 1:400, and access to 60 currency pairs, plus CFDs on a popular trading platform. We did find some advantages to choosing this broker; however, traders will want to carefully consider a few of the downsides as well. Keep reading to find out more.
Account Types
GICM features four separate account types: Cent, Classic, Standard, and ECN. Traders can also request Islamic versions of each of these account types. A Cent account can be opened for as little as $10 and deposit requirements range from $20 to $500 on the other account types. All accounts allow for the trading of micro-lots and support the advertised leverage cap of up to 1:400. Spreads vary, starting from 0.4 pips on the ECN account, 1.2 pips on the Standard account, 1.5 pips on the Classic account, and 1.8 pips on the Cent account.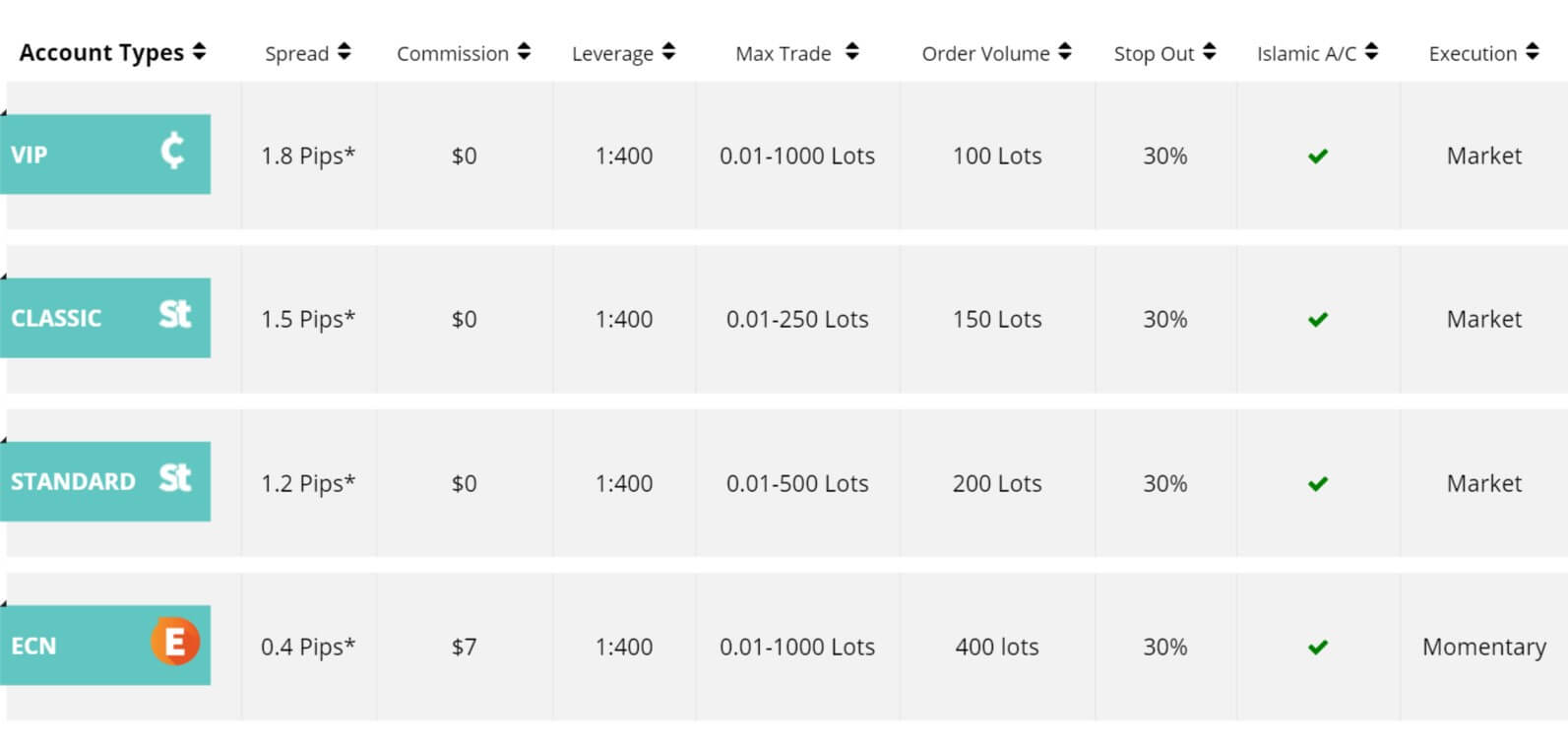 Those looking for a commission-free experience can open a Cent, Classic, or Standard account. Commission charges of $7 per lot apply to the broker's ECN account. There do seem to be some differences based on the number and type of instruments available for trading on each account type, but the website doesn't give us a lot of detail about those exact restrictions. More on that later. We've provided a quick overview of each account type below.
Cent (VIP) Account
Minimum Deposit: $10 USD
Leverage: Up to 1:400
Spread: From 1.8 pips
Commission: Zero

Classic Account
Minimum Deposit: $20 USD
Leverage: Up to 1:400
Spread: From 1.5 pips
Commission: Zero

Standard Account
Minimum Deposit: $100 USD
Leverage: Up to 1:400
Spread: From 1.2 pips
Commission: Zero

ECN Account
Minimum Deposit: $500 USD
Leverage: Up to 1:400
Spread: From 0.4 pips
Commission: $7

Platform
The broker features their own trading platform, which is accessible on desktop or through the Mobile Trader. The platform (simply named Desktop Trading Platform and Mobile Trader) is supposedly preferred by thousands of traders across the globe. It provides access to hundreds of trading tools, ranging from indicators, expert advisors, charts, order functionality, etc. A user-friendly interface and direct news feed are also mentioned as some of the supported features. Our conclusion is that the GIC Markets platform seems to stand on its own, but many traders will be missing the option to trade through one of the most popular trading platforms, MetaTrader 4 or MetaTrader 5.
It's a little concerning to see that the broker mentions the most popular forex trading platform is available, even though this isn't true. If you're used to the more familiar options, it may be a good idea to test out the broker's platform on a demo account in order to determine whether you're willing to make the switch.
Leverage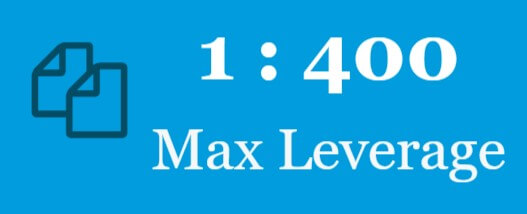 All traders will have access to a leverage cap of 1:400, regardless of the chosen account type or the amount of equity within the account. This amount is very flexible when compared to the 1:30 and 1:100 restrictions that are set by many regulators. The caps are so high, in fact, that some traders may want to stick with a lower amount since trading with higher leverages can be so risky. Either way, GIC Markets provides an impressive option that doesn't feel so restrictive. Even if one isn't prepared to use the highest option, many traders may become more comfortable with a larger leverage setting as time goes on. This broker leaves room for those clients to grow.
Trade Sizes
All four accounts support the trading of micro-lots. Maximum trade sizes differ, at 100 lots on the Cent account, 250 lots on the Classic account, 500 lots on the Standard account, and 1,000 lots on the ECN account. The Cent account supports an order volume of 100 lots, while the Classic account allows an order volume of 150 lots. The Standard account raises the order volume to 200 lots and the ECN account supports 400 lots.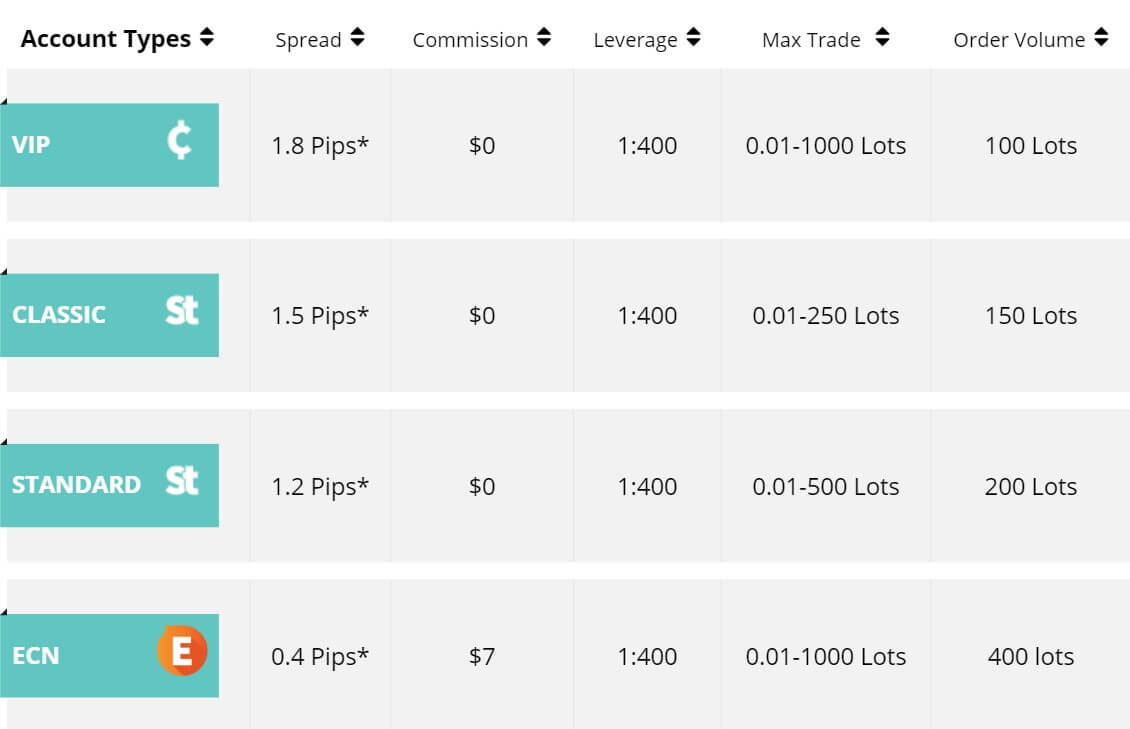 Stop out occurs at 30% on all accounts. According to one section of the website, all types of trading strategies are allowed, including scalping, hedging, EA trading, etc. Under the broker's terms & conditions, it is later explained that scalping (such as trading with a duration of 5 minutes or less) is completely prohibited. This was not the first time we found contradicting information on the website.
Trading Costs
GIC Markets profits from spreads, commissions, and swap charges. The floating spreads range from starting from 0.4 pips to 1.8 pips, and traders will find that three of the accounts offer starting spreads that are at or below the industry average. Commissions are only applicable on the ECN account, so Cent, Classic, and Standard account holders won't have to worry about these charges. The broker does list a commission charge of $7 per lot on the ECN account, but the website doesn't specify whether the charge is per side or round turn. This could obviously make a big difference.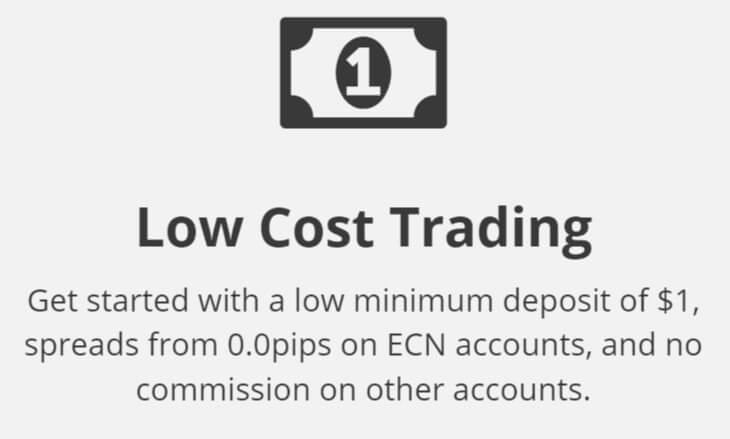 Swaps are overnight interest charges applied to positions that are held open past market closing time. The only way to view these charges would be from within the trading platform, due to the fact that the charges are not listed on the website. Islamic account holders would be able to avoid paying swaps and would pay accounting charges on positions that are left open for 3 days instead. There do not appear to be any extra charges based on inactivity or other unnecessary fees.
Assets
The broker provides access to FX, commodities, and stock indices. In total, there are 50 currency pairs available. GICM does note that this number is subject to account type, but we don't get any details stating which accounts wouldn't have access to all 50 options, which include majors, minors, and exotics like the USDHKD and USDNOK. The website states that one can trade commodities with a deposit as low as $200 on their trading platform. There isn't an account type that specifically requires a $200 deposit, but the website does state that the full range of commodities can be accessed on the Standard and ECN account.
Available commodities include metals like Gold and Silver, in addition to energies. The broker also offers the stock indices SP500, Hangsen Index, Dax, Ftse100, and UK100. We noticed that the website advertises 60 currency pairs in some places, even though their products page listed 50. We went with the amount listed on the products page, but it was a little concerning to see that the website has more conflicting information listed.
Spreads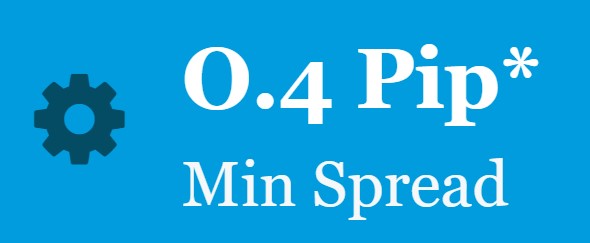 GIC Markets manages to keep spreads at or below the industry average 1.5 pips on three of their main account types. The ECN account features the tightest spreads, starting as low as 0.4 pips. Spreads on the Standard account are raised to 1.2 pips, while spreads on the Classic account start from the industry average of 1.5 pips. Those opening the Cent account will be given access to starting spreads from 1.8 pips. We've definitely seen higher starting spreads, and one would want to consider that this is the cheapest account type and no commissions are charged. Still, traders could spend an extra $10 to upgrade to the Classic account in order to access slightly better conditions.
Note that the broker doesn't provide live spreads or list minimum and average spreads on their products pages, so we weren't able to check to see just how high the spreads on each account could go. In times of market volatility, spreads could fluctuate more widely. Once again, we should point out that the broker lists spreads as being from 0.4 pips on the ECN account while advertising a spread from 0.0 pips on the account type in multiple other places on the website.
Minimum Deposit
GIC Markets features two account types with lower than average costs – the Cent account has a deposit requirement of just $10 USD, while the Classic accounts requires a low $20. The Standard account is also priced below the industry average at $100. The lowered costs should provide an incentive for traders that don't have a lot of funds to invest initially.

The only account type featured by the broker with a higher deposit requirement would be the ECN account, which asks for $500. Elsewhere, we're used to seeing better account types priced in the thousands, or even hundreds of thousands. Overall, this broker's accounts are priced well below average and traders should be able to choose from at least three of the accounts with no restrictions based on affordability. Do note that the website mentions a $200 deposit required to trade commodities.
Deposit Methods & Costs
Accepted deposit methods include bank wire transfer, Visa/MasterCard, Neteller, and Skrill. There is a $100 minimum deposit requirement when funding through bank wire and a maximum limit of $50,000. The maximum limit is also imposed on card deposits. All of the other methods require deposits of $10 or less with no set deposit limit. All of the deposit fees are covered by GIC Markets. Most deposits are credited instantly, with the exception of bank wire transfer. It can take 1-7 working days for those funds to be credited.

Withdrawal Methods & Costs
All of the available funding methods can be used to withdraw funds. The broker sets minimum withdrawal requirements for each payment method, at $5 on Skrill and Visa, $10 on Neteller, and $100 on bank wire transfers. The maximum withdrawal amount is $50,000 on bank wire transfer and card with no limit on Neteller or Skrill withdrawals. Bank wire withdrawal fees are covered by GIC Markets. All of the remaining methods will be charged a fee of 2.5% of the total withdrawal amount.
Withdrawal Processing & Wait Time
All back-office transfers are processed during standard business hours, i.e. 07:00 – 20:00 (GMT+2) (GMT+3 during Daylight Savings Time). Neteller and Skrill withdrawals are processed within 1-2 working hours, while card withdrawals are processed within 6-12 working hours. The withdrawal time for bank wire withdrawals falls between 1-7 working days.

Bonuses & Promotions
The broker is currently offering a deposit bonus, no deposit bonus, cashback, and free VPS. We've provided an overview of each promotional opportunity below. Further terms and conditions can be viewed on the website under "Promotions".
Deposit Bonus: This 40% bonus is credited on deposits of $100 or more. Traders will need to contact support after depositing funds in order to claim the bonus. The bonus is cashed to the account based on daily trading volume. Larger bonus amounts would require larger trading volumes. For example, there is a requested lot size of 50 lots on a $100 deposit, which returns a $50 bonus.

No Deposit Bonus: The broker deposits money into a trading account as an incentive for new traders to sign-up through this promotion. The deposit amount cannot be withdrawn, but profits can, with a $25 withdrawal requirement. The trading account would need to be maintained for 30 days. The website doesn't list the exact amount of the bonus.
Cash Back: This promotion is available for Standard and Classic account holders that deposit at least $100 USD. Traders would then need to contact support to have the bonus activated. A daily rebate amount of $1-2 could then be earned daily, with the exact amount being based on the number of traded lots.
Free VPS: This service is offered free to clients that deposit at least $2,000 USD into their trading account. The broker would expect the account to maintain the $2K balance with active trades on the account.
Educational & Trading Tools
Traders will find sections dedicated to educational videos, Technical Outlook, Fundamental Analysis, and Signals & Forecasts available on the broker's website. Note that it can be easy to miss these resources, as they are not available from the top bar on the website; however, the categories can be accessed easily by scrolling to the bottom of the webpage and checking underneath "Market Research". All of the educational efforts are focused on the video tutorials, which are divided into the following sections:
Technical Outlook
Fundamental Analysis
Daily Trading Signals
Video Tutorial
Events
There do appear to be helpful resources related to market analysis, but we do wish the website would offer more functional tools. Perhaps some types of calculators or calendars could make more of a difference.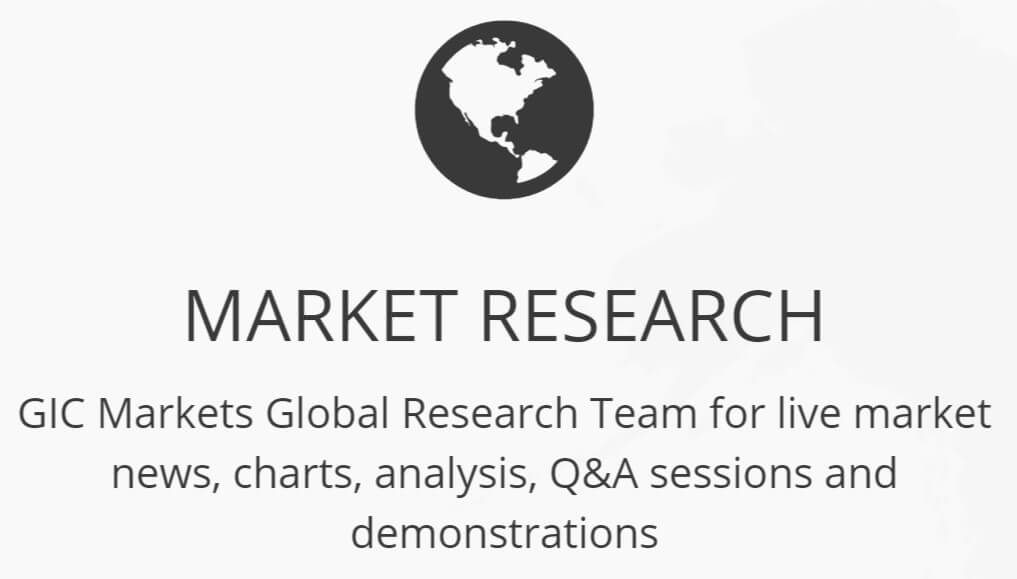 Demo Account
Traders can sign up for a free demo account on the broker's website with no risks or requirements to open a live account. The registration process can be completed quickly, with the only requirements being the trader's name, email, county, DOB, and phone number. Those that haven't used a demo account before should know that these accounts serve as simulations that allow one to trade under the broker's conditions using virtual currency. Demo accounts serve several purposes, like educating beginners, allowing one to test different strategies and account types, etc. Another purpose of this broker's demo account could be to test out their trading platform if one isn't sure about switching from a more popular option.
Customer Service
Customer support is available 24 hours a day, 7 days a week. The ability to speak to an agent on a weekend, which is often a busy period where many traders are looking to sign-up and ask questions, provides an added layer of convenience that many other forex brokers simply don't offer. Contact methods include LiveChat, phone, and email. Traders can also submit a ticket or a callback request directly from the website.
Getting in touch with an agent seems to be extremely convenient through this broker and many traders will be happy to know that agents are so readily available in case of an emergency. GIC Markets is also active on several social media platforms, including Facebook and Twitter, in addition to Google Plus and YouTube. The contact information has been listed below.
Email: [email protected]
Phone: +442032393863

Countries Accepted
We couldn't find any mention of restricted countries on the broker's website or under their terms & conditions. To be sure, we did check the account registration page in order to look for any missing options. Fortunately, the United States, Iran, Japan, North & South Korea, and many other commonly restricted countries were available on the country selection list. It appears as though the broker's more relaxed overseas location has helped them to offer service to a wider range of clients.
Conclusion
GIC Markets offers leveraged trading of up to 1:400 on 50 currency pairs, commodities, and stock indexes. Some restrictions based on account type or the total deposited amount may apply. The most affordable account can be opened for $10, with requirements at $100 or below for two other account types. A $500 deposit is required for the ECN account type.
Traders will find low starting spreads from 0.4 pips on the ECN account, 1.2 pips on the Standard account, 1.5 pips on the Classic account, and a higher 1.8 pips on the Cent account. Commissions are only charged on the ECN account type. Some traders may view the lack of access to popular trading platforms MT4/MT5 as a disadvantage. The website also provides some contradicting information about important details at times, which is enough to make one a little apprehensive.
The broker accepts deposits through bank wire and card, along with a couple of e-wallets. Deposits are fee-free and traders will pay a 2.5% fee for withdrawals, with the exception of bank wire. Withdrawals are processed relatively quickly. Support is active 24 hours a day, including weekends, and can be contacted instantly through LiveChat. Traders can receive a no-deposit bonus, 40% bonus, cashback through rebates, or earn free VPS in the case that a $2K deposit is made.
The broker's educational resources are focused on video tutorials, which can be helpful, but we do wish that more information and trading tools were available. Overall, GICM does seem to be offering some obvious advantages, but it is up to the individual trader to weigh those against any potential disadvantages.