Gemini Capital also knows as GeminiCap is a forex broker registered and based in the Bahamas. Their core team includes many experienced traders and financial experts and is focused to adhere to their "customer first" philosophy. In this review, we will be looking deeper into what services are being offered and if they really are "customer first".
Account Types
There are 3 different account son offer and each of them can be registered in 2 separate ways, let's have a look at the accounts first to see what the trading conditions and requirements are like for them.

ECN Account: The ECN account is actually the highest tier account from GeminiCapl, the minimum deposit to open this account sits at $10,000 which could price out a lot of retail traders. Spreads are kept low sitting at a minimum of 0.0 pips for the EUR/USD currency pair. Leverage can be set between 1:50 and 1:500 and the minimum trade size is 0.01 pips (micro lot). Stop out level is at 100% and this account gives you access to the mobile app, one-click trading, hedging, no other trading restrictions and is able to use expert advisors. It is not stated, but we would be assuming that there is a commission added to this account due to the low spreads.
VIP Account: The VIP account is the "Hot" account according to the GeminiCap site. It has a required deposit of $1,000 and spreads have a minimum of 1.2 pips for the EUR/USD currency pair, leverage remains between 1:50 and 1:500. All other features remain the same as the ECN account. It is not stated, but we believe that there will be no added commission on this account type.
Standard Account: The entry-level account for GeminiCap with a minimum deposit of $500, spreads are at the highest for all accounts with a minimum of 2.2 pips on the EURUSD pair,, all other features remain the same such as leverage, minimum trade sizes, stop out and accessibility to things like the mobile app and expert advisors. We believe that there will be no added commission for this account.
You can register for accounts as either an individual or as an institution, be sure to have the required documents handy when signing up to an account as they will need to be verified.
Platforms
Gemini Capital uses MetaTrader 4 as their singular trading platform which is a good choice to have if you are only going to be using one platform.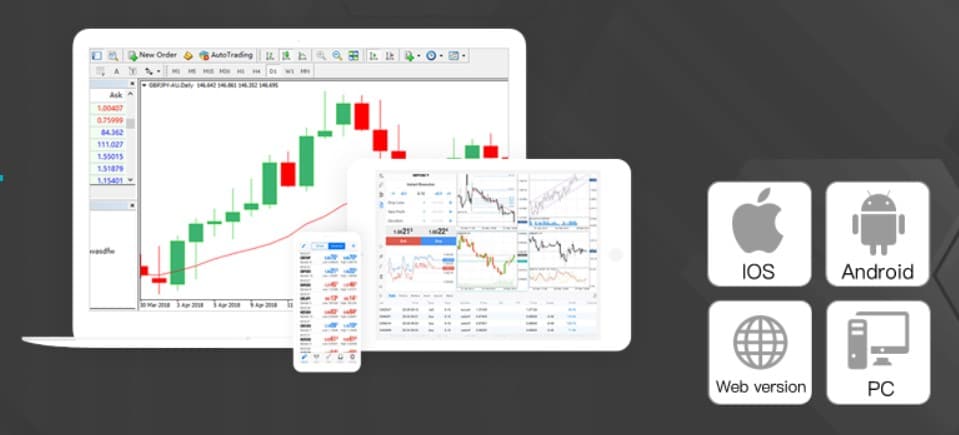 MetaTrader 4 (MT4): MetaTrader 4 (MT4) is one of the world's most popular trading platforms and for good reason. Released in 2005 by MetaQuotes Software, it has been around a while, it is stable customizable and full of features to help with your trading and analysis. MT4 is compatible with hundreds and thousands of different indicators, expert advisors, signal providers and more. Millions of people use MT4 for its interactive charts, multiple timeframes, one-click trading, trade copying and more. In terms of accessibility, MT4 is second to none, available as a desktop download, an app for Android and iOS devices and as a WebTrader where you can trade from within your internet browser. MetaTrader 4 is a great trading solution to have.
Leverage
Leverage for all accounts can be chosen when signing up to an account, the current minimum leverage available is 1:1 which is different to what is stated on the accounts page, and the maximum is 1:500, you can change leverage at any time but in order to make a change, there needs to be no open trades at the time of the request.
Trade Sizes
Trade sizes start at 0.01 lots which are also known as micro-lots, trade sizes increase in increments of 0.01 so the next available is 0.02 lots and then 0.03 lots and so on. We did not see a mention of the maximum trade size but these normally sit between 50 lots and 100 lots, we do not recommend going over 50 lots per trade anyway as it can become increasingly harder for the market or liquidity providers to execute trades over 50 lots instantly.
Trading Costs
There are mentioned commissions within the legal documentation on the site however there is nowhere that it mentions what they are. The ECN account will most certainly have a commission added to it but it is unknown what this will be. Swaps are a fee that is known, this is charged for holding positions overnight and can be both positive and negative. These can be viewed from within the trading platform.
Assets
Assets on GeminiCap are broken down into 4 different categories, these are Forex, Indices, Commodities and US Stocks CFDs.
Forex: There are currently 36 currency pairs to trade, this is a relatively low amount when looking at the competition, these include both major, minor and a few exotic pairs.
Indices: A few examples of the indices on offer are DAX30, FTSE100, SP500, and HSI. It seems like there are 12 in total to trade.
Commodities: There are seven commodities on offer including the usual Gold and Silver, others such as Crude oil are also available to trade.
US stocks CFDs: Launched in August 2019, CFDs are now available on GeminiCap and there are 50 different international companies available to trade, including those from Belgium, Switzerland, Britain, Japan, China, and the United States.

Spreads
Spreads are the difference between the buying price and the selling price, the gap between them is decided by a number of factors including market conditions and broker added spread.
GeminiCap offers 3 different accounts and each one has a different base spread, the standard account starts at 2.2 pips which means the broker has added 2.2 pips to its spread in order to make a profit. The VIP account has a starting spread of 1.2 pips and the ECN account has a starting spread of 0.0.
It is important to note that these spreads are variable (or also known as floating) which means they will go up and down depending on the market conditions however will never go under the numbers stated. It is also important to note that certain pairs and instruments will naturally have higher spreads due to their nature.
Minimum Deposit
The minimum deposit to open a new account is $500 which gets you the standard account, if you want an ECN account then the minimum deposit will be $10,000 which is pretty high compared to the competition. However, there is mention of smaller deposits, so once an account has been opened you should be able to deposit smaller amounts to top the account up.
Deposit Methods & Costs
The website currently only states 2 methods but there is a bit of confusion surrounding this. The site states that it accepts wire transfers from your bank or UnionPay. It states in the FAQ that they do not accept credit or debit card payments, however in the same FAQ, it states that there is a fee of $10 for depositing an amount under $200 with a credit or debit card, so we are not sure if they do or do not accept card payments. We believe they may have meant UnionPay who has these requirements.

Within the legal documents, it also states that there are no added fees to your deposits apart from the usual fees charged by your bank or payment processor. This again contradicts the information in the FAQ regarding the card payments and potential fee.
Withdrawal Methods & Costs
The same information is provided as above, so it seems that only bank wire transfers and UnionPay are available, again it states that there are no added fees by GeminiCap except for any that your bank or payment processor may add.
Withdrawal Processing & Wait Time
Very little information regarding this, the usual processing for bank withdrawals is between 3 – 5 business days, but this depends on when it is processed from Gemini Capital which is currently not stated. UnionPay withdrawals should be received instantly after being processed and we are still unsure if card withdrawals exist.

Bonuses & Promotions
There seems to be 2 active promotions on the site, so let's take a look at them.
$100 bonus: The name says it all, open a new account and get a $100 bonus. Although it should be noted that the closing date for this promotion is September 30th so we are not entirely sure why it is still on the site or if it is still active. Only valid for VIP or VIP accounts and it states that profit can be extracted when it reaches $50, so we are not entirely sure what that means.
Deposit with up to $20,000 bonus: Once again we need to note that this promotion states that it ends on September 30th, so again we do not know if it is still active, but it is present on the site. Terms are not completely clear, you get a different deposit amount based on different criteria but we do not know what they are exactly. You may need to get in touch with them to clear it all up. You will get either 10%, 20% or 50% for each deposit… we think.
Educational & Trading Tools
No too much when it comes to educational or trading tools, there are some basic guides on how to open an account or how to use MetaTrader 4 but that is about it. In terms of analysis, there are some very basic analysis pages which may help if you do not have any other sources, but there are much better free resources out there on the internet to use.

Customer Service
You can get in contact with a number of ways to ask your questions to get any help. You can use the online contact form to fill in your query and to get a response via email. You can also use their email address directly, along with an online chat feature. We did test out the online web form but are still awaiting a reply after 48 hours.
Demo Account
Demo accounts are available, simply click the demo account button and sign up, you can select a number of different things such as the account type (see account types section), the leverage that you want, anything from 1:1 up to 1:500 and the amount of capital between $3,000 and $5,000,000. We would recommend practicing with the same amount that you will deposit when going live. We could not see how long the accounts last, but normally they either last 30 days or are removed when left dormant for too long.
Countries Accepted
There is no mention of who can or can not use the service, so we can only recommend that you get in contact with the customer service team should you be interested in opening up an account.

Conclusion
GeminiCap offers what seems to be a pretty blow average service, there isn't too much to shout about the lack of deposit and withdrawal methods is a little bit concerning, not to mention the confusion around credit and debit cards. We did not get a response from their customer service team and the trading conditions are the only real thing that is in line with any other brokers. At this point in time, it would be hard for users to recommend them as a broker to use.
We hope you like this Gemini Capital review. If you did, be sure to check out some of the other reviews to help find the broker that is right for you.