Fundamental Analysis For Novices Factory Orders
Welcome to the educational video Fundamental Analysis For Novices regarding factory orders
What are factory orders, and what do they tell you as an economic indicator?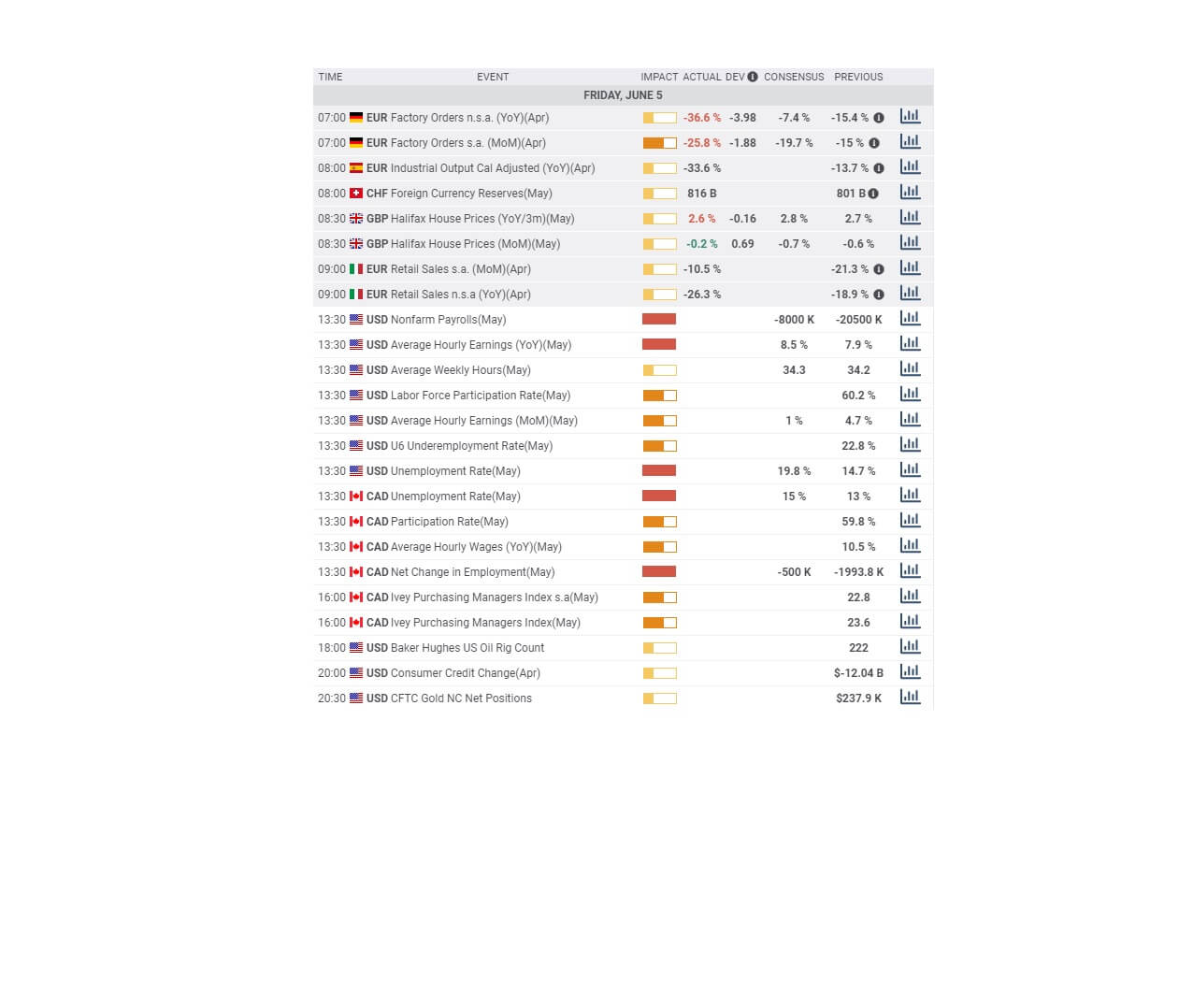 Each day when you look at your Economic Calendar, you will see different types of economic events due for release on particular days.
At the top of the economic calendar for Friday the 5th of June, we can see factory orders highlighted for Germany for both year on year and month on month.
Factory orders provide a picture of the financial health of countries that produce durable and non- durable goods. Durable goods are things such as sports equipment, machinery, household appliances, and generally things that are not consumed. Typically they will have a lifespan of a minimum of 3 years. Non-durable goods are produced by consumers and typically have a short shelf life of fewer than three years, Such as toothpaste, laundry detergent, soaps, deodorants, light bulbs, paper plates, and clothing.
Factory orders comprise four sections, new orders, unfulfilled orders, shipments, and Inventories. This data will show whether there is a backlog in production and trends in current sales. All of these taken together will show the strength of the current and future production for an economy.
In America, factory orders are so huge they are reported in the billions of dollars and are released by the Census Bureau of the United States Department of Commerce. All countries report their data as a plus or minus a percentage of previous reports.

The market attaches a certain amount of importance to all economic data releases, and here we can see color bars that depict the impact that the release of this information will have. We can see that the month on month has a higher impact status than the year on year figure.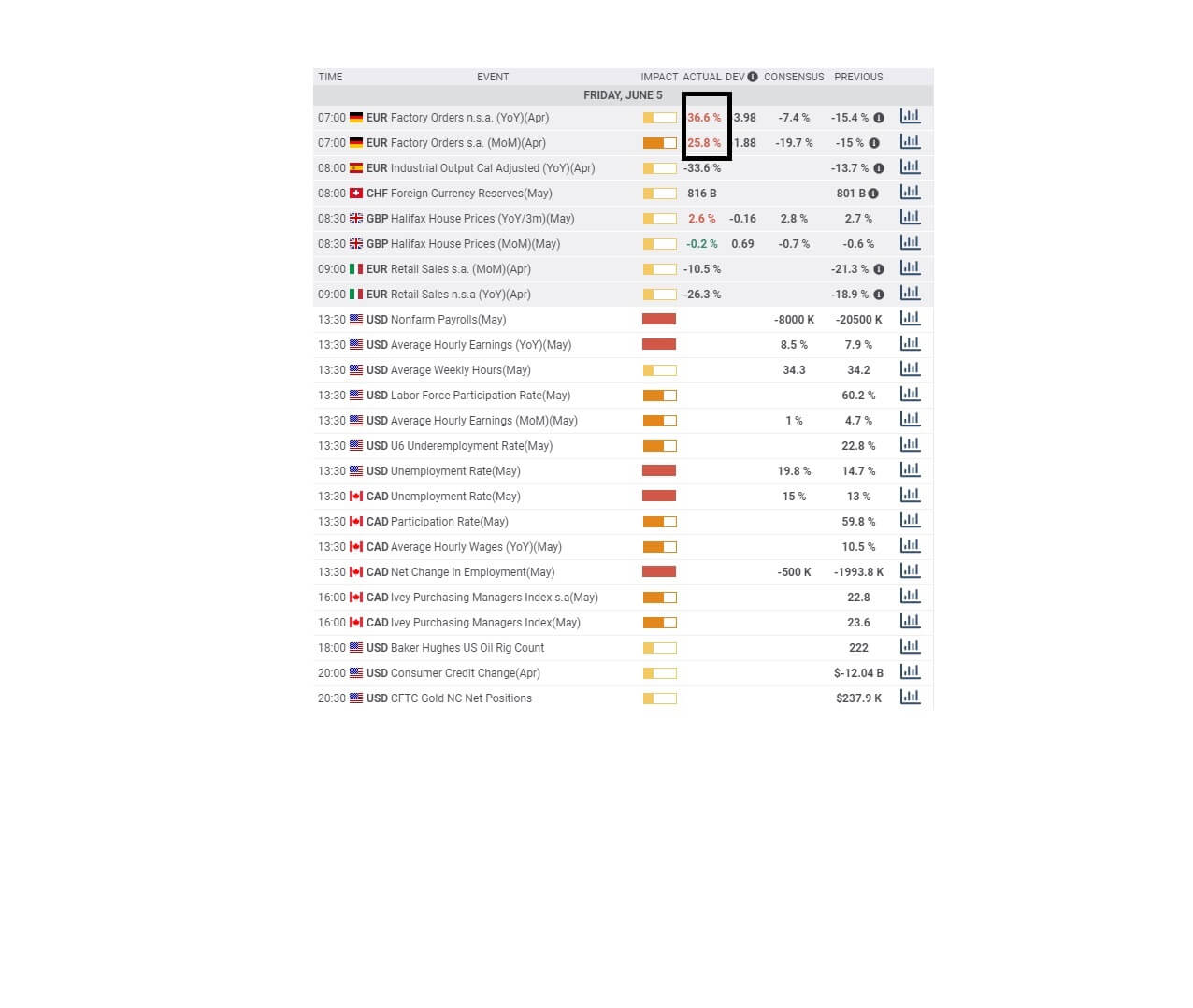 Hey, we can see that the actual data has been released at 7 AM CET and which was subject to an embargo. And when compared to the consensus, which is what the market was expecting and also the previous release from the month of March, the numbers are badly down at – 36.6 % year on year and -25.8% month on month for April.
These are bad numbers and can be put down to the fall out from the coronavirus pandemic, which has severely affected economic activity around the world.
Germany is the strongest economy in the Eurozone, and analysts and economists, as well as financial traders, keep a particular eye open for this type of underperformance.
Factory orders show an overall direction of an economy. When factory orders increase, it means the economy is expanding, and consumer demand is high for goods. If a country is contracting, it will show up as bad economic data, such as we have just seen for Germany.
INSERT G: How to trade factory orders data release
Look out for the previous factory orders number and compare it to the previous release and, more importantly, the consensus which will have been formulated by economists and analysts. Big differences between the consensus and the actual number can cause market shocks or volatility. Remember, a higher percentage than the previous month and increase year on year indicate that the economy of a country is likely to be improving. This will reflect in higher consumer demand and is good for the exchange rate of a particular currency, which may move higher against its counterparts.
Conversely, if the data release is lower than the previous month and shows a decline this is a sign that the economy of a particular country is stagnating or contracting and therefore there is less consumer demand, and this could have the opposite effect of an exchange rate moving it potentially lower against its counterparts.