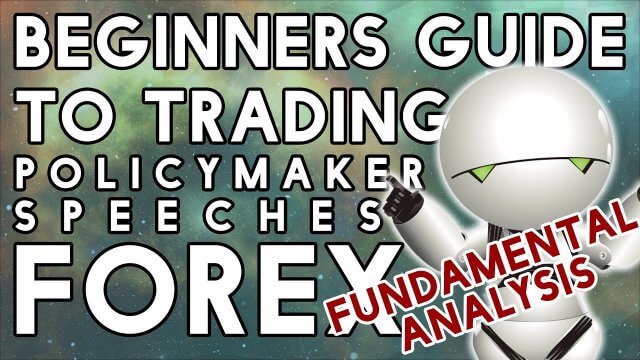 Fundamental Analysis For Novices – Policymaker Speeches
Thank you for joining our educational video section for fundamental analysis for novices. In this video, we are going to be looking at policymaker speeches.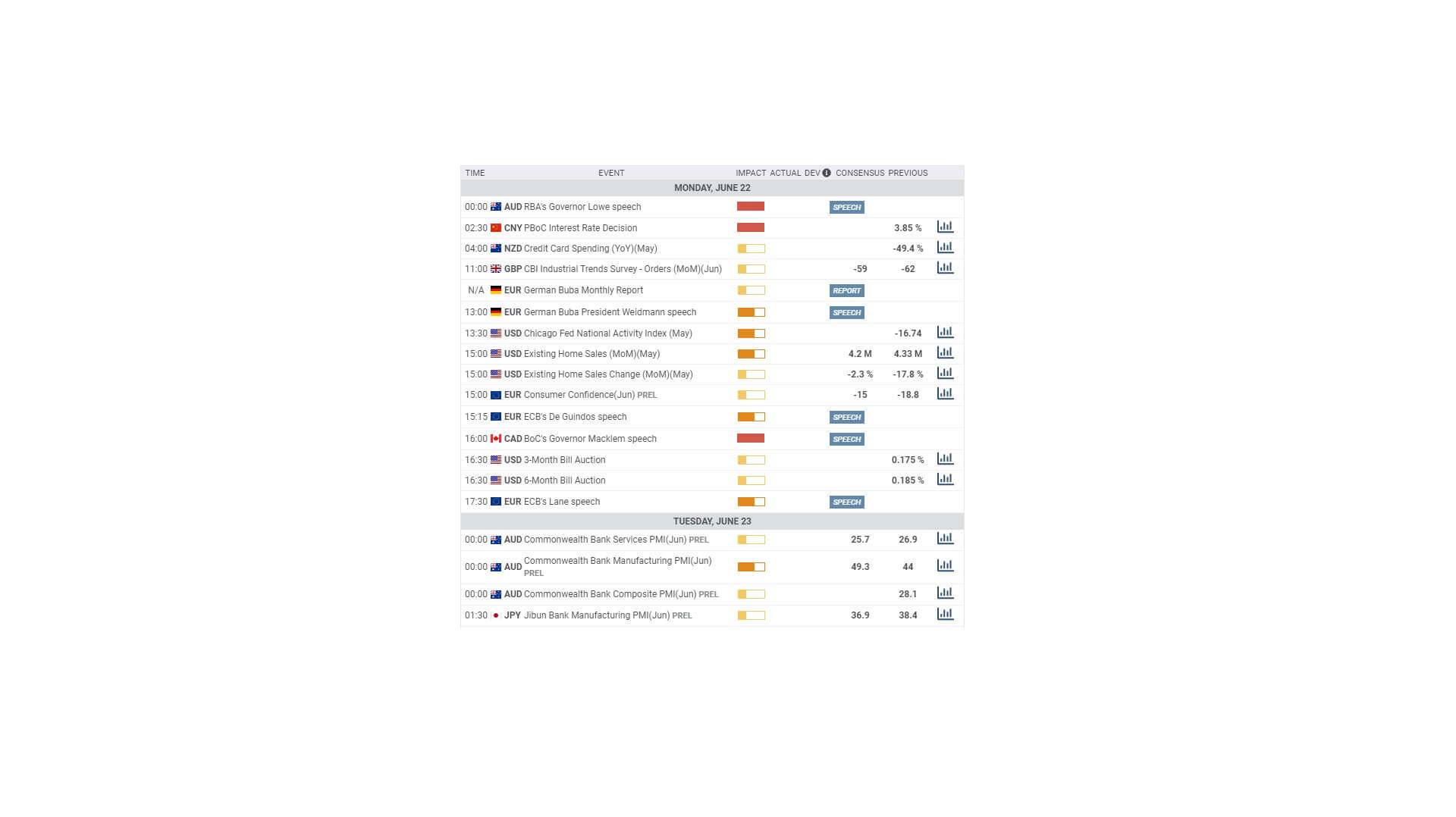 Most brokers provide an Economic Calendar. And traders use them to keep them advised of various types of economic data releases because these can significantly affect market volatility depending on the level of impact they will have upon their release. If you are not already using one, we strongly recommend that you start doing so. You can plan your trading day around them And try to avoid opening trades close to the release of such data until you are a seasoned trader who understands just how such information can affect price action.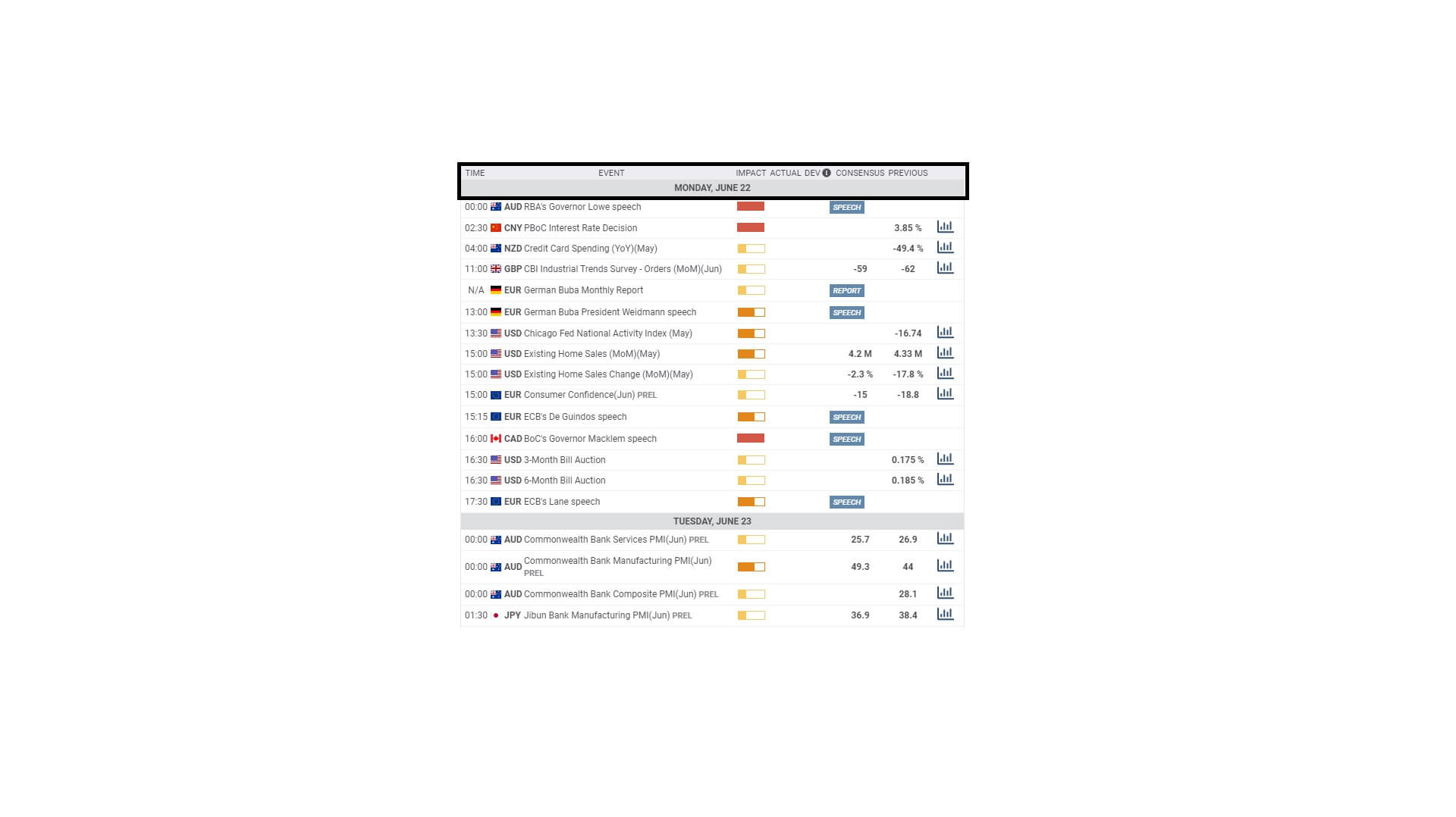 Most economic calendars are similar. However, the types of information which are key to traders are the release time, the type of events – in this case, we are looking at speeches -, the day and date, the likely impact that any speech might have on the market. In terms of general economic data releases, you will find that the actual data is released at the time signified on the calendar and where typically you might find a consensus by economic specialists as to what that data might be, and also the previous data release and where this can be compared to the actual data release, and the traders will gauge what effect that might have on an economy and of course thereafter the related currency exchange rates and stock market indices.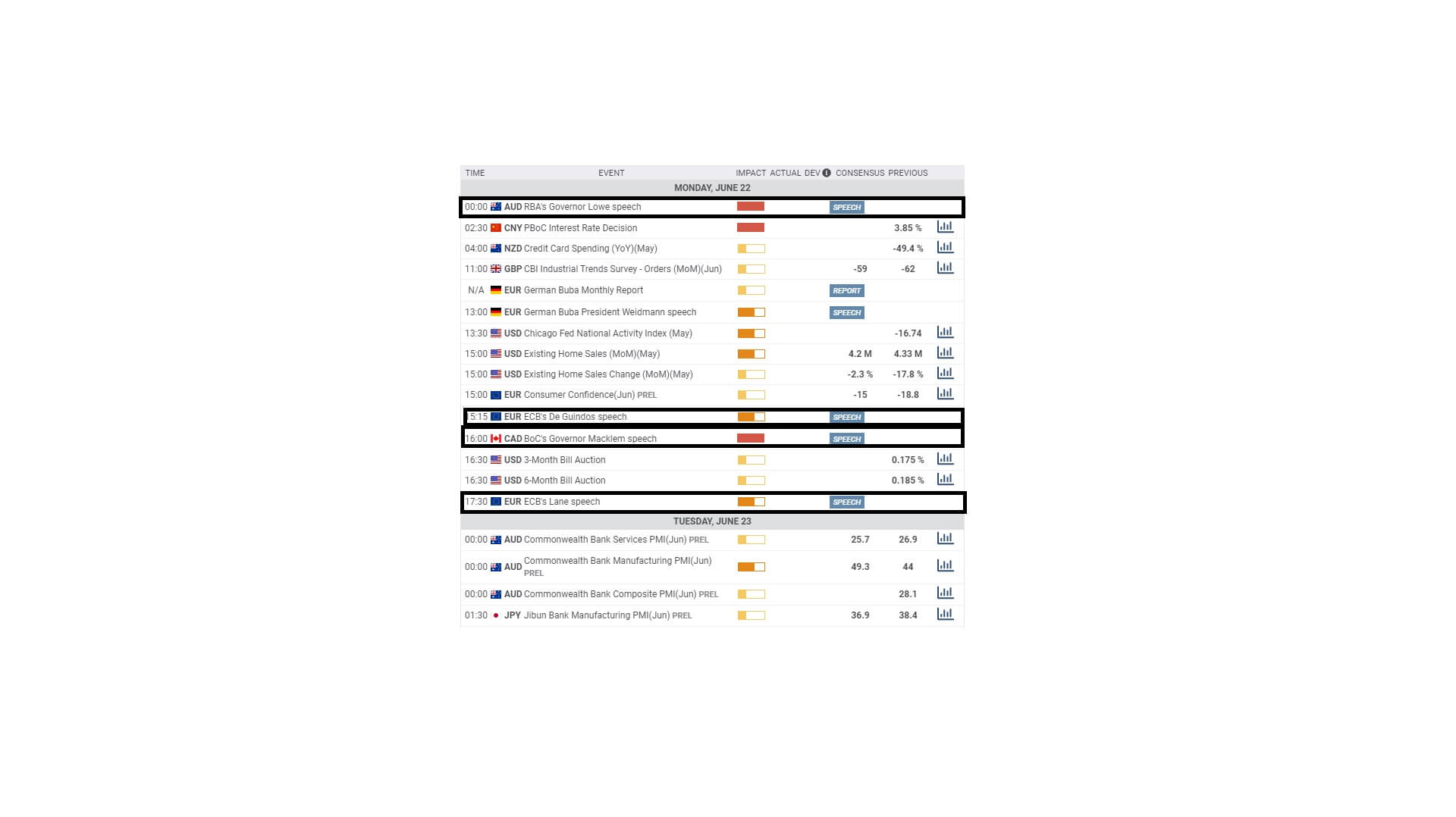 On the economic calendar for Monday the 22nd of June, we have highlighted four speeches by various policymakers. Typically these are announced ahead of time, and you will find them listed in an Economic Calendar. Some policymakers comment on the market unexpectedly, and a good example of that would be President Trump, who often tweets potentially market-moving comments pertaining to economic relevance, mostly in the United States.
So let's look at some examples.

AT midnight BST, Philip Lowe, who replaced Glenn Stephen as governor of Australia Central Bank, will be making a speech regarding the health of the Australian economy, and this has a high impact value attached to its importance.
Therefore, Traders will be paying particular notice to his comments because he has the power to influence interest rates and also monetary stimulus within the Australian economy, which is particularly significant at the moment due to the impact of the coronavirus pandemic.
Negative sentiments from Mr. Lowe will be seen as bearish for the Australian economy. This could affect their stock market and also lower the value of the Australian dollar against other counterparts in the forex market.
It would be advisable not to trade the Australian dollar during this event.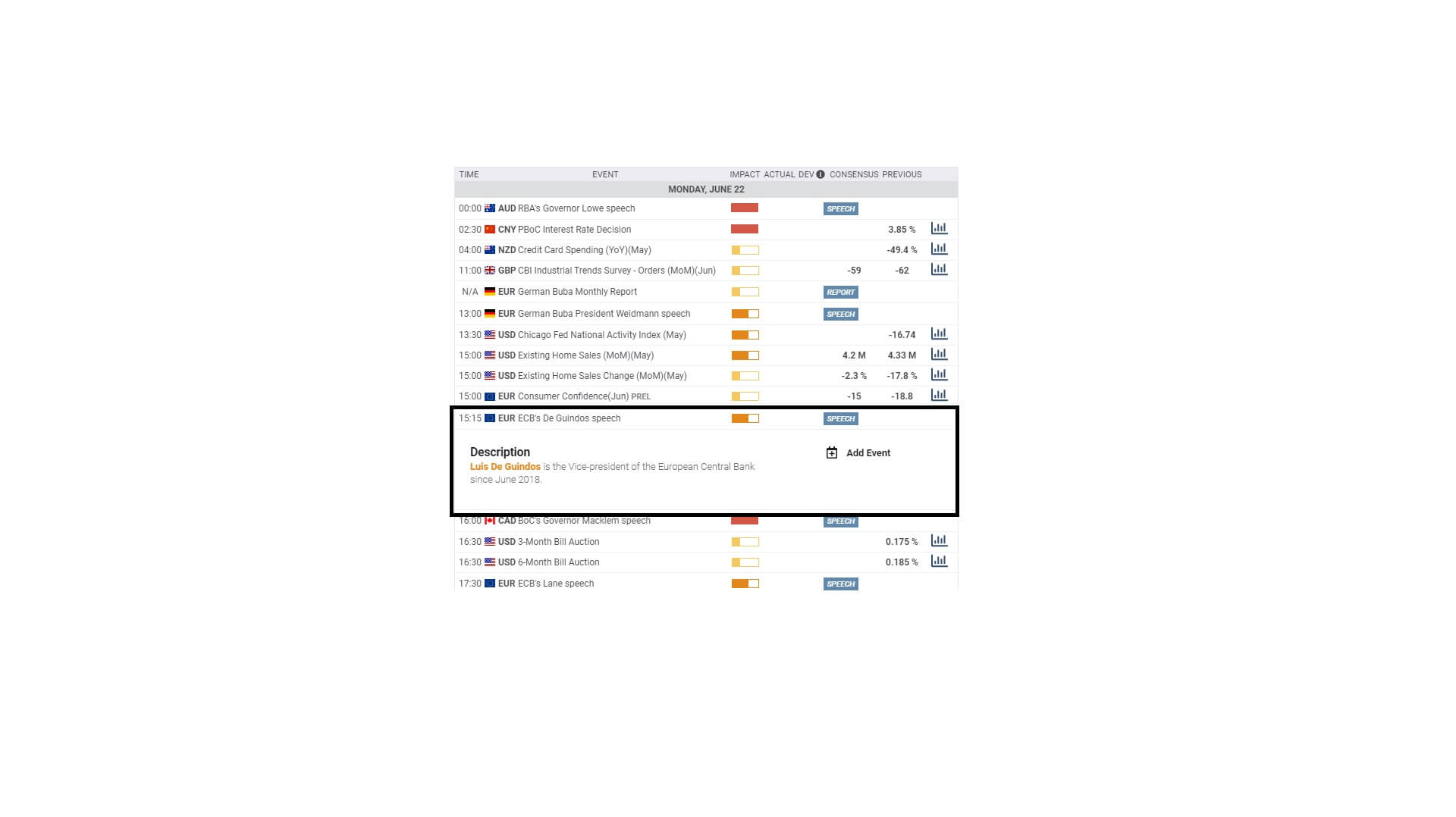 3:15 BST again on Monday the 22nd of June, the vice president of the European Central Bank, Luis de Guindos, a Spanish politician, will be making a speech regarding the eurozone economy.
The impact level of the speech is set as medium, and any unexpected comments, especially negative ones, could cause market volatility, especially with the euro, including the EURO USD and cross currency pairs.
During a recent speech from Madrid during May this year, Mr de Guindos Stated that the eurozone had left the worst of the pandemic behind in terms of economic impact from the coronavirus pandemic, although he mentioned that it was likely that the eurozone would take two years to recover. This type of comment is both dovish and hawkish. Hawkish because he says the worst is over, and dovish because he says there are still two years of recovery ahead of the eurozone economy. He finished his speech by saying that the eurozone economy is facing a deep recession due to the coronavirus pandemic, and therefore analysts and Traders will be looking at this forthcoming speech to ascertain if he is Leaning more one way than the other.
Dovish comments would be seen as bearish for the euro currency and might cause a lowering of the euro exchange rates against its counterparts.
It is highly unlikely that his comments will be hawkish and therefore have a bullish effect on the market after such recent comments, as mentioned above.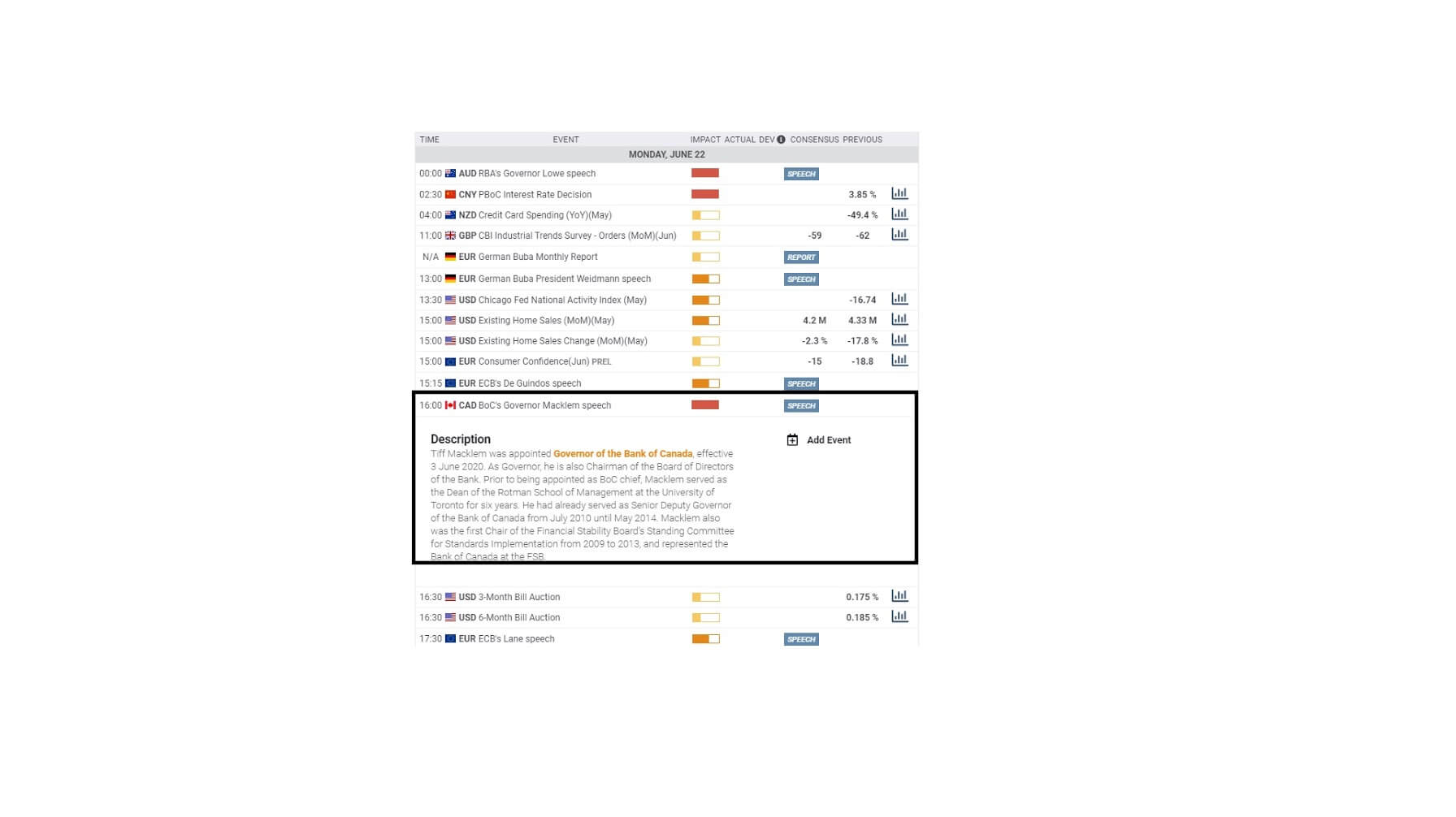 At 4 p.m. BST, again on Monday the 22nd of June, the Bank of Canada governor Tiff Macklem, will be making a speech about economic policy in Canada and where this has been given an impact value of high.
The Canadian dollar is highly sensitive to policymaker speeches and where the currency can be particularly volatile during economic data releases and speeches. Again traders and analysts and economists will be looking for policymaker decisions from the governor that offer strong potential of keeping the country's recovery on track from the fall out of the pandemic.
They will also be looking for hints from the governor regarding future interest rate decisions and stimulus packages to keep Canada from going further into recession.
As mentioned previously, the Canadian dollar is highly susceptible to volatility during these types of economic events and is strongly recommended that you do not trade during such times of release. Wait until trends are developing post data release, and try and get on those rather than trying to second guess which direction the currency will go at the actual time of economic release.