Finq.com is a product of Dilna Investments Ltd and Leadcapital Corp Ltd ("LCC"), the latter of which is regulated by the Seychelles Financial Services Authority (FSA) under license number SD007. Since being established in 2017, the company has offered leveraged trading of up to 1:300 on FX pairs and multiple CFD's, including 2,000 stocks. Aside from those limited details, the broker doesn't spend much time telling us about their views and values. Upon further investigation, we found some competitive conditions that revolve around pricing, zero commission charges, and other advantages associated with opening an account through this broker. Of course, no broker is perfect, so stay with us to find out everything you'll need to consider.
Account Types
Finq.com offers five separate live accounts: Micro, Silver, Gold, Platinum, and Exclusive. The broker is willing to apply swap-free status to accounts in the event that the account holder cannot pay swaps in observance of Islamic religious beliefs. Commissions are not charged on any of the account types and all accounts offer a maximum leverage cap of up to 1:300. One would simply want to make the largest deposit possible, which would result in access to tighter spreads. Deposits of $1,000 USD to $100,000 would grant access to spreads from 1 – 1.9 pips, while making the broker's threshold deposit of $100 forces one to trade with spreads that are twice the industry average.
Accounts offer access to the same instruments, but the chosen trading platform will affect exactly which instruments can be traded. All accounts feature a dedicated account manager, excluding the Micro account. Gold, Platinum, and Exclusive members receive premium daily analysis and access to trading central. Platinum and Exclusive account holders would have access to "premium customer support", although the website does not specify exactly what that entails. We've provided an overview of each account's details below.

Micro Account (MT4 & WebTrader)
Minimum Deposit: $100 USD
Leverage: Up to 1:300
Spread: From 3 pips
Minimum/Maximum Trade Size: 0.01/NA
Commission: NA
Silver Account (MT4 & WebTrader)
Minimum Deposit: $1,000 USD
Leverage: Up to 1:300
Spread: From 1.9 pips
Minimum/Maximum Trade Size: 0.01/NA
Commission: NA
Gold Account (MT4 & WebTrader)
Minimum Deposit: $10,000 USD
Leverage: Up to 1:300
Spread: From 1.5 pips
Minimum/Maximum Trade Size: 0.01/NA
Commission: NA
Platinum Account (MT4 & WebTrader)
Minimum Deposit: $50,000 USD
Leverage: Up to 1:300
Spread: From 1.2 pips
Minimum/Maximum Trade Size: 0.01/NA
Commission: NA
Exclusive Account (MT4 & WebTrader)
Minimum Deposit: $100,000 USD
Leverage: Up to 1:300
Spread: From 1 pip
Minimum/Maximum Trade Size: 0.01/NA
Commission: NA
Platform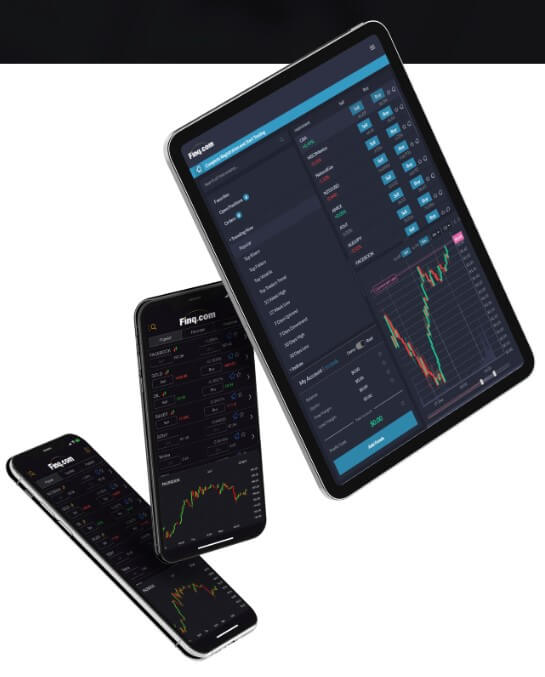 Traders will have the ability to choose between two platforms, with options being the MetaTrader 4 platform or a proprietary WebTrader platform. MT4 would probably be better suited for FX/CFD traders, while WebTrader is better for traders that are looking to trade equities and stocks, due to the fact that each platform does not offer access to the same instruments. MT4 features 5 asset classes including Bitcoin, while the WebTrader platform offers access to 7 asset classes, including 2,000+ stocks and ETF's that cannot be traded from the MT4 platform.
Both platforms can be accessed through mobile trading on iOS and Android devices or downloaded on PC and Mac. If you're interested in further specifics, you should know that MT4 offers one-click trading and advanced technical analysis. You can open multiple tabs and windows to access instruments and the platform provides news and fundamental analysis to aid in decision making. WebTrader is designed for quick execution with its primary advantage being access to the 2,100+ instrument options.
Leverage
Leverage caps are dependent on the instrument that is being traded and options differ slightly between the MetaTrader 4 and WebTrader platforms. Options tend to be higher for FX pairs on MT4, where the maximum cap is set at 1:300 on multiple currency pairs. The WebTrader platform offers a similar leverage cap of 1:294 on those same options. Note that some pairs set lower leverage limits, from 1:25 up to 1:200. Both platforms offer a maximum cap of 1:100 on bonds and 1:200 on indices. MT4 offers slightly higher leverage options on some commodities as well. The specific leverage caps for each instrument can be compared under the "Assets" section of the website.
Trade Sizes
All accounts support a minimum trade size of 0.01 (one micro lot). Scalping is not allowed and there is a requirement that states each trade must be opened for at least 2 minutes. A single hedge is possible, but the broker does not allow multiple hedges on the same trading instrument. There is no mention of maximum trade sizes/open number of positions. The broker does mention that a margin call/stop out level is enforced.
Trading Costs
Costs would be paid through spreads, commissions, overnight interest charges, and currency conversion charges. Finq does not apply commission charges to any of their accounts, meaning that all of the costs of placing a trade are built-into the spread. This makes it easier to keep up with the actual trading costs. Those that can afford to make a larger deposit would have access to the most competitive spreads.
A daily financing charge may apply to each FX/CFD open position at the closing of the trading day. The method of calculation of the financing charge varies according to the type of instrument to which it applies. The charge will be debited or credited to/from the account the following trading day. Additional conversion fees may apply on the WebTrader platform if the account's currency is different than the quoted currency of the underlying asset being traded. Overnight rollover fees are charged 3x on Wednesdays in order to account for the upcoming weekend.
Assets

The broker's instrument portfolio consists of 55 currency pairs (major, minor, and exotic options), precious metals Gold, Silver, Aluminum, Palladium, Platinum, Copper, and Zinc, plus commodities, 25+ stock indices, 4 bonds, energies, 55 ETF's, and more than 2,000 stocks. Note that the last two categories (ETF's and stocks) are only offered on the WebTrader platform and those options cannot be accessed on MT4. Commodities include Corn, Coffee, Rice, Cotton, Cocoa, Sugar, Wheat, and Soybean. Energy options include Heating Oil, Oil, Brent Oil, and Natural Gas. Traders would also have the ability to trade Bitcoin from the MetaTrader 4 platform (WebTrader does not offer this option).
Spreads
Finq.com offers spreads that range from double the industry average at 3 pips on the Micro account, to attractive conditions from 1 pip on the broker's Exclusive account. The Silver account offers access to spreads from 1.9 pips for a $1,000 deposit and spreads on the Gold account type start from 1.5 pips. The broker only features two accounts with more competitive spreads – the Platinum account, with starting spreads from 1.2 pips, and the aforementioned Exclusive account. Some traders may not be able to meet the minimum deposit requirements on those accounts and would, therefore, be stuck with higher spreads. On the bright side, the broker does offer competitive spreads on Gold, ranging from 0.4 pips on the Exclusive account up to 0.7 pips on the Micro account.
Minimum Deposit
Finq.com asks for a $100 entry-level deposit on their Micro account. This amount is pretty much average, although some brokers have done away with deposit requirements altogether. From there, options climb into the thousands, at $1,000 on the Silver account, $10,000 on the Gold account, $50,000 on the Platinum account, and $100,000 on the Exclusive account, which is the best account available.

The primary goal in opening an account through this broker would be to make the largest deposit possible in order to access better conditions since spreads are the primary differences between all of the accounts. In order to access average spreads, one would need enough funds to open a Gold account. If you're looking for access to better than average spreads, you'd need to open an account that is at least of the Platinum level. Of course, many traders will be limited based on affordability.
Deposit Methods & Costs
Finq.com accepts deposits through bank wire transfer and credit/debit cards (Visa/MasterCard/Maestro), Neteller, Skrill, and Fasapay. The broker does not apply any commission charges to deposits from their side. It is possible that there could be certain fees charged on the provider's side, especially if funding through bank wire. We would encourage traders to check for any of those charges before making a deposit in order to avoid any unanticipated charges.
Withdrawal Methods & Costs
The broker follows regular money-laundering prevention steps by requiring withdrawals to be processed back to the same bank account, credit card, or other sources of execution that was used to send the funds. There is a $100 withdrawal minimum for wire withdrawals and the remaining methods require a $20 minimum. It's possible to request an amount that is below the minimum, but the broker would then apply additional handling and processing fees of $50 on bank wire withdrawals and $10 on additional methods. This could obviously cut into profits significantly. Withdrawals also bare third-party charges, which are not specified. Unfortunately, Finq.com isn't entirely transparent about withdrawal costs. The website doesn't even offer a funding page and the only place where we were able to find these terms was inside of the broker's terms & conditions.
Withdrawal Processing & Wait Time
Withdrawals will be sent the same day that the withdrawal request is received, or the following business day if the request is received outside of normal working hours. The broker does mention that the actual time that it may take for funds to appear in the client's account would further depend on the processing times of the third-party payment providers.
Bonuses & Promotions
Finq.com currently offers a $50 Welcome Bonus and a Refer A Friend program. Those registering an account will certainly benefit from the broker's generous initial deposit bonus and those that know someone who might be willing to open an account would be able to earn an amount back based on the referred client's initial deposit. We don't always expect to see promotional offers with every broker, so it's always nice to see something available in this category. We've provided some details for both promotions below.
Welcome Bonus: A $50 welcome bonus is offered to each trader who registers an account and completes the verification. Only profits made from trading with the bonus can be withdrawn.
Refer A Friend: This promotion applies a bonus to one's trading account after a referred friend registers an account and makes an initial deposit. The percentage of the bonus amount depends on the amount of the referred client's deposit, starting from 20% on deposits of $100 USD to $499, or between $150 – $400 as a cash reward on deposits between $500 and $20,000. Traders can only refer one friend at a time, with a maximum referral limit of 5 people per account.
Educational & Trading Tools
Among the various sections at the top of the broker's website, traders will find a "Resources" category. While we were hoping to find options focusing on education within the category, the section only features rollover expiration information, CFD expiration dates, a WebTrader FAQ, information on the Refer A Friend program, and an economic calendar. Traders will notice that educational options are missing from the list entirely. Demo accounts are available on the website, but this is the only resource that the broker is willing to provide. The home page does contain a small market sentiment tool, which we have shown an example of below.

Demo Account
Finq.com does provide free demo accounts to those located in accepted countries, but the broker does not offer this service to those located in restricted countries, which include the European Union and the United States. In fact, the website actually blocks those clients from registering a demo account. Since we were writing this review from our US-based office, we were blocked from accessing the demo registration page, so it is impossible for us to comment on whether multiple demo account types are supported and other details.
If you are located in an accepted country, then we would still recommend signing up for a risk-free demo account in order to take advantage of the educational opportunity. We would hope that the broker would feature accounts that model their live accounts and support various starting amounts in virtual currency, in order to provide a more customizable experience.
Customer Service
Support is active 24 hours a day, from 5 pm EST on Sunday evening to 4 pm on Friday evening EST. Traders can contact an agent through WhatsApp, phone, and email. Chat does appear on the website, but support was not active when we tried to use the feature during their advertised business hours. The chat window simply asked us to send a request through email, so this does not seem to be a reliable contact method.
Finq is also active on Facebook, Twitter, and Instagram. The website also mentions that "Premium customer service" is only offered to Platinum and Exclusive account holders; however, no supporting details are provided to let us know exactly what this includes. We've provided all of the broker's available contact methods below.
Phone: +35722008069
WhatsApp: +357 97 712478
Email: [email protected]

Countries Accepted
The website's disclaimer lists the European Union, United States, or any other country where it would be against local law or regulation as being part of their restricted jurisdictions. As we mentioned earlier, the broker seems to take these laws so seriously that they actually block those clients from registering a demo account. It's also impossible to access the account registration page because the website recognizes user's IP addresses and blocks those that are coming from a restricted location. On one hand, it is a good sign to see that Finq takes regulation laws seriously, unlike many shady brokers. However, this could be frustrating for those who won't have the option to open an account.
Conclusion
Finq.com is an online foreign exchange broker that offers access to 55 currency pairs and 100+ CFD's on precious metals, commodities, indices, bonds, and the cryptocurrency Bitcoin. If one chooses to trade from the WebTrader platform instead of MT4, then ETF's and 2,000+ stocks would also be available as well. The broker offers five commission-free accounts with spreads from 1-3 pips. Traders would want to make the largest deposit possible in order to access better spreads, but the broker does accept a low $100 initial deposit for their Micro account type. The website is vague about funding and doesn't list exact commission charges on withdrawals. There is a $20 withdrawal minimum on card/electronic payment withdrawals and raises the requirement to a more frustrating $100 for withdrawals made through bank wire, otherwise, traders would need to pay additional processing fees.
Customer support is available 24/5 from WhatsApp, phone, and email. Those that register a new account will earn a $50 bonus and a Refer A Friend program is also available as a way to earn extra cash rewards based on the referred client's initial deposit. Aside from demo accounts, there aren't any educational resources offered on the website. Demo accounts are only available to those located in accepted countries. The United States and European Union are among those that cannot open an account based on regulatory restrictions. Like many other forex brokers, Finq offers better conditions to those that make larger deposits.