Volume Pointer is an indicator that was created by author Adrian Modlinski to aid traders. It was published to the mql5 marketplace in March of 2015 and most previously updated to version 1.1 in July of the same year.
Overview
This indicator's purpose is to confirm whether the open interest among traders is high or low, according to the volume. This data is useful because volume is the most valuable data after the price. This can be measured on any type of security, such as stocks, bonds, commodities, etc. Volume Pointer also works with what is likely the most popular trading platform in existence, MetaTrader 4. Traders should note that it is impossible for the indicator to pinpoint the exact volume; however, it makes the closest estimate possible based on the number of ticks.
Service Cost
Traders can buy the indicator for $29 USD with 5 activations, or choose from several renting options:
Rent for 1 month for $10 USD
Rent for 3 months for $12 USD
Rent for 6 months for $15 USD
Rent for 1 year for $19 USD
A demo version is also available and can be accessed from the author's portfolio on the website.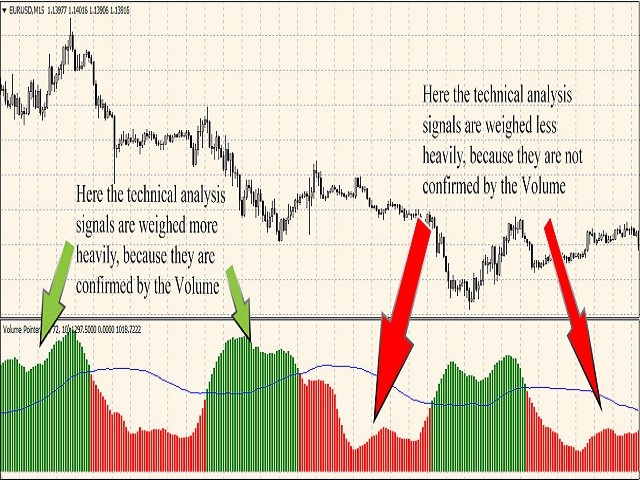 Conclusion
Volume Pointer provides traders with the closest possible estimate of volume. It is a fairly simple indicator, which works with any type of security on MT4. The indicator had received a 5-star rating, which is based on the following review:
"Great product! I was looking for something that would allow me to get an overall look at volume instead of looking it on a single bar basis. This is product exceeded all my expectations! Thank you to Adrian for creating such a simple and powerful tool." -ninja3925
While there isn't any other feedback, the above review tells us that the product does what it is advertised to do effectively. Should you decide to purchase it, you'll have the advantage of choosing from several pricing options, starting as low as $10 USD for a month.
This Forex service can be found at the following web address: https://www.mql5.com/en/market/product/8369