Price Alert with Trendline can be found in the indicator section of the MQL5 marketplace, we have also provided a link below to the exact indicator that we are looking at. The indicator was uploaded by Rainer Albrecht, it was first uploaded to the MQL5 marketplace on the 13th of July 2017, it received an update on the 28th of July 2017 and is currently at version 1.11.
Overview
Price Alert with Trendline is an indicator designed for the MetaTrader 4 trading platform, it works by sending you a sound and alert when the price reaches certain levels, these levels are set by the user. Once a trend line has been drawn, you simply set the alert and wait, you are also able to get alerts via your smartphone or email too.
How to use the indicator:
Draw a trendline
Click the "Alert" button (Trendline must be selected, with a double-click)
Done
There are a few different settings available, changing them won't have drastic effects but they can slightly alter the way the indicator displays and sends alerts. Some of the parameters include the alert type, alert sounds, the color of trend lines, what text to display, and more.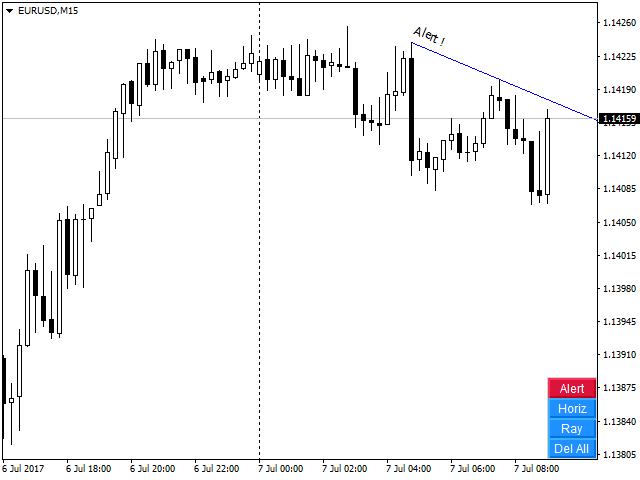 Service Cost
The indicator can be purchased for $30, this is a direct purchase and will give you unlimited access without any limitations, many indicators have a way to rent them, but this indicator does not have that option so buying it outright is the only option available.
There is a free demo version available, there is a small note regarding it which states: "Note for "Free Demo": MetaTrader 4 does not support displaying an alert window or playing sounds in the strategy tester, only in live or demo accounts."
Conclusion
There are currently two reviews for the indicator, they are both giving very different opinions of the indicator.
"It's not working don't buy…" – A 1-star review.
"A very good indicator. He works reliably in every time unit; it Is easy and quick to use. I can easily mark and label important levels with a line. And does not have to enter inconvenient price marks. So you can quickly create memories and can not forget a brand anymore. Great indicator – a must-have for every trader. Thanks to the programmer." – A 5-star review.
So the opinions vary a lot, one good and one bad, due to this we would highly suggest that you try out the demo version or send the creator a message to ensure that it will work the way you need it to. There are a few comments, the creator seems to be replying to the ones that require help which is a good sign for the possible support that you would receive once the indicator has been purchased.
This Forex service can be found at the following web address: https://www.mql5.com/en/market/product/24152