Extract Candle Power is a trading indicator that was created by the programmer Thushara Dissanayake, who has published 57 total products on the mql5 website. The indicator was launched in November of 2017 and most previously updated to version 1.3 almost one year later.
Overview
Extract Candle Power extracts the volume of candles in real-time and allows traders to analyze the volume of previous candles in order to identify the trend. Once the volume has been extracted, traders can use the situation to determine their current position or compare with the Moving Average to find reversal points. Here are a few facts about this indicator:
-Works with the MetaTrader 4 platform, which is the most commonly available and most recommended trading platform on the market.
-Works with all timeframes, but is more accurate with higher timeframes.
-Can be used with any currency.
Traders are also given several parameters to work with, which mostly revolve around the display and sessions section, with different color choices and the ability to disable the display of certain sections.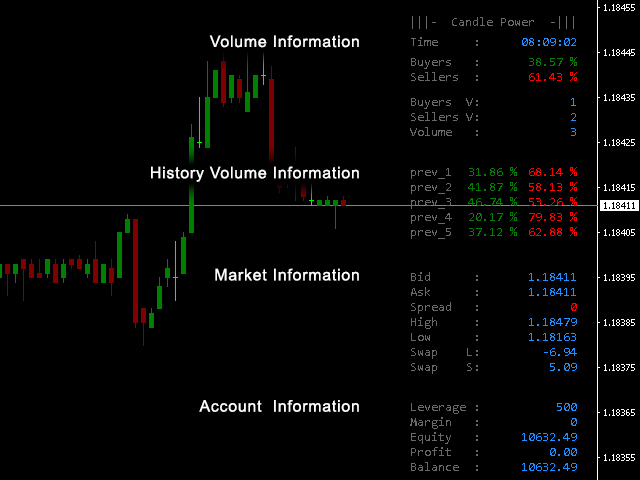 Service Cost
Traders can rent the indicator for $20 USD for one year, or purchase it for $10 more, which is a standard price for the type of product. The developer includes 5 activations with any purchase and has also made free demo accounts available for testing.
Conclusion
Extract Candle Power identifies market trends by extracting the volume of the candles and can ultimately help traders to identify reversal points. It has received a 5-star rating that is based on the following review:
"The new update looks very good. Waiting for it. 5 stars for the effort and listening to the comments." -Erdinc
The comments section is more filled out, but there isn't any real information about results located there. We did notice that the author took one user's suggestion and added the ability to rent this indicator upon request, which is a great indication that he/she is willing to listen to feedback and work with clients. Should you decide to rent/buy this product, then we would recommend choosing a broker with a low spread and practicing risk-management to help minimize losses. Forex knowledge is another crucial factor that will either help or hinder your chances of profiting when using this indicator.
This Forex service can be found at the following web address: https://www.mql5.com/en/market/product/26360