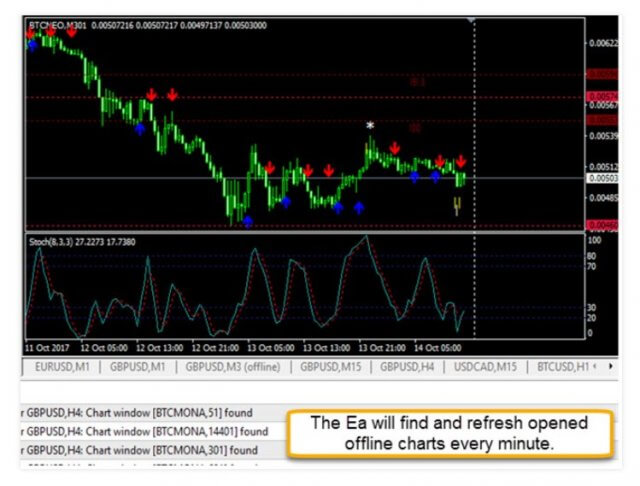 CryptoCurrency MT4 History Maker MTF is an Expert Advisor that was published to the mql5 marketplace in November of 2017. It is regularly maintained with the most previous update to version 912.301 taking place In January of 2020. This EA was developed by an author of multiple products named Farzin Sadeghi.
Overview
This EA attaches itself to charts within MT4 and downloads the history of altcoins using API from Binance websites. Once the EA has been attached to a chart, traders can select their needed pair, along with the timeframes that charts need to be generated for.
Here are some of the EA's other features:
Automatically downloads all timeframe history
No need to attach multiple EAs to different charts
Allows traders to select one pair from Bittrex & 4 pairs from Binance exchange
Allows traders to create up to 15 timeframes for 5 different pairs
Steps in the EA code make it compatible with the MT4 history format
The developer explains that he was becoming frustrated with the charting platform on the Bittrex website, so he developed this EA to have cryptocurrency charts in MT4 and to be able to use those with other indicators to provide better trading results.
Service Cost
The developer offers multiple different pricing options, giving traders a bit of leniency if a large purchase isn't possible. It does cost $129 USD to buy with 5 activations, but renting starts at just $15 for 3 months, $29 for 6 months, or $55 for one year. The price for renting the EA for one month is low enough that it makes testing possible, but there is also a free demo version available for traders that need a little more reassurance.
Conclusion
Cryptocurrency MT4 History Maker is a program in the form of an EA that automatically downloads history for multiple pairs at any one time. The developer updates the EA fairly regularly and responds to user comments quickly. The EA has received 0 reviews and 35 comments in total, but most of the users are asking the developer questions about updates and other matters, so we don't get to see much feedback about how well the EA works. If you're interested, then it may be worth checking out the demo or renting for one month for testing before buying at full price.
This Forex service can be found at the following web address: https://www.mql5.com/en/market/product/25885