The Arbitrage Analyzer is an indicator that is currently found on the MQL5 marketplace, there may be other indicators with similar names, so we have linked it below to help avoid any potential confusion. The indicator was published in the MQL5 marketplace on the 28th of November 2017, the current version available is version 3.61.
Overview
The Arbitrage Analyzer is an indicator for the MetaTrader 4 trading platform, it works by allowing you to export price data from one MT4 terminal and import it into another or the same terminal. The indicator is designed to allow you to get statistics and to let you find the most profitable arbitrage for cryptocurrencies, but it can also be used for Forex, Futures, and Commodities.
Some of the features included with this indicator:
Plots imported price data on the current chart
Import Data & Analyze Trades mode
Plots trades on the chart (entries, exits, profit, and loss)
Displays detailed statistics of past trades
There are a number of statistics including open trades, long trades, short trades, signals, positive signals, total pips, and positive percentages.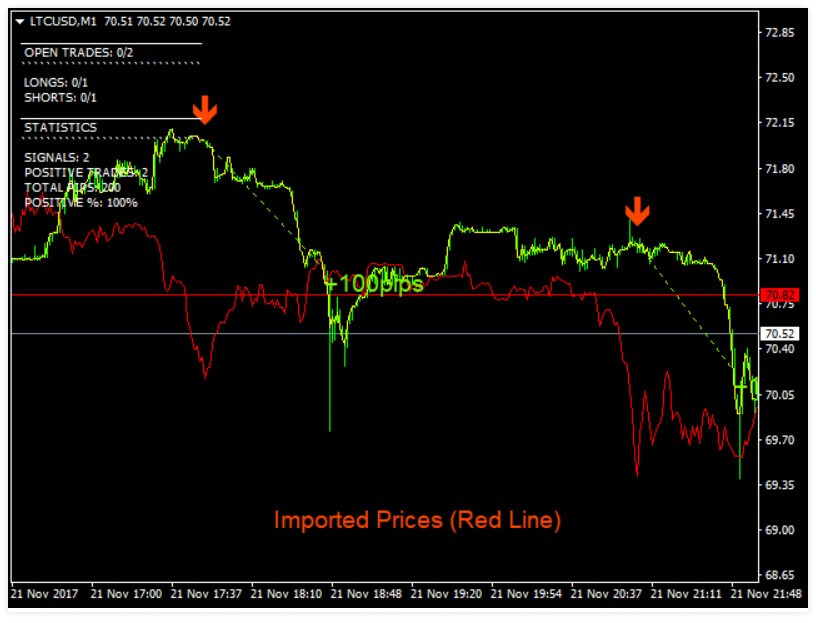 There are also a number of inputs available such as the mode, the maximum historical time to look back on, the minimum price differences, stop-loss points, take profit points, the buy signal color, and the sell signal color.
Service Cost
The Arbitrage Analyzer currently costs $30 to purchase outright, there is also an option to rent it, you can rent it for 1 month which will cost you $10 per month, you can rent it for three months which will cost you $20. There is also a free version available, we do not know what the limitations of this free version are, but it is always worth trying out.
Conclusion
Unfortunately, there aren't any reviews, ratings, or comments available for this indicator so we have no idea if the indicator actually works as intended or is still functioning as intended. Due to this, we would recommend downloading and trying out the free version, this will give you a good idea of how it works and will also ensure that you are able to get it set up correctly and functioning for you.
This Forex Indicator is currently available in the MQL5 marketplace: https://www.mql5.com/en/market/product/26533