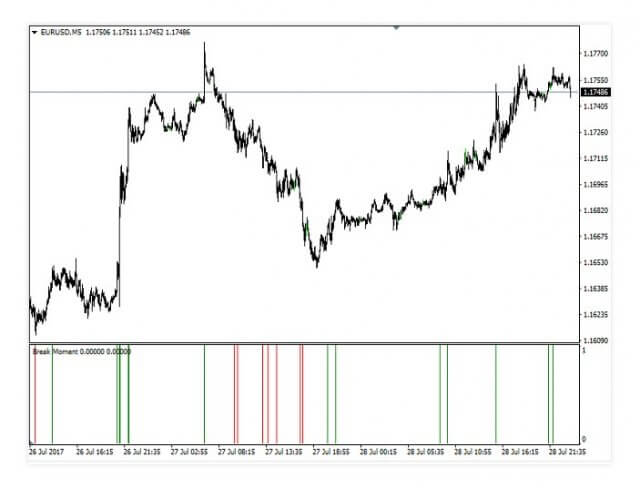 First uploaded on the 7th of August 2017, Svyatoslav Kucher uploaded Break Moment to the MQL5 marketplace under the indicators heading. It has not received any further updates since it was first uploaded and so it is still on version 1.0 of the indicator.
Overview
Break Moment is an indicator for use with the MetaTrader 4 trading platform, the main purpose of the indicator is to determine the main trend of a currency pair, it is able to produce signals and alerts to inform the user of a new trend forming.
The indicator can be used is a number of different ways:
-As a signal indicator. There is a sufficient number of filters for eliminating signals with insufficient quality. Those filters include filters of volume, volatility, and others.
-As a confirmation indicator. The indicator's signal means that the current currency pair has an activity, impulse. A rebound in the direction of this activity can be used for entry.
-As a trend indicator.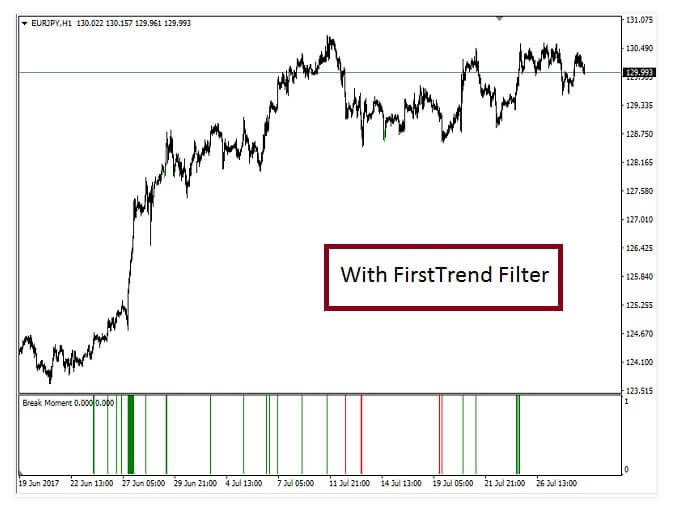 There are plenty of settings and parameters available to alter, these include things like the price channel period, volume filter periods, trend filters, verticle lines, alert setting such as sounds and type, method of calculating, and more.
Service Cost
The Break Moment indicator can be purchased with a one-off payment of $55 which will give you 5 activations of the indicator. It can also be rented on a monthly basis which will cost you $15 per month, this must be paid each month that you wish to use the indicator.
There is a free demo version, no information is available on the site which normally means that it will only be able t obe sued with the strategy tester, it may still be worth downloading and trying out regardless.
Conclusion
Just one review giving the Break Moment indicator a rating of 5 out of 5.
"A good indicator for manual trading is a great addition to the trading system!" – A 5-star review [translated from Russian]
The review is good but there is only one so it doesn't give a full picture of how people are finding the indicator. There are a few comments, most are from the developer but there has not been a comment since 2017 so we are not sure whether the indicator us still being actively supported by the developer. We would suggest sending any queries that you may have to the creator, this way you can make sure that it is the right indicator for you and that it is still being supported before you make a purchase or a rental.
This Forex service is currently available in the MQL5 marketplace: https://www.mql5.com/en/market/product/24575