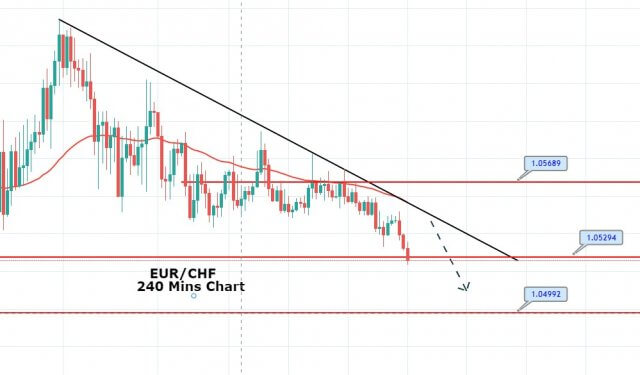 The EUR/CHF pair hasn't changed much as the previously formed descending triangle pattern is still supporting the pair around 1.0520 along with resistance around 1.05675. The 50 EMA and the descending trendline is weighing on the Euro cross pair, and it may drive additional bias in the EUR/CHF today. 
Spain and Italy have already released the report of inflation numbers for the month of March. In March 2020, the Consumer Price Index (CPI) grew by 0.1% over a month, following stability in the prior month. Manufactured goods prices stimulated (+1.4% after +0.2%), in the wake of winter sales in February. Tobacco prices rose by 6.6%, because of a tax hike. Despite this, the single currency Euro is getting weaker in the wake of COVID 19 increase number of cases around the globe. 


EUR/CHF- Daily Technical Levels
Support  Resistance 
1.0533      1.056
1.052        1.0573
1.0493      1.06
Pivot Point 1.0547
The EUR/CHF has created a descending triangle pattern that was underpinning the pair at 1.0520 along with resistance at 1.05675. As we can see, the EUR/CHF pair is already trying to breach the descending triangle. Usually, descending triangle patterns tend to break down thus, it may open further selling bias until the next target 1.0470. 
On the 4 hour chart, the 50 periods EMA and the descending trendline are pressing the EUR/CHF currency pair lower, and it may drive further selling bias in the EUR/CHF. 
Good luck!