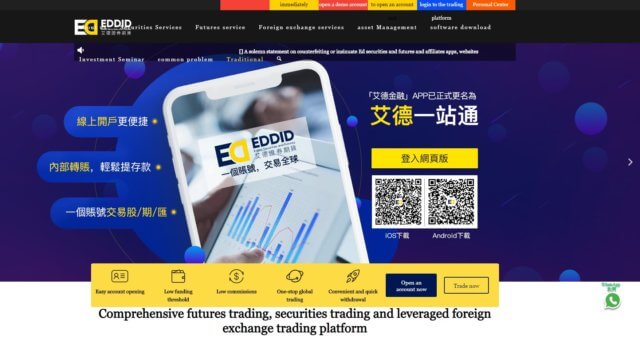 Aide Securities Futures Co., Ltd is a Hong Kong-based broker that offers Securities, Futures and Forex trading on leverage. Additionally, the broker is licensed to conduct advisory on futures and securities trading and Asset Management. The group is oriented to the Asian market, not offering any content in English. Financial Education is one of the best in Hong Kong, and the management behind this broker is publicly known for its great performance.

EDDID is an acronym of Efficient Dedicated Dependable Innovative Dynamic, the usual what most brokers want. Professionalism is one of the trademarks of this broker that is also commonly cherished in the business culture in Hong Kong. The website does not have a really pleasant design but has some content that shows transparency and a good scope of the broker business. Investors can rely on the regulation license of EDDID, Hong Kong Securities and Futures Commission – FSC, while this review of EDDID will focus on the services provided so you can decide on the investment, provided you are from Hong Kong, Taiwan, Macau or mainland China.
Account Types
EDDID has an account for each service, Futures, Forex and Stocks Account. The Forex trading account is promoted by offering 24h assets trading availability, leverage, low spreads, and easy to use trading platform. The minimum deposit is not disclosed, one can assume the minimum is what is needed for opening a minimal volume trade on top of the margin requirements.
To trade Forex, one needs to install EDDID's proprietary platform.
Securities Account is focused on Hong Kong and US stocks. The broker describes other securities like ETFs and Options, but in an educational manner, without much relevance to the features of the Account. There are special sections for the Hong Kong fees and commissions, and the US market. Looking at these tables one can see so many fees that it is very confusing and most of the beginners will look away from this presentation. Transparency is evident although the structure is overcomplicated.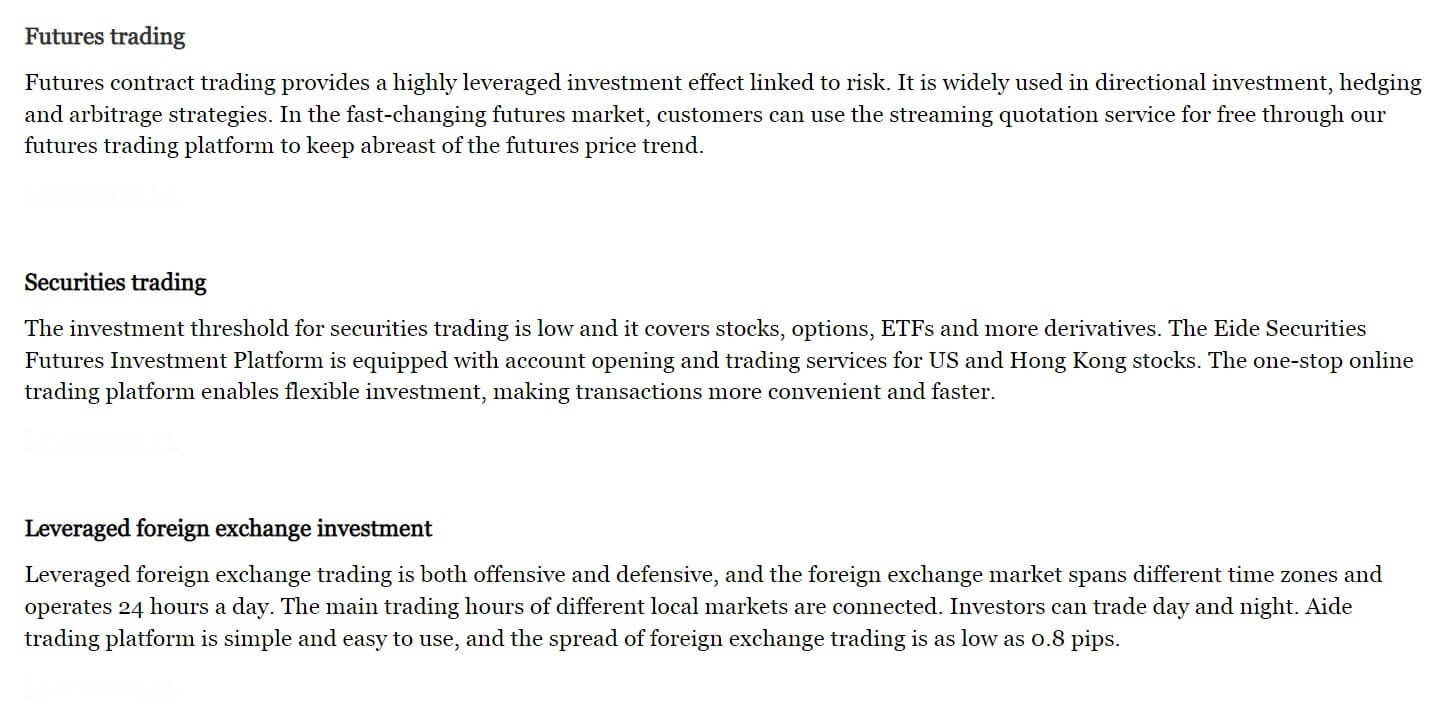 Futures Account features the leverage, two-way trading, and low deposits required for Futures position opening. The dedicated in-house platform is available to download that provided real-time quotes with the addition of futures investment analysis. A full manual is provided on how to use the platform for this Account in Chinese.
EDDID does not provide specifics of their Accounts, you will not see anything typical brokers usually present. Additionally, special platforms for each account, very different from MetaTrader, make it clear that EDDID is specialized for the local market. The account opening approval process takes 1-3 days.
Platforms
We have found 3 different platforms specially developed for trading Futures, Forex, and Securities. Starting from the Forex platform, probably where most traders will go considering easier comprehension of the Account features, it is called EDDID mF4 Trader. It sounds like a copy of MT4, but actually, it is coded in HTML and shares some similarities. EDDID presents the platform features although we have filtered some of the content that is not useful to anyone. The mF4 features are Clear trading interface; Adjustable trading size; One-Click trading; Stop Loss/Take Profit set by price, pips or range; Up to 20 technical indicators; Newsfeed, financial data, and market analysis.
The platform is available in a few versions. For mobile devices, there are Android and iOS versions. We have tried the Android version called EDDID Fx Pro. The app is also available in English and is simple but without many features. The main list is presented with 40 forex pairs with their respective Bid and Ask prices without any kind of filtering options.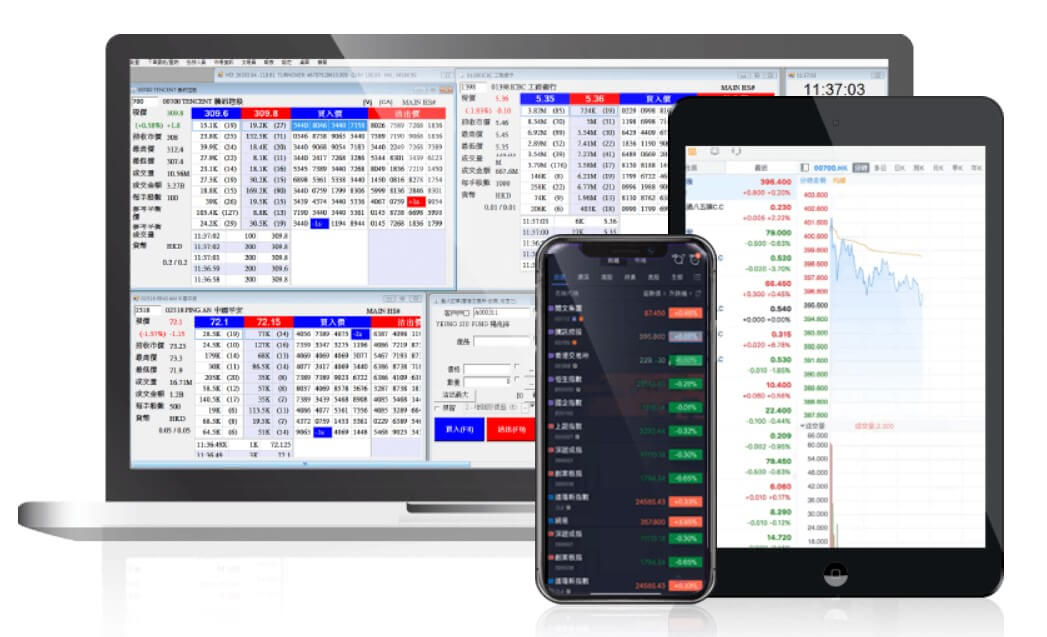 Opening a position is easy enough, with SL/TP setting by price, Pending orders, tolerable slippage level, and "Good Till" setting for specifying timed orders. The execution is fast without delays of more than half a second. The chart takes some time to load and has a toolbar in full-screen mode with timeframe setting, crosshair, rotation lock, instrument selection, and indicator toggle button.
The indicators are RSI, MACD and Bollinger Bands with default settings and non-customizable. These are the only indicators you can use. The app is useful for emergency trading and not intended for serious analysis. The main issue we had is the connection interruptions with the server that led to forced logout. Also, the app would not load on retry, so you will need to force close it. The fingerprint login makes things faster, but these issues should not happen this often at least.
The desktop mF4 platform is available for Windows in Java and HTML versions. Installing is easy with the ID and password that are sent to the email. The registration can also be done from the platform. At first glance, you will see similarities with the popular MT4 but it is clear that this platform has fully customizable module windows. Click and Drag also has a context menu for easier arrangement.
Chart type can be set to Heiken Ashi in addition to the classic that MT4 also has. Every chart has a statement in the bottom that "they are for reference only", like they may not show the real-time quotes. A top toolbar will give you options to draw Fibonacci levels, channels, lines, shapes, text and so on, but also the ability to fix window scaling.

Crosshair does not measure points as the MT4 does. Timeframes are classic, we have not found anything advanced here like in cTrader where 2H timeframe can be set, for example. Traders can save their workspaces although only one kind of template can be saved called "default indicators". The list of indicators available is limited to exactly 20 as promoted. All of them are common to the trading community.
Open Positions module and the Journal are different than MT4 with more focus on orders type listing than on showing various fees, swaps, executions, etc. Some numbers are also off the scale, the balance is probably showing Yuan even our base account currency is in USD. The promoted News Feed module is nowhere to be found. Interestingly, our position opened within the mobile platform cannot be closed from the desktop, as it looks like the position sizes are incompatible. There are few cases of platform crashing to desktop.
The Futures application is called EPolestar. The platform failed to run after installation so we were unable to review it. We advise against installing it in the first place as it contains compromising files and could not be uninstalled the normal way.
ED One-Stop application should encompass Forex, Futures, and Stocks although it is only reserved for China and it is in Chinese. The Securities platform is available for mobile devices running on Android and iOS. Windows desktop version is also there with the addition of a web-accessible platform. As all were only written in Chinese, we were unable to test it.
Leverage
The leverage is up to 1:20 for all Forex currency pairs. For Futures, the broker does not disclose the leverage except mention that they are low. The trading conditions table presents some very messy information that could be outdated as the link to the Hong Kong Exchange is provided to check the actual conditions.
For Securities, no leverage is mentioned.
Trade Sizes
The minimum trade size is 10,000 units for Forex or 0.1 lots. EDDID has set this level probably to enforce the minimum deposit to more serious amounts. Additional steps volume size is also 0.1 lots. The Margin Call is at 5% level and Stop Out will be executed at a 1% margin level. This means EDDID allows almost maximal drawdowns.
Trading Costs
EDDID has put a lot of information on its complex fee structure. For Forex no commissions are charged. The updated swaps list is disclosed online and they are under normal levels with common positive figures, calculated in points. EUR/USD has -7.8651 long position swap and a positive 3.2039 for short while GBP/JPY 0.2822 long and – -5.2826 short. In the exotics zone the swaps remain very low, for example, -7.2145 long and -3.5500 short for the USD/CHN, USD/RUB has -18.01 points long and 5.6325 for short, and the biggest swap we could find is for the USD/TRY pair with -42.274 for long and 13.568 for short position. Spot Gold against the US Dollar is also lited with very low swaps, -7.2508 long and 3.6215 short.
Hong Kong stock commissions are HK $100 minimum or 0.25% and 0.005% transaction fee. A physical stock deposit fee is 250 to 350 HKD per transaction while the withdrawal fee is 8 HKD per lot. Other stock related fees are also listed that are not that important. Custody fee of 0.12 HKD per lot per month for margin accounts exists and also inactivity fee for not trading for more than one year of 250 HKD.

Agent corporate services also have fees, so for example, 1.0.20% of the dividend received (minimum charge 30 HKD) for dividend collection, and many more. US Stock commissions are 0.8% for the normal trading sessions. After a market close, the commission is 60 HKD minimum.
For Futures EDDID has a separate fee for each trading instrument. For example, Hang Seng Index Futures has a 20 HKD exchange fee per lot with the addition of a trading commission that is negotiable. A total of 8 futures are listed with their associated fees and required margins. Global Futures all have negotiable commission rates. Negotiation is common in China and is part of the culture.
Assets
EDDID assets range can be considered specific to the market and average compared to the usual brokerage houses. With Forex there are a total of 40 currency pairs. All majors are listed with the addition of some exotics with good trading conditions like USD/CHN, USD/RUB, USD/HKD, USD/MXN ad USD/CZK, and Scandinavian quoted currency pairs.
In the Index category, we have encountered a total of 10 and most of them are not common like the MSCI Taiwan Index, SGX Nikkei Stock Average, or the Mini E-mini Dow Jones Index.
In the futures set, there are Forex futures also with 9 total contracts. Some of them are New Zealand Dollar future, EUR, YEN, etc. Energy futures are both Oli types, Brent and Crude with the addition of Natural Gas and Small Crude Oil. Commodities futures are extended compared to the industry with some rarities. You can find Cors, Soybean, Wheat and Soy Flour but also some rarely listed metals like Kohara Copper. Metals encompass the Spot Gold, Silver Copper and smaller equivalent contracts. Bond Futures are also present, they are all US treasury bonds with a 10-year maturity. As for Stocks we could not confirm what is offered as the platform is in Chinese and no other information is disclosed online.
Spreads
EDDID promotes spreads from 0.8 pips for Forex. In the time of a very calm period, we have observed that EUR/USD had 9 points variable spread, and also USD/JPY – 9 points. AUD/USD is next with 12 points and then we see a sharp increase with the EUR/JPY at 17 points, NZD/USD – 23 points, GBP/AUD – 52 points, NZD/CAD – 68 points, meaning the 0.9 pips spread is reserved for the most liquid currency pairs. From exotics, USD/CHN has 208 points, USD/TRY – 841, USD/MXN – 2094 and USD/HKD – 110. Spreads for the other assets were not available to us.

Minimum Deposit
The minimum deposit is not set but should be in line with the mentioned trade sizes, leverage, and other fees.
Deposit Methods & Costs
EDDID, like everything else, does not have classical deposit methods. "FPS" transfers are described in 3 steps and involve making screenshots and emailing. Costs involved with this bank transfer method will not be reimbursed by EDDID. The usual Bank Transfer is also possible with a similar procedure, EDDID's Bank of China account is accepting 3 currencies, HKD, USD, and Yuan. A check deposit is rare to see but it is possible with EDDID. It can be delivered in person or by post. EDDID does not accept any other deposit methods.

Withdrawal Methods & Costs
For local withdrawals the broker requires a withdrawal form, then the check will be sent by mail to the trader. Cross border withdrawals are initiated from the E-Stop portal. The Wire Transfer will be processed for non-Hong Kong bank and a fee of 350 HKD will be charged. Some additional fees may be charged by the bank and an exchange feel will apply if the account currency is not matching.
Withdrawal Processing & Wait Time
Withdrawal processing is available from Monday to Friday until 2 pm. After 2 PM the withdrawal will be processed the following working day. Bank transfer could take up to 7 days.

Bonuses & Promotions
EDDID does not have any bonuses or promotions officially for a longer period but we have encountered an article in the company news section where 1000 HKD worth of gifts is handed to assignees to the seminars.
Educational & Trading Tools
EDDID is great at seminars they conduct within their local offices. The Team behind is professional with extensive experience in various financial areas. By looking at the activity timeline, we have noticed that they are often, although the last one is held in March 2019. Topics covered are classified into Basic Investment Teaching, Investment strategy sharing, and Market trend analysis. Specifically, some of the topics are "Five reasons for the Yen to rise", "Global Central Bank policy review", "Derivatives Win Strategy". In addition to this, two articles about the US and Hong Kong stocks trading are short and cover some basics, certainly not enough for novices.
The company news section is very well managed with frequent events coverage worth checking. This provides some insight and very high activity the company encourages.
Customer Service
EDDID has Chat, Phone and email channels ready. The Chat service is through the Whatsapp service, meaning the broker will have insight into your phone number, compromising your privacy. The support is in the Chinese language.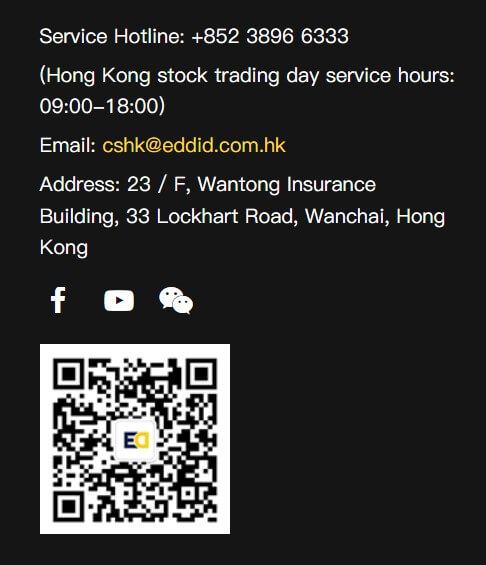 Demo Account
The Demo account is available and is easy to create. It can also be done within the mF4 platform. There are no limits mentioned.
Countries Accepted
There is no information about country limits although the One-Stop application is available only to China.
Conclusion
To complement with additional information of the ADDID review we would like to note that the broker key selling point is the Asset Management service. The service is accommodated to the client with great diversification options available only to the EDDID. This is the core of EDDID operations, to access their Managed Accounts service, a minimum of 50,000 USD investment is needed. On the other side, trading conditions are not good enough to be competitive for world-class brokers. Whatsmore, the platform shows some stability flaws and limitations, it is inferior to Metatrader. Finally, the fee structure will avert most of their potential customers.