ECN Capital is a product of Global Prisma Ltd. as an online foreign exchange broker that has coined that motto "Trade with the best". The company was founded by two veteran Swiss capital market experts who followed their vision to help other traders benefit from their expertise, which comes from more than 15 years' worth of experience in the field. More than 350,000 accounts have been opened since the website's launch; however, traders should always conclude more thorough research before following the crowd. If you're in the market for a forex broker, stay with us to find out all the facts about ECN Capital.
Account Types
ECN Capital offers five live account types: Silver, Gold, Platinum, MEGA, and ECN, in addition to Islamic versions of those accounts that are available upon request. The broker follows a tier-based system, where more expensive accounts offer access to better perks, like lowered trading costs, better educational resources, 24/7 customer service, signals, and free VPS.
Traders can get started with a deposit as low as $1 on the Silver account, or make a more significant deposit of $20K+ to access the better accounts. All accounts offer a leverage of up to 1:200, except for the MEGA account, which offers a higher 1:500 limit. One of the most important things to consider would be the cost of trading on each account – commission costs can be high on the Silver and ECN accounts, at $15 per lot, and spreads start from 3 pips and work their way down to 1.5 pips. Most of the accounts offer access to all of the available FX and CFD instruments, but traders should note that the Silver account does not offer agricultural commodities. Take a look at each account's details below.
Silver Account
Minimum Deposit: $1 USD
Leverage: Up to 1:200
Minimum Trade Size: 0.01 lot
Spread: From 3 pips
Commission: $15 per lot
Gold Account
Minimum Deposit: $5,000 USD
Leverage: Up to 1:200
Minimum Trade Size: 0.1 lot
Spread: From 2 pips
Commission: $13 per lot
Platinum Account
Minimum Deposit: $20,000 USD
Leverage: Up to 1:200
Minimum Trade Size: 0.2 lots
Spread: From 1.5 pips
Commission: $9 per lot
MEGA Account
Minimum Deposit: $50,000 USD
Leverage: Up to 1:500
Minimum Trade Size: 0.5 lots
Spread: From 1.5 pips
Commission: $6 per lot
ECN Account
Minimum Deposit: $50,000 USD
Leverage: Up to 1:200
Minimum Trade Size: 0.01 – 0.2 lots
Spread: From 1.5 pips
Commission: $15 per lot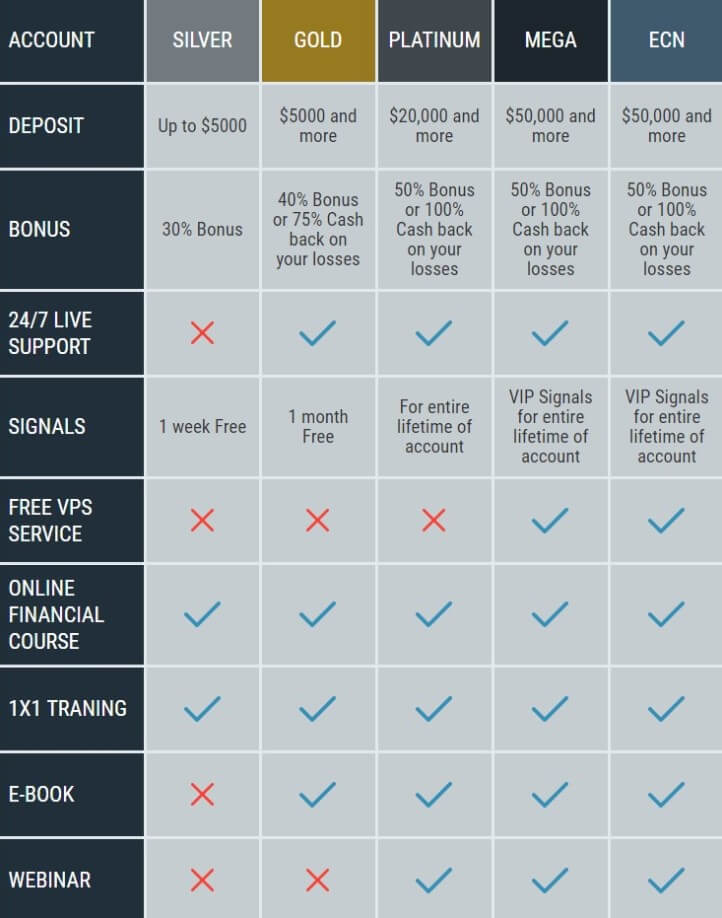 Platform
ECN Capital offers Sirix, which is a web-based platform that is focused on social trading. Offering several useful tools and charts, Sirix places more of an emphasis on social trading, which is something that the broker thinks highly of. Potential downsides would be the lack of PC and app-based downloads, but the platform can be accessed less conveniently through the mobile browser. The fact that the most popular options MetaTrader 4 and 5 are missing could be another negative for those that were hoping to see one of the more familiar options available. If you're unsure about making the switch, or if you've never traded from a platform before, then we would recommend testing Sirix on a free demo account.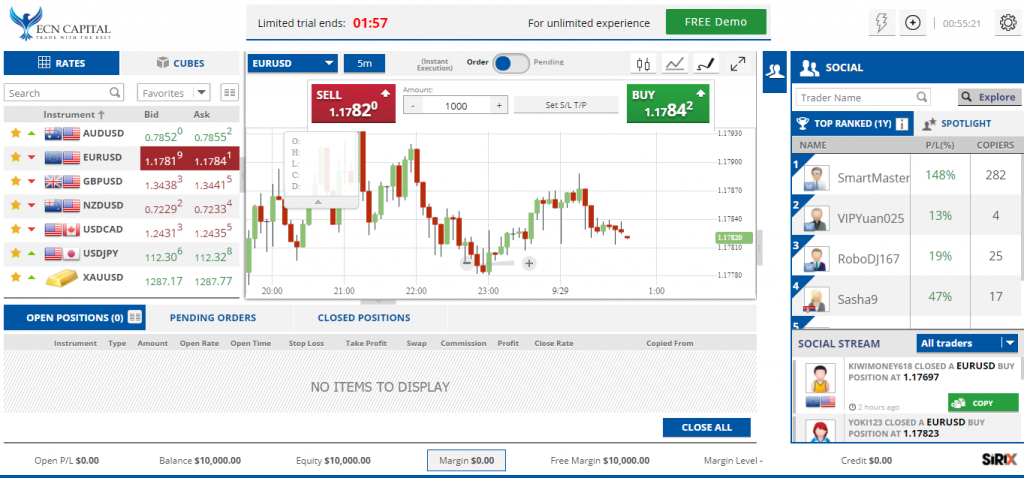 Leverage
Traders can use maximum leverage of up to 1:200 on all of the account types, with the exception of the MEGA account, which allows one to use a more significant option of up to 1:500. Keep in mind that one's chosen leverage ratio will affect overall success and that beginners will likely find the lower options more suitable. Professional traders typically prefer a leverage of around 1:100, but ECN Capital has made it possible for traders to increase their chosen leverage as they progress.
Trade Sizes
Each account comes offers separate minimum trade sizes. The minimum order volume is listed below.
Silver Account: One micro lot (0.01)
Gold Account: One mini lot (0.1)
Platinum Account: 0.2 lots
MEGA Account: 0.5 lots
ECN Account: 0.01 – 0.2 lots
If the funds in the account fall to 50% of the total sum invested in trades, a margin call will be issued and open trades will be closed automatically. This occurs because the total amount in the trading account is not enough to cover fees and losses that may occur with currently opened trades.
Trading Costs
ECN Capital profits from spreads, which start from 1.5 pips – 3 pips, commission fees, overnight interest charges, and inactivity fees. Traders will want to consider both the spreads and commission charges associated with each account when calculating the total trading cost. Accounts follow a typical pattern, where the account that asks for the smallest deposit comes with the highest trading costs. However, the broker does deviate from this patter on their ECN account, which offers their lowest spreads, while sharing the highest commission costs that are charged on the Silver account. It may be better to avoid the ECN account for this reason by choosing the MEGA account instead, which asks for the same $50K deposit. We've provided an overview of each account's standard charges below for comparison.
Silver Account: Spreads from 3 pips, commissions of $15 per lot
Gold Account: Spreads from 2 pips, commissions of $13 per lot
Platinum Account: Spreads from 1.5 pips, commissions of $9 per lot
MEGA Account: Spreads from 1.5 pips, commissions of $6 per lot
ECN Account: Spreads from 1.5 pips, commissions of $15 per lot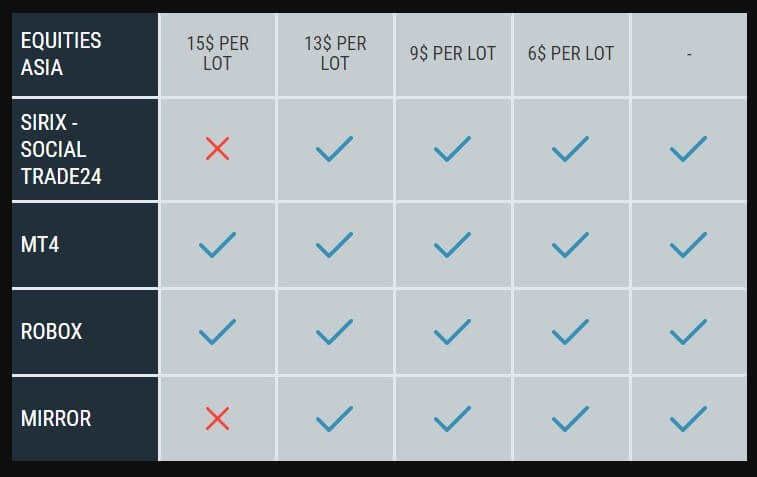 Rollovers are automatic transfers of open trades to the next business day. Traders may be charged a swap fee based on trades that are rolled over, including a 3-day charge on Wednesdays. Islamic accounts are charged a fee for holding open trades for more than 2 days. Every third night, a commission will be charged according to the current spread rate. Inactivity fees are charged on accounts that are deemed inactive after a certain period of time with no activity. The website doesn't define the actual period of time before accounts will begin to be charged – typically, this occurs within 1-3 months with zero activity. The fee is either 5% of the account's balance, or 25 Euro/USD, whichever is higher. Inactivity begins to be calculated from the moment that the final transaction is made.
Assets
ECN Capital allows traders to trade major and minor currency pairs, along with the Chinese Yuan, Mexican Peso, South African Rand, Brazilian Real, and South Korean Won. Silver, Gold, Copper, Bronze, Nickel, Palladium, Platinum, and Lead are offered as spot metals. Stocks are offered from the two major stock exchanges NYCE and NASDAQ, along with other stocks from outside the US, like the London stock exchange, Japan Exchange Group, and Hong Kong exchange. Commodity options include Coal, Crude Oil, and Natural Gas, alongside agricultural options like Corn, Rice, Cotton, livestock, and others. The broker also features multiple cryptocurrency options, including Bitcoin, Bitcoin Cash, Litecoin, Ripple, and Ethereum. The only asset limitation would be the exclusion of agricultural instruments on the Silver account.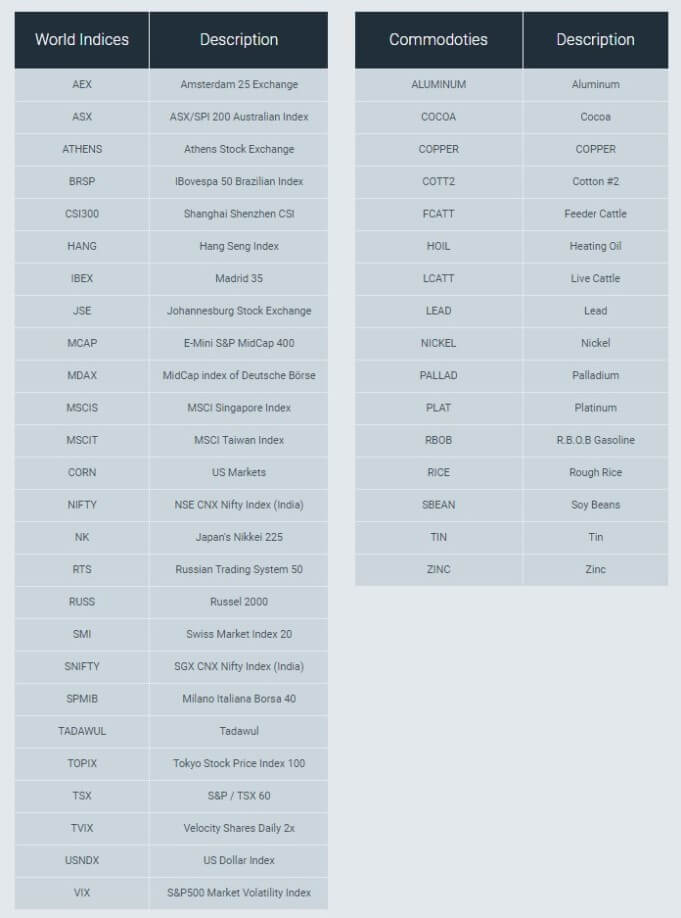 Spreads
Spreads are divided into three price ranges, starting from 3 pips on the Silver account, 2 pips on the Gold account, and a shared 1.5 pips on the Platinum, MEGA, and ECN accounts. Traders will likely recognize that spreads on the broker's more affordable accounts are less than advantageous, especially once combined with unattractive commission costs. We've provided a few examples below to help with spread comparison, and traders can view the entire chart under "Target Spreads" on the website.
EUR/USD: 3 pips on Silver, 2 pips on Gold, 1.5 pips on Platinum/MEGA/ECN
AUD/USD: 3.7 pips on Silver, 2.7 pips on Gold, 2 pips on Platinum/MEGA/ECN
USD/CAD: 3.6 pips on Silver, 2.6 pips on Gold, 1.9 pips on Platinum/MEGA/ECN
Gold & Silver: 65 pips on Silver, 55 pips on Gold, 40 pips on Platinum/MEGA/ECN

Minimum Deposit
Through the broker's Silver account, traders can deposit any amount up to $5,000 USD in order to get started trading. As one of the few brokers that offer an account type with no minimum, ECN Capital is offering an attractive plus to beginners. The Gold account, which comes with spreads that are about 1 pip lower, requires a $5,000 USD deposit. From there, traders would need to make more significant deposits of $20K for a Platinum account and $50K for the MEGA and ECN account types. Accounts do come with differing minimum trade sizes, but the cost of trading is typically lowered as accounts rise in value.
Deposit Methods & Costs
Accounts can be funded by card, electronic payment methods, bank wire transfers, and online wallets. Once logged into the account, traders can make a deposit by navigating to the "Deposits" option under the "My Account" tab. Keep in mind that deposits will not be credited to the account until verification is complete and the broker would require proof of identity (POI) and proof of address (POA) documents beforehand. If you're planning on funding by card, a photo of the front and back of the card is also required. Traders have the option to cover the card number except for the last four digits and the CVV code on the back of the card if desired. Deposits seem to be fee-free, except for possible bank charges on wire transfers.
Withdrawal Methods & Costs
Conditions state that funds must be withdrawn back to the original payment method, which is a standard practice implemented by brokers in order to prevent money laundering. Any profits will have to be withdrawn through bank wire as well. We do know that a fee of 25 to 50 USDEUR is charged on outgoing bank wire transfers, but the website isn't clear about any fees that may be charged on other payments. This makes it a little more difficult to select the best payment method beforehand, considering that the information isn't available for comparison.
Withdrawal Processing & Wait Time
The broker gives themselves a lengthy 7 business days to process withdrawals made through any method. This is one of the longest processing times we've seen before, and it can make the wait time much longer for those that would also have to wait for banks to process funds from their side.
Bonuses & Promotions
ECN Capital offers bonuses to all account holders, with bonus percentages being increased on better account status levels. Those that open a Gold account status level or higher are given the option between a predetermined bonus percentage, or a certain percentage of cashback based on incurred losses. If you do open an account that provides an option between the two choices, we would highly recommend taking the time to carefully consider which option would yield the best results, based on the amount of the deposit you're planning to make and how successful of a trader you are. We've provided each account's promotional offer below.
Silver Account: 30% Bonus
Gold Account: 40% Bonus OR 75% cashback on your losses
Platinum Account: 50% Bonus OR 100% cashback on your losses
MEGA Account: 50% Bonus OR 100% cashback on your losses
ECN Account: 50% Bonus OR 100% cashback on your losses
Educational & Trading Tools
ECN Capital offers different educational resources to different account holders. Each account is provided with an online financial course and 1 on 1 training, which could certainly be helpful to beginners. E-books are available to everyone except Silver account holders. Webinars and account managers are provided to accounts that cost $20K+ to open (Platinum, MEGA, ECN). VPS is also available for free for the lifetime of MEGA and ECN accounts and an economic calendar can be accessed for free on the website. While it's disappointing that some of the options like E-books and webinars aren't available for everyone, the broker does offer a more personalized learning experience, which is much more than many other brokers would consider having available for free.
Demo Account
ECN Capital does offer free demo accounts, which provide traders an unlimited opportunity to practice trading on the broker's Sirix platform. One can open a demo through the trading platform if a live account has already been registered. Otherwise, it's possible to request an account through support, since the website doesn't offer the option to sign-up directly.
Customer Service
Customer service representatives can be contacted through LiveChat, phone, or email. At one point, the website advertises 24/7 support, 365 days a year. Elsewhere, the broker mentions that 24/7 live support is not available for Silver account holders. Traders can get in touch with an agent through the contact number +41445510256, or send an email to one of the provided email addresses:
Technical Support: support@ecncapital.com
Client Services: cs@ecncapital.com
Countries Accepted
ECN Capital offers services to clients from all countries, including the United States. Their ability to do so is based on their more lenient registration in Seychelles. Those that are located in commonly restricted regions will likely feel relieved at being included with no harsh messages from support claiming that service isn't available, which is a practice we've seen before by brokers that ban certain clients. The offshore registration isn't the best quality in a broker, but traders should note that online reviews of this broker do not claim that it is a scam.
Conclusion
ECN Capital offers access to major, minor, and exotic currency pairs, plus a large variety of stocks, commodities, and cryptocurrencies. Five account types are available and the broker's featured trading platform is the web-based, Sirix platform, which is web-based. The Silver account can be opened for any amount and minimum requirements range from $5K to $50K on the remaining live accounts. Trading costs can be high through this broker – starting spreads range from 1.5 – 3 pips and commission fees start at $6 per lot and climb to $15 per lot. A few deposit methods are offered, but long processing times and an overall lack of information about fees are frustrating.
Customer support is active 24/7 and can be reached pretty easily. Each account holder is provided with one-on-one training and an online financial course, and better offers, including VPS, webinars, E-books, and account managers are reserved for accounts that require a larger deposit. The broker also provides high bonuses or cashback rebates based on incurred losses. If you're considering opening an account, we would recommend making the 5K deposit to open a Gold account (if possible), since Silver account holders aren't provided with nearly as many advantages.