DeltaStock is a well-established broker that holds a full license from the FSC, the Bulgarian Financial Supervision Commission (License no. RG-03-0146). This license allows this broker to conduct business in Bulgaria as well as abroad and it has been doing so since 1998. Having been around for over 20 years, DeltaStock managed to continuously offer its clients more than 1100 financial instruments whilst still being in full compliance with strict European regulations.
As with many regulated brokers, DeltaStock keeps its company funds separate from those of its clients and apart from this all retail clients are guaranteed by the Investor Compensation Fund. This broker lists a number of advantages that clients can experience when trading with them including minimum spreads for all their available instruments, low minimum commissions on share CFDs, 24/5 multilingual customer support, low minimum deposits, a variety of free trading resources as well as informative video tutorials.
Join us on this review as we take a closer look at what DeltaStock has to offer.
Account Types
DeltaStock offers the Delta Trading 6 and the Meta Trader 4 accounts. Spreads for both accounts are quite similar and both accounts require a minimum deposit requirement of $100. The Delta Trading 6 account has a larger variety of assets available such as CFDs on shares, Cryptos, Futures, and Indices. Clients can open up a free demo account for both accounts to get a clearer idea of how these differ from each other. We will go into detail about their individual characteristics later on in this review.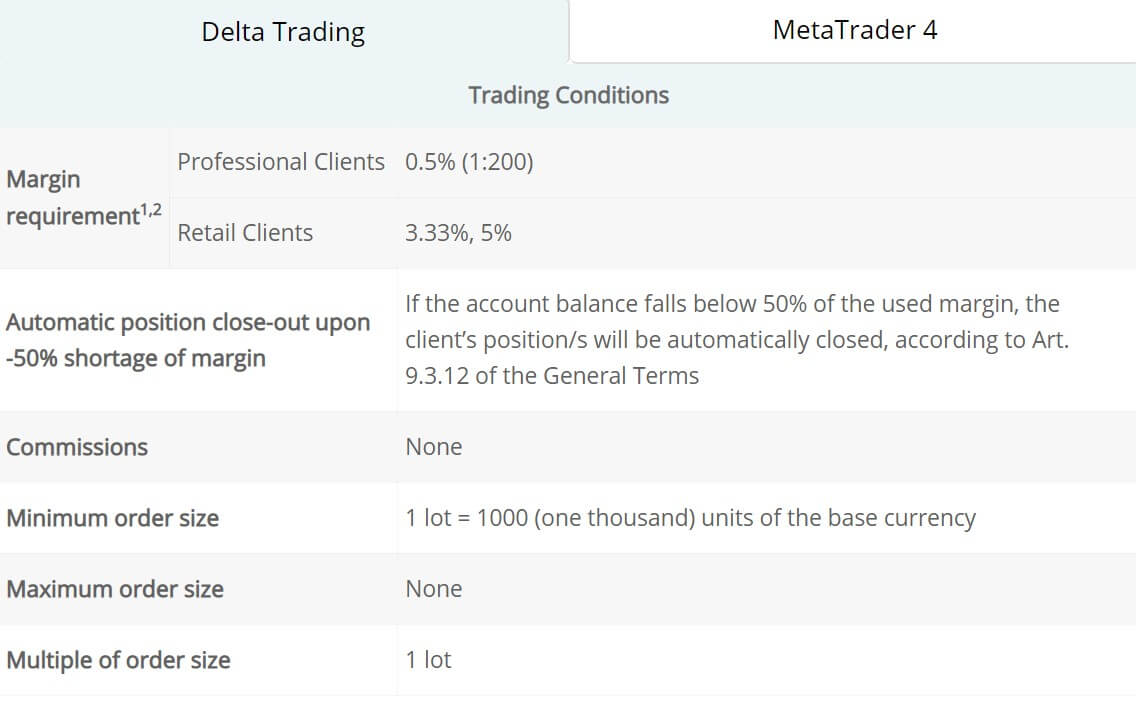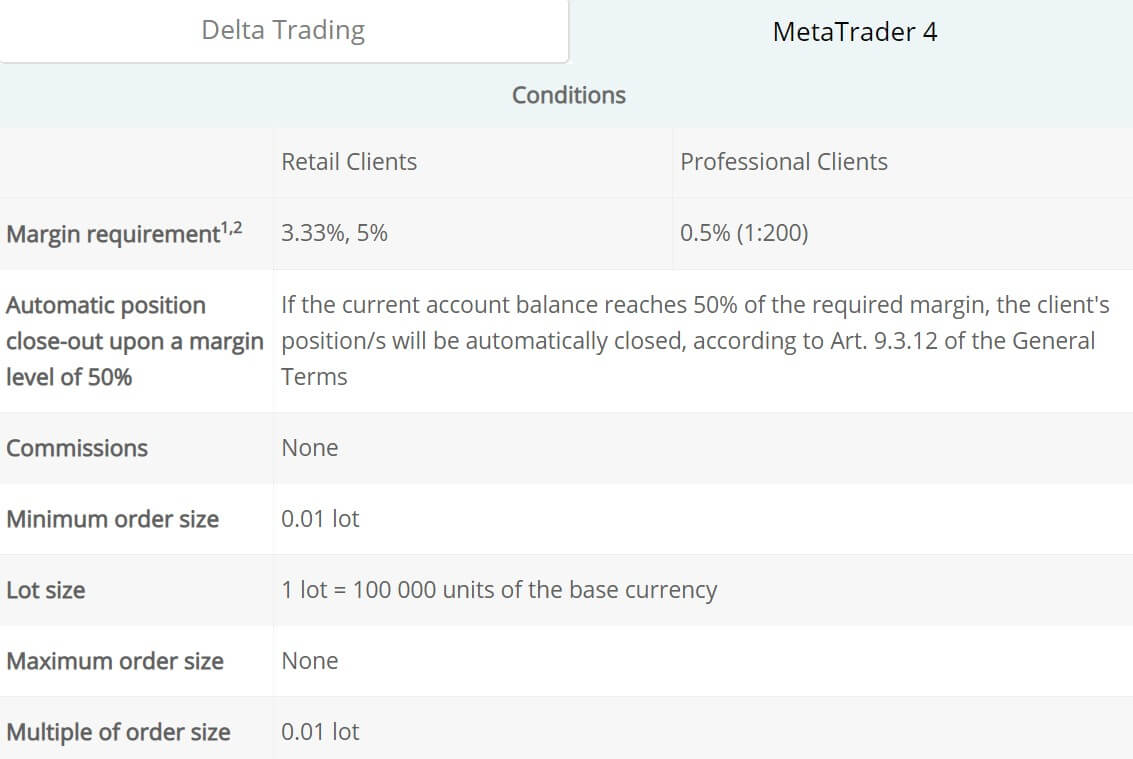 Platforms
DeltaStock has its own state of the art proprietary desktop trading platform, Delta Trading 6. This platform allows clients to trade over 80 currency pairs, Gold & Silver, CFDs on shares, Indices, Futures, EFTs and also Cryptocurrencies. Clients using this platform can use fixed or variable spreads with a wide variety of order types. This multilingual platform has advanced charting with an array of 80 technical indicators, unique features such as detailed trading statistics and P/L charts and clients can use this platform with the EUR, USD, GPB, CHF, BGN and RON currencies. Having created this platform using clients' feedback the Delta Trader 6 is an intuitive platform that can be beneficial for new traders, whilst at the same time meeting the high standards demanded by professional traders as well.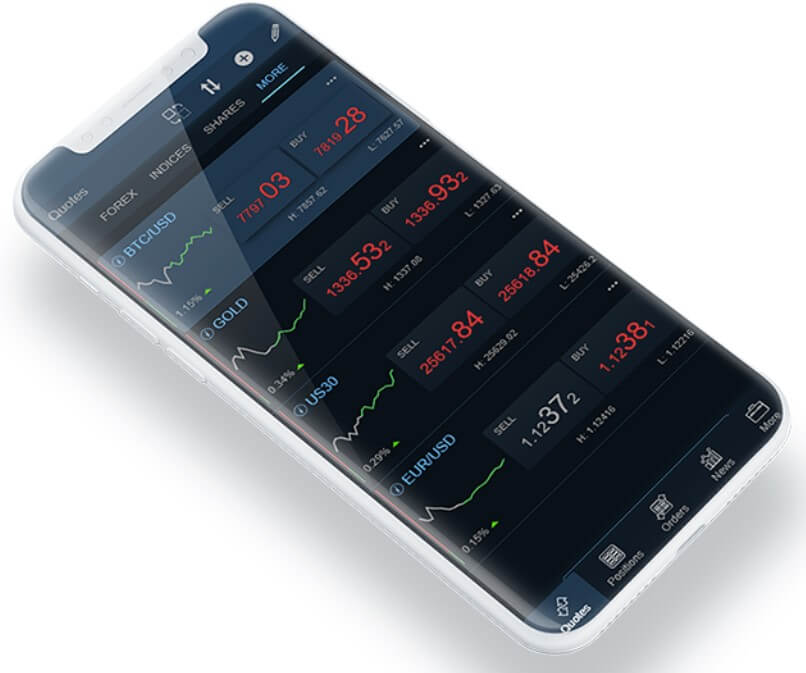 The Delta Trading 6 is very flexible and clients can arrange and adjust the panels, such as the instrument list and quote panel for their convenience. Clients will have multilingual support in English, Dutch, French, Italian, German, Spanish, Russian, Romanian and Bulgarian. Online reviews claim that this platform can easily be seen as equal to the popular MT4 and the feedback on it is very good overall. Clients can find a well-explained user guide and a variety of video tutorials that cover the basics of using this platform.
Apart from their own platform, DeltaStock offers the MT4 platform to their clients as well. MT4 is one of the most popular online trading platforms on the market. This multilingual platform offers live quotes, real-time charts, and in-depth news to help traders make the right decisions whilst trading. When using the MT4 with this broker, clients can make 4 types of orders namely; market order, pending order (stop loss & take profit) and trailing stop orders. One of the most popular features of MT4 is its full automation of the analytical and trading process which is done via Expert Advisors. This feature enables clients to eliminate negative factors that may hinder their trading such as; inexperience, emotions, and lack of knowledge on a particular market. Although this platform is available in 28 different languages, clients will receive their live account daily and monthly statements in English.
Leverage
In August 2018, the ESMA (European Securities and Markets Authority) introduced new restrictions on trading contracts that provide better protection to retail clients. With DeltaStock, retail clients can get maximum leverage which ranges from 30:1 and 2:1 on all positions and on both accounts.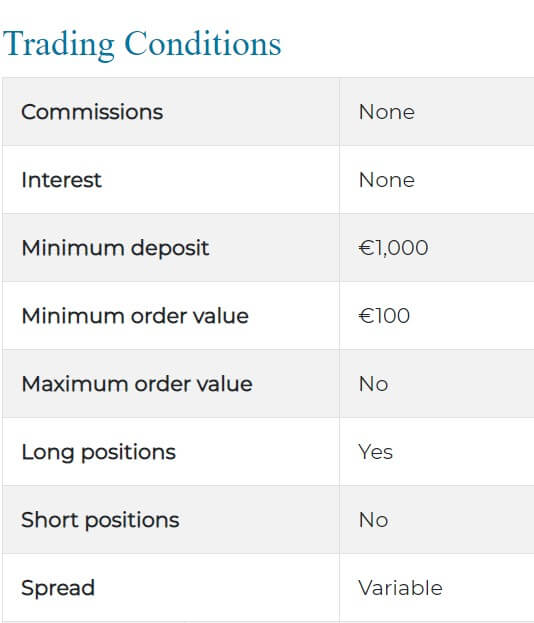 On the other hand, professional clients have access to increased leverages. To qualify as a professional client, you must have over the past previous 4 quarters, have carried out an average of 10 trades per quarter on the relevant markets in significant size, hold a portfolio size that exceeds 500,000 Euro and have experience in the financial sector (at least one year in a professional position).
Trade Sizes
When trading currency pairs, the minimum trade size available for trading is that of 1 lot and there is no limit on the maximum order size clients can make. Clients can find the minimum trade sizes available for all available instruments on DeltaStock's Trading Conditions page.
Trading Costs
From the information we found on their website, this broker does not seem to charge any commissions on any of its accounts. This means that this broker makes its profits through the differences between the Bid and the Ask price, also referred to as the spread. DeltaStock has a target spread that they continuously aspire to quote, however in times of low liquidity or high volatility, the company might not be able to maintain the target spread.
From what we could see on Delta Stock's real-time Spread/Margin table of their forex pairs, spreads seem to be quite standard, for example, the popular EUR/USD pair had a spread of 0.8 on the MetaTrader4 account. On the same page, clients can also find a list indicating what swap rates they might encounter when trading forex pairs, however, this list is meant to be used only as a reference and not a real-time list. You can find further details about spreads and swaps on the trading conditions page on DeltaStock's website.
Assets
This broker offers a vast array of assets available for trading namely; over 80 Forex pairs, Gold & Silver, CFDs of shares, CFDs on indices, CFDs on futures, CFDs on ETFs and CFDs on Cryptocurrencies. This broker also provides the Key Information Documents, which include basic information about the asset, risks involved, performance scenarios, costs, and other important information about all their available assets. This highlights the level of professionalism that this broker operates by. You can find these documents on the KIDs segment on their website.

Spreads
DeltaStock aims to keep its spreads at its target level, but this highly depends on the volatility and liquidity of the markets. Having said this, this broker does offer fixed spreads but these tend to be slightly higher than the target spreads outlined by the broker. From what we could see their floating spreads are quite standard such as USD/JPY 1.2Pips, EUR/USD 0.8Pips and GBP/USD 1.3Pips. You can find the full list of spreads, for both account types, on the trading conditions list on their Forex menu.
Minimum Deposit
Both the Delta Trading 6 and the MetaTrader 4 require a minimum of $100 to open. This is quite a low minimum deposit requirement, especially when considering the assets available and the fact that this is a fully regulated broker. Having such a low minimum requirement is also a great way to encourage beginner traders to take the leap and enter into the trading world without spending too much money from the get-go.
Deposit Methods & Costs
Clients wanting to deposit funds into their account can do so via bank/wire transfer or Mastercard/VISA/Maestro credit/debit card. Like most brokers, DeltaStock does not accept deposits made by third parties. Bank Transfers, which can be made through Banco Santander in Spain, First Investment Bank in Bulgaria, UniCredit Bulbank in Bulgaria and UniCreditBank in Romania may take at least 2 business days to reach DeltaStock. Transfers from banks within the EEC in BGN or EUR have no fees however transfers from banks within the EEC in a currency other than EUR or BGN have a transfer fee of 1.00BGN. When depositing via Internet payments a fee of 2% of the payment amount is incurred and the same goes for deposits made via Visa/MasterCard/Maestro debit and credit cards.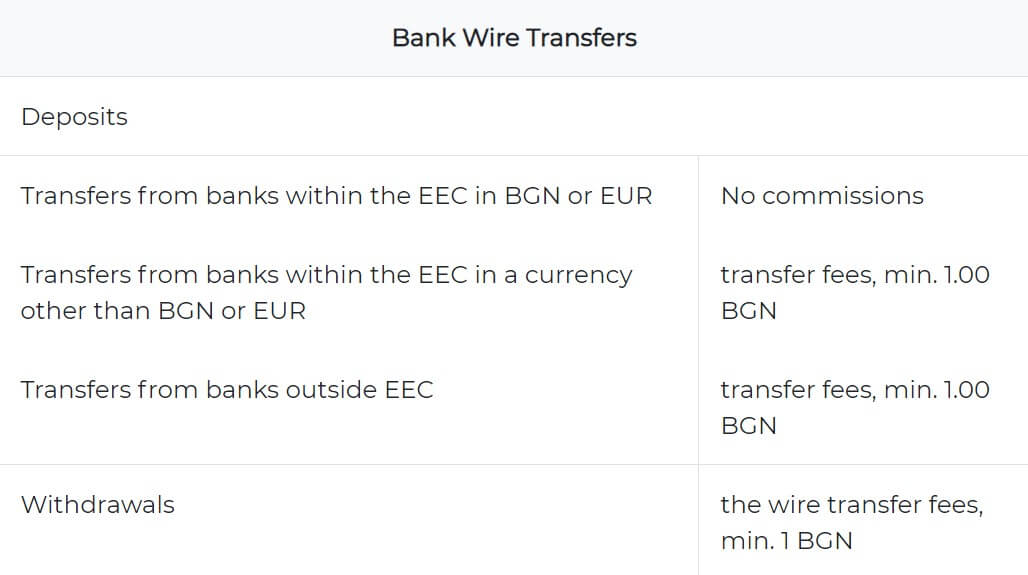 Withdrawal Methods & Costs
To withdraw funds from their accounts, clients must submit a withdrawal request that can be found once they are logged into their account. Clients can only withdraw funds which have not been blocked as margin for open positions and upon a withdrawal request, priority will be given to funds deposited via credit/debit cards and then to deposits made via bank wire or cash desk. The minimum amount for international bank transfers is 50EUR in the cases where clients' banks are different from the banks that this broker has accounts with. You can find more information about withdrawal methods and costs on the Deposit/Withdrawal page of the DeltaStock website.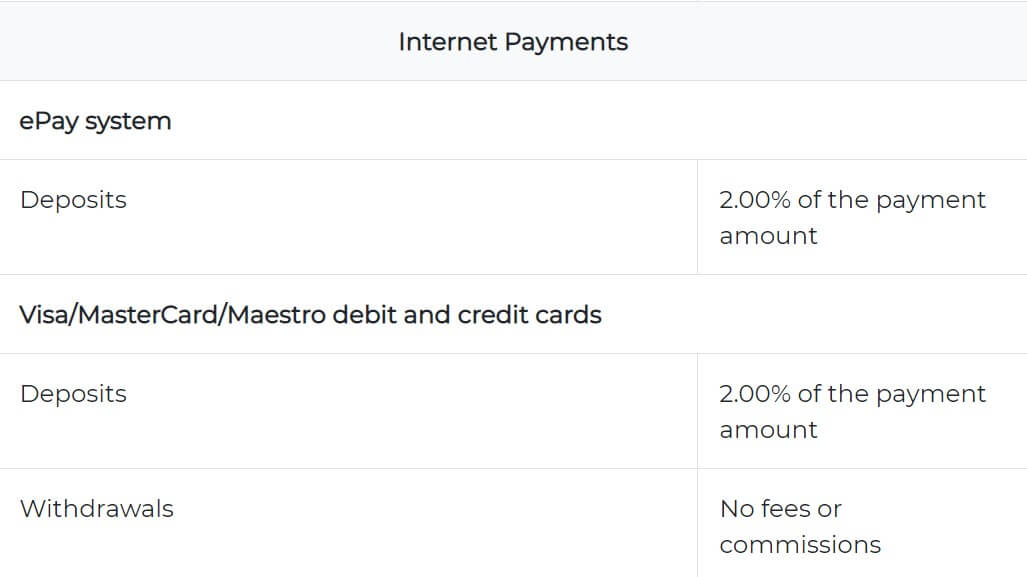 Withdrawal Processing & Wait Time
Once a withdrawal request is sent it is processed within a minimum of 2 business days. Clients should be aware that when there is a transfer of funds which is in a different currency from the base currency of the client's account, DeltaStock will convert it at the current market prices of the respective currency pair.
Bonuses & Promotions
At the moment, DeltaStock does not have any bonuses or promotions on offer. However, those who are eligible to be considered as Professional clients will benefit from increased leverage, premium access to DeltaStock's events and they can sign up for several exclusive discount programs.
Educational & Trading Tools
On their Education page, this broker offers a number of lessons that goes into detail about different aspects of trading such as factors affecting major currencies, margin trading, market analysis, calculating positions and prices, overnight positions and much more. These lessons are more than enough for a beginner trader to start making their way into the trading world. DeltaStock also offers a vast video guide that helps clients get to know their proprietary platform. These videos go through several subjects such as placing orders, reviewing orders, stop and limit to a position, charts and more.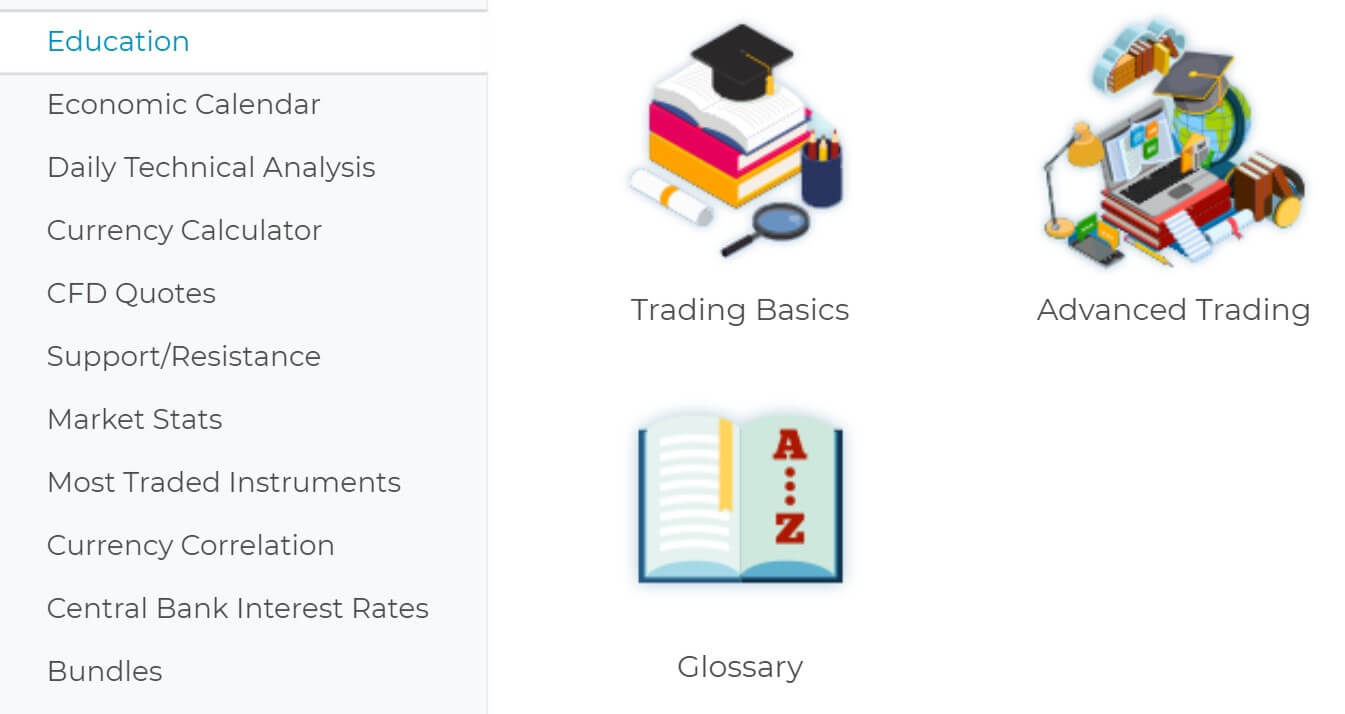 On their website, clients can also find a number of trading tools that can help them make better decisions when trading such as an Economic calendar, daily technical analysis, currency calculator, DFC Quotes, Market Stats, and currency correlation just to mention a few. We feel like the education and trading tool segment of DeltaStock's website has great content that is suitable for every level of trader.
Customer Service
Clients wanting to get in touch with this broker can do so via phone, email or through their live chat. Clients can call either the head office, the dealers/brokers or the brokers fixed income securities which means that clients will surely get the information and answers they are looking for.
We did contact this broker via live chat and we had a pleasant experience when doing so. We were helped by a friendly and extremely well-informed customer service agent who stayed with us to make sure all our questions are answered and understood.
Here are their main contact details (you can find the full list of contact details on the website's Contact us page).
Address: Megapark Office Building
6th Floor, Office Area E
115G Tsarigradsko Shose Blvd
Sofia 1784, Bulgaria
Phone: +359 2 811 50 50
Mobile: +359 897 818 030
Email: frontoffice@deltastock.bg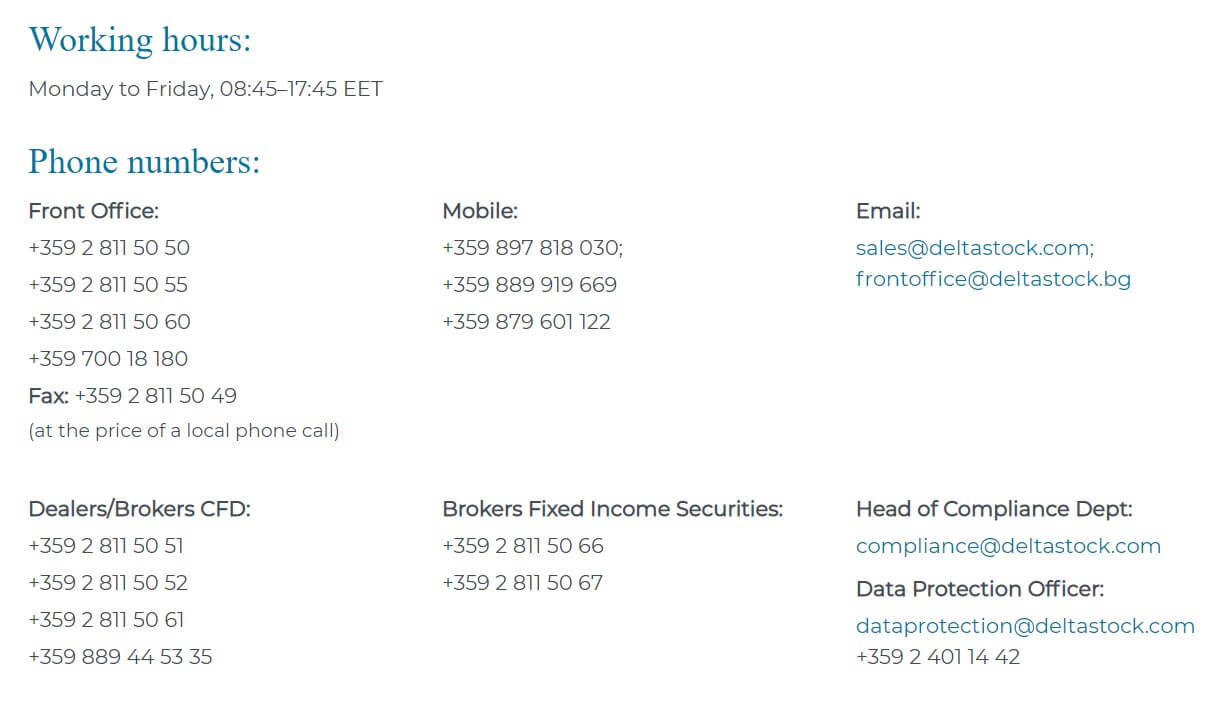 Demo Account
If you want to test out trading with DeltaStock you can do so by opening up a demo account which will enable you to test your trading strategies in real market conditions but without the risks. When opening a demo account, you will have initial equity of 10,000 EUR.
Countries Accepted
Due to recent regulations, DeltaStock does not accept clients coming from the USA.
Conclusion
DeltaSotck is a fully regulated broker located in Bulgaria that has been in the business for over 20 years. Apart from the fact that they are fully licensed and regulated, which should put client's minds at ease when investing their hard-earned money through them, they also have a number of other advantages that we feel can benefit many of their clients including a state of the art proprietary platform that is likened to the popular MT4, a vast array of available assets + detailed information about each of them, a low minimum deposit requirement and a comprehensive educational segment on their website that can help beginner traders as well as professional ones. Contacting this broker is also very easy and their live chat customer support agents are helpful and insightful.
Overall, we feel like this broker can be a great choice if you're just delving into this industry and also if you've been trading for quite a while. We did not cover all the information one can find on their website so head on over and find out for yourselves if DeltaStock is the ideal broker for you.