How to trade the New Zealand Dollar
New Zealand's gross domestic product is largely derived from its international exports of milk powder, butter, cheese, meat, edible offal, and lamb as well as sales of beef, logs, and wood, crude oil, cereals, flour, and starch. It has an extremely efficient agricultural system. Its exports rose 4.8 percent over the previous year to NZD 5544 million in December 2019, after rising 7.3 percent in November. Exports to China rose by +5.8 percent and now running at 18% of its total exports. And while it is not as exposed to the same level as Australia to the Coronavirus crisis in China, it is seen as a perceived risk to the market and where the NZDUSD decreased 0.0025 or 0.39% to 0.6463 on Friday, January 31 from 0.6488 in the previous trading. The New Zealand dollar is one of the six major currencies. So let's take a look at a daily chart of the NZDUSD pair, and try and find some directional bias.
Example A

In example A, we can see that daily price action has been largely contained within the resistance and support lines as noted on the chart, however, when price action failed to reach the resistance line at position A, we see a pullback lower in the pair and where price action has pushed below the support line at position B or 0.64870, and where this push lower coincides with sentiment and risk pertaining to the outbreak of the Coronavirus. It is highly unlikely that this outbreak will be contained any time soon and where no vaccine has yet been made. And therefore, we can presume that price action will be driven down to the 0.640 key level, and if breached, we may see a continuation down to our support line at position C and which should be considered a target.
Example B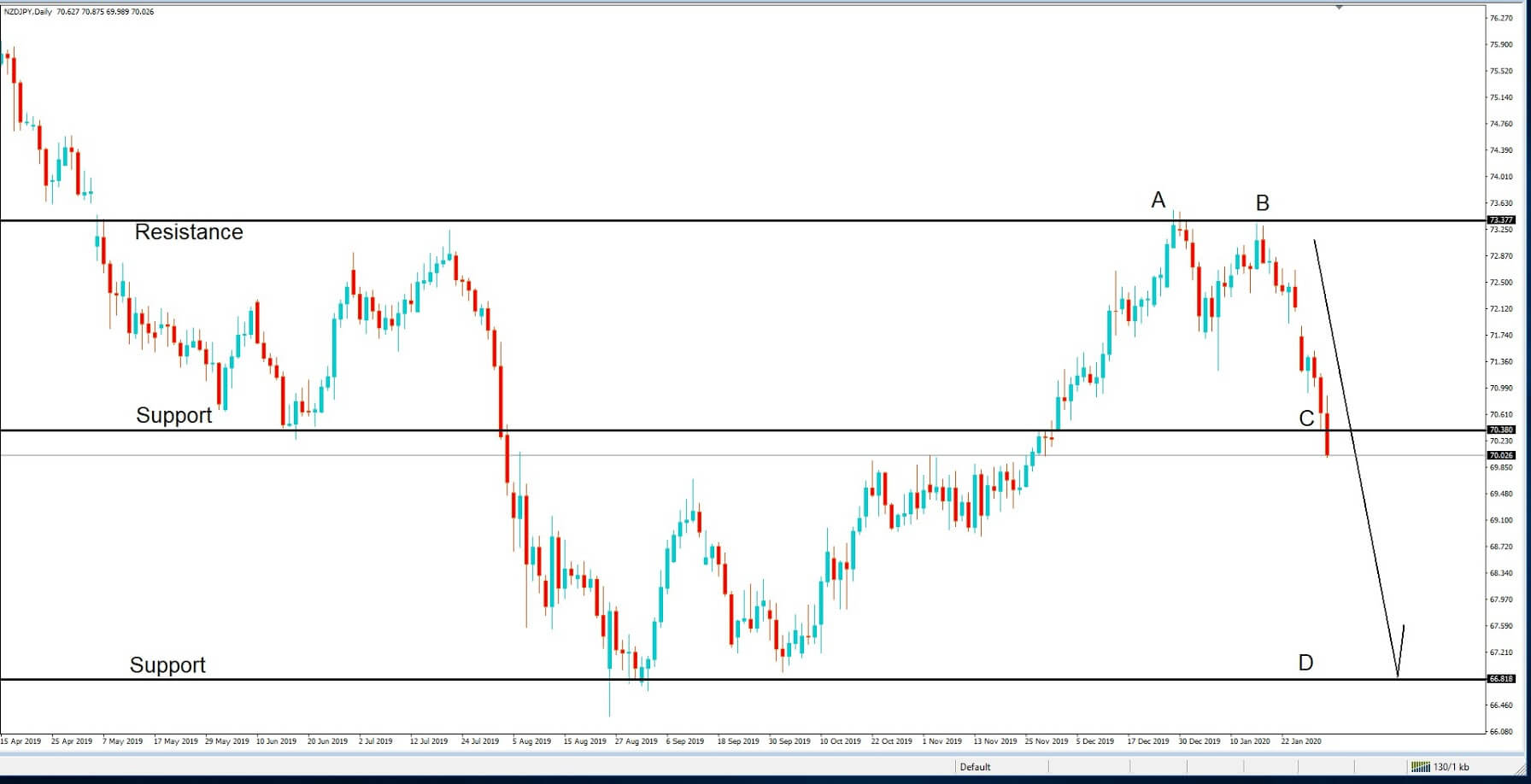 To try and backup our Theory, we now turn our attention to example B, which is a daily chart of the New Zealand dollar against the Japanese yen. We have a similar situation in this chance where price action has been contained within an overall level of resistance and to periods of support that go back to May 2019. we are more interested in the recent activity as defined by position a price action failed to reach the resistance line at 73.40 on two separate occasions. Recently we can see that the New Zealand dollar has fallen against the Japanese yen and breached the support line at position C, and wear this price action coincides with a weakening in the New Zealand dollar due to its dependence on exporting to China coupled with the fact that is being bought because of its safe-haven status. Traders should be looking for opportunities to short this pair on their preferred time frame and where a target should be sought at around position the which is the 66.8 one support line held previously.
Traders should be looking out for New Zealand building permits and employment figures, which will be carefully analyzed for directional bias, but the key event to consider will be how the market responds to the Chinese markets opening after an extended Lunar New Year closure. This coincides with the Wuhan coronavirus outbreak. Trade balance and PMIs are due to be released.