Direct Trading Technologies, or DTT, is a global forex and CFD broker that has added branches in Panama, Lebanon, Kuwait, Qatar, and three separate locations in Saudi Arabia since their launch over 19 years ago. The company is currently under regulation by the Financial Conduct Authority, Vanuatu Financial Services Commission, and the SMV. Confirmed stability and security is definitely an upside to opening an account, although traders will need to know more about the three main account types and trading conditions if considering registration. Keep reading to find those details. 
Account Types
Direct Trading Technologies provides four different live account types: Mini, Standard, VIP, and ECN. Designed for beginners, or those that want to trade smaller lot sizes, the Mini account requires the smallest deposit asked for by the broker, with a disadvantage in the form of higher spreads. The Standard account raises the deposit minimum significantly while rewarding traders with spreads that start at 0.5 pips less than the Mini account. Neither of the aforementioned accounts charges any commission fees. The VIP and ECN accounts seem to be on the other end of the spectrum, with deposit requirements of $10K and up, plus lower spreads. The main difference between these accounts would be the fact that the VIP account offers spreads from 1 pip on majors with no commission costs, while the ECN account charges commissions of $10 per lot + no markup ECN spreads. We've provided a quick overview of each account's details below.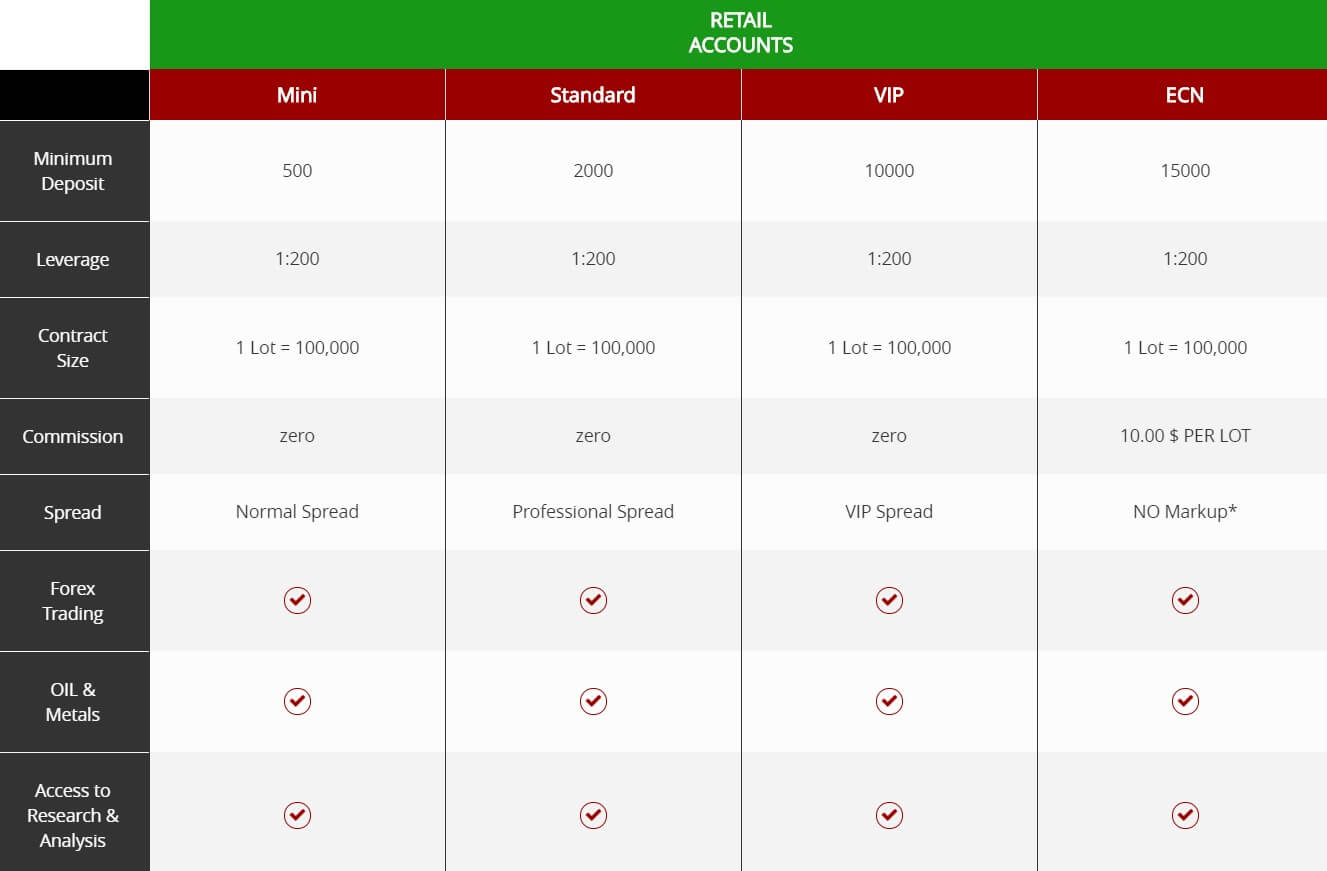 Mini Account
Minimum Deposit: $500 USD

Leverage: Up to 1:200

Spread: From 2 pips on majors

Commission: Zero
Standard Account
Minimum Deposit: $2,000 USD

Leverage: Up to 1:200

Spread: From 1.5 pips on majors

Commission: Zero
VIP Account
Minimum Deposit: $10,000 USD

Leverage: Up to 1:200

Spread: From 1 pip on majors

Commission: Zero
ECN Account
Minimum Deposit: $15,000 USD

Leverage: Up to 1:200

Spread: no markup

Commission: $10.00 per lot
Platform
DTT supports the award-winning MetaTrader 4 platform, the most commonly offered trading platform among forex brokers today. MT4 is preferred for its wide array of features, including one-click trading, Expert Advisors, technical analysis tools, several built-in indicators, and charting tools, etc. Accessibility is no issue, as the program is available for download on PC, Android/Tablet, and iPhone/iPad. Those operating from a Mac computer, or any user that doesn't wish to download the program can also access MT4 through the browser-based WebTrader. Links to all download sources can be found directly on the broker's website. Those that don't have any prior experience with the platform should be able to learn quickly, thanks to the user-friendly interface and simple navigation. Traders can even practice and get more familiarized with MT4 by opening a demo account through the broker.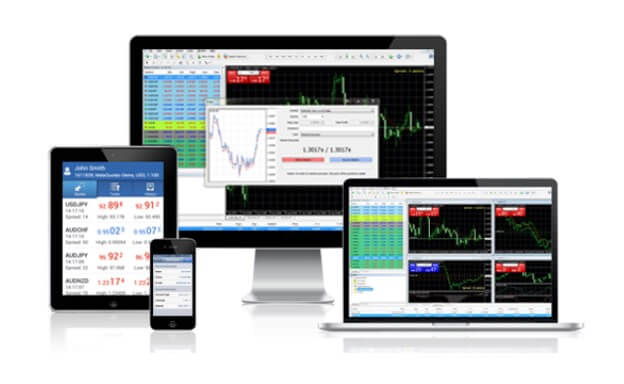 Leverage
Rather than offering different leverage options for different account types, DTT offers the same 1:200 leverage cap on all four of their live accounts. This option is very competitive for the VIP and ECN account types since the majority of brokers do lower the leverage cap on accounts that require larger deposits in order to limit risk. It would be nice if the broker would raise the leverage cap to 1:300 or 1:400 on the Mini account and perhaps the Standard account in order to keep up with some of their other competitors. Still, the leverage option is likely higher than what most traders would be looking for, especially considering that professionals have mentioned a 1:100 leverage is their ideal choice. Note that the company provides conflicting information on their Forex Products page, where a 1:400 leverage is listed. Meanwhile, the account pages list the 1:200 cap for each account. We took information from the accounts page to be more realistic while hoping that traders will be able to access the other advertised option. 
Trade Sizes
When trading cryptocurrencies, the minimum trade size is one micro lot and the maximum is 10 lots. There is a total daily trade volume limit of 10 contracts. DTT further reserves the right to limit the open number of positions a customer may maintain in the account. The broker also reserves the right to change margin call levels at any time and does not specifically list the current levels. Important details, like minimum/maximum trade sizes on accounts and margin call or stop loss levels are missing from the website. Of course, we can assume that micro lots can be traded from the Mini account, while the other accounts would either allow the trading of micro lots, mini lots, or one lot as their lowest trade sizes. 
Trading Costs
Trading costs would be charged through traditional spreads, rollover interest, and commission charges in the case of the ECN account. The ECN account's commission charges are rather high, at $10 per lot, but the advantage would be access to much lower spreads, likely starting from around 0 or 0.2 pips. Spreads on the other accounts can vary more widely and climb to higher amounts in some cases. Rollover interest charges occur when a position is held past the market closing time. Most brokers triple these charges on Wednesdays to account for the upcoming weekend and applicable charges can be viewed from within the MT4 platform.
Under their terms & conditions, DTT mentions that future fees may include statement charges, account transfer charges, telephone order charges, fees imposed by any interbank agency, and/or regulatory fees. The customer may incur fees for the purchase of additional optional purchases. While these fees are not currently charged, the fact that the broker reserves the right to charge random fees with no prior notification -besides adding the condition somewhere on the website where it most likely won't be seen, is a little bit scary. Traders should definitely keep an eye on any emails or changes to the broker's terms frequently.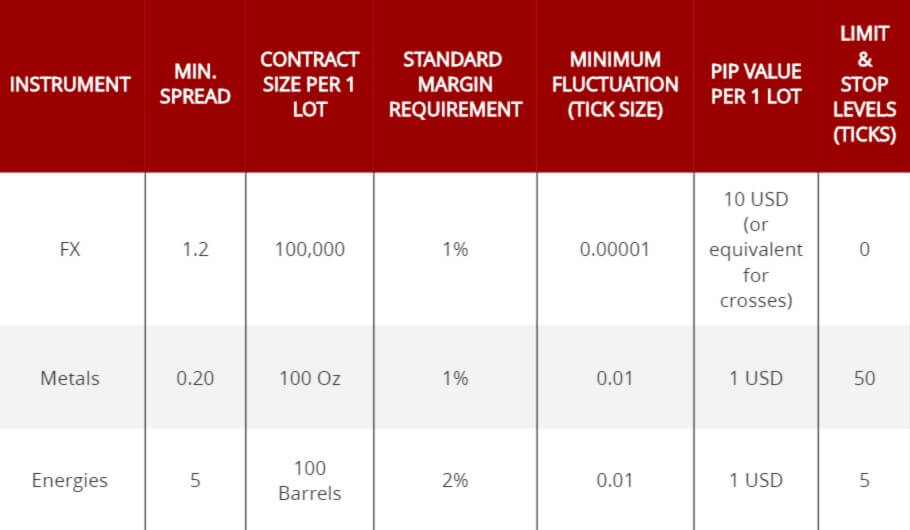 Assets
DTT features 75+ currency pairs, including majors, minors, and exotics, in addition to CFDs on the precious metals Gold, Silver, and energies like Crude Oil and Natural Gas. An extra perk to opening an account would be access to cryptocurrencies Bitcoin, Litecoin, Ethereum, and Ripple. Many brokers don't offer any type of crypto trading; however, traders may be able to find more available instrument categories elsewhere, like stocks, bonds, cash indices, etc. Overall, DTT should have plenty of options for those looking for currency-based trades and crypto traders. 
Spreads
DTT doesn't actually list all of their available products with minimum and maximum spreads, but the website does tell us the minimum and maximum spreads on FX majors for each account. Although we can't say how high spreads go on minors, the given numbers should provide an idea of what to expect. On the Mini account, spreads are listed as normal, meaning that they start at 2 pips and go as high as 3 pips on FX majors. We're used to seeing higher spreads on Mini /Micro/Cent account types, but one would want to consider that spreads can be double the industry average and we're only talking about the starting amount on majors. Standard account spreads are listed as professional, which is a fancy way of saying that they fluctuate from 1.5 to 2.5 pips on majors. One would need to deposit $10K and open a VIP account in order to access decent spreads from 1 to 2 pips on the same instruments. The ECN account advertises ECN spreads with no markup, without explaining in any further detail. Typical ECN spreads can start as low as 0 pips or so. 
Minimum Deposit
The minimum threshold to open an account through this broker is $500. This a rather significant amount and the fact that it would only open a Mini account here is concerning. Traders would be able to open Standard level accounts or possibly better with the same initial deposit elsewhere, likely with access to better spreads. The broker's Standard account raises the minimum deposit requirement to $2,000 and traders would see slightly better spreads as an incentive for opening the account. From there, requirements jump to $10,000 on the VIP account and $15,000 on the ECN account. Overall, DTT is rather expensive, although their VIP account is reasonably priced. The lack of affordability may force some traders to look for another broker, while those that can afford to make a larger initial deposit shouldn't have an issue meeting account requirements.  
Deposit Methods & Costs
Funding options are limited to the popular methods Visa/MasterCard, bank wire transfer, and Skrill. It would be nice to see a wider variety of e-wallets available, although the broker still manages to provide a few different payment options. There is a minimum deposit requirement of $50 when depositing through card or Skrill and a higher $250 requirement for bank wire. The charge for depositing through bank wire transfer is $25 USD, while the methods offer fee-free deposits. Note that third-party deposits are not accepted and the payment method must match the name on the account.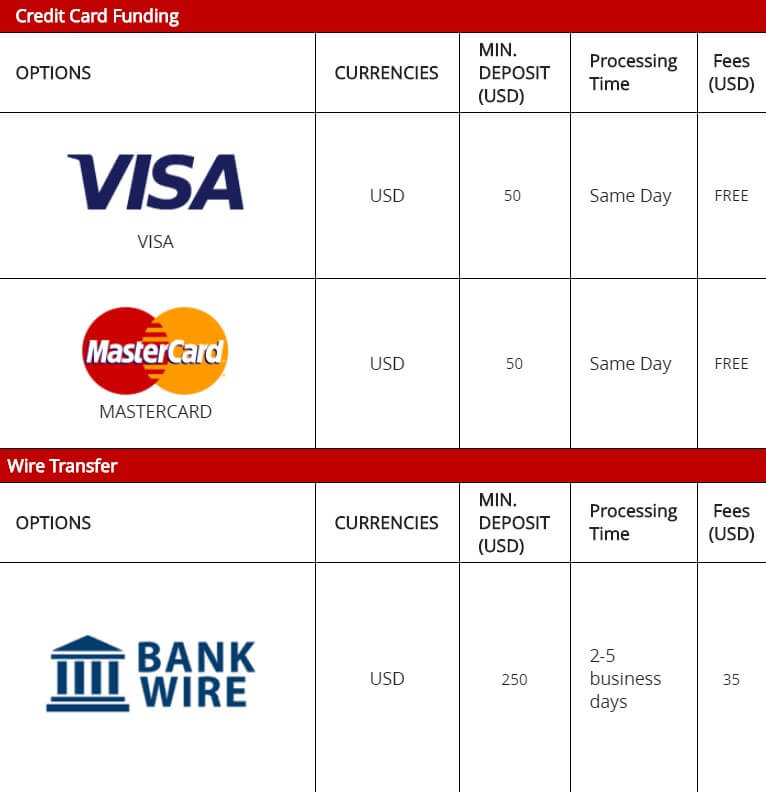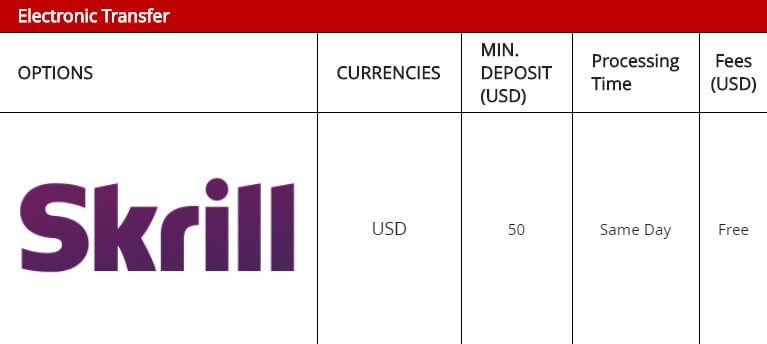 Withdrawal Methods & Costs
Withdrawals can be made back to bank wire transfer, Visa/MasterCard, and Skrill. There is a $50 minimum withdrawal amount on all methods that may cause a headache in the future, as the requirement could leave some traders without the ability to withdraw remaining funds if they cannot meet the condition. The website does not provide us with any information about withdrawal fees, but we assume that the $25 fee charged on wire transfer deposits would also apply to withdrawals through that method. DTT may also charge for incidental banking-related fees such as wire transfers, returned checks, currency conversion, etc.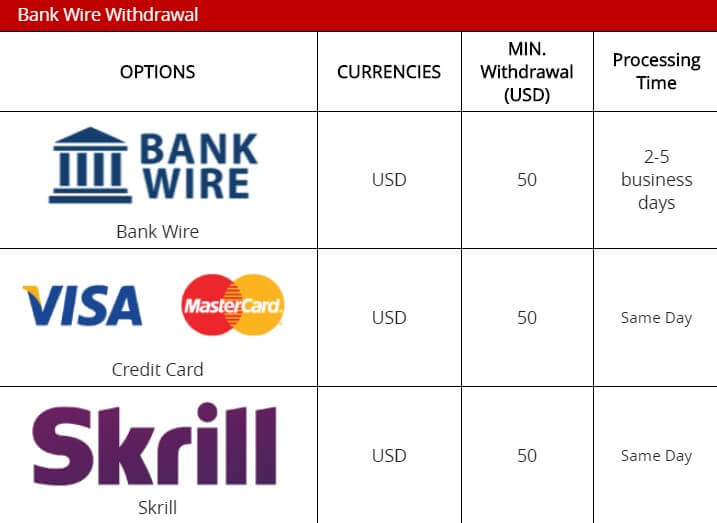 Withdrawal Processing & Wait Time
The website can be conflicting when it comes to processing times. At one point, the website states that all withdrawals are processed within 2 business days. Immediately underneath that statement, the broker lists a same-day processing time for withdrawals through Visa/MasterCard and Skrill. A 2-5 business day processing time is listed for bank wire withdrawals. It's possible that the broker may uphold the same-day processing times, but traders should simply be prepared in case of the long wait. This would also include additional time for the bank or payment method to credit the funds once they have been sent. 
Bonuses & Promotions
Currently, DTT is offering a deposit bonus, Refer A Friend program, and rewards for web affiliates that promote the broker on their website. Details for each promotion have been provided below.
Bonus on Deposit: This promotion applies a bonus of up to 50% to the trading account once a deposit is made. In order to claim the bonus, traders MUST enter the promotional code PBQK50 when funding. The 50% deposit amount is applied to deposits between $1 and $1,000, 25% is applied to deposits between $1,000 and $3,000, 10% is applied to deposits between $3K and $10K, and 5% is applied to deposits between $10K and $100K. 

Refer A Friend: Through this promotion, traders will be rewarded when others mention their name during registration. That person will then be listed in the trader's partner account and commissions can be earned from their trades. 

Web Affiliates: Those that list the broker on their website will earn commission per lot on referred clients and percentage on IBs referred.
Educational & Trading Tools
DTT has made an outstanding effort to provide a number of helpful educational resources and trading tools. Educational information is available through a variety of different mediums, including webinars, seminars, in-office courses, global economic indicators, video courses, FX glossary, and trading strategies. Access to different ways of learning should make it easier for beginners to gather all of the necessary knowledge that would be needed to begin trading effectively. The website also doesn't disappoint when it comes to trading tools, which are divided into trading signals, tools, and research. We've detailed some of the options that can be found within those categories below. 
Correlation/Deal Size/Fibonacci Calculators

Trend Catcher

Economic Calendar

Weekly Video Reviews

Fundamental & Technical Analysis

Live News

Smart Social Trading

Market Review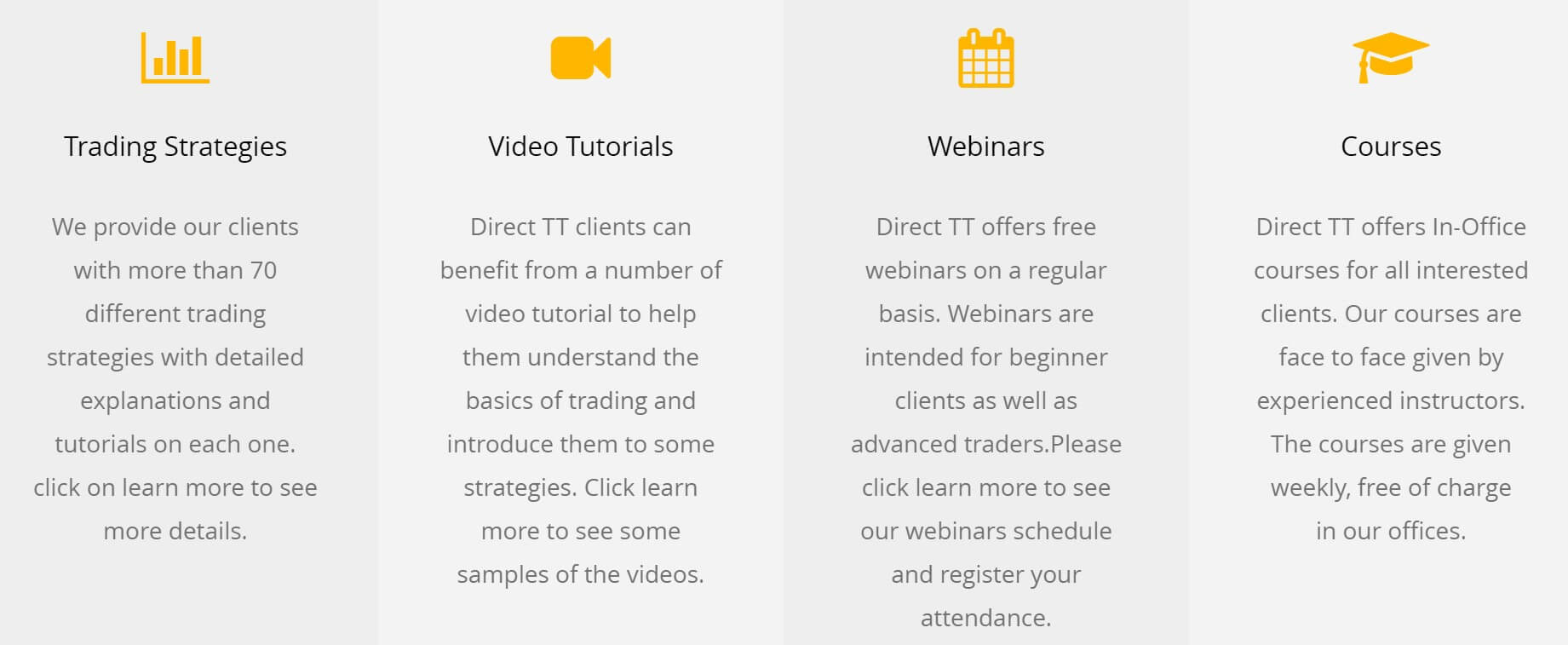 Demo Account
Demo accounts are an invaluable tool for forex traders, allowing them to test out strategies and platforms while trading under the broker's conditions and gaining experience. Fortunately, DTT offers these risk-free accounts to anyone that would like to sign up for one. Registering for a demo account from the website is quick and only requires a few details. Once the form has been completed, traders can begin trading through a simulation account that is exactly the same to the real account environment, including real-time spreads and execution speed. 
Customer Service
The broker's multilingual support team is available 24 hours a day on weekdays. Traders can reach an agent instantly by selecting "LiveChat" at the top of the website and emailing or calling one of the various office locations. Note that a few separate email addresses and phone numbers are provided for separate offices, so be sure to find the one that is closest to your location. The broker also accepts callback requests in the event that one would prefer an agent reach out to them through the phone. While it may be less convenient if you need to speak to support on the weekend, it seems as though DTT has made it fairly simple to reach out to support and receive a quick response. Contact details have been listed below. 
Primary Email Address: sales@globaldtt.com 
Panama Office
Phone: +507 308 6990

Email:

ventas@dttespanol.com

 
Lebanon Office
Phone: +961 71 868912

Email:

management@globaldtt.com

 
Kuwait Office
Saudi Arabia Office
Rlyadh Phone: +966 11 486 8630

Jeddah Phone: +966 12 6069219

Al Khobar Phone: +966 13 8454155
Qatar Office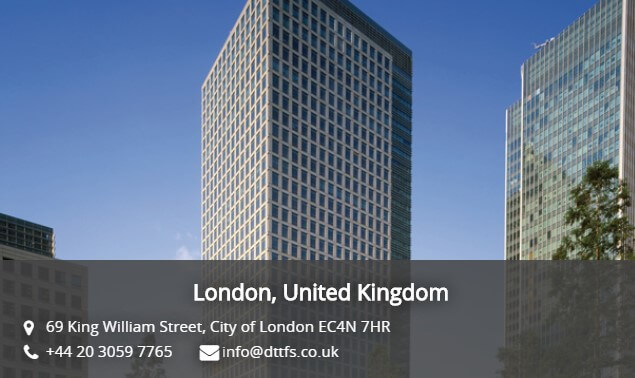 Countries Accepted
The fact that DTT is currently regulated by the FCA, VFSC, and SMV makes it likely that they would have stricter policies about which clients would be able to register for an account. To our surprise, we found the United States, Japan, Iran, and many other commonly restricted countries as choices on the registration list. The website allowed us to register from our US-based office with no issue at all, meaning that all traders will be able to open an account with no restrictions. 
Conclusion
Direct Trading Technologies is an established and regulated FX and CFD broker that offers three live account types with initial deposit requirements from $500 to $15K. The broker's investment portfolio includes an impressive 75+ currency pairs, plus CFDs and cryptocurrencies. DTT is rather expensive for the fact that $500 is required just to open a simple Mini account. The maximum leverage cap is limited to 1:200, even on accounts with fewer funds. Spreads can be high with this broker. A $2,000 deposit only grants access to spreads that start at the industry average and climb even higher. Deposits through card or Skrill are fee-free, but the withdrawal fees are not provided. A $50 withdrawal minimum is also required.
Customer support is available on weekdays and can be contacted instantly through LiveChat or via phone/email. The website is filled with educational resources like video lessons, seminars/webinars, in-person courses, demo accounts, and more, in addition to multiple trading tools and analysis. Currently, there are also a few ongoing promotions, including bonuses, a referral program, and commissions for web affiliates. Traders that can afford one of the better account types will have access to competitive conditions, while those that can't will still be forced to deposit a significant amount of money without many advantages. Your experience with this broker will likely depend entirely on which account type you can afford to open.