Hantec Markets is an online foreign exchange broker that operates under the trading name of Hantec Capital Group Holdings Ltd, with the parent company being regulated in the UK, Australia, Japan, New Zealand, Mauritius, Jordan, and Hong Kong by the FCA, the Financial Services Commission Authority of Mauritius, and the Jordan Securities Commission.
The group of companies responsible for Hantec Markets has actually been in business since 1990, which is a significant amount of time to stay afloat in such a competitive marketplace. The company offers some ideal conditions and provides high leveraged trading opportunities on FX and CFD options. If you're interested in this company, you'll want to read our detailed review to find out everything else you'll need to know.
Account Types
Hantec Markets offers one primary live account type. Without the ability to choose from several more personalized accounts, traders may find options limited or worry that the price model won't be suitable for everyone. Fortunately, the broker offers its live account with no minimum deposit and tight starting spreads from 0.2 pips on EURUSD. From a glance, the account seems versatile enough that it could actually satisfy a range of traders. Take a look at the account's conditions below.
Minimum Deposit: None
Leverage: Up to 1:500
Spread: From 0.2 pips
Commission: On some CFDs
A personal account manager and the ability to trade micro-lots are among some of the account's other featured highlights. Stay with us to find out more need to know information about the account's leverage, tradable instruments, and other facts.
Platform
Traders won't have to worry about having access to a sturdy platform when trading through Hantec Markets, as the broker offers the highly praised MetaTrader 4 platform for download on PC, Mac, and mobile devices or tablets. Those that have Mac computers will find the direct download option a perk after having issues with downloading the program in the past, and this is something that isn't often available due to compatibility issues.
In a nutshell, the platform provides a powerful experience, where traders can execute trades quickly with one-click without worrying about the reliability of their platform. MT4 offers multiple technical indicators, 4 pending order types, 9 timeframes, analytical objects, and more. We could spend all day throwing out facts, but if you've never traded from MT4 before, we recommend opening a free demo account so that you can see for yourself why you'll never need another platform again.
Leverage
Hantec Capital offers an impressive 1:500 leverage as their maximum offer, however, one's trading activity must be reviewed for suitability before the broker will allow one to apply leverage higher than 1:300. Still, this is less restrictive than most offers and some regulators even limit leverage options to around 1:30. Do keep in mind that using higher leverage is risky business, and it isn't advised until one is financially stable and completely confident in their abilities.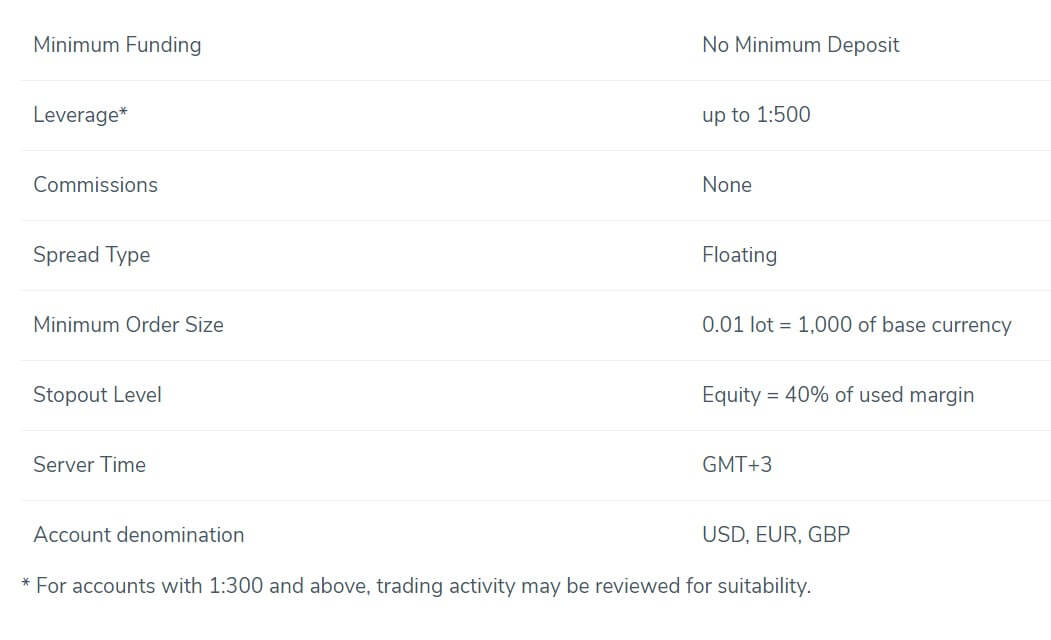 Trade Sizes
The minimum supported trade size is one micro lot (0.01), or one unit of base currency on most instruments, aside from some indices. Maximum trade sizes differ based on the instrument in question. Currency pairs allow for a maximum lot size of 50, and other maximums are listed at 20 lots on metals, 200 lots on indices, and 500 lots on oil products. Stop out occurs as 40% of the used margin level.
Trading Costs
The broker primarily profits from spreads and commissions. The company charges a small fee on top of the market spread and charges commissions for trading some CFDs, which generates their primary source of revenue. These charges are applied along with overnight interest charges known as swaps. Hantec Markets is very transparent about their current swap rates and lists them on the website under "Trading Conditions". Bear in mind that rates are tripled on Wednesdays.
Assets
The following assets are available for trading:
40+ currency pairs, including majors, minors, and exotics
Gold (XAU) & Silver (XAG)
9 indices
Commodities including US and UK Oil
Hantec markets are offering a pretty diverse number of currency pairs, along with the most commonly offered metals and indices. Commodities are more limited; we don't see any agricultural options or even Crude Oil or Natural gas. The company also fails to provide stocks and cryptocurrencies for trading, but whether that is a downside comes down to one's personal trading preference.
Spreads
Spreads start out at an extremely competitive 0.2 pips on the benchmark EURUSD pair. This is exceptionally low considering that the account can be opened for $1, where many others ask for a large deposit to access even mediocre spreads. Of course, this pair usually shows the tightest spreads, so options do climb to 0.5 pips and up to 2 pips on some of the other pairs. Still, the spreads offered by this broker are low, and traders will have a difficult time finding a more competitive offer for the price. Take a look at a few examples below.
EURUSD: 0.2 pips
USDJPY: 0.5 pips
AUDUSD: 0.6 pips
EURAUD: 1 pip
AUDCAD: 1.2 pips

Minimum Deposit
This brokerage offers traders the advantage of opening an account without any specified deposit requirements. Of course, traders would want to deposit enough to sufficiently trade, but this makes it possible to make a small test deposit, start off with an extremely small investment if you're unsure of your abilities, and etc. Elsewhere, costs can add up quickly, where many others ask for $500 or more just to open a simple Micro/Mini/Cent model account.
Deposit Methods & Costs
Accounts can be funded with Visa, Maestro, and UK debit cards, Skrill, Neteller, bank wire transfer, and Union Pay in USD, EUR, GBP, or NGN. There is a $25 minimum funding limit on card deposits and a $100 first-time deposit requirement is applicable when funding through Skrill and Neteller. There are zero fees charged on deposits from the broker's side but it is possible that fees may be charged from the bank's side in the case of wire transfer.
Withdrawal Methods & Costs
The broker's withdrawal policy states that withdrawals will be processed back to the same method that was used to fund the account. Profits are typically withdrawn through bank wire. Note that the broker does not accept requests to withdraw funds to a third party, funds can only be sent to an account that matches the account holder's name on the trading account. Fees are not mentioned or listed on the website. As usual, traders will likely see charges on withdrawals made through bank wire. Those charges can vary based on the bank in question, so it may be worth reaching out to your personal bank to ask about any potential charges.
Withdrawal Processing & Wait Time
Requests received before 15:00 GMT will be processed on that same day, while requests received after the cutoff time will have to wait until the following business day to be processed. Once funds have been sent, it can take 2-5 working days to see the amount reflected in one's account. Overall, the processing time is relatively quick and convenient.
Bonuses & Promotions
While most of the facts surrounding the company have been ideal thus far, we are disappointed to report that this broker doesn't offer any special promotional opportunities. Everybody loves the chance to earn extra cash, through bonuses, rebates, contests, and etc., but this is something that one shouldn't let determine whether they will be trading with a broker or not. Think of these things as extra perks, not a mandatory quality that brokers must have.
Educational & Trading Tools
The broker's website spends a lot of time covering trading basics and teaching about the risks and rewards of trading. The site also provides data on macroeconomics and the strategy and planning that one would need to consider when it planning out their own personal strategy. In addition, traders will find resources sorted by skill level, a financial glossary, and the ability to register for webinars. Trading tools are based on market analysis. Check out some of those options below:
-Market Reports
-Analysis Videos
-Economic & Holiday Calendars

Overall, the website's educational portfolio is superior to many other offers we found. Traders can really benefit from having the information available at their fingertips, and having educational resources available directly on your broker's website can promote learning and provide other benefits.
Demo Account
Along with many others, Hantec Markets provides free demo accounts to everyone that would like to use one. These simulation accounts allow traders to practice trading in a variety of ways with zero financial risk. If you're on the fence about opening a live account because you've never traded before, then these accounts can help to make the decision as to whether you're prepared to open a live account, or if you'll need some more practice. And don't let the registration process dissuade you – a demo account can be opened quickly by following these steps:
-Click on "Open Demo", located on the top right corner of the website
-Fill in the necessary details – name, email, phone, and country
-Click the "Open a free demo" button and get started trading!
Note that each account lasts for 30 days, under the pretense that the company likely expects potential clients to move on to a live account within that timeframe. However, one could simply open another free demo account if the timing isn't right, or reach out to support to request an extension.
Customer Service
Traders can reach out to a customer support agent at any hour on weekdays by starting an instant chat, sending an email through the form on the website's contact page, or reaching out to one of the company's listed phone numbers. Starting the chat process is fairly quick, the chat window will ask for a name and email address, before asking traders to select their country from the options Africa, China, South Asia, South America, Thailand, and the UK & Europe. Support isn't always online at each location, at the time we checked, support was active in China and the UK. Hantec prides itself on the fact that they connect users to one department for all of their inquiries and even technical problems, instead of bouncing one around like many other brokers have been known to do.

Countries Accepted
Being that Hantec Markets is a regulated London-based brokerage, it isn't exactly surprising to find that a few countries have found themselves on the broker's blacklist. If you're located in the USA, Iran, or North Korea, then you won't be able to open an account or trade through this company.
Conclusion
Hantec Markets offers a straightforward approach to trading on the forex market. From one live account, traders can trade more than 40 currency pairs and CFDs with leverage of 1:300 or higher, with benefits in the form of low starting spreads from 0.2 pips, no minimum entry deposit, a personal account manager, and a number of educational resources at their fingertips. Potential downsides include a lack of promotional opportunities and withdrawal fees are not outlined clearly. Our final opinion is that Hantec Markets is a trustworthy option that offers some great advantages, making the company worthy of a place on anyone's list of considerable brokerages.