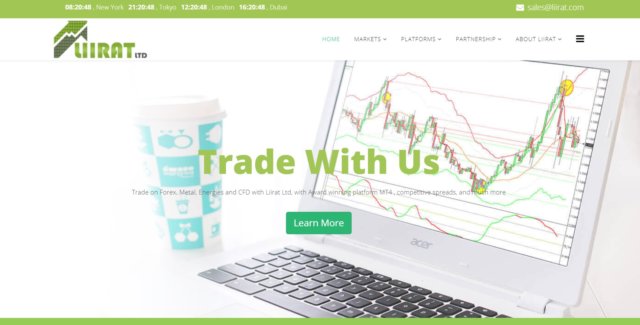 Liirat is a foreign change broker that is being very secretive, we say this as they do not give out any information about themselves, such as their country of origin or their current location or and regulations. The only information they do provide us is a little about their culture and the fact that they wish to focus on their integrity, global diversity, a dynamic work environment, to offer industry-leading customer services, innovation, learning and improvement and to provide a profitable environment.
Account Types
There doesn't seem to be a selection of accounts, at least they are not clearly indicated on the site, so as we go through the review we will use each section to look closely at the services being offered. If it becomes apparent that there may be more than one account type then we will specify any differences within the review section. If there does not seem to be any differences then there may just be the one account type available to use.
Platforms
Liirat offers MetaTrader 4 as its go-to trading platform. It is an extremely popular trading platform that hosts more than 1,000,000 users trading activities. It can be used from anywhere in the world as it comes as a desktop download, mobile application and web trader. The main features stated by Liirat is that the platform comes with 3 execution modes, 2 market orders, 4 pending orders, 2 stop orders, and trailing stops. You can also perform analysis within the platform or use automated trading with the thousands of compatible indicators and expert advisors.
Leverage
The leverages available at Liirat range from 1:1 up to 1:200 as its maximum. You can select the leverage that you want when you first open up an account, we do not know if you can change the account on an already open account.
Trade Sizes
We can see that the trade sizes start from 0.01 lots, however, we do not have any indications as to what the maximum trade size is or how many trades you can have open at any one time.

Trading Costs
There is a small mention of commissions within the different sections of assets. However, no concrete evidence that there are any charged when trading. Due to this, we cannot say what the overall trading costs are. We do know that swap charges are present which is an interest fee charged when holding trades overnight. They can be both positive or negative and you can view them from within the MetaTrader 4 trading platform.
Assets
There isn't a full breakdown of the available assets, they have specified that there are a few different categories but not the assets and instruments within them. There are forex currency pairs, the site states that there are over 40 currency pairs which include major pairs, minor pairs, and exotic pairs, there are no actual examples of them though. The next set is indices which cover the usual sets as well as futures, Liirit currency offers 6 different forex futures, we do not know how many indices are available.

Next are Bullions, also known as metals, there is Gold and Silver available, we do not know if nay more exotic metals are available to trade. The final category is energies, there are no examples given but we would expect the usual suspects of Crude Oil and Natural Gas to be available, however, we cannot say for sure.
Spreads
This is another aspect of the trading that we do not know, having no information on the spreads as well as the commissions means we do not know what the overall trading costs of trading with Liirat are which is quite an important aspect for prospective clients to know. As there is no information at all we also do not know if the spreads are fixed or variable.
Minimum Deposit
We don't actually know what the minimum deposit requirement is in order to open up an account, or what the overall minimum deposit amount is. This information is normally provided as you do not want to sing up only to find out you do not have enough for the minimum deposit.
Deposit Methods & Costs
There is absolutely no information on any funding methods, no methods mentioned, no fees mentions and no deposit terms are present on the site. This isn't building a good first impression for those wanting to trade, as many traders have their own preferred methods to deposit with, so not knowing if it available can be offputting.
Withdrawal Methods & Costs
As there was no information on deposits, there also is not any for withdrawals, no methods, terms or fees ar mentioned which again, is quite concerning. The minimum information expected to know which methods are available to sue, as it is vital to know how you can get your money back out of the broker.
Withdrawal Processing & Wait Time
We also do not have any concrete information on withdrawal times, we would hope that any withdrawal requests would be fully processed within 7 days of the request being made. However, this will depend entirely on Liirat and the available methods.
Bonuses & Promotions
There is no information on the site indicating any potential bonuses or promotions, so it does not look like there are any active. There is also no evidence of there being any available in the past. You could always contact the customer service team to see if there are any coming up though.
Educational & Trading Tools
There does not seem to be an education side of the site, this includes any tools that may be helpful to your trading. This is a shame as many modern brokers are looking to provide their clients with education or tools to help improve their trading, so it would be good to see Liirat do something similar for theirs.
Customer Service
The one thing that most brokers do is provide you with a contact us page, there isn't one available on the Liirat site. Instead, there is just a single email address at the top of the page. This is a little concerning, as it is vital to be able to get in contact with the broker that is holding on to your money and trades, so not having more information on their support or more ways to get in touch is a big warning sign to us.

Demo Account
There is no way to create a demo account from on the Liirat site, there also isn't any mention of them on the site. You are able to download MetaTrader 4 which will allow you to open up a demo account within it, however, the trading conditions won't give you a good indication of what you would find on Liirat. It's a real shame to not see demo accounts available as they allow you to test out new strategies or the broker's trading conditions without having to risk any of your own capital, so this is something that Liirat should look at adding to their site.
Countries Accepted
This is another bit of information that is not available if you are thinking of signing up. We would highly recommend getting in touch with the customer service team just to ensure that you are eligible for an account before you try opening on up.
Conclusion
There is a lot of information missing from the Liirat site, and a lot of it we would consider vital information. We were first hit with a lack of information surrounding the accounts, we still do not know if there is more than one account available. The next was thew trading conditions, we know that the leverage can be between 1:1 and 1:200, but we do not know what the costs of trading are. We don't know if there are any added commissions or what the spreads are, not even if the speeds re variable for fixed. Along with that is a lack of information about what can actually be traded, we know the four categories but not what is tradable within them.
Most alarming though is the complete lack of information on the deposit and withdrawal methods, this is the most vital information for a service that will be dealing with our money,m no knowing how to get it in or out or how much it will cost us is a real put off. The final bit is the customer service team, just an email sat at the top of the screen is not acceptable in this age of communication, there need to be more methods to get in touch.
With all of that missing information, it is impossible for us to recommend Liirat as a broker to use, instead, we would recommend checking out some of the other reviews to hopefully find the broke that is right for you.