Capitalfx Club, or CFXC, is a product of the company PRO Capital (est. 2013) that is based in the United Kingdom. There is some conflicting information on the web that suggests the broker is actually part of Game Capital Ads Limited, a company that is unregulated and blacklisted. Traders will definitely want to factor in the broker's shady background before making an investment. A diverse instrument portfolio is offered by the broker, along with decent spreads on their most affordable account type. We've compiled a more detailed review to assist those that may be considering opening an account despite the broker's less than solid background history. 
Account Types
CFXC features four live account types; Standard, Classic, Gold, and Premium. Islamic accounts are also available upon request. The Standard and Classic accounts are on the more affordable end, while the other two accounts ask for deposits of $20,000+. There is no need to compare leverages based on the account type, as the broker offers the same 1:200 cap to all traders. Standard account holders are provided with the most basic experience – those traders cannot access basic online chat, cannot trade certain instruments, AutoChartist, or signals. Gold and Premium accounts offer special features, including a VIP manager, direct individual telephone line, signals, etc. The Premium account also offers special promotions and personal stock market reports. As far as the actual trading conditions, such as spreads and commission costs, the broker is fairly silent.
We do know that spreads are from 1.6 pips on the Standard account, but there isn't any information listed for the other accounts anywhere on the website. It almost seems as though CFXC is trying to take attention away from the lack of important information by mentioning extra perks that come with their more expensive accounts. The broker reserves the right to perform credit checks, bank references, employer checks, and other checks whenever applicable and they may accept, reject, or modify the terms of one's trading account based on the data they receive. This could possibly affect the maximum leverage one has access to or other conditions. We've provided a quick overview of each account type below. 
Standard Account
Minimum Deposit: $250 USD

Leverage: Up to 1:200

Spread: From 1.6 pips

Commission: NA
Classic Account
Minimum Deposit: $2,500 USD

Leverage: Up to 1:200

Spread: NA

Commission: NA
Gold Account
Minimum Deposit: $20,000 USD

Leverage: Up to 1:200

Spread: NA

Commission: NA
Premium Account
Minimum Deposit: $50,000 USD

Leverage: Up to 1:200

Spread: NA

Commission: NA

Platform
The award-winning MetaTrader 4 platform is the only supported trading platform available through Capitalfx Club. MT4 comes in multiple languages and is widely accessible on PC, iOS, Android, tablets, and through the online version, known as WebTrader. The platform basically serves as an all-in-one trading solution, with Expert Advisors, analysis objects, charting tools, and several other features built-into the program. If you ask professional investors which trading platform they prefer, 9/10 of them will likely tell you that MT4 is the best platform on the market. Having access to a popular trading platform option like MT4 could certainly be considered an advantage; however, the platform is widely available through other brokers as well. 
Leverage
CFXC offers a maximum leverage cap of up to 1:200. The option is available for both retail and personal investors, and all account holders will have access to this option regardless of the chosen account type or the account's equity. If you compare this broker's offer with others, you may find higher leverages of up to 1:400 and higher for accounts that are similar to CFXC's Standard and Classic accounts. On the other hand, having access to an option as high as 1:200 is extremely flexible for Gold and Premium account holders, since many brokers would set much more restrictive limitations on those types of clients. Overall, the broker's leverage caps should be sufficient for all types of traders on each account. 
Trade Sizes
The broker's website doesn't provide us with any information about trade sizes. Considering that there is no Micro/Mini/Cent account type available, it is possible that the broker wouldn't support the trading of micro-lots. Of course, some brokers do allow micro-lots on various account types. We still have several questions about trading conditions, and support was not very helpful considering that we did not open one of their expensive accounts that grant access to chat or phone support lines. 
Trading Costs
The costs of placing a trade through this broker aren't exactly clear. The website does tell us that spreads start from 1.6 pips on the Standard account, but isn't clear whether the same spreads are offered on each account type. The website also fails to mention commission charges, although that could suggest that those charges aren't applicable. Unless one is trading from a specially requested Islamic account, then overnight interest charges would be applied anytime a specific position is held past market closing time. Swap rates are not listed on the website and can only be accessed through the MT4 platform. It is difficult for us to recommend traders make a large deposit with a broker that fails to provide a basic overview of their trading costs. Usually, brokers tend to hide these facts when they are not ideal, although the broker does advertise decent spreads. 
Assets
Capitalfx Club's investment portfolio includes multiple currency pairs, plus CFD's on indices, commodities, stocks, and even cryptocurrencies. In total, there are 66 FX pairs to choose from, which is impressive considering that some competitors only offer half of that. Available commodities include energies like Brent Oil, Natural Gas, and WTI Oil, plus precious metal options Gold, Silver, Palladium, and Platinum. We counted 11 indices, including NASDAQ, DAX, and more. If you're looking to trade stocks, you'll find multiple American options available for investment. The broker is also offering multiple cryptocurrencies, which include some of the most popular options like Bitcoin, Dash, Ethereum, and Litecoin, alongside some lesser-known options like NEO, Zcash, IOTA, and more. All of the available instruments are listed on the broker's homepage under "Financial News".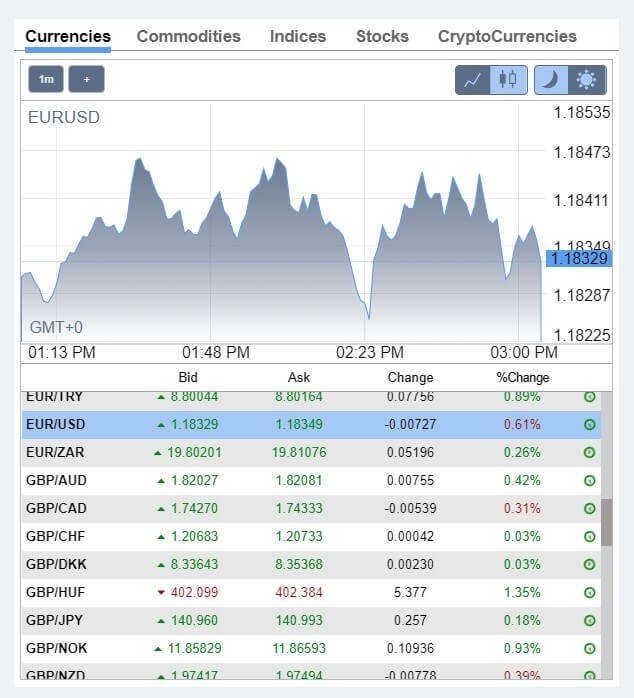 Spreads
The only account that gives us an idea of the associated spreads would be the Standard account, which comes with decent starting spreads from 1.6 pips. Assuming that CFXC follows the same structure as other brokers offering multiple account types, then we would assume that spreads are tighter on the accounts that require larger deposits; however, the broker isn't very transparent about that, and it doesn't make much sense for one to make a $50,000 deposit without being certain that they would gain access to competitive conditions. 
Minimum Deposit
It costs at least $250 to open an account and the most expensive account requires a $50,000 deposit. The $250 minimum deposit on the Standard account doesn't provide traders with many options. Those account holders wouldn't even have access to online chat support or CFD's on indices. Traders won't have access to much more if they decide to open a Classic account, which requires a $2,500 deposit. The Gold and Premium accounts come with a couple of listed advantages in the form of VIP managers and basic access to support, but the broker asks for a steep $20,000 deposit on the Gold account and $50,000 on the Premium account. CFXC seems to focus on those that can make larger deposits, although the broker doesn't even paint a clear picture of what advantages those clients would receive when it comes to trading costs. 
Deposit Methods & Costs
Accounts can be funded by debit/credit card (Visa/MasterCard/Maestro), bank wire transfer, Neteller, and AstroPay. There is a 250 USD minimum deposit requirement for each deposit that is made by card and a $10,000 USD maximum deposit limit on card deposits. Each time a new method is used for repayment, the broker requires the method to be verified and documents should be up-to-date to avoid slowing down the process. It's free to make a deposit using any payment method. 

Withdrawal Methods & Costs
Withdrawals can be made through bank card, bank wire, Neteller, and AstroPay. Funds that were deposited by card can be withdrawn back to the original card or to the client's bank account. Note that there is a $100 minimum withdrawal requirement for each separate withdrawal request. The requirement is steep and could be frustrating later down the road since traders could wind up with a larger amount of funds stuck in their trading account. This could essentially leave $90 or more in the account with no way for the trader to withdraw it without depositing more funds. The website isn't transparent about any associated fees, aside from mentioning that some banks may charge an additional fee for each transfer. 
Withdrawal Processing & Wait Time
The financial team processes withdrawals on Monday and Tuesday, between 09:00 – 16:00, and on Fridays from 09:00 – 13:00. Note that the complete lack of processing on Wednesdays and Thursdays, alongside the half working day on Friday will result in longer wait times than average. If a request is submitted after business hours, the team won't begin to process the request until the following business day. If you submit a request on a Tuesday evening, this means that the broker won't even begin to look at your request until Friday – and then you'll be waiting through the weekend as well due to CFXC's 48 business hour processing time. 
Bonuses & Promotions
Capitalfx gives a 30% bonus on the first deposit that is made. The time period is limited and some conditions do apply. Traders must buy or sell at least 3.3 lots in real money mode for each unit of $10 granted before submitting any withdrawal requests. Rewards and one-time trading bonuses have time limits and their conditions can change at any time. In order to withdraw any of those funds, traders will need to fulfill a minimum trading volume that is 25 times for every $1 reward. If a withdrawal is requested before those conditions are fulfilled, then the bonus amount will be canceled.
Educational & Trading Tools
The website's homepage features a graph related to financial news that is updated often with current prices on instruments. Daily news is also featured alongside the financial graph, but the last time that a news article was uploaded was in October of 2019. Aside from those very limited options, there simply isn't anything offered education-wise on the website. Traders will find a host of tools within the broker's MT4 platform, although it would be helpful for the website to feature some calculators, an economic calendar, VPS, or other tools that aren't actually built-into the trading platform. 
Demo Account
Unlike the majority of their peers, CFXC does not provide risk-free demo accounts on its website. This puts traders at a disadvantage due to all of the possibilities that are made available through demo accounts – beginners can practice without risking funds, traders can test out different strategies and leverage, potential clients can try trading under the broker's conditions to see if they'd like to open an account, and the list goes on. Most brokers manage to provide these simulation accounts as the bare-minimum educational tool, so it is disappointing to see that this option is missing. 
Customer Service
The broker limits the support options one would have access to based on which account type they can afford. In fact, traders that can't afford a $2,500 deposit won't even be able to access basic online chat and the broker is only willing to provide a direct telephone line to Gold and Platinum account members. These aren't features that one should have to pay to unlock, yet CFXC lists these features as though they are advantages. The broker is only willing to provide email and Skype addresses for those traders that don't have the privilege of using online chat or calling by phone. Note that the broker does provide icons for Facebook, Twitter, Google+, and YouTube at the bottom of the website, but there are no links to direct traders to those social media accounts.
Overall, we aren't satisfied with the lack of listed support hours and the qualifications that are required to access basic contact methods. If there is a technical issue or emergency, then all traders should have the same priority and be able to reach an agent instantly if the broker is able to provide that option. CFXC makes it seem as though those that don't have a lot of funds aren't as important and don't deserve a quick response. Listed contact details have been provided below. Those that open a qualifying account would probably receive the broker's direct phone number once the account is approved. 

Countries Accepted
The broker's lack of regulatory oversight provides one advantage when it comes to clients that can be accepted. This makes it possible for traders from the United States, Japan, and other commonly restricted countries to open an account with no issue. It can be difficult to find other brokers that are willing to accept clients from these locations, so those traders may want to add CFXC to their list due to the fact that options will be much more limited overall. 
Conclusion
Capitalfx Club is an online foreign exchange broker with an investment portfolio that includes multiple options, including 66 FX pairs, CFD's, and even several cryptocurrencies. It costs $250 to open a basic Standard account. The broker's 1:200 leverage cap is sufficient and is especially generous to Gold and Exclusive account holders. The website can be vague, to say the least. We don't know anything about the spreads on multiple account types, whether commissions are charged, what trade sizes are supported, etc. We do know that spreads start from 1.6 pips on the least expensive account, which is decent. Withdrawing funds is a hassle due to the broker's $100 withdrawal minimum and the fact that withdrawals aren't even processed on Wednesdays or Thursdays, plus support is only in the office for half-days on Fridays.
The broker places more importance on higher-level members. Even basic customer service options like chat and phone are only available to certain account holders. CFXC is offering a generous 30% bonus on initial deposits for a limited time. Trading tools, educational resources, and even demo accounts are basically absent from the broker's website. There are some advantages, but one would need to look past the vague outline of trading costs, withdrawal burdens, and the fact that the broker believes their wealthier clients are more worthy of customer support's attention.