Box Investing is a self-described expert brokerage company that offers leveraged trading on FX and CFD options within the international trading market. The broker doesn't spend much more time talking about themselves, so we can't say whether the company is owned by an individual trader or otherwise. From their location in the Marshall Islands, Box Investing remains unregulated – which is a cause for some concern. If you're looking for a forex broker, and you've come across our review, we would highly suggest taking a more in-depth look that this company before opening an account. 
Account Types
Box Investing offers five separate live accounts, including a Starter account, Classic (Standard), Premium, Ultra, and the best of the best, VIP. Following a tier-based system, the broker sorts one's account level based on the initial deposit, starting with a $500 entry fee on the Start account. While the broker doesn't necessarily offer an Islamic account, the VIP account is swap-free and would serve as an alternative for traders that can afford the deposit. As account level increases, perks are unlocked, which come in the form of higher bonus percentages, access to more resources, expedited withdrawals, and etc. The website spends a lot of time talking about those perks, without making much of an effort to describe trading conditions on each account level. We've provided an overview of the available information below. 
Start Account
Minimum Deposit: $500 USD

Leverage: Up to 1:500

Spread: See "Spreads"

Commission: NA
Classic Account
Minimum Deposit: $1,000 USD

Leverage: Up to 1:500

Spread: See "Spreads"

Commission: NA
Premium Account
Minimum Deposit: $5,000 USD

Leverage: Up to 1:500

Spread: See "Spreads"

Commission: NA
Ultra Account
Minimum Deposit: $20,000 USD

Leverage: Up to 1:500

Spread: See "Spreads"

Commission: NA
 VIP Account
Minimum Deposit: $50,000 USD

Leverage: Up to 1:500

Spread: From 0.6 pips

Commission: NA
Platform
Traders will be limited to the web-based Sirix trading platform when opening an account through Box Investing. Best described as a social platform that supports EAs and copy trading, Sirix manages to offer some of the same features available through other established platforms, including one-click trading, advanced indicators, charting tools, and a learnable interface that was designed with beginners in mind. The absence of either one of the most popular platforms, MetaTrader 4 and 5, could be a major inconvenience to traders that are used to trading on either option. The fact that Sirix can only be accessed through the browser is another potential downside, there are no app-based mobile downloads or PC downloads of the program.
Leverage
On their FAQ page, Box Investing suggests a leverage of up to 1:500 is available, seemingly on all accounts. If this is true, then the broker is certainly offering a sufficient cap that should provide enough room for choice, even for professionals. Keep in mind that using a leverage as high as the one listed can be dangerous, especially for traders that haven't been trading long enough to grasp the overall concept, or who aren't prepared to deal with large losses. Also note that the broker's website can be less than clear on some of their terms, meaning that the 1:500 limit may come with some restrictions based on account equity or other factors. 
Trade Sizes
The website is generally vague regarding all things trade-wise, but we do know that a minimum lot size of 0.01 lot is available on the Starter account, and stop out occurs at 50% on all accounts. Note that reaching the stop out level would result in automatic closure of all open positions and it is best to avoid reaching that level at all costs. 
Trading Costs
On their account types page, the broker lists each account tier, provides funding ranges for the accounts, and spends a great deal of time detailing the extra perks that those clients would receive, including account managers, bonus percentages, etc. Unfortunately, Box Investing follows a similar pattern of many other brokerages that offer a tier-based system – they don't spend a lot of time talking about the actual costs of opening the account. It wouldn't make much sense to make a $50K deposit in order to access the same spreads one could get with a $500 deposit, but it seems as though this is what the broker is actually bringing to the table. With no information about commission costs, we can't even say whether account levels come with different charges, or if there is one standard charge across the board. We do know that standard swap fees are an applicable charge that is credited or debited at a triple rate on Wednesdays for positions that have been held past the daily market closing time. One of the VIP account's perks is zero swap fees, which means that the account could also serve as an Islamic account if need be. 
Assets
Box Investing offers the following assets for trading on the MT4 platform:
49 currency pairs, consisting of majors, minors, and exotics like the Mexican Peso, Turkish Lira, and several more.

Spot metals Gold & Silver

Bitcoin (BTCUSD)

15 futures, including Coffee, Sugar, Copper, Natural Gas, Brent Crude Oil, NASDAQ, and others

US, Europe, and Asian Shares

Raw metals like Aluminum, Lead, Nickel, Palladium, Platinum, Tin, Zinc, etc.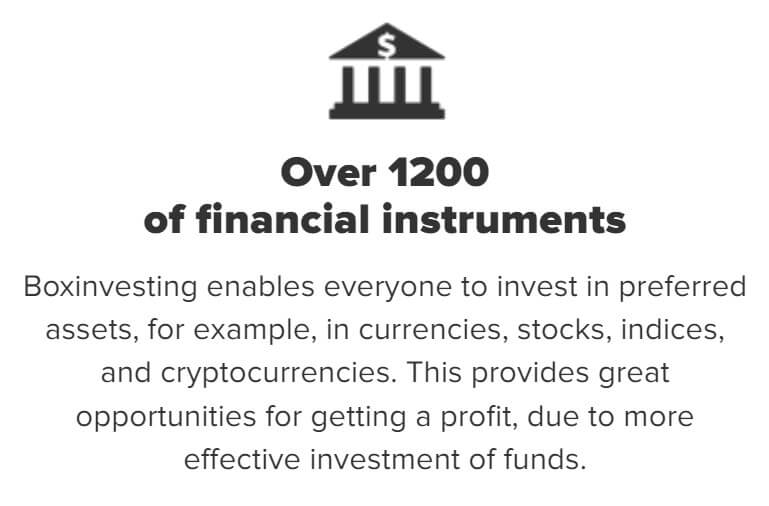 Traders should note that the broker is offering a diverse range of choices, especially when it comes to exotic currency pairs, metals that aren't as easily accessible elsewhere, and the cryptocurrency Bitcoin. This would certainly be one of the broker's highlights. Another note – traders located in the UK will not be able to trade CFDs. 
Spreads
Box Investing offers fixed and variable spreads. While fixed spreads tend to be slightly higher in general, we would recommend avoiding those types of spreads altogether when trading through this broker, as options start from 30 pips. On the bright side, sticking with variable-type spreads will result in lower starting spreads from 0.6 pips. The website doesn't explain whether this is the starting amount of all account types, so we can't say for sure whether lower account tiers are provided with the better spreads. Once again, the broker leaves us with more questions than answers when trying to determine the actual cost of placing a trade from a certain account type. 
Minimum Deposit
In order to get started trading from the lowest account tier, one would need to make a deposit of at least $500 USD. The amount is steep, considering that others offer accounts for $100 or less, while other brokers have eliminated deposit minimums altogether. It's also disappointing that the higher deposit only offers access to the most basic account level and services, while the same amount might grant one access to a better account type elsewhere. The amount of one's deposit actually determines which account status they will be placed under. Take a look at each account's funding range below:
Start Account: $500 – $999 USD

Classic Account: $1,000 – $4,999 USD

Premium Account: $5,000 USD – $19,999 USD

Ultra Account: $20,000 – $50,000 USD

VIP Account: $50,000 USD and above
Accounts can be funded in USD/EUR/GBP. 
Deposit Methods & Costs
Funding options are limited to bank wire transfer and credit/debit cards, Box Investing doesn't offer additional e-wallets or accept crypto-based deposits. The broker mentions that fees may be applicable on credit card deposits and traders must accept the slight variations that will cause a difference between the amount of funds sent and credited. However, we aren't provided with any information about how "slight" those fees could be, so traders should be prepared to see those charges. 
Withdrawal Methods & Costs
Following AML rules & regulations, withdrawals must be processed back to the same bank account or card that was used to make the original deposit and in the same currency. An amount up to the deposited amount can be withdrawn back to the card and any profits must be withdrawn through bank wire. There is a minimum withdrawal amount of 30 currency units by card and 100 dollars through bank wire.  The first withdrawal of the month is fee-free. If a second withdrawal is made during the next 30-day period, a $30 commission fee will apply for processing and handling. Fees also may apply on the bank's side, especially if the institution used an intermediary bank to send or receive the funds. 
Withdrawal Processing & Wait Time
The broker explains that the withdrawal process typically takes from 3-5 business days, but the time can be extended due to enforced security measures. The withdrawal process is standard for lower-tier accounts and accelerated from Premium status-level accounts and up. Once funds are sent, it usually takes around 5 business days to see the amount reflected in the bank account. The broker clearly mentions that they are not bound by any certain timeframe, so support will likely be less than helpful should one reach out due to a delay in receiving funds. 
Bonuses & Promotions
The broker offers a bonus to all account holders, instead of only offering bonuses to those that have made larger deposits, unlike many of their competitors. However, Box Investing providers higher status account holders with a perk in the form of higher bonus percentages, all of which can be viewed below:
Start Account: 30%

Classic Account: 50%

Premium Account: 70%

Ultra Account: 85%

VIP Account: 100%
The broker also offers risk-free trades on each account, starting at 2 trades on the Starter account and gradually working up to a maximum of 10 trades on the Ultra account and 20 trades on the VIP account.
Educational & Trading Tools
Box Investing offers multiple educational resources – however, the better offers are saved for accounts of higher tier levels. No surprise there. The following resources are available for everyone:
Trading Signals

Economic Calendar

Real-time Markets Overview & Summary

Daily News

Financial Analytics

Online Tour of the Website

Trading Calculators
Now, let's take a look at some of the more personalized education options that aren't available to everyone. From the Classic account level and up, traders will receive help from a personal broker along with free online training courses on Skype. Premium, Ultra, and VIP accounts receive portfolio management by the broker's provided professional trader. 
Demo Account
Traders will find the option to open a "Free Trial Account" under the "Get Started" section of the website. The website describes some of the purposes of opening one of these risk-free accounts as having the ability to learn the functionality of the trading platform if you're of a beginner level and aren't prepared to begin active trading. Another suggestion would be to test the speed of execution and form a general idea of the trading process. However, the website directs one to MAM accounts if the option to open the demo account is selected, so it is unclear as to whether accounts can be opened at this time.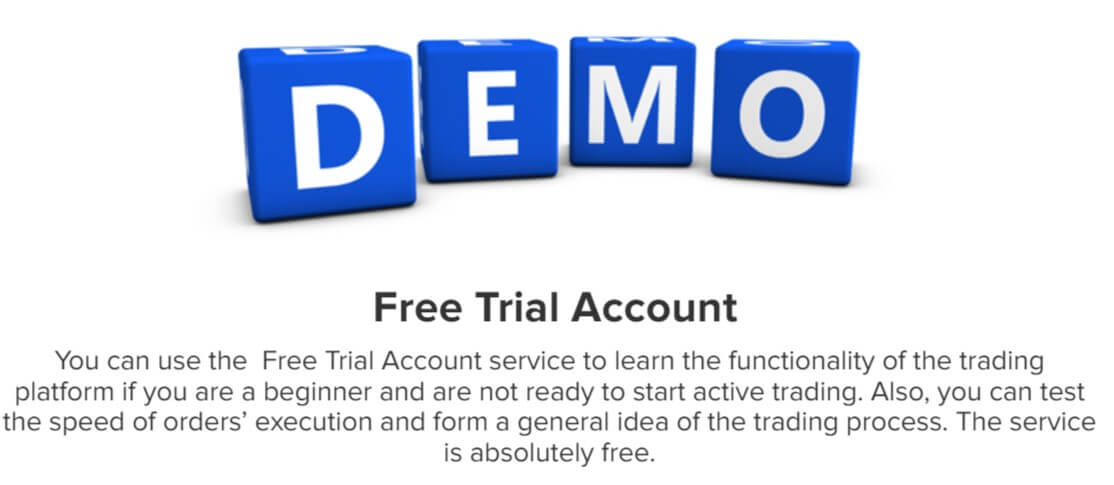 Customer Service
Box Investing offers 24/7 technical support through chat, email, and phone. While the three methods combined make it seem as though contacting support is fairly simple, it doesn't seem as though this is the case. Although we checked at multiple times of the day, support was not available on chat, proving that the 24/7 contact hours don't necessarily apply there. That leaves traders with phone and email as the most reliable options, greatly reducing the overall draw that comes with instant support. Contact information has been listed below.
Email:

support@boxinvesting.com

Phone: 44-203-974-5138
Additional email addresses and contact numbers based on one's residential country can be accessed on the broker's website under the "Contacts" page.
Countries Accepted
At the bottom of their website, Box Investing mentions that residents located in the United States will not be able to register for an account through their services. The US is often blacklisted due to stricter regulation laws, so we weren't too surprised to see this. However, we'd like to point out that the registration form doesn't actually require one to input their country, so it may be possible to skirt passed the supposed restriction. Some brokers are stricter than others, but it is certainly worth a try if you're a US trader that has your heart set on this option. 
Conclusion
Box Investing offers several highlights – access to a diverse range of assets, low starting spreads from 0.6 pips, bonuses for all account holders, and 24/7 customer support. However, the broker's high deposit minimums and a generally vague description of each of their account's terms leaves us wondering whether it's actually worth making a large deposit if the only thing of value would be some educational perks and other things that can be found elsewhere. Box Investing also fails to keep some of their promises, like 24/7 instant support and demo accounts. This makes us question the low spreads and other advantages offered. In the end, it is up to the individual trader to come up with their own impression of the company and to decide whether certain factors warrant opening an account despite the vague terms & conditions.