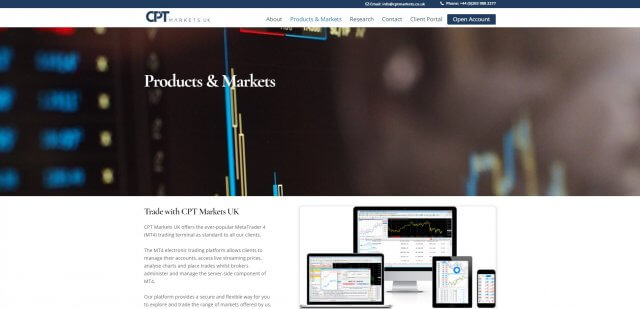 CPT Markets UK, an affiliate of Citypoint Trading LTD, is a London based broker that was established back in 2008. Citypoint Ltd. Is registered in England and Wales (registration no. 6707165) and it is authorized and regulated by one of the strictest and most trusted regulators around, the Financial Conduct Authority (FCA) (Firm ref. number 606110). Although their affiliate CTL is indeed registered with the FCA, CPT Markets is actually registered in Belize and Licensed by the International Financial Services Commission of Belize (License no.IFSC/60/430/18/(33)h).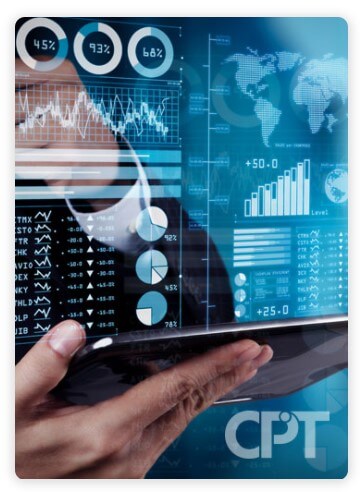 As they state on their website their objective is to create a safe and transparent environment where their clients can trade their available products. They specialize in CFDs and Forex trading whilst making use of sophisticated online trading systems such as the MT4. 
On their About us page, CPTMarkets mention their board of director members who appear to have a wealth of knowledge coming from their long years in the business. It is always nice to see the faces behind the brokerage especially when it is evident that they know what they're talking about and what they're dealing with.  CPTMarkets claim that they are not simply an anonymous online trading platform provider but rather a full-service brokerage that will offer the very best service to their customers. 
If you're interested in knowing more about what this broker has to offer, join us on this review as we take a closer look at their website and determine the conditions that they offer to their clients. 
Account Types
This broker seems to offer only two account types to its clients, the Retail account and the Professional Account, however not every client will have the choice as the latter account can only be opened by certain customers. To be eligible for a Professional account, clients must satisfy two of the following three criteria which are; an average of at least 10 significant transactions per quarter over the previous four quarters on the relevant markets (OTC Derivatives namely leveraged CFDs, Forex, Spread Betting), a financial instrument portfolio that reaches € 500,000 (although clients are not required to have this amount deposited into their account) or relevant experience in the financial services sector (at least one year in a professional position). 
Platforms
CPT Markets UK offers the most popular and most trusted platform available to date, the MT4, that was released by MetaQuotes Software back in 2004. The popularity of this platform has skyrocketed because of its multilingual interface, continuous access to streaming prices, and a vast number of analytical charts. The MT4 has a user-friendly interface that is easy enough to be used by beginner traders but also informative and customizable enough to offer a great trading experience for more seasoned traders. CPT Markets UK customers can download the MT4 platform via the broker's Platforms page. The platform can be used on both Android IOS devices.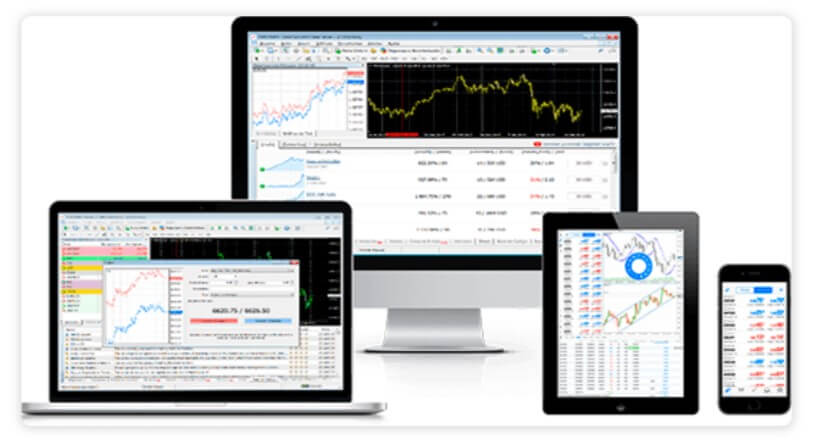 Leverage
The leverage offered by this broker depends on the account type that the customers hold as well as the instruments they are trading. For retail clients, the highest leverage they can use is 1:30 which is available when trading Forex, however, when trading Indices and Commodities the highest leverage available is 1:20. On the other hand, customers who hold a Professional account have access to much higher leverage. When trading Forex and Indices, professional clients can use leverage up to 1:200 whereas the highest leverage for Commodities is a bit less at 1:100. 
Trade Sizes
The broker does not go into details regarding the minimum and maximum trade sizes available when trading via any of their available accounts, so we cannot comment on this any further for the time being. 
Trading Costs
On their FAQ page, CPT Markets Uk state that commission may be added to the spreads that are available to the client, or a flat fee may be added to each lot of their customers' trades. Apart from this, the broker also mentions that charges may be applied to roll positions overnight.  Unfortunately, the broker does not offer any more information regarding the trading costs their customers might encounter.  
Assets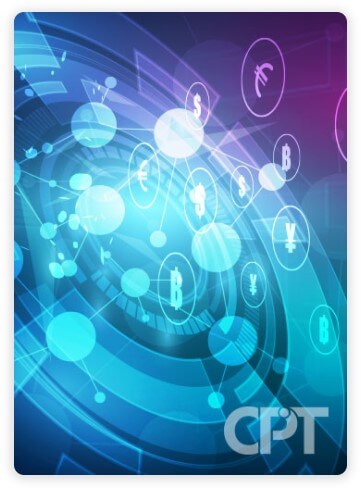 Customers who have an open account with this broker can trade a number of assets including – Forex pairs, Precious Metals, Energies, and Cash Indices. The broker does not have a full list of available assets on their website, so we assume customers are given this information once an open account is created. 
Spreads
We could not find any specific information on what type of spreads are available when trading with this broker. 
Minimum Deposit
Information regarding the minimum deposit required to open up a retail account with this broker is nowhere to be found on their site. This could mean that this broker does not impose a minimum requirement, however, we are not 100% sure if this is the case as we were unable to get an answer from them about this. 
Deposit Methods & Costs
At the moment, this broker only accepts wire transfers to their bank account, which is quite limited when comparing it to other brokers. The broker does not mention any fees or commissions that might be incurred when depositing funds into your CPT Market account. 
Withdrawal Methods & Costs
Customers of CPT Markets can request a withdrawal by filling in the form found on their Legal Documents page. It seems as though withdrawals are only made through bank transfer and in USD, GBP, or the EUR currencies. Once a withdrawal request is sent, customers may receive a call from the brokerage to verify some details and answer security questions. The broker mentions that customers cannot withdraw funds that will bring their account level below a 100% margin level.
Like most brokers, CPT Markets only send funds back to the original accounts customers' initially used to deposit funds into their accounts. The broker does not mention any fees customers might encounter when withdrawing their money.

Withdrawal Processing & Wait Time
Withdrawal requests sent before 12 pm on business days are processed within the same day. Bear in mind that bank transfers, especially international ones, may take up to 5 working days to be completed. 

Bonuses & Promotions
At this moment CPT Markets do not have any bonuses or promotions available. 
Educational & Trading Tools
On their Research Page, this broker has regularly updated information such as the latest news and weekly market wraps. Most of the articles are written by Marius Paun, who is a Senior Dealer within the company. Unfortunately, this broker does not include any information that might be useful for those just starting out in the industry, however, those wanting to know more about the basics of trading can do so from a variety of online sources. 

Customer Service
When trying to contact their customer service, we did not have a very pleasant experience. We tried to speak to CPT Markets' customer service via email and through one of their social media pages, however, our questions were left unanswered on both occasions.
Here are their contact details

Address: CPT Markets UK
                40 Bank Street
                30th Floor, Canary Wharf
                London England, E14 5SNR 
Email: info@cptmarkets.co.uk 
Phone number: + 44 (0)203 988 2277

Demo Account
This broker does not seem to offer any demo accounts available for those wanting to test out their trading conditions. 
Countries Accepted
CPT Markets do not mention any restrictions they might have towards customers resigning in certain countries, however, it would be best for potential customers to contact the broker directly to find out whether their country of residence is accepted by this broker. 
Conclusion
CPT MarketsUK is a London based broker that offers two account types on the popular MT4 platform. They have a clean looking website with frequently updated news and industry analysis although we did feel as though most of the important information was missing. For example, on their website, we could not find information about minimum deposit requirements, spreads, and commission and fees which are definitely key points that potential clients would need to know before opening up an account with them. We did try to contact the broker on two occasions to acquire more information about their trading conditions, however, we received no answers.
If you think CPT Markets Uk would be a good broker for you, head on to their website and try to contact them to get the full picture of what they have to offer.