One Global Market (OGM) is a financial investment firm that is authorized and regulated by the FCA (Registration number: 769481). Brokers holding an FCA license must meet strict financial standards, frequently submit financial reports to the regulator, and they are also required to have a client compensation scheme, which in other words means, customer's funds with FCA regulated brokers are very safe and secure. If you would like to know more about OGM and what they offer, keep reading as we'll go through their website to find out more about their trading conditions.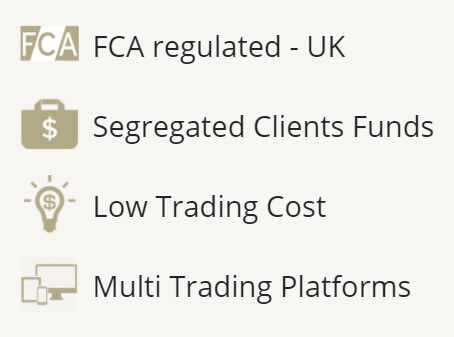 OGM has a firm set of obligations and standards set out for themselves which are; transparent executions, security and stability through their platform and strict regulators, connectivity infrastructure, a very strong liquidity offering, the ability for customers to educate themselves through their experience garnered over 29 years of experience within the industry and finally satisfaction through their service.  
Apart from this, this broker offers very competitive spreads, a nice selection of available assets, and the ability to trade on the most popular and most trusted platform available, the MT4.
Account Types
OGM offers three account types available which are the Individual account, the Joint Account, and the Corporate account. Customers are required to fill in a very detailed live account application form which can be found on the broker's website. To open up an Individual account, customers must input details such as; annual income, liquid assets, net worth, understanding of financial instruments or trading, level of education, and also the level of experience about FX, Shares & bonds, futures, and more.
Most brokers do not go into such detail when opening up an account for their customers and it seems like OGM are catered towards seasoned traders that have been trading for a number of years. We contacted the broker and we were told that accounts are only opened for professional clients who have a solid understanding of trading and ones that have the possibility of trading large amounts of money monthly, so if you are a new trader with not much experience, this might not be the best broker for you. 
Platforms
OGM offers the MT4 platform which is integrated seamlessly to their matched principal license. This platform enables trading on a number of different devices such as smartphones and IOs devices and it is rated highly because of its multilingual interface, efficient tools, multiple timeframes, full customizability, and a safe and secure environment for trading. You can find more information about this trading platform on the broker's website.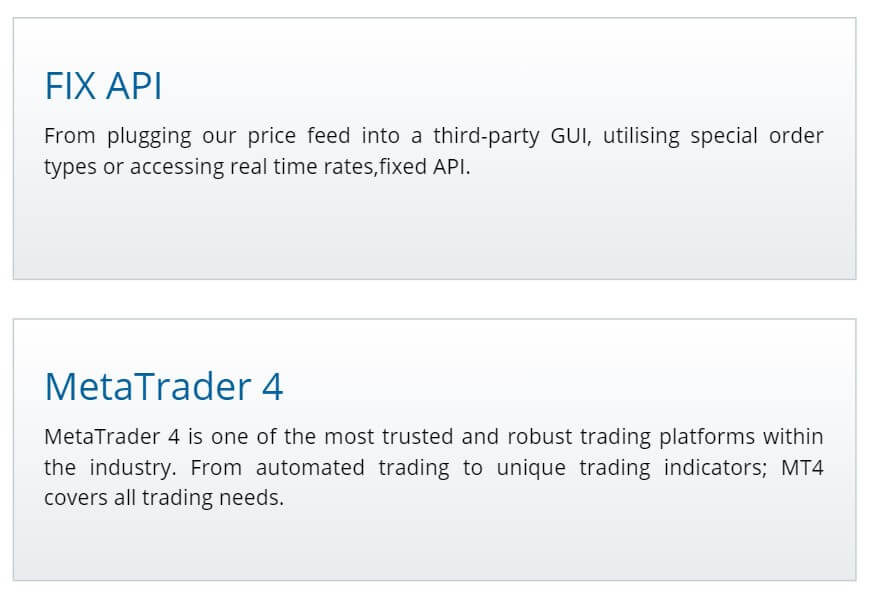 Leverage
OGM does not specify the maximum leverage that they offer on their website, however, when we contacted via telephone they informed us that the leverage depends on the customer and the specific asset & size that they are trading, however, the leverage that they offer is usually around 1:30.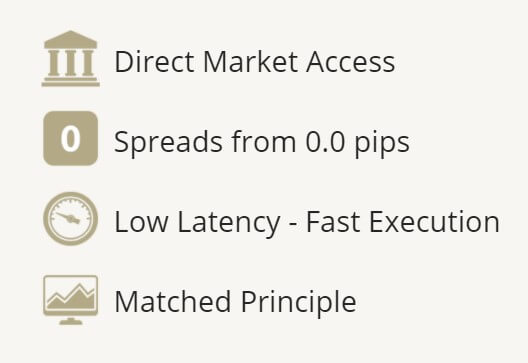 Trade Sizes
This broker does not specify a minimum or a maximum trade size that they accept so we cannot comment any further on this for the time being.  
Trading Costs
From what we could see on their website, this broker does not charge clients any additional fees of commissions for trades that they place via their OGM accounts. This is great news especially when one considered the tight spreads that OGM offer. Customers should however expect to pay swap fees for any trades that they decide to hold overnight. You can find more information regarding this on the broker's terms and conditions page. 
Assets
Although OGM does not offer any cryptocurrencies for trading at the moment, they do have a nice variety of tradable assets including; over 30 currency Forex pairs (including some exotic pairs), Precious metals including Gold & Silver, Indices, and also a number of CFDs. Unfortunately, the broker does not include a full list of tradable assets on their website as this is given to the customers once their live account is opened.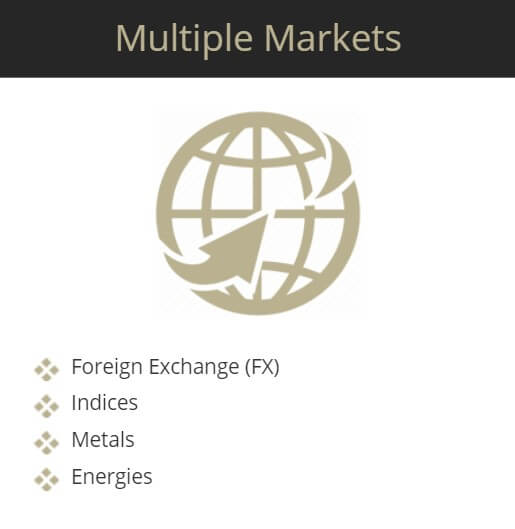 Spreads
OGM does not go into detail about their spreads on their website however, during our phone call, they did mention that popular Forex pairs such as the EUR/USD has spreads ranging from 0.2Pips to 0.3Pips which is less than the industry standard. 

Minimum Deposit
This broker does not have a set minimum deposit requirement, however only customers who are very financially stable and in a position to make large deposits and trades are allowed to open up an account with them. During our phone call, the broker did mention that customers must deposit more than £2000 to open up an account.  
Deposit Methods & Costs
This broker accepts quite a vast array of deposit methods including; Mastercard, Visa, Neteller, Skrill, BPay, UnionPay, and Netbank. We could not locate any information regarding any fees this broker might charge for depositing money so we cannot comment any further regarding this.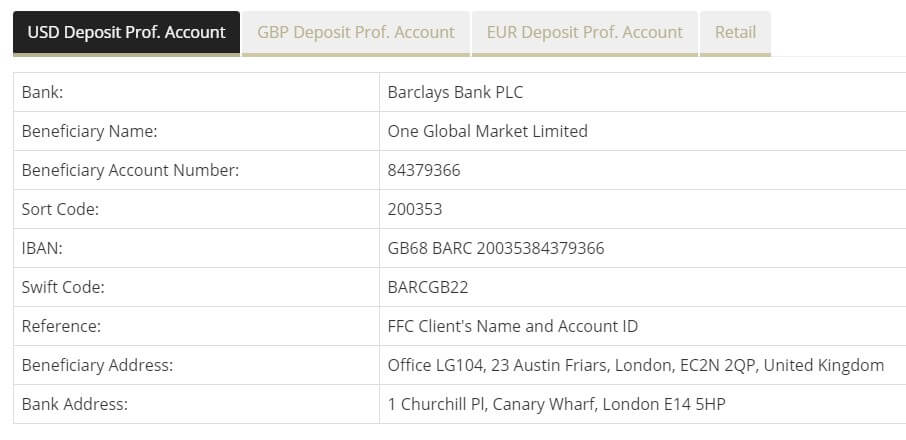 Withdrawal Methods & Costs
Customers wanting to withdraw their funds from their OGM accounts can do so via Bank wire or via Credit card. When withdrawing via Bank wire, some fees will be deducted and customers can find the details regarding this listed in the my.ogm.market portal. This is dependent on the type of account that they hold and the location of the beneficiary's bank. 
Withdrawal Processing & Wait Time
Withdrawal requests are generally processed within two business days of receipt. Customers must maintain a balance of $50 in their account to maintain a live account status. When withdrawing via Credit card, funds are released into customers' accounts once the credit card merchant has debited the funds from the account. 
Bonuses & Promotions
OGM do not have any bonuses or promotions available to their clients at the moment. 
Educational & Trading Tools
Although OGM is a broker created for professional clients who should already have a solid understanding and ideally a number of years of experience within the trading industry, this broker still has an interesting educational seminar that its customers' can make use of. The educational plan is designed to help customers become more confident when making a decision during their trading. OGM offers an exclusive 'Wall Street Insider Seminar' that is offered solely by their team of experienced brokers. This seminar takes one day to complete and it apparently reveals all of Wall Street's trading secrets. Those who are already customers of OGM can apply for this seminar by filling in a form found on their website. 

Customer Service
Customers wanting to contact OGM can do so by filling in a simple form found on their contact us page. After filling the form, we were immediately called by the broker and their customer support agent was very helpful in explaining the trading conditions offered by them. Here is their contact information

Address: Office LG104, 23 Austin Frairs
                London, EC2N 2QP,
                United Kingdom 
Telephone:  +44 203 034 6401 
Email: cst@ogm.market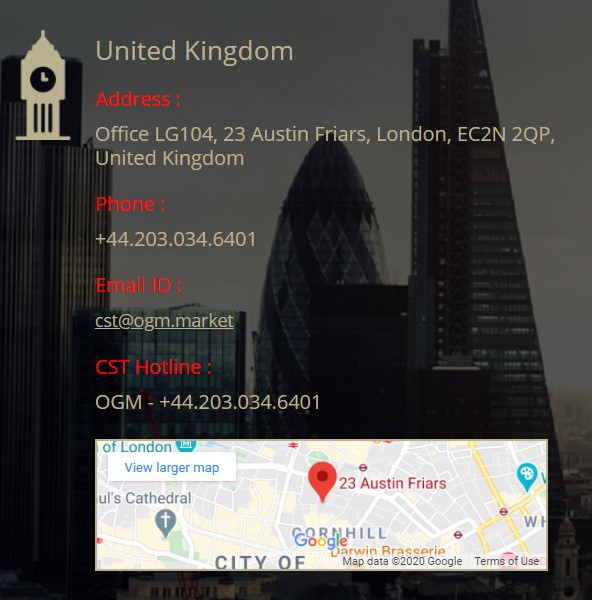 Demo Account
Those interested in finding out more about the trading conditions offered by OGM can sign up to create a Demo Account. When filling out the form you will be asked to choose your preferred currency, account preference as well as the account category. 
Countries Accepted
OGM does not offer its services to customers residing in the USA because of regulations and restrictions that prohibit it from doing so. 
Conclusion
OGM is an FCA regulated broker that caters to experienced clients that can afford to make large trades through their accounts. They offer very competitive spreads, an interesting and highly educational online seminar, and a demo account. If you are an experienced trader that is looking for a serious, high-quality broker, check out OGM's website to see whether this could be the ideal broker for you.