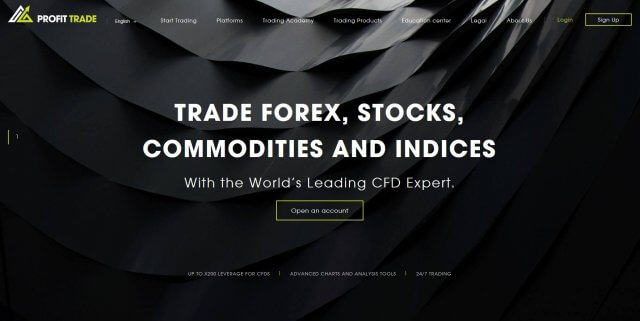 Profit Trade is a forex trading platform that was launched in 2017 and is registered in the Marshall Islands. Their philosophy is to cut out the excessive jargon and to make trading as simple as possible. They offer comfortable trading, service commitment, transparency and have been awarded a number of awards and recognitions. We will be going through the services on offer to see what is on offer and so you can decide if they are the right broker to use.
Account Types
There is a large selection of 6 different accounts to choose from when signing up. We will briefly outline some of their features below.
Educational Account: This account requires a minimum deposit of at least $250. It comes with access to a desktop & mobile trader, access to video tutorials, has fixed spreads, leverages up to 1:100, and access to trade all base currency pairs.
Standard Account: The Standard account requires a minimum deposit of at least $2,500. It has access to the desktop and mobile trading platforms as well as video tutorials. The account has all the base currencies available to trade along with Gold, Silver, Oil, and a small selection of Crypto coins. The leverage on the account goes up to 1:150 and the account also comes with an account manager.
Premium Account: This account comes with a minimum requirement of $20,000, it has all the same features as the Standard account as well as full access to video tutorials, full access to all tradable assets, leverage up to 1:200, an account manager, PRIME contacts and extra bonuses up to 100% of deposits.
VIP Account: This account increases the minimum deposit further up to $50,000. The account comes with everything the PRemium account does as well as higher leverage of 1:400, a personal account manager, news and signals, extra bonuses up to 200% of the deposit, express wire transfers, and access to the referral cashback program.
Tailored Account: This account doesn't have a set deposit requirement and to get one you will need to contact an account manager. The account comes with everything the VIP account does as well as the ability to participate in company events, access to social trading, the dealing room, and the opportunity to meet other traders.
Robot Account: This account requires a deposit of $5,000 and sn intended for those looking to use trading robots to trade. The account has additional robot and algotrading support, a 50% discount on trading robots, and leverage of 1:100.
Platforms
Profit Trade seems to have their own trading system, the account page does state that there is a desktop platform, but we could not see any information on it, instead, we have info on the mobile and web trader. 
Web Trader: The web trade is designed to make your life easier and comes with many features including open a position with the web broker and close it inside of the Metatrader platform, accessible from any PC, Mac, or Linux workstations, incorporated electronic diagramming, a huge number of financial instruments, simple and intuitive interface. quotes in real-time, monitoring the status of accounts and trading desks, graphs of various time periods, with the possibility of printing, a large number of technical indicators and tools, and the ability to use custom indicators and automated trading programs.
Mobile Platform: The mobile platform takes many of the features of the main platform and minimizes them into your mobile device. Some features such as automatic trading are not available but it allows you to access the markets and make and monitor trades while on the move.
Leverage
The leverage available to you depends on the account you are using, we have outlined them below.
Educational Account: Up to 1:100

Standard Account: Up to 1:150

Premium Account: Up to 1:200

VIP Account: Up to 1:400

Tailored Account: Unknown

Robot Account: Up to 1:100
Leverage can be selected when opening up an account, should you need to change it you will need to contact the customer service team with the request for a change of leverage.
Trade Sizes
Trade sizes start from 0.01 lots (known as a micro lot) and go up in increments of 0.01 lots so the next trade would be 0.02 lots and then 0.03 lots. We are not sure what the maximum trade size is though. 1 lot is equal to 100,000 base currency units.
Trading Costs
There is no added commission on any of the accounts, as they all use a spread based system that we will look at later in this review.
Assets
The assets have been broken down into a number of different assets, we have outlined them below.
Forex: GBPUSD, USDJPY, EURUSD, USDTRY, USDCHF, AUDUSD, USDCAD, GBPJPY, EURGBP, USDRUB, EURJPY, GBPCHF, NZDUSD, EURCHF, USDZAR, EURTRY, AUDCAD, USDMXN, EURAUD, EURAUD, AUDJPY, GBPAUD, EURZAR, CHFJPY, GBPNZD, EURCAD, CADJPY, AUDNZD, GBPCAD, AUDCHF, CADCHF, NZDCHF, NZDCAD, EURNZD, EURRUB, USDNOK, GBPRUB, USDSEK, USDDKK, USDPLN, USDHKD, EURSEK, USDSHD, EURNOK, EURPLN, USDCZK, EURDKK.
Crypto: BTCUSD, BTCEUR, XRPUSD, LTCUSD, XRPEUR, LTCEUR, BCHBTC, ETHUSD, DASHUSD, ETHEUR, DASHUSD, ETHEUR, BTCAUD, BTCAUD.
Commodities: Gold, Silver, Brent Crude Oil, WTI Crude Oil, Natural Gas, Copper, Palladium, Coffee, Cocoa, Wheat, Live Cattle.
Indices: There are plenty available, some of them include Nasdaq 100, DAX 30, S&P 500, FTSE 100, Dow Jones, France 40, and CAC 40.
Spreads
The accounts use a spread based system, we do not know if there is a difference between the account though. Looking at the available assets, EURUSD seems to have a spread starting at 3 pips, this is a little on the high side. The spreads are also variable so they can be seen slightly higher than this especially when there is added volatility in the markets. Different instruments will have different starting spreads, so while EURUSD starts at 3 pips, GBPUSD has a starting spread of 4 pips.
Minimum Deposit
The minimum amount required to open up an account is $250 which allows you to open up an Educational account. We do not know if this amount reduces once an account is opened.
Deposit Methods & Costs
You can deposit using either Credit/Debit card or by Bank Wire Transfer, we, unfortunately, do not know if there are any added fees but be sure to check with your own bank to see if they will add any fees of their own.
Withdrawal Methods & Costs
The minimum amount that you can withdraw is $250. You can only use Bank Wire Transfers as a withdrawal method as Credit/Debit card withdrawals are not available. Just like with the deposit we do not know if there are any withdrawal fees added to the withdrawals, so check with your own bank to see if they will charge for conversions or transfers.
Withdrawal Processing & Wait Time
While not explicitly specified, we would expect any withdrawal requests to be fully processed between 2 to 5 from the date that the request is made.
Bonuses & Promotions
The account pages indicate a deposit bonus is available but there are no details available anywhere on the site. The bonus refers to a deposit bonus of 100% or 200% but we do not know the terms of these bonuses or what is involved to cover the bonus funds into real funds. If you are interested in bonuses you could always contact the customer service team about any other potential bonuses.
Educational & Trading Tools
There are a few different things available, the first being some Forex basics, and as you can guess, they are pretty basic, it just goes over a few different aspects of trading. There are some ebooks available too, these cover topics such as crypto and CFDs. There is a glossary available that gives definitions of different trading terms and finally some Webinars, however, there are none currently listed. There is also an education center, but it currently states that it is under development and coming soon.
Customer Service
If you need to contact Profit Trae you can do so using the online submission form, fill in your question or feedback and you should get a reply via email. There are also a number of different email addresses available for the main office, finance department, dealing department, support team, and compliance teams. Finally, there is a phone number available should you wish to speak to someone directly.
Support: support@profit-trade.com
Phone: +44 7520644068
Demo Account
It does not look like demo accounts are available which is a shame as demo accounts allow you to test out new strategies and also the trading conditions. This is an aspect that Profit Trade should look at expanding.
Countries Accepted
The following statement is available on the site: "The information on this site is not directed at residents of the United States and is not intended for distribution to, or use by, any person in any country or jurisdiction where such distribution or use would be contrary to local law or regulation." If you are still not sure of your eligibility we would recommend contacting the customer service team to find out prior to signing up for an account.
Conclusion
There are a lot of choices when it comes to the accounts available, however, with so much choice, there doesn't seem to be a massive difference between them, not in regards to trading conditions anyway. Plenty of assets available which is good so see with a huge selection of indices being the stand out asset group. Slightly limited when it comes to deposits and withdrawals but it seems like there are no added fees that are positive.